Last minute Cornwall trips to see the beautiful rugged coastal county



Table of contents
Cornwall is a stunningly beautiful region, lying to the south-west of the UK, and mostly packed onto a peninsula that juts into the sea. Warm weather, clear blue seas and pristine beaches are waiting for visitors to come along and dare a seagull to steal their ice-cream (they will, the Cornish seagulls obviously have some smuggler ancestry in them, they are greedy, brazen and surprisingly big!). If you are looking for a taste of old England: green and pleasant with Enid Blyton adventures waiting around every corner, Cornwall is the place for your last minute break.
Where to Stay at the Last Minute. The Best Hotels from Voyage Prive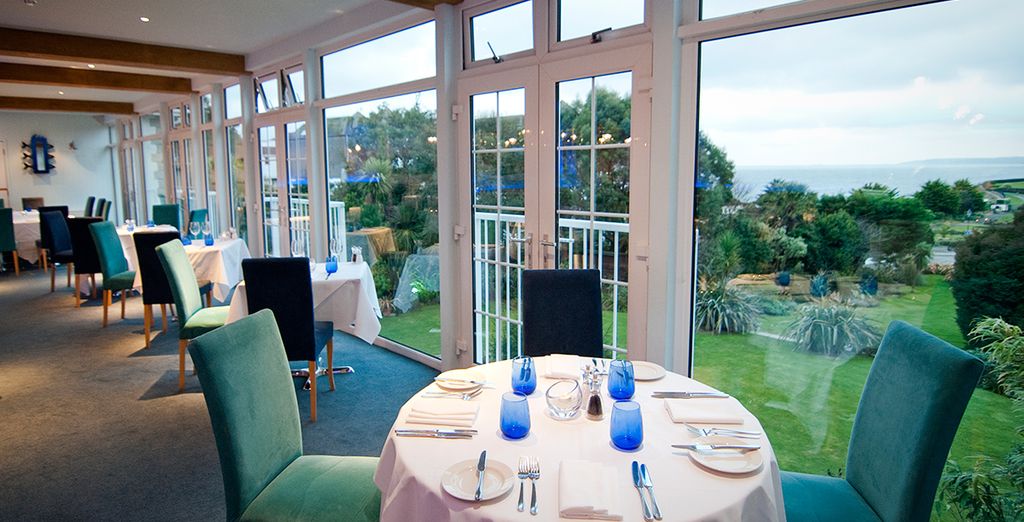 Tropical gardens, a Blue Flag beach and a seamless merging of old-fashioned charm and comfort with all the modern conveniences you need to ensure your stay is one of delight and relaxation. The restaurant uses locally sourced, sustainable ingredients to create wonderfully innovative and delicious dishes. The rooms are comfortable and welcoming, perfect for returning to after a busy day strolling the cliffs, beaches and cobbled roads of Cornwall.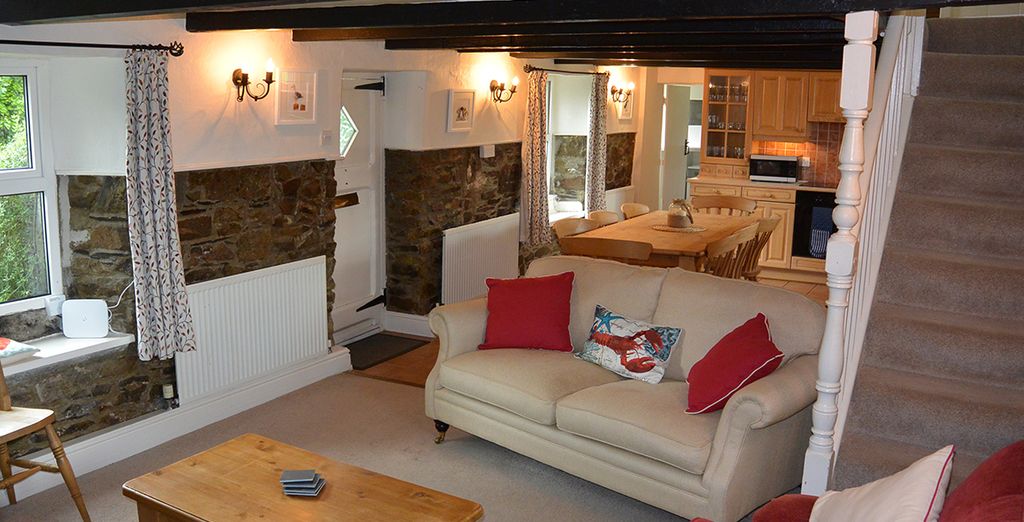 Instead of the formal conventionality of a hotel, why not do things you way, allowing your family to run wild and free by taking this superb holiday cottage that can sleep up to ten? Within ten minutes' walk of a fantastic pub restaurant and the heart of Wadebridge where you will find supermarkets and other restaurants as well as a welcoming leisure centre. Beautiful beaches are just a short drive away, and speaking of driving, there are not one, but two, golf courses in the immediate area. Inside, a fabulous open plan kitchen-living room area ensures that everyone feels part of the conversation, and the utility room provides the idea place for mud and sand to be left behind when you come in after a busy day exploring. There is a private garden complete with BBQ, so you can have your very own summertime garden party – or you can huddle inside on colder days, enjoying the gorgeous warmth provided by the cosy crackling wood fire.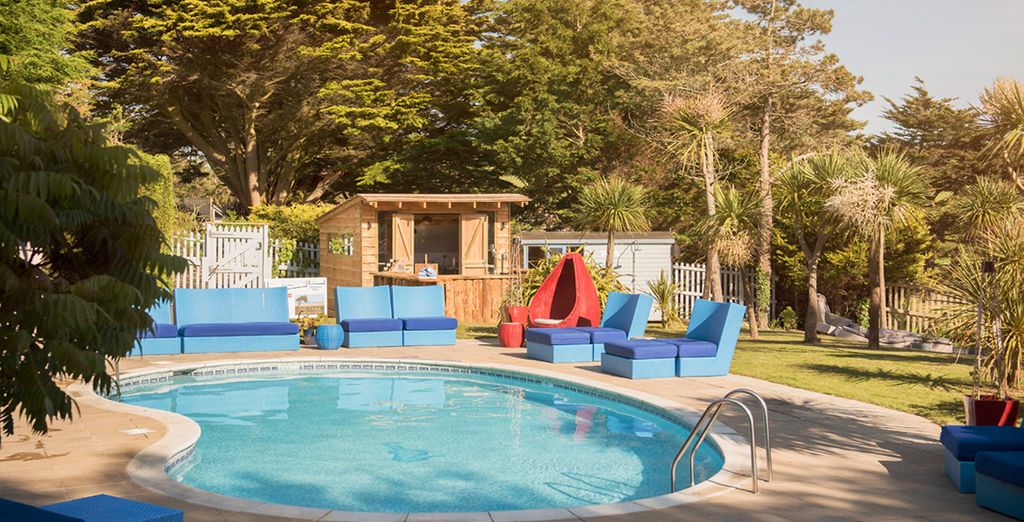 The Park is a collection of self-service properties in Cornwall. Lowarth Lodge is one of these, and boasts comfortable and stylish rooms that can accommodate up to six people. An open plan interior ensures that no one feels left out of the holiday banter, and the underfloor heating is a decadent touch of luxury that you will be reluctant to leave behind after your stay! The kitchen is fully kitted out so you can prepare your own meals, or you can venture out and try one of the many nearby eateries. There is an onsite pool, sauna and steam room available for guests to use, to ensure maximum relaxation.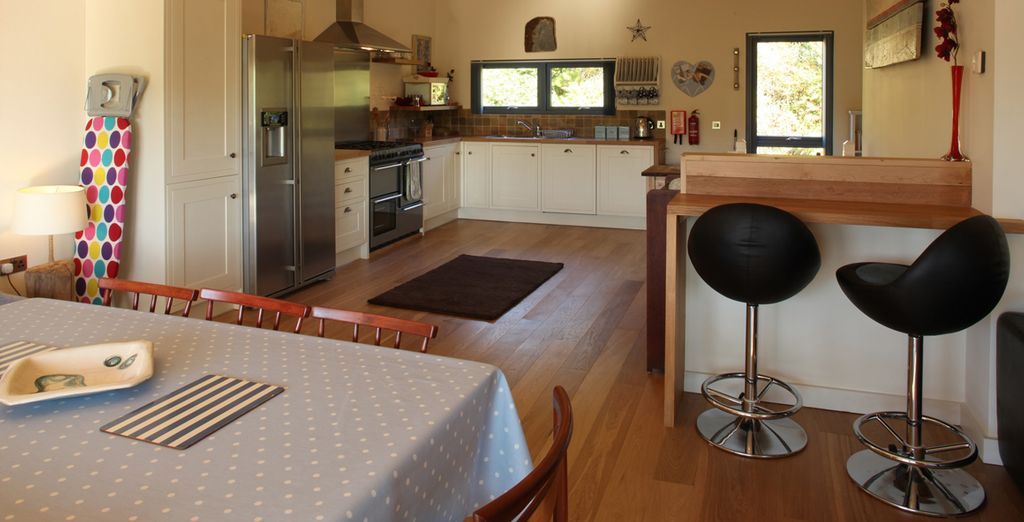 The Park is a collection of self-service properties in Cornwall, of which Goen is one. Goen sleeps up to eight people in four large rooms, so you can bring your extended family or share your holiday with your favourite friends. All the mod cons and a delightfully cosy old-fashioned wood burner share living space easily, while the hot tub in the garden will demand a lot of your time and interest too. The pool, sauna and steam room are there for you too, all set within the gardens that comprise The Park. Goen is especially ideal for younger children boasting an immense toddler-friendly play area, a bouncy trampoline and much more, all aimed at getting your little one's boundless energy run down in time for bedtime!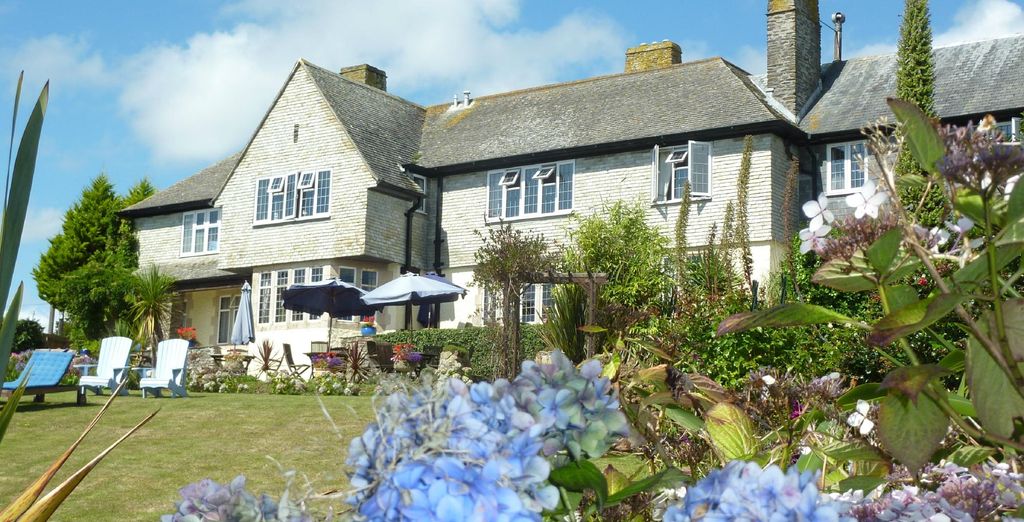 Dramatically perched on a clifftop, this award-winning hotel kicks off your Cornish holiday with a cream tea upon arrival – just make sure you know which should go first on the scone: the cream or the jam! The beach closest to the hotel is a hot spot for surfers, and there is plenty to see and do in the immediate surrounds: you will have no trouble filling up all your days with activity and fun as you explore and play your way along beaches, clifftops, villages and nightlife. Then return to your cosy and comfortable room, to enjoy a deep and untroubled sleep before heading out the next day to do it all again.
How to Book Your Last Minute Cornwall Holiday
Booking your last minute holiday to Cornwall could not be any easier: simply find the deal that you like, click on the link and follow the steps to provide all the information needed. This will include how many people are travelling, the length of the stay, and any preferences, if available for rooms types and so on. Then you will be taken to a payment page when you can pay for the holiday, ensuring that you will soon be exploring Cornwall and marvelling at the beauty of the landscape.
What kind of offers can I find for Cornwall?
The offers for Cornwall are many and varied and can depend on how many of you are travelling and what sort of a booking you have made. You can enjoy room and meal upgrades, treats on arrival at the hotel – anything from a bottle of wine to a massage to tickets for a theatre event – as well as various money off deals. These can be discounts of up to seventy percent, one child sleeping or eating free, as well as substantial reductions on transport if you are travelling from far away.
Five Best Things to See and Do in Cornwall
1. Pendennis Castle
Henry VIII lived in exciting times and built Pendennis Castle originally to defend England against the French and the Holy Roman Empire, both of which threatened to invade. Later aggression from the Spanish was warded off by expansion of the castle. Over time the castle fell into disrepair, was renovated, was enclosed in a pentagonal structure so it could fortify the entire headland – and it now swings wide its doors to welcome 'invaders' from all over the world who come to learn the history of the impressive edifice, marvel at the huge cannons and even take part in a re-enactment of a Tudor battle. A fun day out for the whole family, and plenty of green, open spaces for restless legs to burn off some energy.
2. Eden Project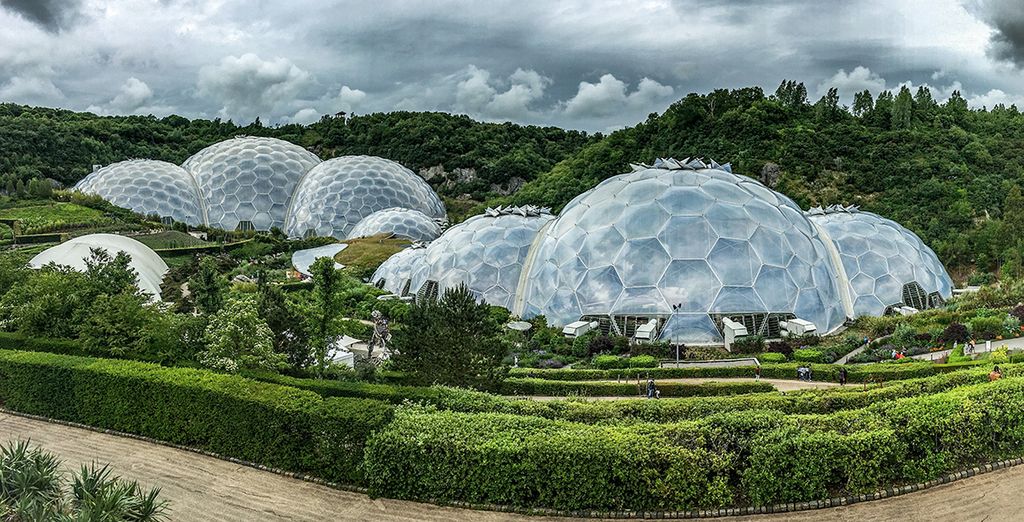 Perhaps Cornwall's most famous modern attraction, the Eden Project consists of a series of biodomes, designed to expand our knowledge and understanding of the plant world and the impact of external forces thereon. The various biomes each have a different 'climate' inside them, and grow plants unique to those climates. The project fosters tremendous community links, undertakes research into various aspects of flora and fauna, and teaches us about how ecosystems work in a delicate and easily disrupted balance.
3. Bodmin Moor
Get away from it all and head to the moors: Cornwall at its wildest and most magnificent, albeit previously inhabited. Neolithic buildings cluster along the moor and it is bisected by the A30, while evidence of old mines show that the moor houses precious assets under its inscrutable surface. Tin and granite were harvested from the moor, whisked away to manufactories and workshops all over England, until easy stores were depleted or new lodes found. The moor was enshrined in Daphne Du Maurier's Jamaica Inn, her thrilling tale of smugglers and romance, and it is a great place to walk and explore.
4. Minack Theatre
From humble beginnings as a Shakespeare enthusiast's dream to the professional 'stage' that stands today, the Minack Theatre has played host to over 110,000 attendees and over 170,000 visitors per year. Rowena Cade and her gardener, Billy Rawlings, moved granite stones tirelessly for months, slowly but surely shaping the lower terraces into pretty much the formation that can still be seen today. Their work has been enhanced and expanded, and players, performers and audience members travel from near and far to enjoy the regular performances that are put on.
5. Tintagel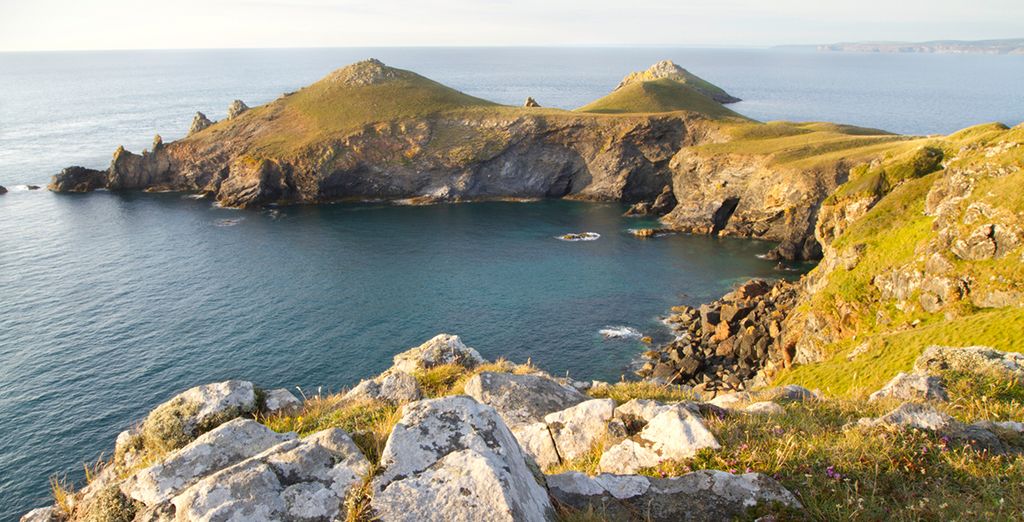 Inextricably linked with the legend of King Arthur and the Holy Grail, tales of Excalibur, Guinevere, the knights and Merlin's magic abound in this medieval fortress. Despite Geoffrey of Monmouth's fabulous story – the first time that Tintagel was linked with the legends – the site fell into disrepair until the 1800s when it was cleaned up and opened to the public as a tourist attraction. Today, the site is owned by Charles, the Prince of Wales, and is managed by English Heritage, who have connected the two sides of the castle using a footbridge – it is separated by a narrow strip of water that separates Tintagel Island to the mainland.
Our Practical Advice for Cornwall
Many of the activities in Cornwall tend to be of the outdoor idyllic sort, so bring good walking and climbing shoes, wear many layers so you can adjust to the weather as it changes, and always have some sort of waterproof with you to stave off the threat of a sudden shower.
Cornwall is packed full of small cafés and attractions, so do try and allow plenty of time for meandering along and popping in to anywhere that catches you eye as you go.
A cream tea is a must-have, clotted cream being one of Cornwall's most popular exports, along with the pasty (also a must-have!) – just be wary of getting drawn into the long-running argument with Devon, also famed for cream teas, but who, unforgivably, reverse the order of the cream and the jam!
What budget to plan at the last minute?
Cornwall is stunning and boasts some of the warmest weather in the UK: therefore, it will come as no surprise to learn that it is a popular tourist destination with visitors from home and abroad. This does mean, sadly, that it can be very expensive, especially if you cling to the most popular sites and centrally located hotels and B&Bs. Allow yourself about £50 per person per day as a minimum after hotels have been accounted for, going up to around £100 per person per day if you plan to take a show or go to a lot of attractions.
Useful Information before your Last Minute Cornwall Holiday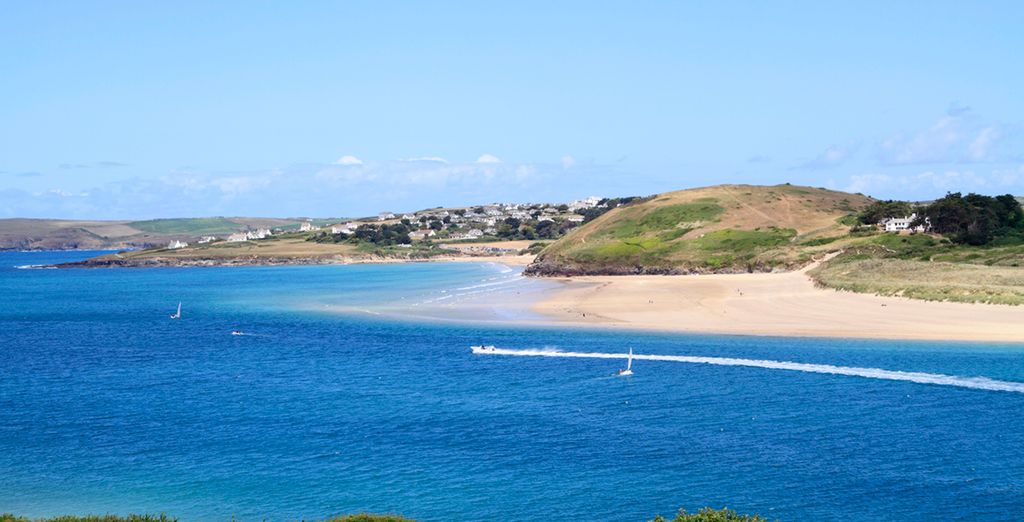 Cornwall is on a fairly small land footprint, and it is highly popular with visitors. This can mean that traffic can be awful, especially in summer, when visitors flood into the area. Bear this in mind and allow plenty of extra time when travelling.
Speaking of floods, some areas of Cornwall are highly reactive to tides, with beaches being entirely submerged or walkways temporarily lost to view. Learn about the tides in the area you visit before you are trapped by a high tide that takes you by surprise.
The Opinion of the Voyage Prive Expert on Last Minute Holidays to Cornwall
Enjoy a luxury break in the beautiful, coastal Cornwall
Cornwall's southwestern location means summer temperatures often hit highs in the early thirties, and its infamous beaches attract people from the world over. Some of the beautiful beaches also play host to surfers from across the world, and Newquay often hosts surfing championships. Its rugged coastline features coves and tiny hidden beaches which are great for exploring, and there are also a lot of activities you can do around the coast. Whether that's trying your hand at surfing, or kayaking along the coastline, activities are plenty if you're looking for more than just a beach holiday. But if a relaxing beach holiday is what you're after, then you won't be disappointed. Incredible sandy beaches include Perranporth, Porthcurno, Crantock, and Porth. You'll notice these names have slightly odd names, which comes from Cornwall's Celtic history - the county has its own language and some locals even strive for independence from the UK!
Explore all of the sights of Britain's sunniest county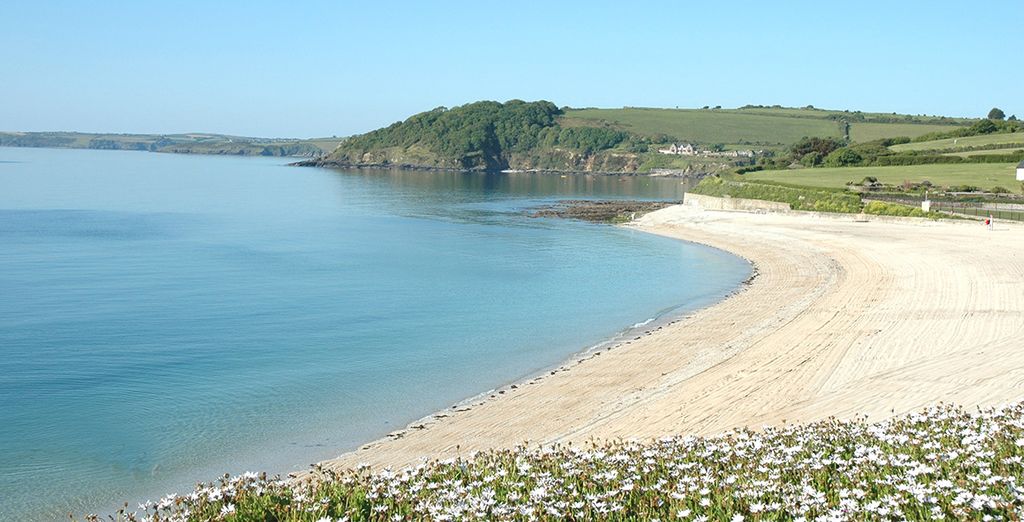 In terms of tourist attractions, you will find everything during your last minute holidays. If you would like to explore more than just the beautiful beaches, there are an extensive range of attractions. The most popular tourist destination in Cornwall, judging by numbers, is the incredible Eden Project near St. Austell. Inside enormous biome domes, you will find exotic plants and species from across the world. You can also visit amazing estates and gardens such as Lanhydrock House and the amazing Minack Theatre which overlooks the sea.
Endless unforgettable experiences on offer in Cornwall
Cornwall, due to its location on the coast, can also boast amazing seafood. Of course, you will find some of the freshest fish and chips you'll ever taste, but Cornwall also plays host to some amazingly luxurious restaurants, some of which hold a prestigious Michelin Star.
You will undoubtedly love visiting Cornwall, for its sunny climate, its amazing coastline, its wide range of activities, its food and, of course, its wonderful beaches. However long you have, Cornwall has something to offer for any luxury holiday. So book a luxury holiday now, and enjoy this amazing British treasure before the secret gets out!