Bora Bora Honeymoon
With an average of fourteen percent of the wedding budget being spent on the honeymoon, it quickly becomes clear that people want their honeymoons to be special: in their dream destination or featuring wonderful activities and once in a lifetime experiences. The best way to get the honeymoon of your dreams is to book it early, and most honeymoons are booked an average of four months before the wedding – if nothing else, you both have a fantastic holiday to look forward to as you battle logistics, family feuds and the joining together of two families!
Discover all our favourite honeymoon destinations
Honeymoon in Bora Bora: Find the Most Luxurious and Romantic Hotels with Voyage Prive
Voyage Prive works with luxury hotel chains and boutique B&Bs and everyone in between to find and offer the best possible deals on holidays to your favourite locations, no matter how far away or exotic they may be. Sign up with the website and take advantage of the many fantastic offers that are available right now, or click to create an alert for your dream destination: such as Bora Bora, where you will be spoiled for choice when it comes to holiday accommodation, meals, offers and extras!
1. On Land
Bora Bora is a relatively small island, and the older – and arguably best – hotels are those that are built fully on the land. This is because those hotels that gets everything right tend to succeed, so those that have stood the test of time, since Bora Bora's first tourist arrived in the 1950s (the first hotel was built in the 60s!). Today, these luxurious hotels, built to stand the test of time and be elegant additions to their beachside location feature private villas with their own gardens and personal plunge pools so you can be as private or as sociable as you like!
2. Off-Shore
With the boom in the tourist industry, the island was desperate for more space, without wanting to crowd out the land by building on every inch and losing the unique beauty of the islands. The solution was to build over-water bungalows, cabin-style rooms built on stilts over the turquoise sea, connected to land – and each other – with long wooden walkways, and usually serviced by restaurants, bars and social areas that are on land, usually on the beach so you do not have to walk far to find fun, games and companionship. The over-water bungalows are so cunningly designed that some of them even have private plunge pools and spacious decks, so you do not feel at all constrained in your unusual but beautiful quarters.
3. Cruise
Make your Bora Bora honeymoon one stop on a lengthy ocean cruise. Leaving from a number of high-end destinations and spending balmy nights and sun-shiny days in tropical climes as you sail silently and elegantly over the sea, the small French Polynesian island group is an ideal mid-ocean break. Retain your cabin as you venture out each day to laze on the beach, swim, and enjoy delicious island food and icy cold drinks. Then, after a week or so of this tropical paradise, it will be up anchor and onwards to the next gorgeous destination as you and your new spouse make memories that will last you a lifetime.
4. Combo
Mix and match these different types of accommodations on the island, and see which is best for you. Start in an over-water bungalow for a few days to try it out, move to a land-based hotel room for a weekend, and then take your departure from the island by hopping a lengthy and leisurely cruise back home, ready to start your newly married lives together.
Honeymoon in Bora Bora: What to See and Do as a Couple to Experience the Best
1. See the sharks and rays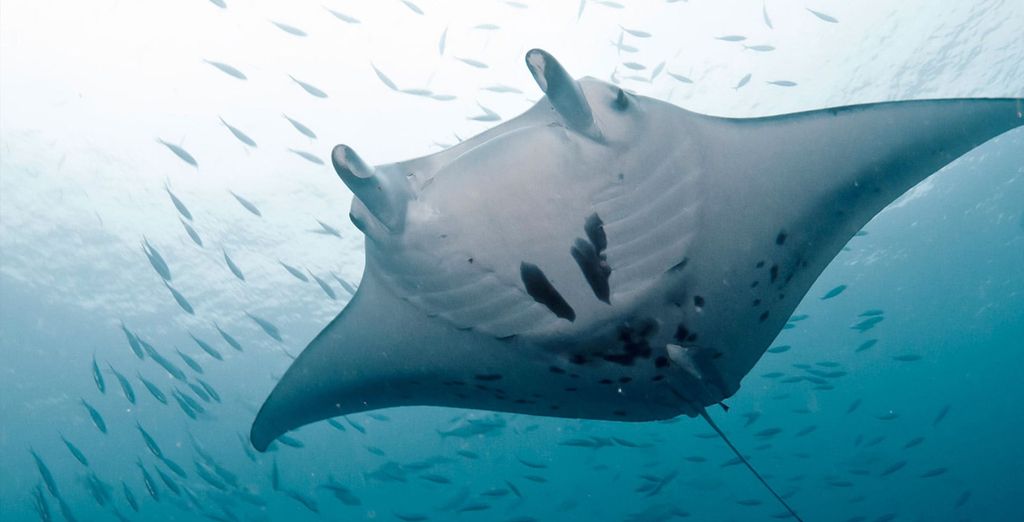 The sharks in the waters around Bora Bora are not harmful to people, and there are tours that will take you out and allow you to drop into the pristine water, and marvel at the sight of these magnificent fish, along with immense rays, cute starfish and many more marine species, all making their way in the world, going busily about their business while you and your partner watch in awe. If you are feeling exceptionally brave, other tours – going further out to sea – offer you the chance to go down in a shark-proof cage and watch the immense creatures being fed. If you are not in the mood to get wet feet (or wet anything!) you can take a tour in a glass bottomed boat that will bring you up close to the action, while keeping you completely safe and dry.
2. Go up!
To get a hit of powerful adrenaline and see the islands and the surrounding sea from a unique and delightful perspective, give parasailing a try. You can opt for a longer cable, which gets you to a greater height for even more thrills as you soar high above the world. If that is a little too scary for you, a small plane ride offers the same wide view without so much excitement. These little planes whisk you up into the air, showing you the heart-shaped neighbouring island, Tupai, while the view beneath you is ever changing, depending on what time of day your flight is and how far your flight is.
3. Learn to Scuba Dive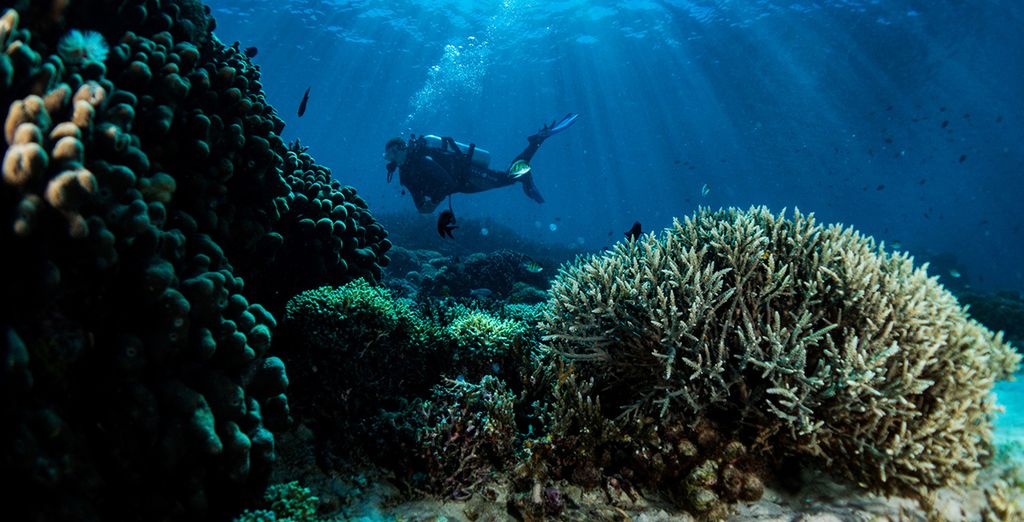 Master the deeps by taking your first steps towards scuba certification, or continue your learning if you already have the basics, so that you can enjoy exploring the under water terrain around the islands. Not only is Bora Bora home to a fabulous wealth of marine life, the waters and sands of the island are some of the prettiest and cleanest in the world. Enjoy watching schools of fish flitting about, catch a glimpse of shy eels and crabs hastily hiding from sight and admire the play of sunlight through crystal clear water with the person you love the most at your side.
4. Go Snorkelling
If you do not have the time or inclination for learning how to scuba dive, you can try your hand at snorkelling instead. Equipped with a mask, flippers and snorkel, you can still get excellent views of the undersea world, and enjoy seeing the various corals, wonderful abundance of marine life and the exquisite and otherworldly appearance of the part of the world that lies beneath the sea.
5. Lie on the Beach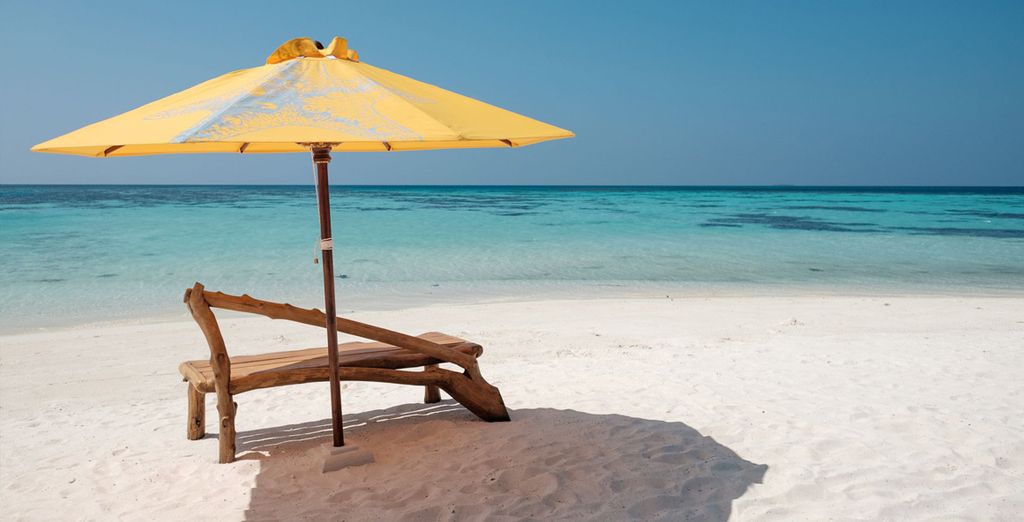 Can it be a proper holiday unless you while away at least one full day on the beach, sipping ice cold drinks and nibbling delicious snacks and meals? Bora Bora's Matira Beach is known as one of the most beautiful beaches in the world, if not the actual winner in that category, with dreamily beautiful soft white sand, clear blue waters and a kindly and gentle gradient taking you into the water on a firm and stable footing so you can splash, play and swim safely.
6. On the Land
While much of Bora Bora is, understandably, centred around water-based activities, there are still some excellent land-based activities. These include climbing the foothill of Mount Otemanu, the island's fortunately dormant volcano, or summiting nearby Mount Pahia to get excellent views of the main peak. There are also eight cannons on the island, relics from WWII, that can be a fun challenge to tick off. Four are easily reached, the next two are a little trickier and the last two are cunningly hidden and a fairly strenuous hike away from sea level. The best way to see them without disappointment is to hire a guide who can lead you there, and then you can snap nostalgic couple's photos before heading back to the hotel to smile mysteriously at those who tried – and failed – to make the trek on their own!
7. Buy Each Other a Pearl
Bora Bora's pearls are famous: entirely natural and harvested by local divers, they come in a range of shades from almost gunmetal grey to s gentle silvery to a rich opalescent cream, and in a range of sizes. The faint lumpiness of the pearls proves their naturalness, and a good Bora Bora pearl can cost as much as US$10,000! You do not have to spend all that much though, to buy small examples, perhaps mounted into a delightful souvenir or just on it's own to be displayed in a small case of its very own.
Honeymoon in Bora Bora: Essential Information to Plan Your Getaway
A word to the wise for the squeamish or phobic: Bora Bora has a wonderful animal diversity when it comes to gastropods – the snail and slug family! Some are endemic to the island, so should be left in peace, if possible, as the island has seen some rather sad extinctions in the species over the years, thanks to the introduction of invasive species and the encroachment of human settlement on previously untouched habitats.
The best time of year to go to Bora Bora
Being fairly close to the equator, Bora Bora does not experience a huge range in temperature differences between summer and winter – a mere 2°c separates December temperatures from June levels. There is not a lot of variation between high and low daily temperatures too, with an average high of around 28°C and an average low of 24°C. However, rainfall increases dramatically from occasional showers to full on rainy season between November and February, which is the south hemisphere island's summer time, and this brings with it very high and uncomfortable humidity. The rest of the year is marginally cooler but a lot less humid, which makes it more comfortable for visitors to sleep at night.
What to pack for a honeymoon in Bora Bora
Think what you would need for a day at the beach, and expand that by as many days as your stay on the island. Light, cool clothing, plenty of swimsuits and flip-flops long with reef-friendly sun screen, sunglasses and those books that you have been meaning to read all year should complete your packing! Plan for the occasional smart meal, so take along one or two nice outfits too, but always bear in mind that it will be hot and humid, so dress to cope with that first, impressing with your sartorial style second!
Getting to and around Bora Bora
Getting to Bora Bora is a lengthy process, no matter how you do it. Flying in requires flying first to Papeete, Tahiti, and then catching a short-hop plane from there. Depending on your original destination, you may need a connecting flight from your local airport to one that flies into Tahiti, so do check out all the logistics before you fly and make sure you have enough time to make all your connecting flights without missing a plane or being on layover for an irritatingly long time.
The other way to get to Bora Bora is to come along on a cruise liner. As Bora Bora lies in the middle of the South Pacific Ocean, almost exactly 2,600 kilometres south of Hawaii, and highly isolated in the middle of the ocean (aside from a scattering of other island that also make up French Polynesia, the biggest of which is Tahiti), your cruise will take several days to reach the island, so you may as well settle in and take part in all the onboard activities that the crew put on to entertain their guests.
Getting around Bora Bora is a little different. There is a bus service, but it tends to be quite unreliable and expensive, as are taxis. Surprisingly, the best way to get around the small island is to hire a bike – the island is small and you could cycle across it in a matter of mere hours, so bikes are usually fine for most of your explorations. Otherwise, you can walk, enjoying the landscape and greeting your fellow tourists and the workers who keep the island so welcoming and friendly!
Practical advice for a Bora Bora Honeymoon
The two main languages of the island are French and Tahitian, but most people speak very good English, especially if they work in the tourist trade. The island uses the French Pacific Franc, which runs at very roughly US$1 to 100 francs. Some restaurants and hotels will take US dollars, but the exchange rate offered will be very low, and you will be better off taking out some of the local currency, or paying on a card for which your bank determines the exchange rate. Bora Bora is ten hours behind GMT, so you will claw back some of your time on the way there, but lose it again on the way home. Jet lag can be disconcerting, so make sure you stay hydrated and well-rested, giving yourself a couple of days once you are back home to get into the right circadian rhythm before returning to work or college. Bora Bora's plugs follow either the America flat two-pin system or the round two-pin system that you might recognise from a shaver or electric toothbrush. If in doubt, check with your hotel or cruise line before you buy a travel adaptor.