Plan Dominican Republic holidays with our Travel Guide
Dominican Republic travel guide for holidays: Complete Free Travel Guide for unforgettable holidays ✅ Tips, advices, budget, hotels...
Travel to the Dominican Republic
It's unsurprising that the Dominican Republic is the most popular tourist destination in the Caribbean as it is filled with excitement and adventure that you will never find at home. With stunning beaches to lounge on, culturally rich architecture to explore and adrenaline pumping activities to take part in, the Dominican Republic really has something for everyone to enjoy. For an unforgettable family holiday or a romantic getaway, this sun-soaked destination should not be missed.
Top 10 things to see/do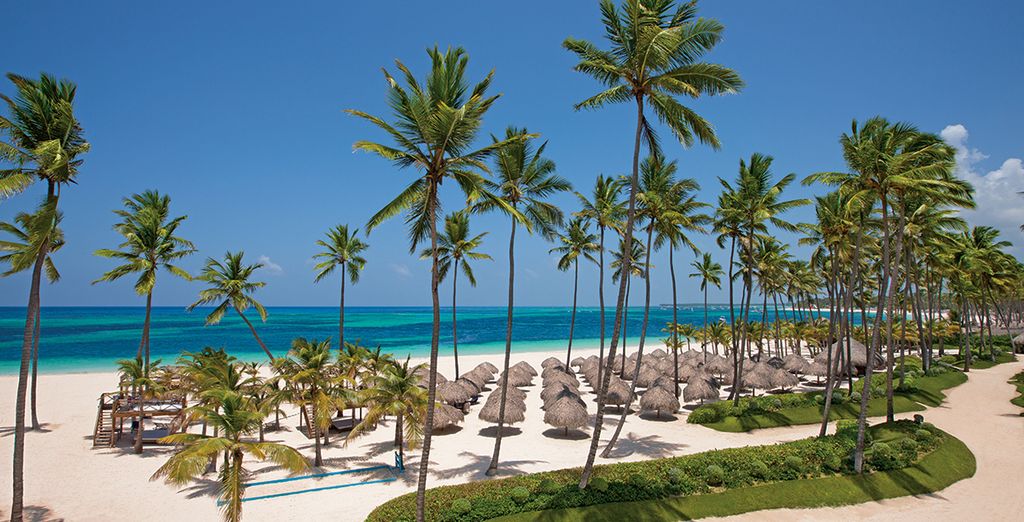 1. Whale watching

This is a treat for all animal lovers who get to witness magnificent whales as they migrate back to the Caribbean waters. Taking place between December and March, this experience is ideal for those who hope to explore the Dominican Republic during the winter months. Whale watching really allows you to experience the beauty of nature, as the graceful animals pass close to the boat; if you're lucky, the males might even treat you to a rendition of their melodic whale song.
2. Relax at Saona Island

For those who enjoy blissful solitude and relaxing on white sandy beaches, then a day trip to Saona Island is not to be missed. Let your troubles melt into the sand and sea as you take in the scenic views of a clear sky and crystal ocean. Dine on the finest Caribbean food and stop at the island's natural swimming pool to see the starfish. Used in movie sets as a deserted island, television buffs might recognise the location as the tropical island used in the Bounty chocolate bar advert.
3. Visit the monkeys

Perfect for all the family, Monkey Jungle is always a crowd pleaser for tourists. Walk among free-roaming squirrel monkeys as they play and get up to mischief. The monkeys are photogenic creatures, eager to sit on your shoulder and pose for a selfie. For a less hands-on experience, enjoy watching them play in the trees and fill their faces during feeding time. Once you've had enough of the monkeys, thrill seekers should take on the zip line which is sure to get your adrenaline pumping.
4. Los Haitises National Park

The Dominican Republic has so much natural beauty to offer; where better to experience it than at a national park? Hire a boat to explore the mangroves and mysterious caves and see what exotic wildlife you can spot on the journey. For those who prefer a more active holiday, Los Haitises is the ideal place to visit as the winding paths and beautiful landscape make the park the perfect hiking destination.
5. Try your hand at surfing

Whether you're a novice or surfing expert, you can't leave the Dominican Republic without catching some waves. While the extreme sport can be undertaken on any day of the year, the best and highest waves peak between September and April. Best of all, due to the mild temperatures, you can leave your wetsuit at home and ride your surfboard in your basic swimming costume. The adventure doesn't end there though, there are so many types of surfing to experience; why not try your hand at wind or paddle surfing?
6. Explore the Dominican Alps

Nature lovers simply have to take in the sites in the Dominican Alps. The mountainous region is filled with a diverse plethora of nature, from domineering alpine peaks to lush meadows and pine forests. A walk among the area's valleys and national parks are like stepping into paradise, as your senses are overwhelmed with bursts of exotic colour and scenic views. Ideal for holidaymakers looking to get away from it all, you can't be stressed after a visit to these Alps.
7. Exotic wildlife at Lake Enriquillo

More than just a stunning body of water, Lake Enriquillo is home to a variety of wildlife. As the largest lake in the Caribbean, it's hard to explore all that the lake has to offer without an official tour guide. Pink flamingoes and several species of lizard occupy this lake and really are a sight to behold. Keep your eyes peeled for crocodiles that like to bask on the lake banks and lurk in the depths of the waters; for animal enthusiasts, this lake is a must-see.
8. Waterfalls

The Damajaqua Cascades are by far the most popular tourist attraction in the Dominican Republic. 27 waterfalls have been naturally formed over time to produce these beauties. Wade through some of the clearest pools in the country and take pictures of nature's own cascading water features to put on your Instagram feed. For those who lead a more adrenaline-fuelled life, try your hand at hiking and climbing through the winding and narrow canyons; if you're brave enough, slide down and jump off the rocks once you reach the summit.
9. Altos de Chavon

Dip into the Dominican Republic's history and culture with a visit to Altos de Chavon. This architectural masterpiece is a recreation of a Mediterranean village from the 16th century. Located above the Chavón River, the area is a feast for the eyes as it's surrounded by the natural beauty of the Dominican countryside. The village oozes culture, offering masterclass sessions for underrated artistic trades such as silk screening and pottery. With a plethora of museums and an amphitheatre to visit, art enthusiasts will never want to leave.
10. Mount Isabel de Torres

For sightseers hoping to be wowed, Mount Isabel de Torres has to be on your Dominican Republic checklist. The views from the top of this mountain are breathtaking and the cable car journey to the top is exhilarating. If you're feeling energetic, hike your way to the top of the mountain using the iconic Christ the Redeemer statue as your motivation.
When to travel to the Dominican Republic
For those looking to holiday in the sun, July and August are the optimum months to experience the Dominican Republic. If you would like to avoid the crowds and save some money, the Dominican Republic in the winter months is just as beautiful and thrilling, minus the sweltering heat.
How to get to there
If you're travelling by boat or plane, the Dominican Republic is well connected to the outside world. Depending on how far you book in advance and when you intend to travel, flight costs can be kept relatively low. Travelling by aeroplane is the most time efficient method of travel and can take between 9-12 hours from Europe. Since direct flights from most European countries are difficult to find without a change or stopover, it might be worth looking into travelling via a charter flight.
Which hotels to choose?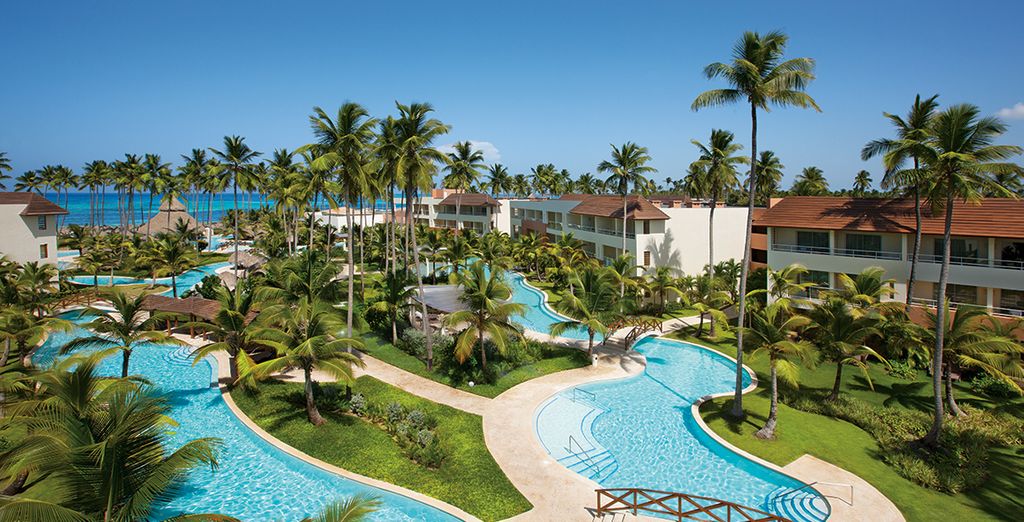 Accommodation can make or break the success of your holiday. You need to choose a luxurious hotel that is a pleasure to come home to after a long day of travelling and exploring.
1. Dreams Dominicus La Romana

This hotel oozes 5* luxury, with premium spa facilities and crystal clear swimming pools. The beach is just a stone's throw away and each room comes with a beachfront view that you will never get tired of seeing. Voyage Privé members can enjoy all-inclusive dining if you opt to stay in one of the hotel's deluxe tropical view rooms; depending on when you choose to stay, we will even treat you to a luxurious room upgrade.
2. Zoëtry Agua Punta Cana

Ideal for a romantic getaway, this 5* resort is nestled among the sandy beaches and lush palm trees to set the mood for an amorous holiday. Our members can enjoy all-inclusive dining at this resort, able to tuck into a gourmet feast as they watch the sun set over the tranquil ocean.
3. Secrets Royal Beach Punta Cana

When it comes to holiday breaks, it doesn't get much more opulent than this hotel. The adults-only beachfront hotel offers spectacular aesthetics and tranquil surroundings. Adventure lies only a short distance away in Manatí Park which is home to exotic Caribbean wildlife. Voyage Privé members can enjoy all-inclusive dining, as well as resort coupons and a complimentary suite upgrade when you choose to stay for 7 nights.
Culture in the Dominican Republic
1. Guloya festival, San Pedro de Macorís

If you're looking for a holiday in the new year, the Guloya festival promises excitement. The street parades are unlike anything else in the word, with intricately designed costumes and a barrage of glitter and colour.
2. Festival de Merengue, Santo Domingo

Perhaps the most popular annual festival, this is one for partygoers who want to dance to some authentic Caribbean music. With 30 artists performing over a weekend in July and August, your Dominican Republic summer holiday is incomplete without a visit to this festival.
3. Juan Pablo Duarte Day

Rich in Dominican Republic culture, this festival takes place in most major towns and cities every Sunday in February. The carnival processions are filled with elaborate costumes and characters from Dominican folklore. With quality food, drink and music, this festival is fun for all of the family.
Dominican Republic map
Our practical advice for the Dominican Republic
What to bring back from the Dominican Republic?
1. Hand rolled cigars

Even if you don't smoke, a cigar is a great memento to take home from the Dominican Republic and will look attractive in a display case. You could even get your souvenir from an authentic Dominican cigar factory where you can make your own.
2. Alcohol

Sure to go down a treat for your adult family members back home, Mamajuana is one of the most authentic items of the Dominican Republic to bring home, as the country specialises in exporting the drink. The warm and spicy flavour is unlike anything you can get in the UK.
3. Amber Jewellery

Amber is the Dominican Republic's most treasured gemstone. It makes for stunning jewellery that you or your loved ones will cherish.
4. Faceless dolls

These unique ornaments will become the focal point of your living room display. Each doll is completely distinctive from the next and expertly hand painted; the lack of facial features represents the cultural diversity that exists in the Dominican Republic.
What currency to use?
The primary currency is the Dominican Peso. However, many establishments display prices in dollars, so you might be able to use this currency as an alternative in some locations.
What's the time difference?
The Dominican Republic is in the AST time zone which is four hours behind GMT.
What language is spoken in the Dominican Republic?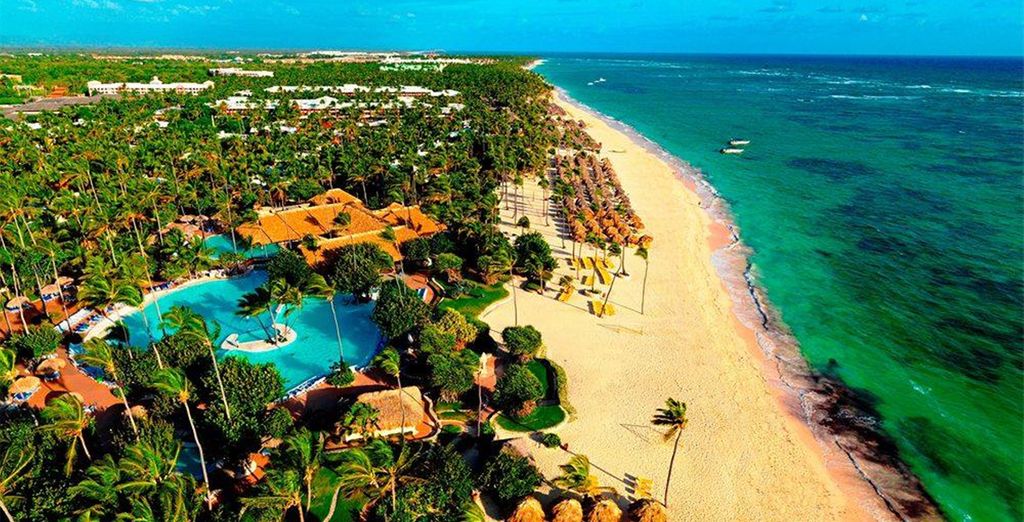 Spanish is the official language of this country, but most people also understand English as this is a mandatory lesson in schools. Learn some basic Spanish words and phrases before embarking on your holiday, especially if you plan to visit more localised areas.
What to pack for your Dominican Republic holiday
Due to the hotter climate, it's best to pack light and loose clothing that will keep you cool even during the winter months. However, June to November is the country's hurricane season, so pack a light jacket or rain mac to combat any potential stormy weather.
How long to stay
With so many activities to take part in and places to see, it's best to visit the Dominican Republic for at least one week. If you're travelling from European countries, it might take a long time to travel; combat this issue by staying for a longer time period.
Restaurants on site
Dominican Republic cuisine is a mixture of Spanish dishes with African influences. Seafood is always delicious and there is always something for spice lovers to try. Don't leave the country without trying Sancocho, a flavoursome meat stew that's a treat for the taste buds.
Family activities
With so much wildlife on this Caribbean island, animal-loving families will be spoilt for choice. Experience a water show at Dolphins Island Park, or even take a safari trip in the country's jungle. For a more relaxing family holiday, try your hand at hiking through nature or take a relaxing walk through Santo Domingo's Aquarium.
How to travel to the Dominican Republic with your pet?
Your pet can also enjoy all the country has to offer as long as they have had the appropriate vaccinations. A licensed veterinarian must provide a health certificate and also administer a rabies vaccination if your pet hasn't had one in the past 12 months.
Dominican Republic: What budget to plan?
When planned efficiently, the Dominican Republic can be a relatively affordable holiday. Those on a tighter budget should plan to spend $60 a day, while those looking for a slightly more luxurious stay should expect to spend around $200 per day.
Environment
The natural landscape of the Dominican Republic is extremely diverse. Some parts of the island are covered in soft white sand and crisp oceans, while others are swathed in mountains, greenery and lush vegetation. Nature lovers simply have to visit one of the many natural parks the country has to offer.
Additional practical information
You are expected to tip around 10% at restaurants in this country. It is also seen as a courtesy to tip the luggage porters for aiding you with your bags.
The Dominican Republic uses double pronged plug sockets, so if you are travelling from the United Kingdom then you may require an adapter.
Discover more travel guides to plan unforgettable holidays, or visit our holiday pirates.