Enjoy an exotic escape with a last minute deal to Morocco



Table of contents
Morocco is only a quick flight from UK airports so is the ideal destination for a last-minute getaway. Relaxing beaches, hot weather, bustling spice-filled souks, and lovely hotels often built in the traditional style with cool interior courtyards. Whether you opt for a laid-back seaside resort or a lively city break, you will love our fantastic last-minute Morocco deals.
Where to stay at the last minute in Morocco? The best hotels of Voyage Privé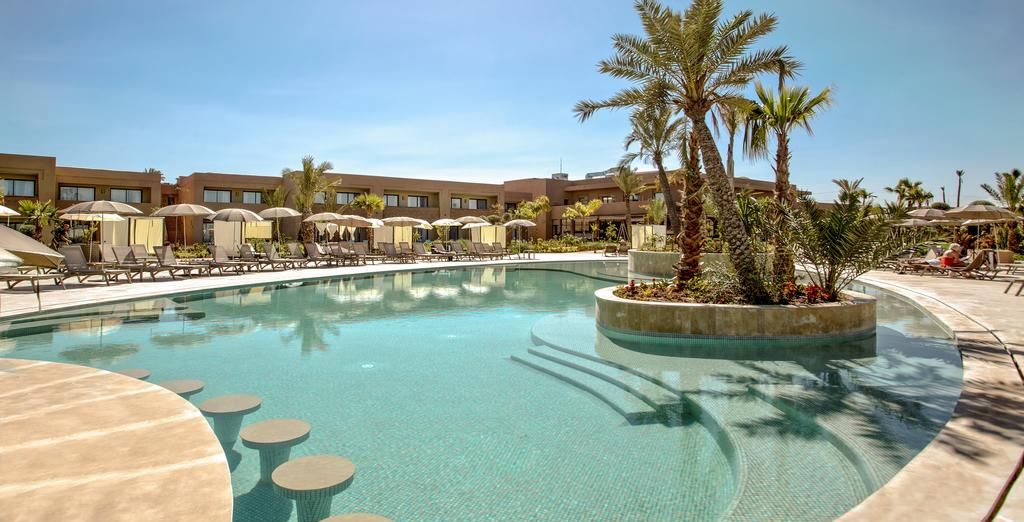 A sense of tranquillity awaits you at the luxurious Be Live Collection Marrakech Adults Only 5*. The hotel is thoughtfully designed for the needs of adult guests with an on-site spa and an expansive swimming pool, as well as all the activities you could wish for.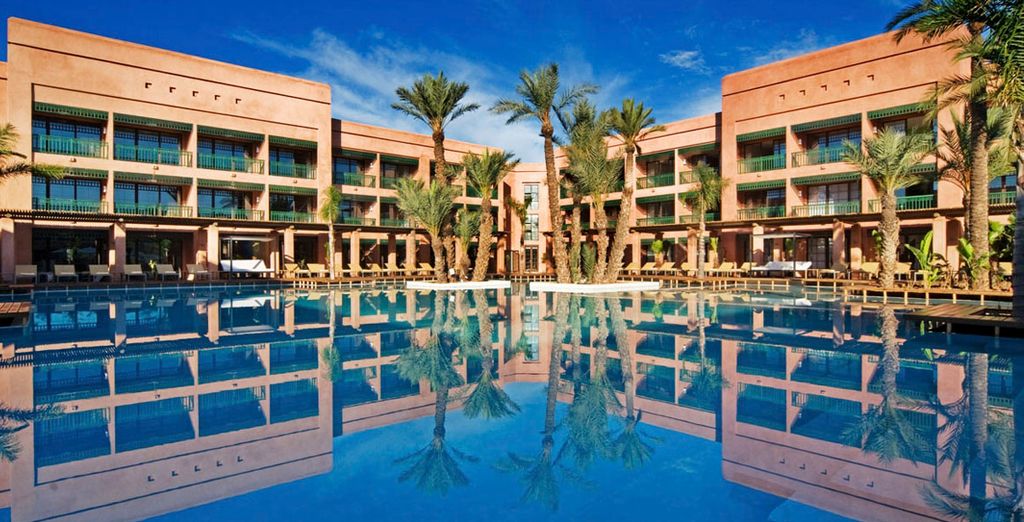 Ideally located near the main sights of Marrakech, this superb 5* hotel blends traditional Moroccan hospitality with luxurious modern conveniences. Hotel du Golf guests can choose from several delicious restaurants and bars, a Wellness & Fitness Centre, and much more!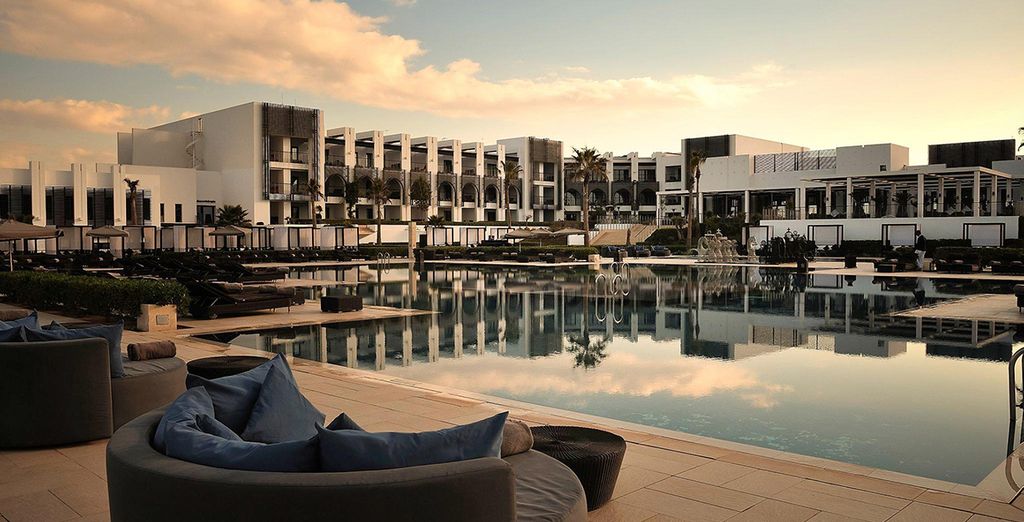 The Sofitel Agadir Thalassa Sea and Spa Hotel is situated next to a private sandy beach so guests can enjoy magnificent views of the ocean. There's an excellent pool set in smartly landscaped gardens and it's only a ten-minute drive to the heart of Agadir.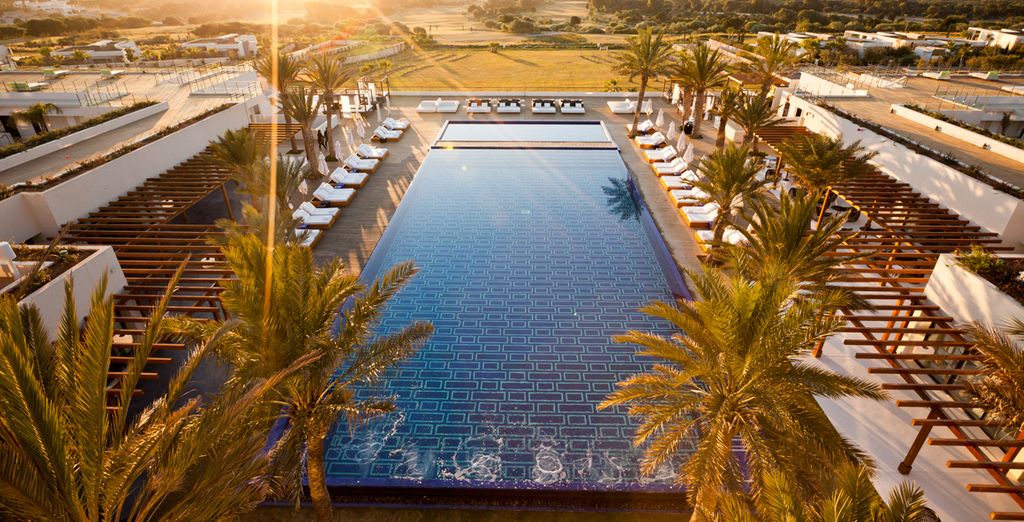 The Sofitel Essaouira Mogador Golf & Spa 5* embodies the Moroccan dream - a peaceful retreat situated between the desert and the ocean. Explore the hustle and bustle of the nearby Essaouira Medina before returning to soak up the sun in on the beach in style.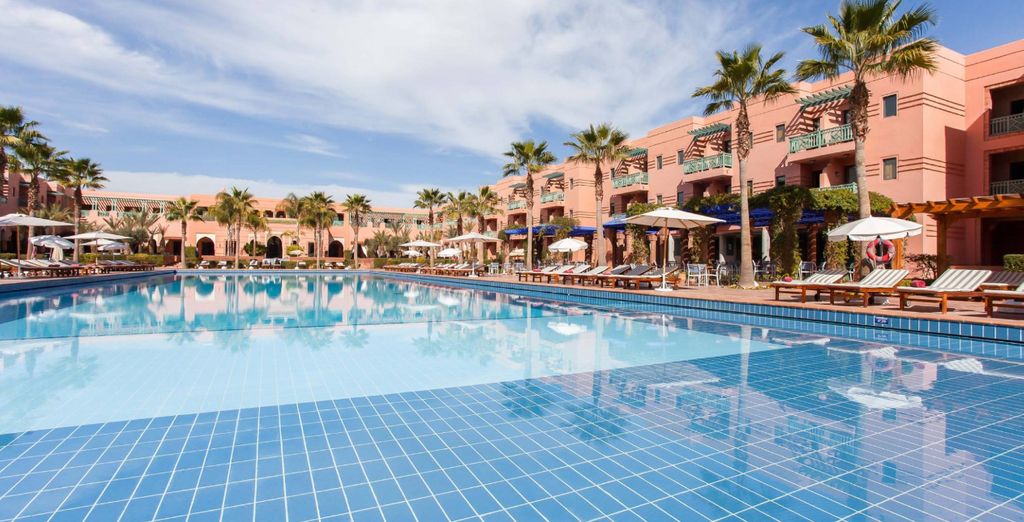 Located just outside the famous Medina of Marrakech, Les Jardins de L'Agdal welcomes you to a relaxing stay with all the facilities of a luxury 5* hotel. Choose from Moroccan or European cuisine at the restaurant and relax by the pool with a cocktail.
How to book your last minute holidays in Morocco
Register with Voyage Prive online to take advantage of exclusive offers for members only luxury hotels. Use the website to search for your chosen area of Morocco. You can select a variety of holiday options, such as all-inclusive, transfer included, car rental, half board or full board. When you have found your perfect last-minute holiday, simply complete the online booking process.
What kind of offers can I find at last minute for Morocco?
As a member of Voyage Prive, you can enjoy an excellent selection of last-minute offers to Morocco and many other top destinations. The deals encompass all types of holiday; from solo trips to family holidays; hiking trips in the wilderness to a fast-paced city break. romantic break for two. With Voyage Privé discounts of as much as 70%, it has never been easier to enjoy last minute holidays in style.
The?5?best things to see and do in Morocco
1. The Todra Gorges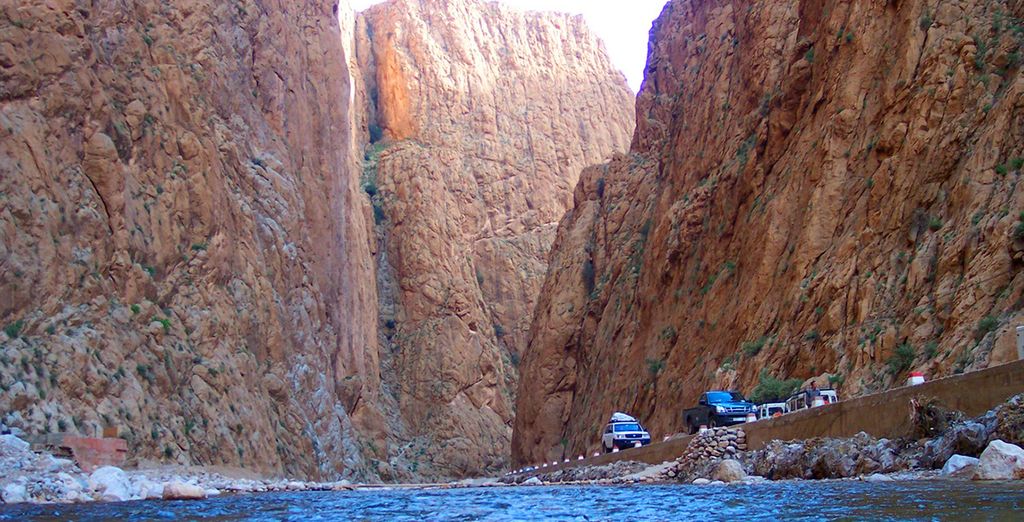 The Todra Gorges or wadis are part of the East Atlas Mountains and are among the most spectacular canyons in the world. You can go hiking or rock climbing or just admire the amazing landscapes.
2. Jardin Majorelle, Marrakech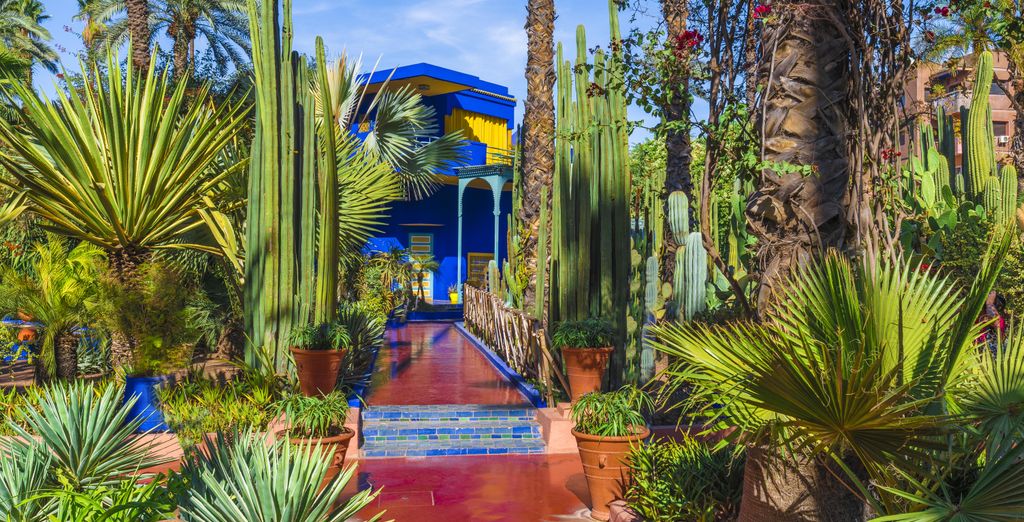 The Jardin Majorelle is an enchantingly luxuriant botanical garden created in the 1920s by the French painter Majorelle and also provided inspiration to the designer Yves Saint Laurent who bought the property in the 1980s. Open throughout the year.
3. The Tin Mal Mosque
An ancient site, high in the Atlas Mountains, above a remote river valley. Built in 1156, the Tin Mal Mosque is an architectural wonder. Visiting the Tin Mal mosque is recommended for those fascinated by history.
4. Go on a camel trek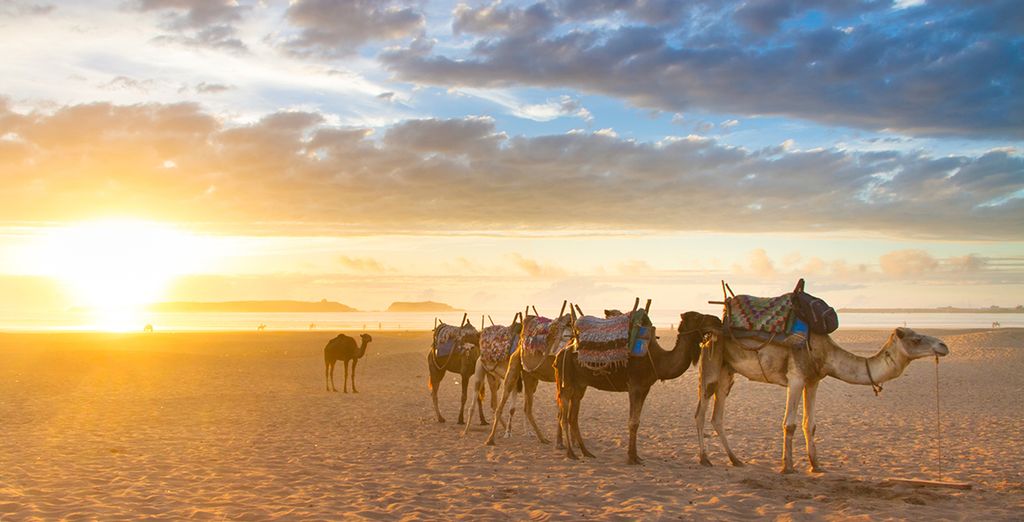 Go camel trekking in Morocco and venture into the Sahara Desert. There are many tours from which to choose, including overnight packages staying in a desert camp.
5. The Tree Goats of Morocco at Tamri
Found in the small village of Tamri, adorable white cloven-hooved goats climb the thorny argania trees in search of berries. This is condoned by local farmers. Warning: don't take a tour bus as you may find goats tied to the trees, which is cruel.
Our practical advice for Morocco
What to pack for a last-minute holiday in Morocco?
Morrocco is hot in the summer and warm in the winter so pack lightweight summer clothes but bring a warm jumper or two for the evenings which can be very cool.
You should also take insect repellent, electrolyte tablets, plenty of sunscreen, a hat, sunglasses, and headscarves or shawls for visiting mosques.
What budget to plan for a last-minute trip to Morocco?
On the whole, Morocco is a very budget-friendly destination, although some luxury items are more expensive than in the UK. You should aim for a budget of around 400 - 600 MAD per day (£35 -£55) assuming you are eating in mid-range restaurants and street food. It's a good idea to plan an additional budget for impulse buys and excursions.
Last-minute offers enable you to enjoy even cheaper prices so you'll have more money to spend once you're there!
Useful information before going to Morocco
Arabic is the official language of Morocco, although Darija is more widely spoken. However, hotel and restaurant staff will generally be able to communicate in English, although French is the second language of choice for many Moroccans. Morocco is one hour ahead of the UK in time so you won't suffer from jet lag after the approximately three and a half hour flight.
Haggling or bargaining in the markets or souks is a way of life in Morocco, so it can be worthwhile reading up on some tips before you go. It can be great fun; just decide in your head first the amount you are willing to pay for an item.
The Voyage Prive travel expert's opinion on Last Minute trip to Morocco
Majestic Marrakech
Marrakech is a destination which truly ticks all the boxes. An ideal base for luxury holidays, the beating heart of the city is Jemaa el-Fna - a grand square in Marrakech's old quarter. By day it is a thriving marketplace selling food, juice and crafts, but it comes alive at night with snake charmers and musicians drawing in both locals and tourists alike.
The Menara Gardens in the West of the city offer a blissful change of pace from the hustle and bustle of the city. Olive groves and orchards stand out against the stunning backdrop of the Atlas mountains. The gardens, created in 1130, are best known for the stunning symmetrical pool and pavilion - an ideal place for a leisurely stroll to enjoy
Marrakech may have captured the imagination of millions of travellers, but one man who fell deeply in love with the red city was designer Yves Saint-Laurent. His ashes are scattered in the Majorelle Garden, which he owned from 1980 until his death in 2008. An assault on the senses, the botanical garden boasts a collection of cacti like no other. And while it may have been created in a desert, the gardens' lily pond and other aquatic plants show off the city's watery side too. All the things you will be able to enjoy with a last minute deal to Morocco.
Surf's up
Essaouira on the Atlantic Coast is known both for its fortified walls and the fishermen who line their painted boats along the shore. The port town is also popular among lovers of water sports, with a number of surf spots popping up along the enchanting coastline. It also has some of the best fresh fish and seafood restaurants you will enjoy during a trip with last minute deals to Morocco - many offering diners unparalleled views across the sea.
Islamic and French influences in Rabat
Not to be missed in the country's capital, Rabat, is the Kasbah des Oudaias. The Unesco World Heritage Site is a small fortress with a fascinating history of housing everyone from Muslim refugees fleeing from Spain to the country's most famed sultans. Enjoy a cup of Moroccan tea and soak up the atmosphere.
Last minute deals to Morocco will give you the opportunity to discover a fascinating blend of people, cultures and architecture. Our exclusive offers will mean you get the best possible deals for luxury holidays to this gem of north Africa.