All Inclusive Caribbean Holidays
An exotic and tropical destination beloved by holidaymakers for its unique, laid-back culture and vibrant locales, the Caribbean is a must-visit for anyone looking to enjoy a completely different way of life, complete with sweeping beaches, beautiful resorts and excellent food.
With a buzzing nightlife available throughout the islands from numerous clubs and bars, as well as a wide variety of different sights to see and things to do, visiting the Caribbean is on thousands of bucket lists for a good reason. The prime location of the islands ensures excellent weather for most of the year, making it the perfect destination whatever season.
With each island offering a unique experience, the most challenging part of visiting the Caribbean is doing everything you want to in the time available, from exploring the historical charm of beautiful Puerto Rico to enjoying the surf and cocktails of Jamaica.
The Voyage Prive travel expert's opinion on travel to the Caribbean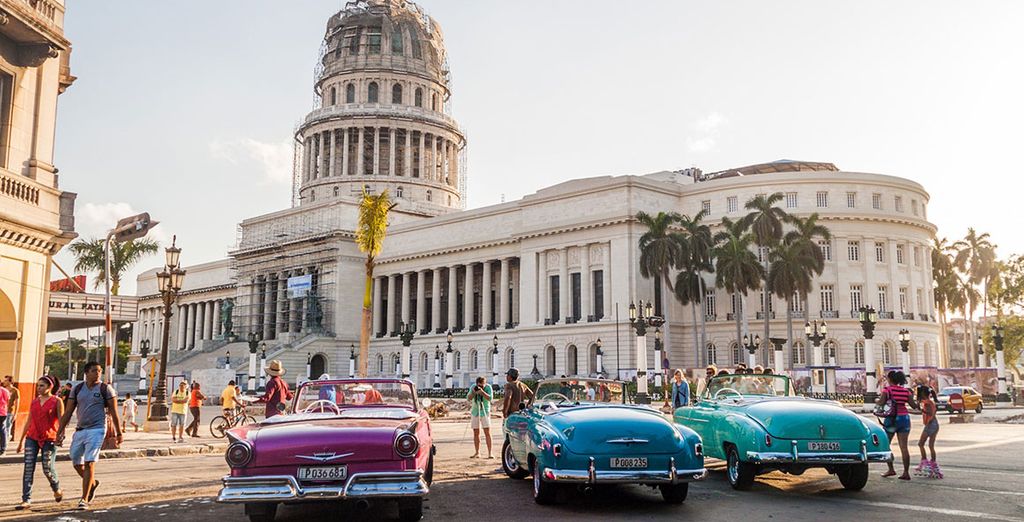 The perfect honeymoon destination for newlyweds, the Caribbean is a particularly popular destination for couples looking to experience the luxuries available on some of the more popular islands, such as The Bahamas, with copious cocktails and beautiful beaches to enjoy.
The Caribbean is also the perfect once-in-a-lifetime destination for families, with plenty to see and do from scuba diving to water sports, visits to the many towns and villages on the island and all-inclusive resorts available throughout. There's never a dull moment for the children, and plenty to do for the adults too.
Solo or group travellers will also love the Caribbean islands, with the chance to experience local life from the bars and cafes dotted around the islands, as well as access to countless historical sites and beautiful hiking trails for those who prefer to go off the beaten path with their holiday choices.
Whatever your goal, visiting the Caribbean is a truly unique experience and one that should not be missed whether you prefer to enjoy yourself by the pool, immerse yourself in local culture and events or simply sun yourself on the many beaches.
There's plenty to see and experience in and around the islands, which is evidenced by the many all-inclusive Caribbean holidays offered.
Top 5 things to do/see in the Carribean
1. Grand Cayman swimming tours
From swimming with stingrays to snorkelling with tropical fish, Grand Cayman is the place to go to experience the diverse wildlife of the Caribbean up-close, with beautiful blue seas and access to some of the most stunning underwater views in the world.
2. The Cloud Forest
A sight unlike anything else, the Cloud Forest on Puerto Rico is a must-visit for those who prefer their holidays with a little more action. Walking through El Yunque rainforest requires waterproof clothing even on the sunniest days thanks to its unique ecosystem.
3. Curacao coral reef
A staple of Caribbean tourism, the Curacao coral reef is a sight to behold and is often part of the island's many midnight dives to see this delicate and beautiful underwater view from an entirely new perspective, with nearby dolphin and boat tours also available.
4. Seven Sisters Falls
A stunning swimming destination on Grenada, the Seven Sisters Falls is one of the most beautiful places to swim in the world, with a large waterfall that you can swim under and cool off in - the water is always clear and cold.
5. Nassau Pirate Museum
With much of the Carribean's history centred around pirates, the Nassau pirate museum is a must-visit for anyone wanting to know more about the culture and origins of the Bahamas and the surrounding islands, complete with original exhibits.
Which hotel to choose in the Caribbean?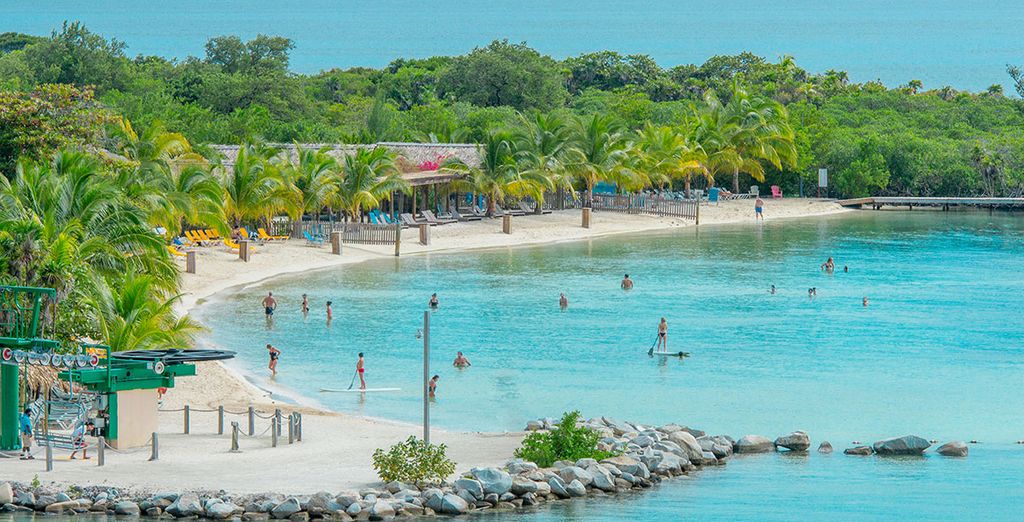 1. MSC Opera
A stunning and vast cruise ship complete with every amenity you could need, the MSC Opera is the ultimate way to explore the Caribbean islands in style. Complete with a hallmark luxury Mediterranean style and all the fixtures and fittings on-board, this top-tier cruise liner is the perfect base to explore Havana, Belize, Costa Maya and more.
2. Star Clipper
A different type of boat, the Star Clipper takes sailing in an entirely new direction with a laid-back feel and comfortable style that's a must for the best possible experience of Caribbean life. Small-scale and with a luxuriously modern feel, this cruise ship includes numerous pools as well as an on-site bar, perfect for evenings on the open sea.
3. Carnival Magic
The ideal cruise ship for families, the Carnival Magic cruise liner takes you on a tour from the magical sights of Orlando to the stunning culture of Puerto Rico, with everything included on-board to ensure this holiday is your best yet. With plenty of entertainment, multiple pools and even a pub, the Carnival Magic caters for all.
Experience one of the most beautiful regions in the world with your all inclusive caribbean holiday
The Caribbean has no shortage of natural beauty, and there are so many islands to choose from, the only difficult decision you will have to make is deciding on which ones to visit. See the exquisite colonial architecture of Old San Juan in Puerto Rico. Learn about chocolate making in Grenada. Sip a tropical cocktail at Montego Bay in Jamaica. Witness multiple carnivals, each more colourful and loud than the last. Indulge in holistic therapies and massages. Cruise from island to island on a speedboat, or rent a yacht for the day. For the adventurous kind, there is zip-lining in St Lucia, kite-surfing on the Orient Bay in St Marin, or swimming with sharks. See glorious Gango Jay Birds and Banana Birds soaring overhead and adorable sea turtles swimming round your ankles. And, of course, experience distinct cultural identities and ever-welcoming locals on each island. What's more, choose from 4 or 5-star hotels to always end the day in comfort and style, no matter what you decide to do, or where you decide to go.
Try more tropical fruit than you can name
Once you have experienced the true wonders of the Caribbean landscape, the next best thing is the cuisine. Rich in delicious spices and tropical fruit, the Caribbean is a true haven for foodies. Go to Antigua to eat the pale flesh of the spiky, green fruit known as Soursop and delight in its rich, creamy flavour. Relish flaming-hot vegetable and meat patties on white Jamaican sands, after trying authentic Jerk Chicken. The Caribbean has enormous diversity in food, with dishes influenced by such far-flung regions as China, India, and West Africa.
Practical information about the Caribbean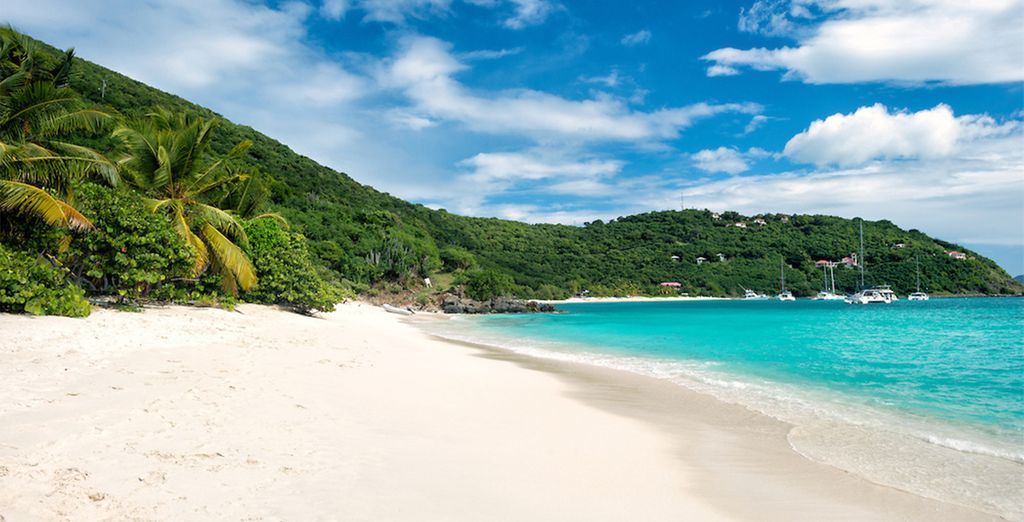 What is the weather in the Caribbean?
A humid and hot country for the majority of the year, visitors to the Caribbean should expect to wear lots of light, loose clothing to combat the heat – though don't forget to pack the sun cream and your swimming costumes too, to enjoy the variety of water-based activities available on the islands.
What budget to plan?
With many luxury activities and resorts to visit, the cost of visiting the Caribbean will depend on whether you opt for all-inclusive Caribbean holidays or go off the beaten path. With many holiday plans, all your expenses are covered before you make your flight. For those looking to be more organic in their choices, costs may include food, hiring boats or cars and even the price of tours or unique experiences such as swimming with dolphins.
For those working with a smaller budget, it's entirely possible to enjoy everything the Caribbean has to offer by sticking to lower-priced options, such as walking tours, enjoying the many beaches or visiting the local towns and villages to enjoy the vibe and culture of the Caribbean from a different perspective.
Save money without compromising on comfort
Want to enjoy a luxury travel experience without breaking the bank? Our team is on board to provide you with a selection of hand-crafted all inclusive Caribbean holidays. Choose from romantic getaways to family breaks or even solo extravaganzas. The Caribbean has something for everyone and travel to the region has never been such good value. Sign up now for amazing offers that will satiate your wanderlust, and before you know it you will be soaking up the sun on a Dominican beach, wandering around Old Havana, or scuba diving in the Caribbean Sea.
Sign up now for exclusive offers
With all inclusive Caribbean holidays like ours, you won't have to lift a finger. Join now for deals with up to 70% off and soon you will be jetting off into the sun. There has never been a better time to visit everyone's favourite destination.
Visit our Caribbean holiday offers: Caribbean holidays, Caribbean cruises, Caribbean all inclusive cruises, Caribbean last minute cruises, western Caribbean cruises.
Discover more travel plans with our holiday pirates.