Booking Offers in Antalya



Table of contents
Do you want to stay in Antalya for your next trip? Here are our best plans to find the top hotels at the best prices.
Discover our top 5 hotels in Antalya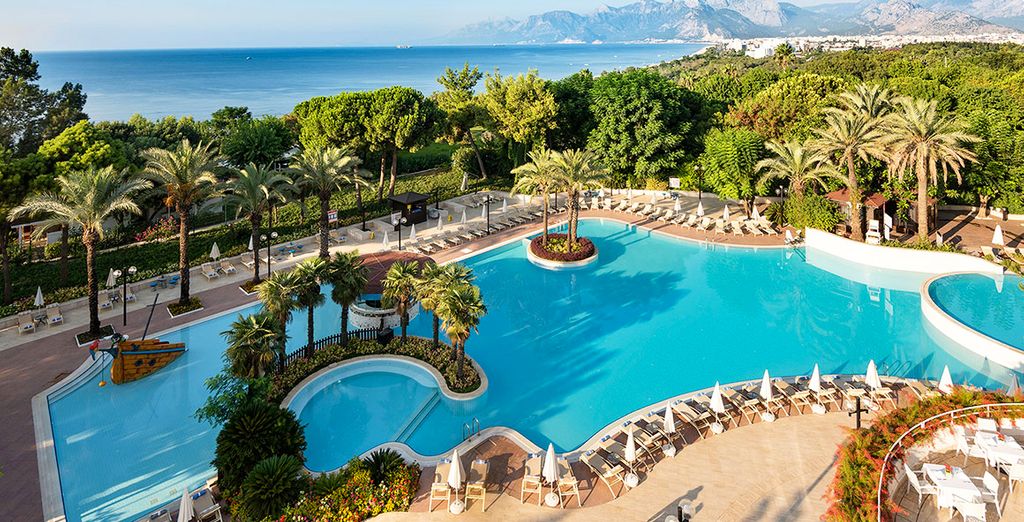 When you choose this offer you can roll the dice and stay in one of the 5*, all-inclusive Rixos hotels in the city of Antalya. Each hotel is situated along the Turkish Riviera among the stunning thermal spas. Whichever hotel you end up in you are guaranteed, beautiful beaches, luxury rooms, delicious food and a very warm welcome.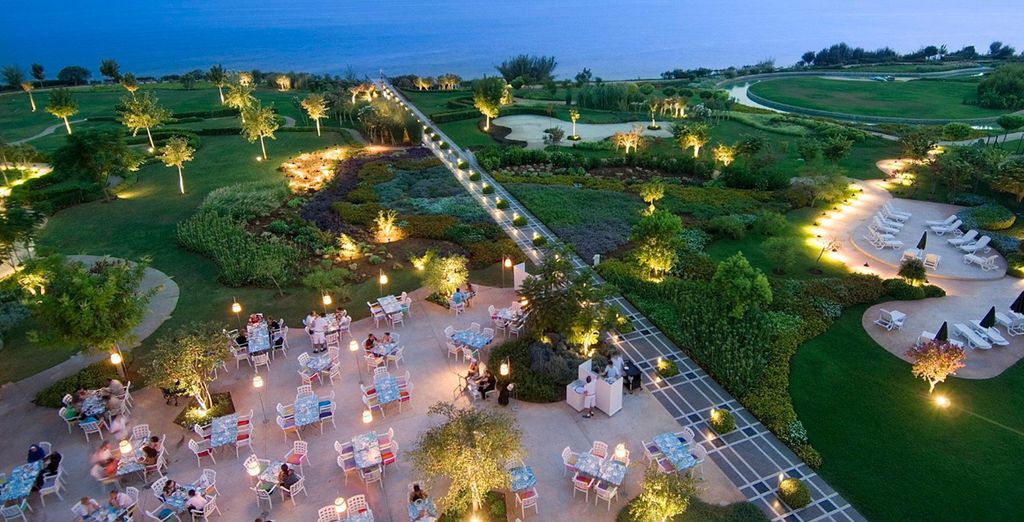 Situated just a short five-minute drive from the city centre of Antalya, in the glorious Falez hills, this hotel offers you its own private beach. It is ideal for those who want to explore because of its proximity to attractions but also perfect for those who want to return to luxury after their adventures. With a spa, gym and outdoor pool, there is certainly enough to keep you entertained and pampered all day long.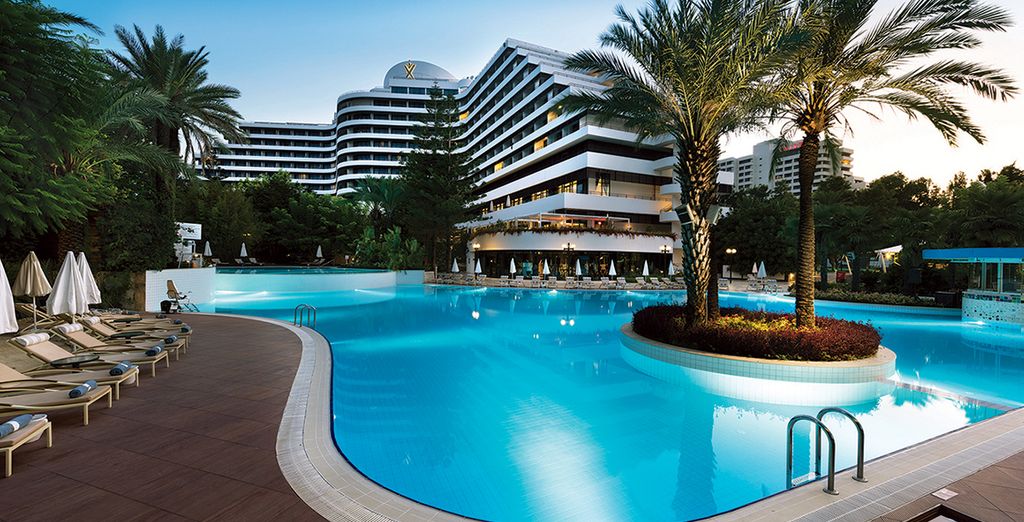 Rather than try your hand at the Rixos roulette, you could specifically book into the Rixos Downtown. Set in the heart of the city, you can take advantage of all that Antalya has to offer, including Konyaalti Beach, Ataturk Park, and Antalya Museum. There are luxury spa facilities and lots of activities on offer for you to sample. You can enjoy beautiful views, no matter which room you book into, whether you are looking towards the sea, the mountains, or into the city. You can also enjoy all-inclusive dining.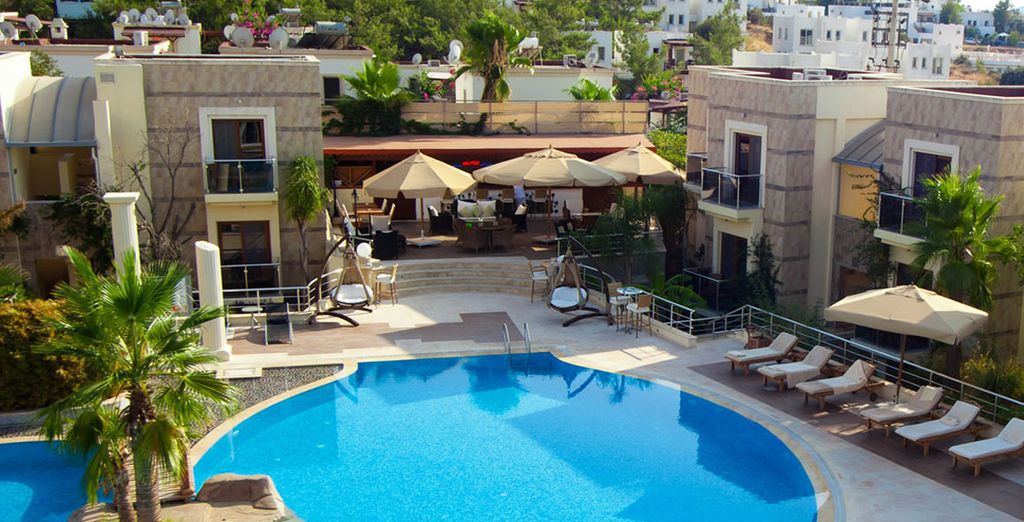 Situated on the Cukurbag Peninsula, this hotel benefits from amazing sea views, looking out towards the island of Meis. It's a ten-minute drive to Kas, the best spot for diving in the whole of Turkey. Head here to see some amazing aquatic life, including dolphins and octopus. There are plenty of historic sights, just a short drive from the hotel, making this the perfect destination for those who love to blend luxury and culture.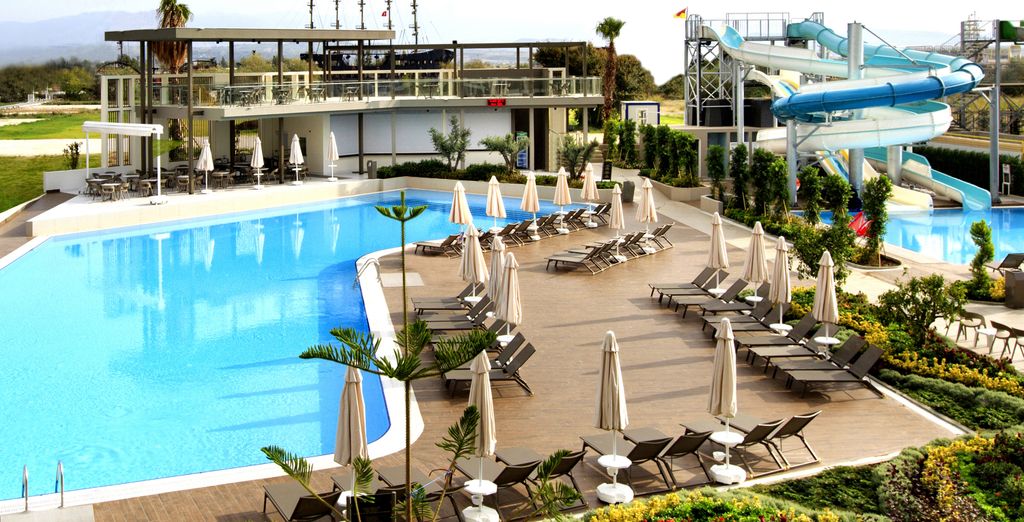 This resort and spa offer you luxury and art-deco opulence. Set on a beach and with its own spa, you will be truly living the high life when you stay here. There is plenty to keep you occupied, including water slides, watersports and many other team-games for you to participate in and that doesn't even take into account what Antalya itself has to offer. Enjoy all-inclusive dining and sample the best that Turkish cuisine has to offer as well as other international specialities.
Our reviews on Antalya and its hotels: why make your booking there?
Antalya is rich in history and beauty, there really is so much to see in this Meditteranean city. The beaches are white, the sea is blue and the hotels in the city really make good use of this. The hotels on offer in the city understand that you will want to explore, so they are situated in locations that allow you to do this but they also offer luxury, through spa facilities, private beach access, or all-inclusive dining. Antalya offers you the perfect blend of culture and relaxation.
How to make my booking in Antalya
If you want to book a holiday to Antalya, the first thing you should do is head to our website. We have access to a range of exclusive offers, with discounts of up to 70% off the prices that you will find elsewhere. We offer full customer support throughout the booking process and the duration of your holiday and we also have a mobile app that has up-to-date information about your destination. Once on our website, register with us by either clicking on 'join now for free' or by clicking on any of our offers. There are usually plenty of offers in place for Antalya on our website but should you find that there aren't any, simply create an alert so that you are notified once some are uploaded.
The different ways to make your online hotel booking in Antalya
Here at Voyage Prive, we understand that not everyone wants to book their holiday in the same way, which is why we offer you two options.
Book flight and hotel to Antalya
If you are happy for us to find the best flights for you, then you can book a package including both flight and hotel, we can take the hassle out of trawling through pages of flight details.
Book only your favourite hotel to Antalya
If the flights we have advertised don't work out for you, or you simply want to build your own holiday you can just book your hotel through us.
The best places to find hotels in Antalya
Kaleci
This is the old town area of Antalya. Expect to find old cobbled streets and small boutique hotels that make the most out of the classical Ottoman architecture.
Lara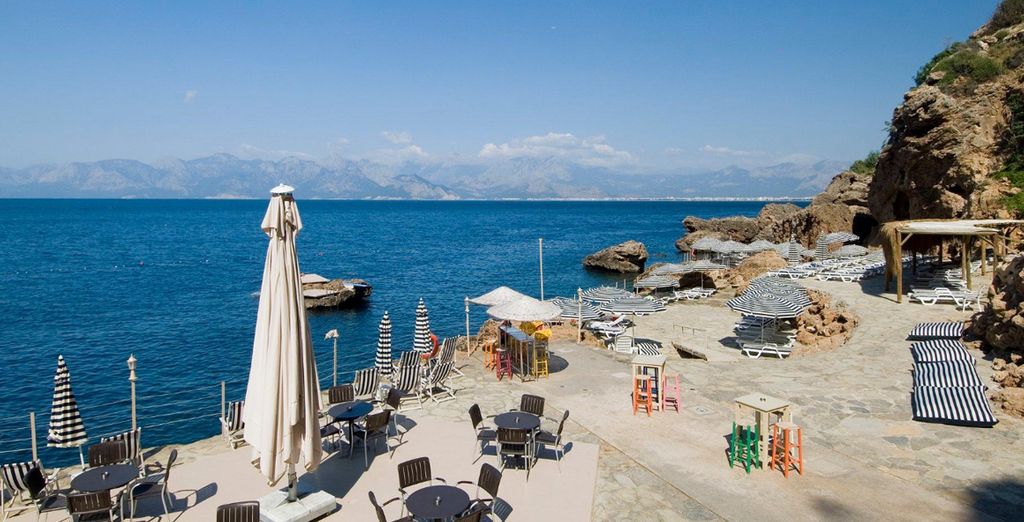 This is an upmarket area, expect luxury hotels, white sands, crystal clear sea and the feeling of a luxurious holiday.
Belek
This is another area known for luxury. It is known for its beaches, golf resorts and thermal spas as well as many historical sites, including a Roman Amphitheatre and the Greek Temple of Apollo.
Kemer
Situated some 43 kilometres from the centre of Antalya, this little village town is nestled in the outskirts of the Taurus Mountains. It is very picturesque and a place to spend a truly relaxing break.
Kas
It is three hours away from the centre of Antalya but is home to world-class diving facilities. If you like adventure and sandy white beaches, this small fishing village will make the perfect location for your holiday.
Presentation of Antalya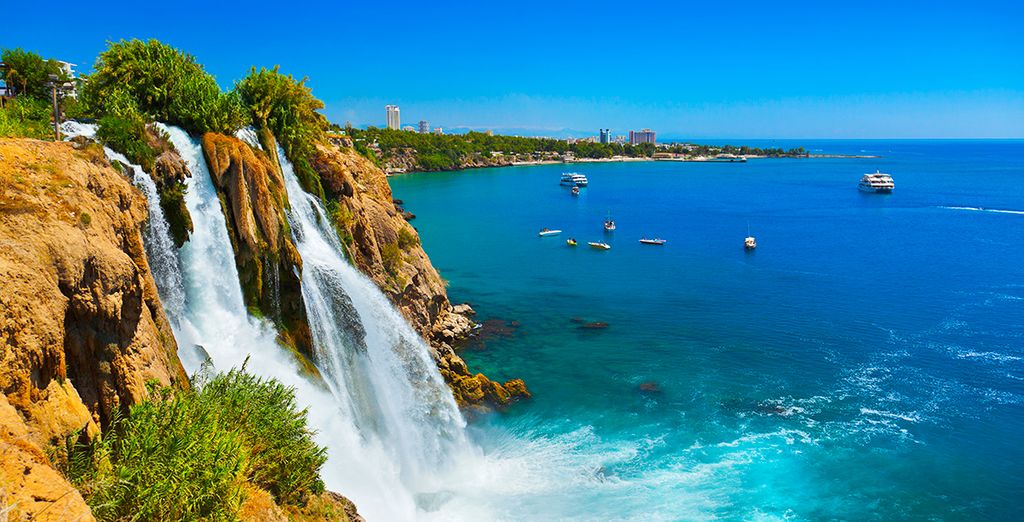 Antalya has something to offer everybody. For those who just want to relax on the beach, there are plenty to choose from all with luxurious white sand and blue seas. If you like history, there is plenty to see, including monuments of Roman, Greek and Ottoman heritage. Plus, the museums are full to the brim with historical artefacts for you to peruse. For the adventurers, there are great opportunities for diving, watersports and plenty of hiking trails. Nature lovers are also spoilt when they visit this beautiful city, with plenty of flora and fauna to enjoy as well as marvellous natural landscapes to take in, including stunning waterfalls and the amazing backdrop of the Taurus Mountains. Antalya really is the perfect holiday destination.
The 5 best things to see or do in Antalya
Visit the old harbour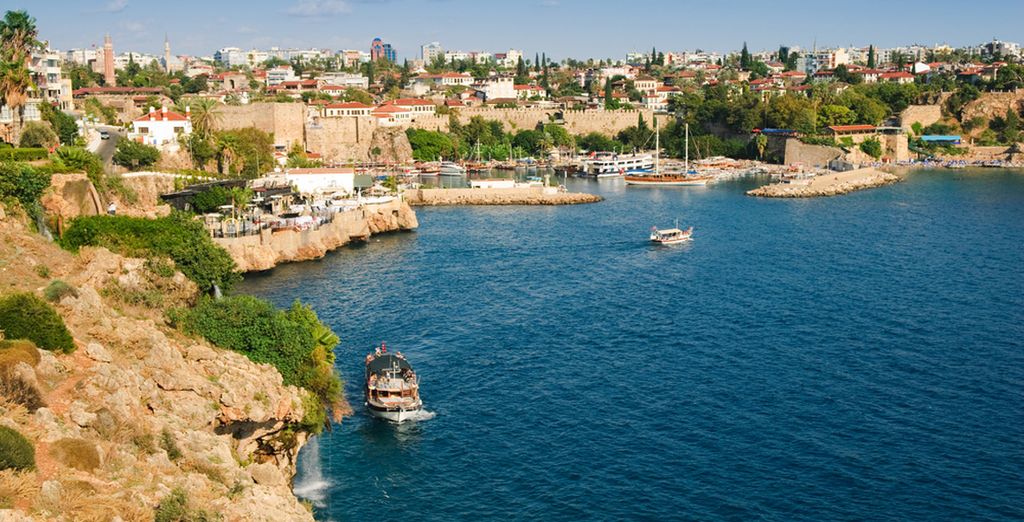 What more perfect way is there to spend a day then watching yachts bob up and down on the crystal blue Meditteranean Sea? Pair that with a wander through the quaint streets filled with boutiques, cafes and bazaars and it's just bliss.
Antalya Museum
Turkey has an extremely complex history, but this museum can take you through it step by step as you wander through and examine some of the amazing artefacts that have been left behind following various occupations of the city.
Aspendos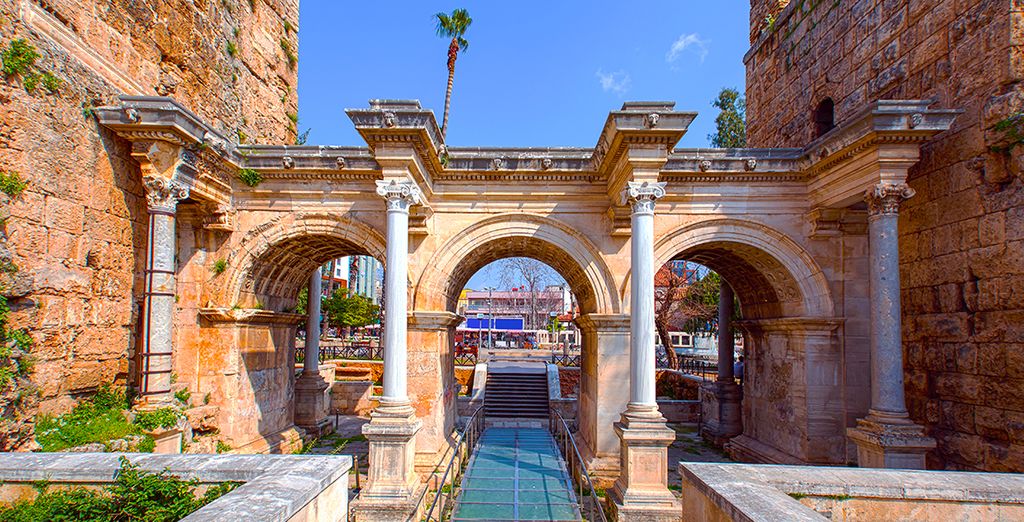 Go and see the splendour of this Roman theatre, which is thought to be the best-preserved specimen in the world. The site has been fully restored and has a capacity of 15,000. It really is a magnificent sight.
Take a boat trip around the coast
Take a boat trip around the coast of Antalya and see one of the most magnificent natural sights that the city has to offer, the Duden Waterfalls. These two waterfalls are fed by a river running from the Taurus Mountains into the Meditteranean and are best viewed by boat.
Chill on the beach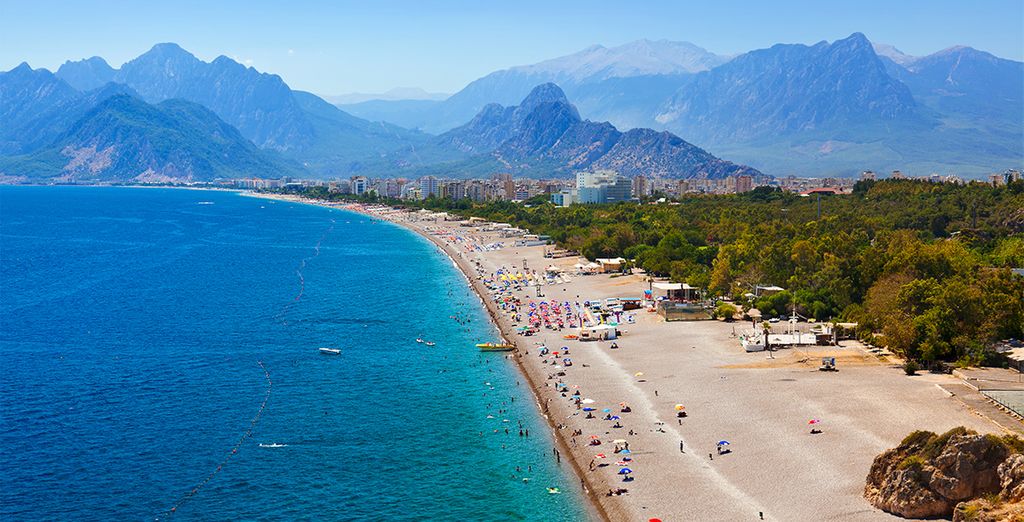 Antalya is famous for its beaches and there really is plenty for you to enjoy. The main ones are Konyaalti and Lara, which are both accessible from the city and are known for being incredibly beautiful.
Discover all our booking offers !