FREE Budapest Travel Guide for unforgettable holidays
Budapest, the bustling capital of Hungary, is a place that delivers on all aspects. From tantalising cuisines to wondrous sights and fabulous things to do, you'll never go bored in Budapest. Budapest is a place that delivers across the year too. Whether you want to soak up the summer delights with temperatures of 15 to 18 degrees or embrace the stunning variety of Christmas markets that pop up every winter, there is something to do all year round.
Known as the Paris of the East, we think Budapest certainly lives up to that reputation. With stunning architecture and a dynamic atmosphere, Budapest will deliver with delights. Keep reading to find out everything you need to know about visiting Budapest with this full-throttle Budapest travel guide.
Top 10 things to do in Budapest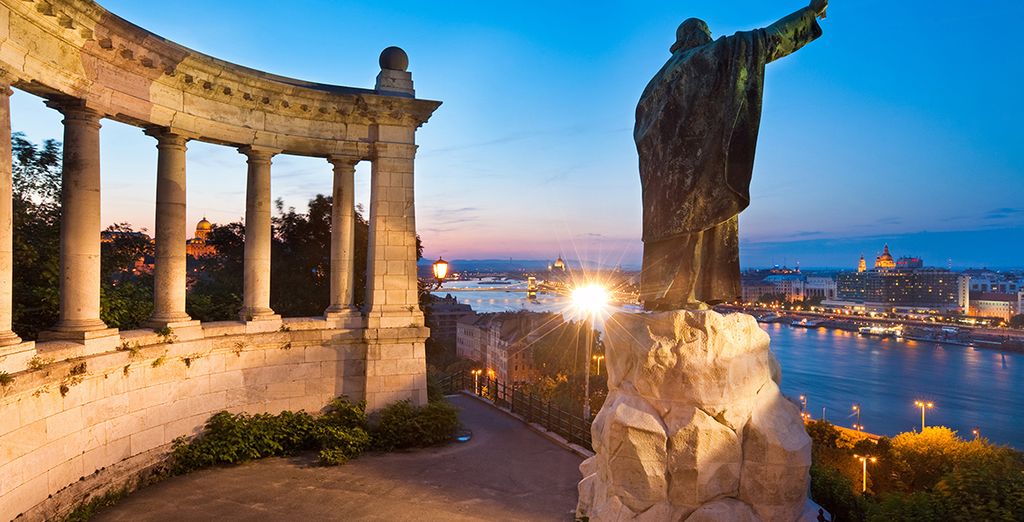 1. Danube Promenade
A picture-perfect must-see is the Danube promenade. The banks of the Danube river are listed as a UNESCO World Heritage Site so it's worth a stroll. If you're on a time limit, it's also a strategic and delightful way to witness many of Budapest's best sights on offer.
2. Take a trip to castle hill
This stunning area is perched just above the city and is a must-see neighbourhood of Budapest. Many of the buildings date back to the 14th and 15th century offering a historical treat for the eyes. Take a full day to discover the winding cobblestone streets and on your adventures, you can visit top attractions such as Matthias Church (Mátyás templom), Trinity Square, Buda Castle and Fishermen's Bastion (Halászbástya).
3. House of Terror
If you're interested in Budapest's intriguing history, then this is the perfect opportunity to discover more. The House of Terror is a museum which details Budapest's time under communist and Nazi rule. It specifically focuses on the very secret police of both parties. It's even situated in the secret police's former headquarters, which happened to be the location of torture sights too. It's a highly interesting museum and one of the most popular things to do in Budapest.
4. Memento Park
Budapest was filled with monuments and communist style buildings and statues during their years behind the Iron Curtain. However, once the fall of communism occurred, people began to tear almost all of the statues down and relocated them to the outskirts of the town in a new park. Today, it's now an interesting place to visit and take your selfie with Stalin. A convenient way to visit is via an organised tour - which there are plenty of!
5. Visit Thermal baths
Budapest is famous for its thermal baths and a trip to Budapest would not be complete without a visit. Even the Romans enjoyed the city's thermal baths, so it would be rude not to go. People of all ages enjoy these waters, and there are a variety of baths around the city ranging in style and ambience. Budapest houses a variety of different small pools with varying temperatures, so you can pick something that is comfortable for you. Two of the city's most famous thermal baths include Széchenyi and Gellért. The former was built in 1912 and its beautiful neo-baroque complex consists of eight swimming pools and 11 medicinal pools. It's world famous and the biggest Spa in all of Europe. Gellert was built in 1918 and is another popular option for visitors. It houses four thermal-medicinal pools, two outdoor pools, and six other indoor pools.
Don't forget to bring your own towel!
6. Saint Stephens Basilica
This is not only the largest church in all of Budapest, but also contains St. Stephen's mummified right hand. If you're in search of a 360-degree view of the entire city, then this is the spot. It offers the most impressive and highest views of the city, so have your camera ready!
7. Ecseri Flea market
Interested in shopping? Then one of the biggest flea markets in Central Europe sounds like a great idea. Whether you're shopping for yourself or others, this market sells just about everything you can think of. It's a great place to shop for your souvenirs and experience the natural buzz of Budapest.
8. Hungarian state opera house
This is a neo-Renaissance opera house that is renowned for its quality. It's one of the best in the entire world, and if you want to visit the opera, finding cheap tickets is possible. Or, if you're not an opera fan, it's still worth a tour inside. You will be impressed by the sheer beauty on offer.
9. Andrassy Avenue
This is a grand tree-lined boulevard that runs through Budapest and since it's a UNESCO Heritage Site, it's definitely worth a visit. It connects the City Park and Opera House and it runs through most of the city's most expensive real estate, which is interesting to view.
10. Take a walking tour
One of the best ways to explore any city, and to get your bearings, is to take a walking tour. Thankfully most cities offer free walking tours, and Budapest is no different. Take a stroll with a local guide through the streets of Budapest and learn lots about this beautiful city. It even presents you with the opportunity to ask for local advice, such as unique restaurants, bars or even the best places to shop.
The best time to visit Budapest
Budapest is a destination that's worth visiting all year round. Summers are pleasant with temperatures averaging around 18 degrees, and sometimes higher. Summer tends to be peak tourist time, so if you don't mind crowds, then it's a great time to visit. Spring and autumn are also a great time to visit. Pleasant temperatures and fewer visitors means you'll have the city to yourself. If you want to experience a Christmas-themed Budapest, then winter is a brilliant time to visit. However, remember it gets very cold, so you will need to wrap up warm, but if you want to catch some of Europe's best Christmas markets, then the end of November to December is your best option. There will even be the chance to ice skate outdoors.
How to get to Budapest?
You can get to Budapest via plane, train or even car. Flights to Budapest are regular from many top UK airports and they are great value too. A non-stop flight time from Budapest to London is around 2 hours 45 minutes. Or, you can get the ferry to Calais, France and drive to Budapest, however, remember the journey may take you up to 15 hours (traffic dependent). Another option is to go via train. Again, you'll need to get to France first then inter-rail your way to Budapest.
Just don't forget your passport, as you'll need it for all forms of transport. As a member of the EU, you won't need to worry about visas or anything complicated. Just bring your passport and your excitement and you're ready to go!
Which hotel to choose?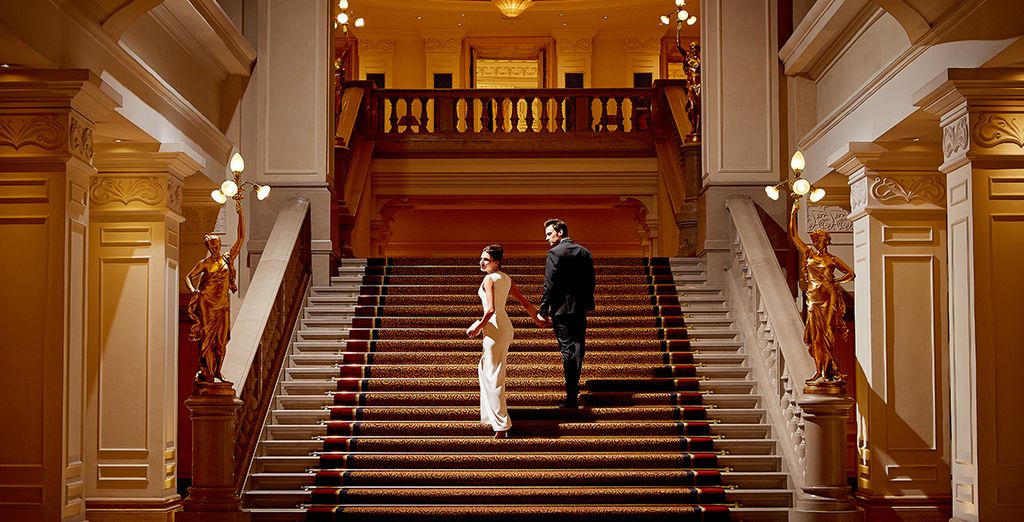 There are many fabulous hotels to choose from in Budapest, meaning your trip can be completed in style. Below we list some of the best current deals on offer for a holiday to Budapest.
This beautiful hotel is perfectly located just 50m from Heroes Square and 600m from Széchenyi Bath. It even offers an on-site Chinese spa which makes it the perfect place for a luxurious escape. When you book with Voyage Prive, you can stay with style with a superior room, alongside a complimentary bottle of champagne during your trip.
If you're on the search for a luxurious hotel that offers family-friendly facilities, then this is a perfect choice. This hotel boasts stunning views across Budapest with a rooftop pool. That's not all; you'll even be treated to a daily champagne buffet breakfast and a bottle of wine on arrival.
This beautiful boutique hotel is perfect for a romantic getaway to Budapest. It's a beautiful hotel with stunning design and features. The wonderful location also puts you right in the heart of the city, with access to culture, shopping and much, much more.
Cultural events and festivals in Budapest
There is always something to do in wonderful Budapest, so to ensure you don't miss out on any key events, we've noted some important dates to plan your holiday to Budapest around.
Budapest International Circus Festival 8-14 January

Mulled Wine Festival 19-21 January

Mangalica Festival 9-11 February

Budapest Boat Show 22-25 February

St. Patrick's Day Parade 18 March

Budapest Spring Fair 23 March-22 April

VinCE Budapest Wine Show 5-7 April

Hungarian Dance House Festival and Fair 13-15 April

Budapest Art Week 17-22 April

Hyperspace Electronic Music Festival 21 April

International Book Festival Budapest 19-22 April

Budapest Summer Festival 9 June-31 August
With so much to choose from, your only problem will be deciding when to go. If you can't decide, then return multiple times for a wonderful trip to Budapest! We offer great deals throughout the year, so there is always somewhere fabulous to stay.
The Budapest map
Our practical advice for a trip to Budapest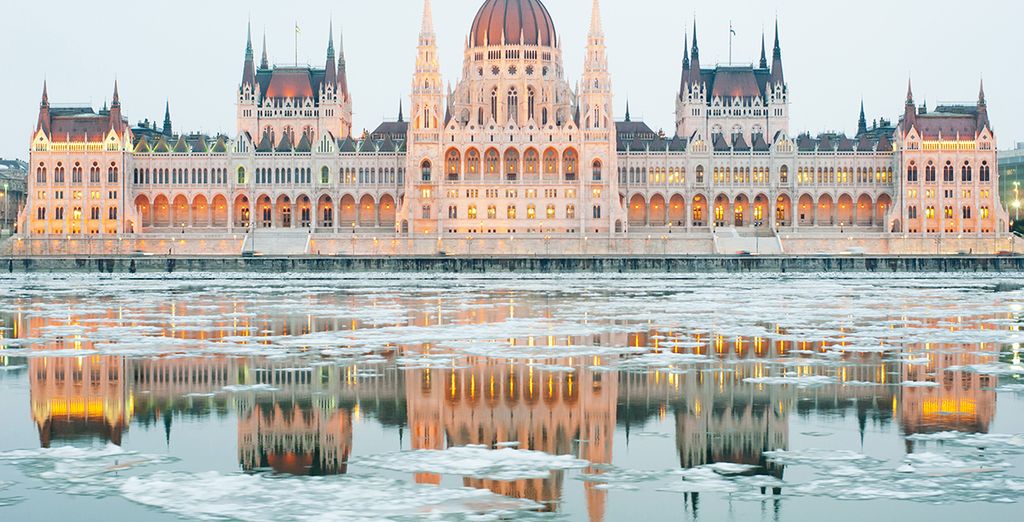 What to bring back from Budapest
If you're looking for unique souvenirs to bring back from your trip to Budapest, then porcelain is a great option, as the Hungarian tradition of handcrafted porcelain goes back hundreds of years. Painted eggs is also a local popular item, along with Ajka Crystal. If you'd like something alcoholic as a gift, then a great choice is some Tokaji Wine which is a local Hungarian wine.
Whether it's for yourself or loved ones, there are lots of unique gift options to find in the city of Budapest.
What currency should I use in Budapest?
You can spend euros in Budapest, or if you wish, you can use the local currency of Hungarian Forint. Some places may allow you to spend dollars, but you'll often find that using the local currency will provide you with the best exchange rate and best value for money. The current exchange rate is around 1 Pound sterling for 365 Hungarian Forint.
What is the time difference
Budapest is one hour ahead of the UK.
What language is spoken in Budapest
The main language of Hungary is Hungarian, but you'll often find that English is widely spoken in popular tourist destinations. However, it's always nice to learn hello and thank you in local languages. In Hungarian, Hello is Helló and thank you is köszönöm.
What to pack for my holiday to Budapest
This will depend on the time of year you are visiting. Even in summer months, temperatures don't reach exceedingly hot, so it's always worth bringing a jacket, especially for the evenings. If you are visiting in winter, it's not uncommon for temperatures to reach below freezing, so it's important to wrap up well and pack scarves, layers, and gloves. Remember you'll need a European adaptor for the wall to charge your gadgets.
How long to stay
Budapest is often used as a city break, which usually translates to a time period of around 3-5 days. We think this is the perfect time to see all the top sights and explore unique, out-of-the-city options. Don't worry; you won't get bored if you opt to stay longer, but 3-5 days is the perfect amount of time to experience Budapest in all its glory.
Restaurants on site
Since Budapest is a capital city, you'll find all varieties of cuisine available from Chinese and Italian to Greek, but if you want to try typical Hungarian cuisine, then there will be plenty of opportunities. Delicious local dishes include Lángos (fried dough), Gulyás (goulash), Pörkölt (meat stew) and Palacsinta (crépes).
What budget to plan t visit Budapest?
Budapest is known as a budget-friendly destination, and there is something to suit all price levels. If you want to go super cheap, you can spend as little as £20 a day, but there are ample opportunities to spend more with fine dining, fine living, and shopping of course!
Discover our holidays deals to Budapest: holidays, romantic weekends, last minute holidays.
Discover more travel guides.