Egypt Travel guide 🏖️ Best tips
Explore Egypt and its historical landmarks. Our FREE ✅ Travel Guide provides information on travel, local life, top 10 to see/do and more.
Travel to Egypt
Egypt is an unforgettable travel destination rich in historical monuments. The country is well known for its vibrant culture, the mighty Nile, beguiling deserts, and lush deltas. For years, Egypt remained the most advanced nation among the Mediterranean and Middle East countries. It took several years before Greece and Italy came close to the sophistication of Egyptian culture.
Today, people still marvel at the monuments proudly standing in the country. They continue to make Egypt a prime tourist destination in this region. From the city of Alexandria in the west to the Sinai Peninsula in the east, Egypt boasts of international hotels lined up on sandy beaches and of year-round great weather.
Top 10 things you must experience in Egypt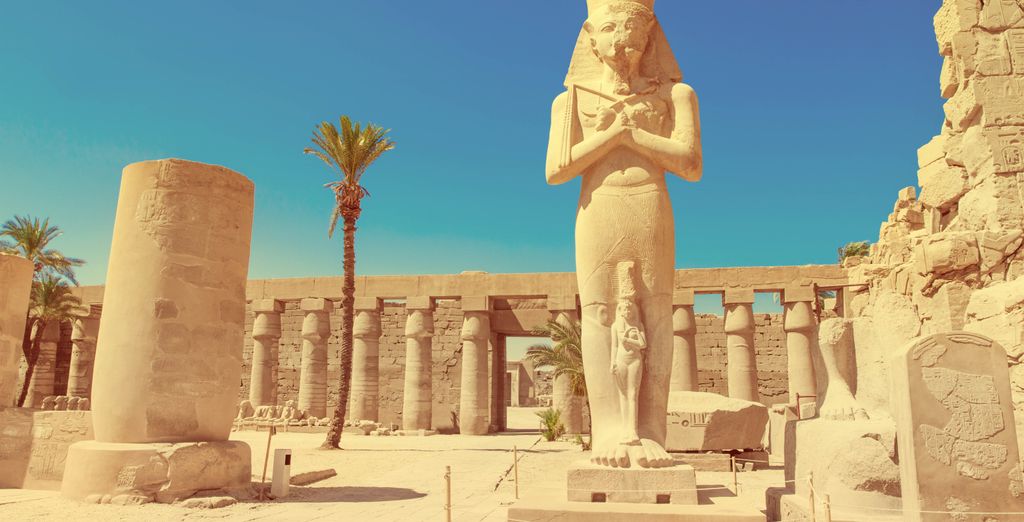 You can never run out of things to do in Egypt. To see all the great things this country has to offer, you may have to visit it more than once. Here are the top ten picks on what you must see when you visit.
1. Go with the flow and sail the Nile

The Nile remains the lifeblood of Egypt, irrigating the Delta and the desert beyond and linking the Mediterranean down to Sudan. As you sail the Nile, you will come into contact with a lot of marvels including the Pyramids of Giza, the Valley of the Kings, Kom Ombo, Sakara, Dendara and Karnak. You can cruise around on the traditional Feluca or the modern Dahabiyya and get an opportunity to sleep on deck under the stars as you explore the wonders of the Nile.
2. Visit the fantastic white desert national park

Fascinating as it sounds, the white desert national park runs 28 miles north of Farafra town. The desert's main attraction is its rocks with colours transitioning from snow-white to cream. Also known as the Sahara el Beyda, the white desert was initially a seabed and was formed as a result of the sea drying up. Marine faunas formed the fascinating white rocks from sedimentary layers of rock. The landscape was the result of the plateau breaking down which left hard rocks standing. The rocks have continued to be shaped by the desert wind which continually erodes the softer parts of the rocks. For the best view of this wonder, visit during sunset or sunrise.
3. Climb the Sinai

Mt. Sinai, where Moses received the ten commandments according to Jewish history, offers the perfect hiking trail. To get to the peak, it can take between two and three hours if you use the camel trail. It will take you one and a half to two hours if you prefer the repentance trail.
Once you come down from the mountain, take in the blue desert located around the same area. The blue desert was created in 1980 by Belgian artist Jean Verme. Jean says he got his inspiration from the peace agreement between Egypt and Israel, prompting him to paint huge boulders in bright blue as a symbol of peace. Before the peace agreement, numerous battles were fought in this area by the two countries.
4. Discover a lost city

The lost city of Thonis-Heracleion was barely a myth until, after searching for years, a French archaeologist found it submerged under water. Thonis-Heracleion is approximately 4 miles underwater off Alexandria's coastal line. Here, you will see ruins of 64 ships, hundreds of anchors (at least 700), statues, and treasure troves full of gold coins. The most incredible finding will be the remains of a mega-temple, dedicated to the god Amun-Gereb. Tiny sarcophagi, animals brought for sacrifice, will also be visible. The site is truly breathtaking. Thonis-Heracleion will also give you an idea of what port cities looked like 2300 years ago.
5. Relax at Hurghada

If you are looking for something more serene and relaxing, then scuba diving at Hurghada is your best bet. Here, you will experience a lot of fun water activities as you learn about coral reefs and swim in crystal clear waters before you take a relaxed moment on the sandy shores. The perfect turquoise water naturally invites you for windsurfing and perfect snorkelling with dolphins. If you are not up for any of these activities, take a boat cruise as you admire the colourful corals and feel the wind on your face, giving you nothing short of relaxation and peace.
If you plan on taking your kids with you, the Jungle Aqua Park in Hurghada will see their eyes light up with excitement. They will have a field day taking advantage of the endless choices of slides, water games, and pools at their disposal.
6. Care for animals at Ace

Whether you are an animal lover or not, visiting Ace (Animal Care in Egypt) an organisation that cares for the working animals of Egypt will be an experience to remember. Located in Luxor, Ace is a care centre for horses, dogs, cats, and donkeys in need of a little love and attention. You will learn a few tricks that you can use back home with your pet as you help Ace care for the animals.
7. Tour Egyptian museums for a little history

One of the most basic yet essential tours you should take in Egypt is a museum tour. Located in Cairo, the Egyptian museum houses the most extensive collection of artefacts from Egypt. It is also known as the amazing museum of antiquities because of this. In a desperate attempt to stop the plundering of the country's archaeological sites, the Egyptian government commissioned this museum as a way to preserve any items found. Today, the museum hosts more than 120,000 artefacts, with some items displayed while others require specific environments, thus they are not shown.
8. Tour the world's most dangerous diving sites

The Blue Hole is one of the frequently visited sites by tourists from all over the world. This natural phenomenon is located next to the Dahab city in Sham el-Sheik. It is also known as the diver's graveyard with good reason. Between 150-200 divers are said to have met their demise exploring the Blue Hole which is 0.062 miles (100 metres) in depth. It is originally a submarine sinkhole, and its easy accessibility has made many inexperienced divers attempt to reach its arch. Despite its dangerous association, the Blue Hole is a sight to behold and a worthy place to visit.
9. Desert Breath

The D.A.S.T team that created this land art project believes that a desert is a place of infinity. Founded in 1995, the group of three addressed the desert as a state of mind and created the 10-hectare expansive beauty. Desert Breath incorporates two precise conical volumes forming two interlocking spirals moving out from a common centre. The centre is filled with water to the brim. Exploration from below reveals a spiral walk which transforms into a picture-perfect image of infinity when viewed from above.
10. Take a romantic walk along the Corniche

Along the Eastern harbour, Corniche in Alexandria presents the most romantic stroll in all of Egypt along the enormous waterfront. Ending at the Citadel of Quita Bay, Corniche is proudly one of the seven wonders of the ancient world. The ten-mile long Mediterranean corridor ends at Montaza Palace and will give you a feel of the city's 19th and 20th-century cosmopolitan elegance. Architecture from the 19th and 20th century still stands, with a rustic look from the many days of large dilapidation.
The ideal time to visit Egypt

If minimising expenses is your priority, then you should visit during the shoulder season; June to September. The June to September season experiences a little more humidity than October to April. You will, however, get to enjoy subsidised rates from hotels and less crowded sites, making it worthwhile. Most people avoid July and August, and with good reason. The temperatures are so high that even seeing during the day is a challenge. The coastal resorts offer some respite for this summer period which makes it a little more bearable.
How to get to Egypt
If you plan to travel to Egypt, you can obtain a visa through a travel agent or online depending on personal preferences. Nationals from Britain, USA, Australia, Canada, and EU residents can get a visa on arrival from the Cairo, Luxor, Sharm el-Sheikh, Hurghada, and Alexandria airports. Your passport needs to have a minimum of six months validity for you to obtain a visa.
Air is the most convenient and fastest way to travel. Through the numerous international connections, you can choose from direct flights and stopovers. The number of stops depends on how much you want to spend and how soon you wish to arrive. Other modes of transport include train, which you board in Sudan. Road travel is also an option through the Middle East while water transport is most accessible through Nuweiba and Taba, Sinai Peninsula.
Best hotels to choose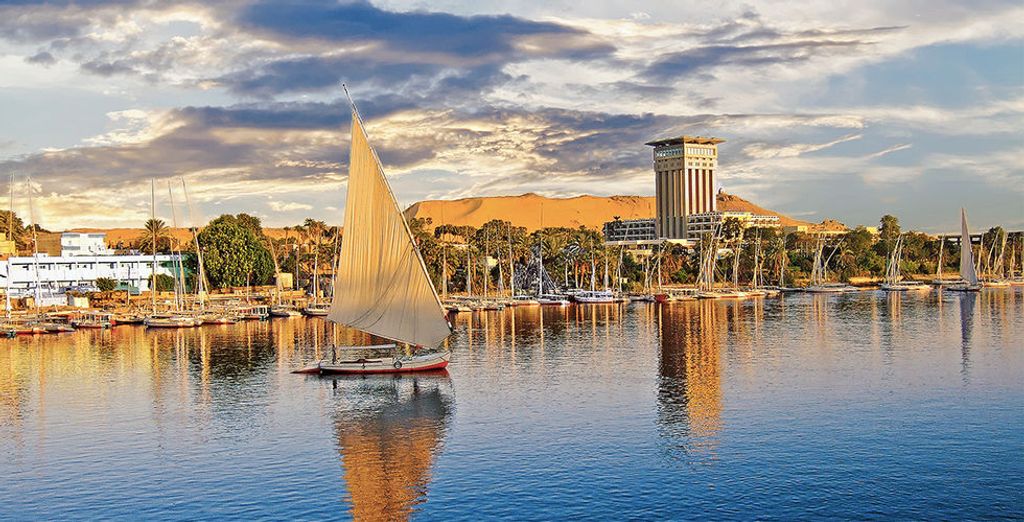 1. Sunrise Romance Resort and Roulette Cruise

This 5-star hotel offers superior comfort and luxury and comprises a 7-day cruise along the Nile. Surrounded by tourist attraction sites such as the Hurghada marine museum and aquarium, the resort boasts of six restaurants and bars, spa services and a private beach.
2. Viva Blue Resort and Nile cruise

Combining a Nile cruise and a stay at a luxury resort is an epic way to spend your Egypt vacation. The 4-start hotel offers a unique way to experience ancient Egypt with an incredible beach break followed by a seven-night cruise down the Nile for historical sightseeing.
3. Discovery Egypt Cruise

The dazzling beauty and history of Egypt is easily explored in diverse ways. A 7-night cruise aboard MS Tulip is genuinely an epitome to look forward to. You will enjoy full board dining, a whole host of included excursions as well as flights and transfers.
Cultural festivals in Egypt
Egypt is predominantly a Muslim nation and is an exciting destination for secular, religious and cultural festivals. Some of the festivals enjoyed here include:
Ramadhan
Eid al-Fitri
Leyket en Nuktah
Coptic Christmas and Coptic Easter
Sham al-Naseem
Moulid al-Nabi
3alganoob
Oshtoora
Cloud 9
The international Samaa' festival for spiritual music and chanting
Cairo Jazz Festival
Arabic Music Festival
Local practices and customs
It is important to respect local religion, traditions, and customs when you visit Egypt. If you plan on visiting the religious areas, dress modestly. Women should have their legs and upper arms covered while men should cover their chests.
Refrain from taking photographs of prohibited areas such as official military installations, Suez Canal, public buildings, train stations, and bridges. If in doubt, consult with your tour guide if it is OK before taking a picture.
Our practical advice for Egypt
Travelling to a new place may be overwhelming. Here is practical advice everyone travelling to Egypt must know.
What to bring back from Egypt

Souvenirs are a great reminder of the memories you make when you visit a new place. For Egypt, you can bring back anything from perfumes, mini pyramids, papyrus scrolls, scarab beetles, cartouche, belly dancing outfits, leather slippers and much more.
What currency to use in Egypt

The primary currency in Egypt is the Egyptian pound. For smooth transactions, especially with the locals, this is the most preferred currency. The Euro, US dollar, Sterling pound, Japanese yen, Indian rupee, and Saudi riyal are acceptable in some places.
What is the time difference?

Egypt is ahead of the UK by two hours. There is +7 hours between Egypt and the USA, while the difference between Paris and Egypt is one hour. Like Paris, Italy and Egypt also have a difference of one hour.
What language is spoken in Egypt?

The official language in Egypt is Classic Arabic. Because it is a significant tourist country, English and French have been adopted as the main foreign languages. Greek and Armenia are among the main immigrant languages. For ease of communication, Arabic, English, and French are the preferred languages.
How to get around Egypt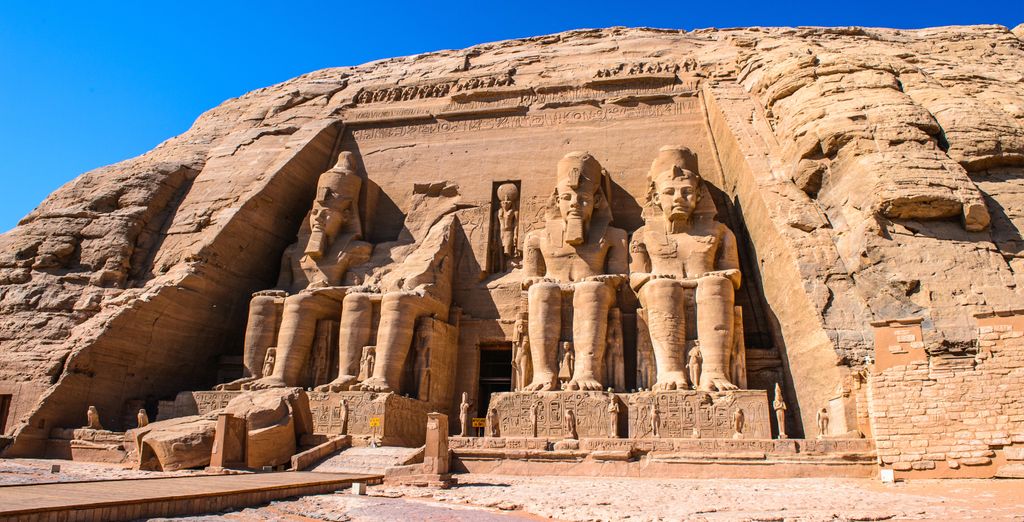 Most hotels and travel agents will have arranged how you will commute from one point to another. However, if this is not an option for you, then hiring a car is the best and easiest way to move around. If you are saving on costs, public transport such as a taxi will be perfect as well.
What to pack for your holiday to Egypt

Because of the weather, you will need to pack light clothing that will not absorb a lot of heat. You should also pack some cotton clothes since cotton absorbs sweat easily. Be sure to pack your sunscreen, hat, and sunglasses to protect your eyes and skin from the sun. A bathing suit will come in handy when going to the beach or the pool, so carry that as well. For memories, a good camera with sufficient memory will be gold to capture all the great moments.
How long to stay in Egypt

You should plan for at least seven days or more so that you can fully enjoy your trip without hurrying around to cover ground.
Restaurants on site

Egyptian cuisine is readily available on the streets and at high-end restaurants. Some of the dishes you must try are ful madames, served for breakfast, as well as ta, meya, mulukhiyah, Fattah, kushari, haawshi, sayadeya, and kunafa.
Family activities for teenagers, children, and babies

If you have teens, children or babies on your trip, you can keep them entertained by going on camel rides, learning some history in the museum, sailing down the Nile, visiting the mummies and much more.
What budget to plan

When travelling, there are tons of expenses you need to plan for. For your stay in Egypt, you will need to prepare about £45 per person per day. Be sure to check out our great deals for your trip - some offers run as low as £500 a person for a week's stay.
Environment

If you are thinking about the weather, the best time to pay this history-rich country a visit is between October and April. The temperatures are most pleasant during this time and most tourists visit in December and January. Note: it may get crowded at some of the sites like the Pyramids of Giza.
Discover our offers to Egypt : holidays, last minute deals, holidays to Cairo, holidays to Marsa Alam, holidays to Luxor
Discover our offers to Sharm El Sheikh : Last minute deals, great deals, Holidays
Visit all our travel guides