Vietnam Honeymoon
A country moulded onto the shores of Southeast Asia, Vietnam is a land of contrasts. It lies hemmed with never-ending strips of golden beaches and flanked by majestic mountains. Its topography is dotted with impressive megacities and festooned with hill tribe villages. With staggering natural beauty, cultural complexity that borders the mystical, exquisite cuisine, and a reputation for friendliness and hospitality, this is the perfect destination for an unforgettable honeymoon. And few are those who are lucky enough to say they've been blessed with an exotic, albeit affordable, Vietnam honeymoon.
Honeymoon in Vietnam: Find the Most Luxurious and Romantic Hotels with Voyage Privé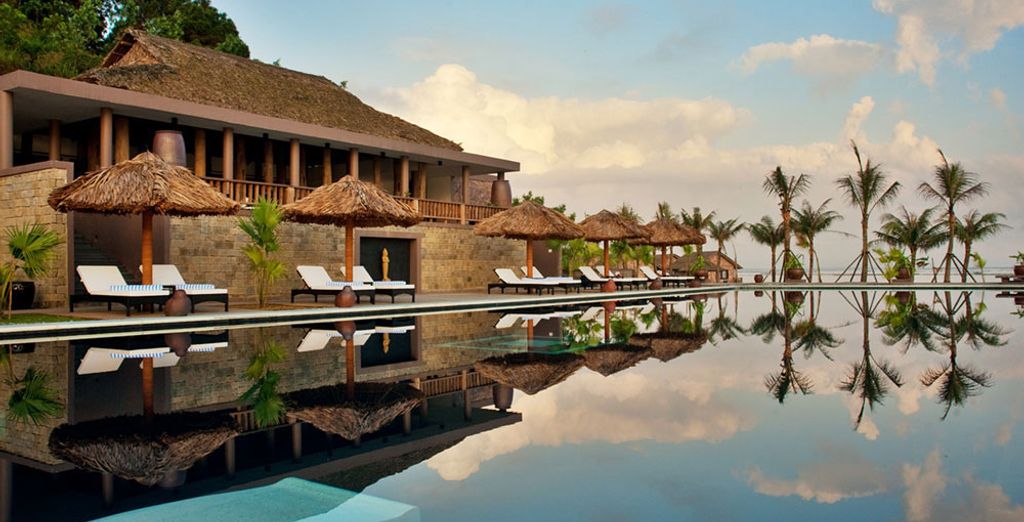 A secluded resort perched on a hill, this hotel overlooks a massive lagoon stretching as far as the eyes can see. This luxury resort offers romantic sunsets, scenic landscapes, infinity pools, waterfront bungalows, and a wealth of activities to soothe the mind, body, and soul. The décor is very zen and the activities – yoga classes and canoe trips – are just as relaxing.
??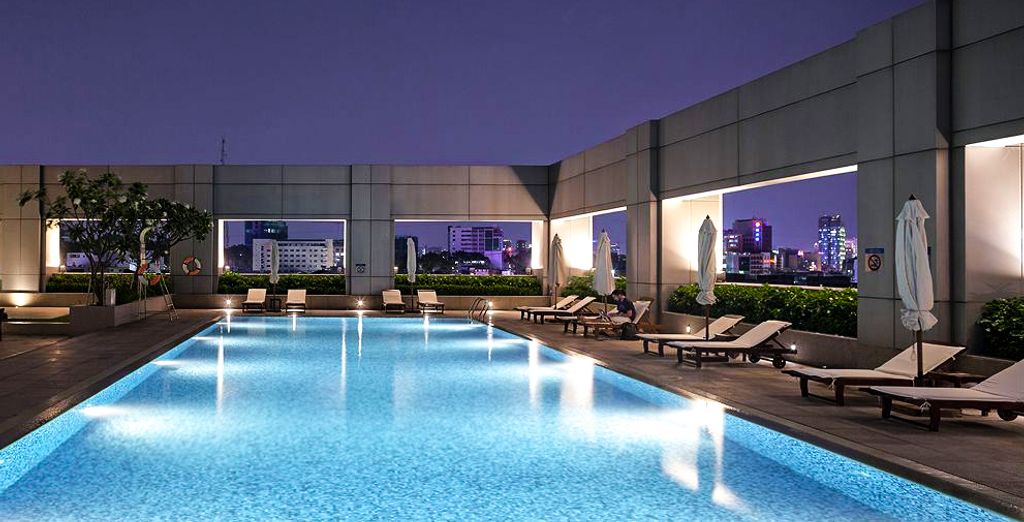 For a city break in style, stay at the stunning Nikko Saigon, which towers above the vibrant city of Ho Chi Minh. Breath-taking views of the city can be enjoyed from many of its rooms thanks to its circle shaped architectural design. But nothing rivals the panoramic view from the pool. Japanese, Chinese, and International cuisine can be enjoyed at this foodie nook at the heart of the urban jungle.
??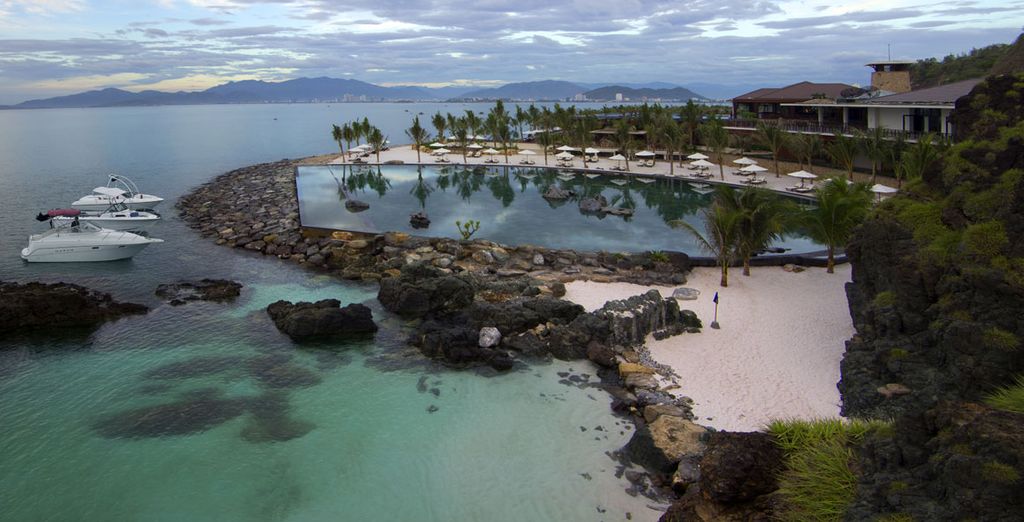 ?
Another 5-star jewel is this sumptuous beach resort set by the calm waters of Nha Trang Bay. It's here that a labyrinth of infinity pools, platforms, and archways coaxes you into complete relaxation. Private villas are equipped with all the mod cons, and the evenings are filled with entertainment. But the mainstay is the sweeping view of the sea from the sun lounges.
??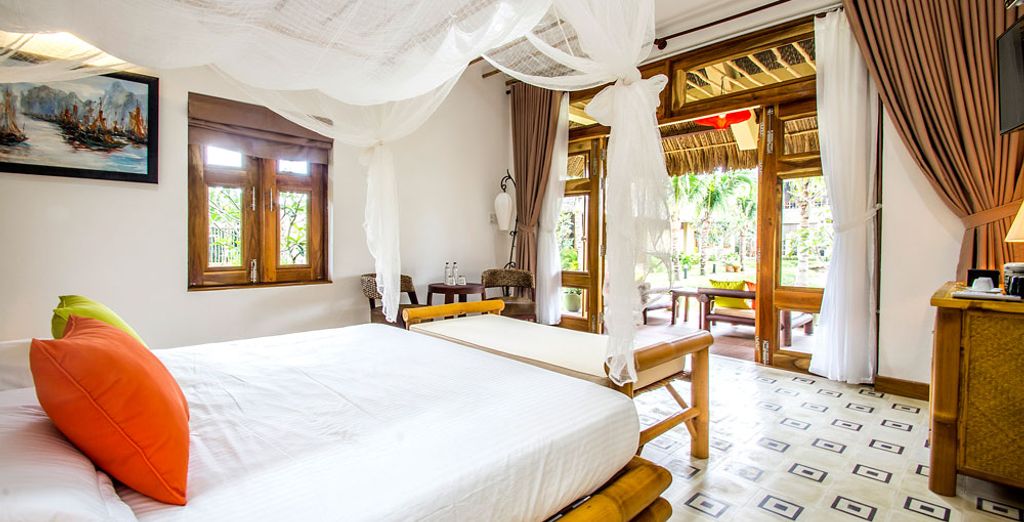 ?
This boutique hotel on the Mekong Delta?harnesses the beauty of colonial architecture and traditional Vietnamese design. French cuisine, bike rental, jacuzzi, and access to the Mekong River are the main selling points of this intimate, 12-guestroom hotel. It's the ideal getaway for an adventurous couple.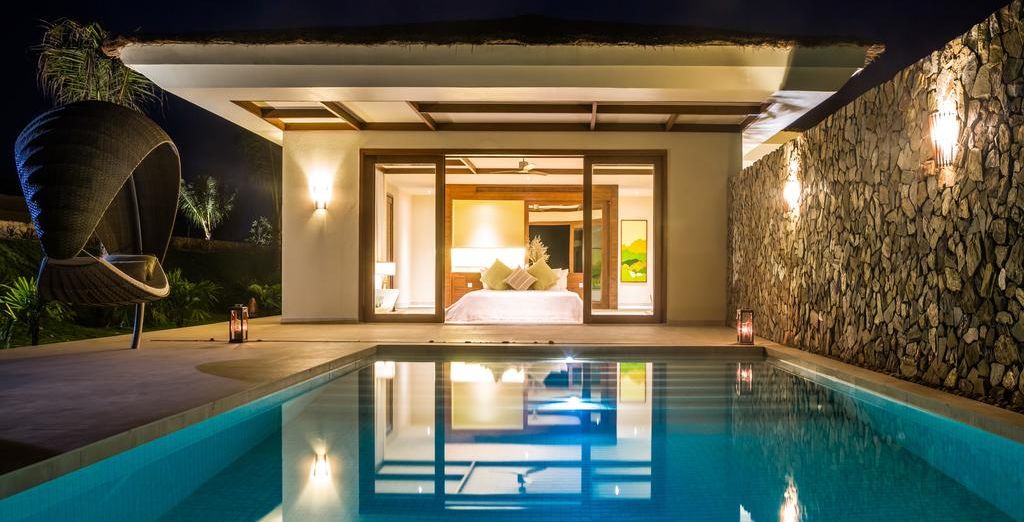 Indulge in luxurious pampering at this 5-star resort and bring the zen back into your life. Take tai chi and yoga classes every day, unwind in your thatched roof sanctuary, and marvel at the scenic beauty of rivers and jungles beyond. As the name suggests, it's a resort that blends the glamorous with the practical, giving you the best of both worlds.
Honeymoon in Vietnam: What to See and Do as a Couple to Experience the Best of It
Vietnam is a sanctuary and a treasure trove, all wrapped into one. With 3,000km of sun-kissed coastline, a dizzying display of megalopoleis, and an endless reel of immaculate hills, valleys, and mountains, it's an awe-inspiring realm fit for exploration and self-discovery. Here are a few of its unspoilt, authentic, and utterly delightful sights to be seen and felt as a couple.
1. Romantic Cave Dining in Halong Bay
?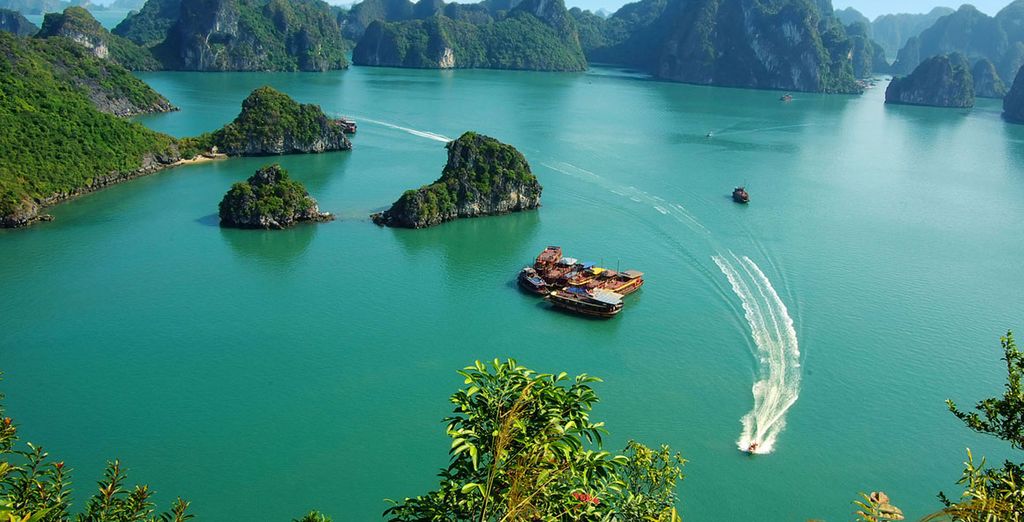 ?
Mark your long-awaited nuptials with a dining experience unlike anything you've seen before. Make your way on a sinewy candle-lit footpath through the tunnels of a monumental cave by the bay. Find your table beautifully adorned with paper decorations symbolic of a lifelong journey. You'll be waited on hand and foot, serenaded, and thoroughly entertained.
2. Marvel at the Ban Gioc Waterfall
?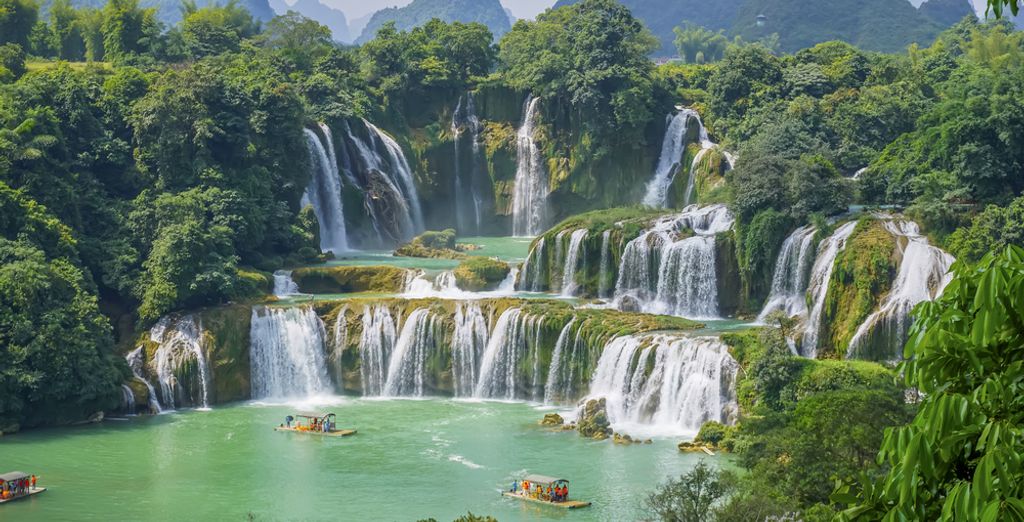 ?
Even if you've never seen Ban Gioc Waterfall with your own eyes before, you will probably have seen pictures and paintings of it. It's a much-loved natural landmark close to the Chinese border. For the best views, visit when the dam is opened, around lunchtime, and take a boat to the foot of the waterfall, letting it spray your cheeks with thousands of cooling droplets.
3. Visit the Valley of Love
?
?
The Valley of Love in Da Lat is a magical space straight out of a fairytale, dotted with colourful flowers, sculptures, and all the things one naturally associates with love. It's a potpourri of everything that's light and bright about intimate connections. It's also the venue for the annual Kissing Festival, the Flower Festival, as well as wine night, team building events, and more.
4. Knock at the Gates of Heaven in Sapa
?
Heaven Gate in Sapa is a viewing platform some 2km above sea level between the provinces of Lao Cai and Lai Chau. It's close to the Silver Waterfall (Thac Bac) and the Love Waterfall, where adventurous newlyweds enjoy occasional dips. Rice paddies and lush green valleys can be seen yonder from the top, but on misty days, your shadow towering above the clouds may be the only thing in sight. You'll be on cloud nine, literally.
5. Walk the Road to Heaven
Symbolism is not lost on newly-married couples who stroll across the curved Golden Bridge near Danang. Two giant stone shaped arms emerge from the ground to hold and lift it, giving walkers the illusion that they are in 'God's hands'. Walking hand-in-hand with heavenly views of unspoilt landscapes on either side is a once-in-a-lifetime opportunity that gives the honeymoon solemnity and depth.
Honeymoon in Vietnam: Essential Information to Plan Your Getaway
The Best Time of the Year to Go to Vietnam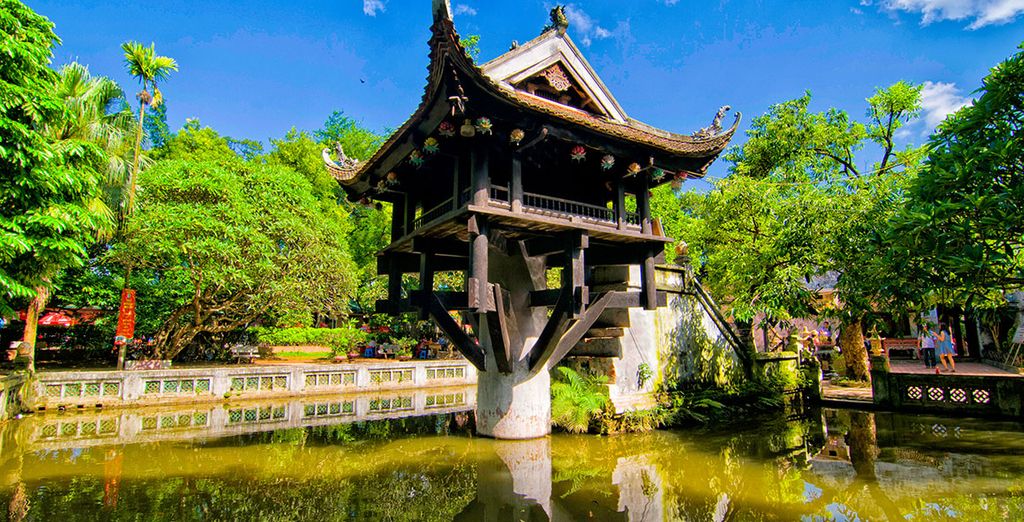 The optimum time of year to visit this tropical paradise is from December to the end of February, when rainfall is low and the climate is mild. But because it stretches across so many thousands of miles, Vietnam's weather is very much a matter of location. Monsoon rain is common in the summer months (April to October) throughout the south of the country. In general, southern regions are warmer, but they're also more humid. By contrast, it's best to visit the north through spring and autumn. During the rainy season, there are less tourists and accommodation is cheaper. But it also turns some tours into soggy adventures.
The months of March and April are hot and humid, with temperatures averaging 27°C. Rain season starts soon after, but the heat continues to be intense. That won't stop the locals from celebrating Labour Day and Saigon Liberation Day, though. Throughout summer, which lasts until mid-September, temperatures rise to 37°C, on average. But the weather is usually pleasant for National Day celebrations on September 2. Fall only lasts until the end of October, but it's ample time for hurricanes to shake the country. This won't stop people from celebrating the Do Son Buffalo Fighting Festival, though.
Throughout the year typhoons and tropical depressions can lead to heavy downpours that last days or even weeks. But come December, these weather events become less common and seaside vacations are in full swing. So, before you plan your last-minute trip to the Citadel at Hue or the annual Tet Festival, be sure to check weather forecasts.
What to Pack for a Honeymoon in Vietnam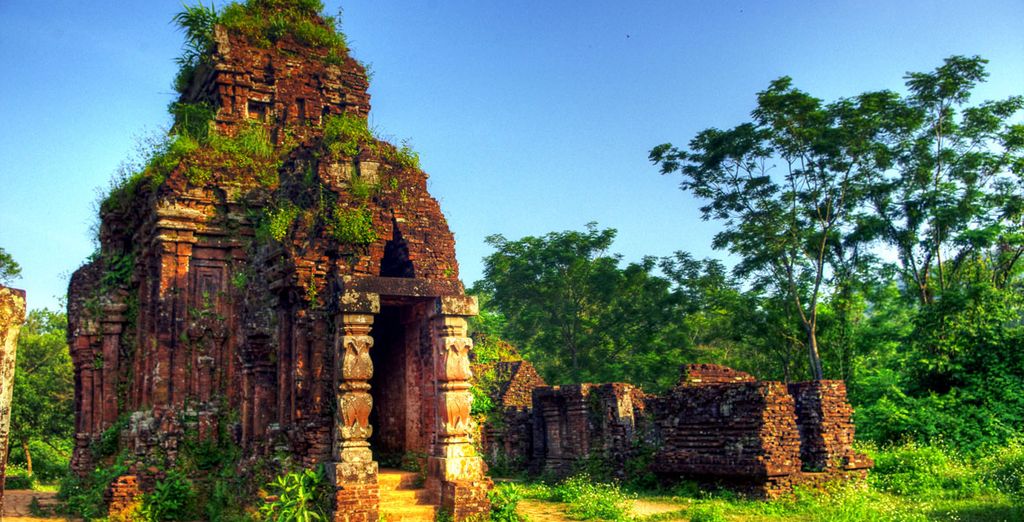 The realm of tropical islands and emerald waters is a picture-postcard destination, but that doesn't mean you should visit without a few essential supplies. Every explorer will do well with a sturdy backpack, sunscreen, and a travel pillow and a pair of headphones for long journeys aboard the train or the coach. Because not all hotels provide free amenities and toiletries, it's important to bring a quick-dry microfibre towel and some light weatherproofs, in case torrential rain catches you off-guard. Also, delicious as they may be, local dishes can have ingredients or carry bacteria your body is not used to, so your basic travel remedies for an upset stomach is just what the doctor ordered. Temples and pagodas don't always have official dress codes, but the locals tend to dress conservatively. So, for occasional visits to sacred places or government buildings, bring over-the-knee spare clothes. Vietnam is vast, so comfortable footwear is a must, but don't forget flip-flops and sandals for romantic promenades.
Going on Honeymoon in Vietnam
Arriving into Vietnam by plane involves booking a flight for Hanoi city or Ho Chi Minh airport. These are the two largest travel hubs for a honeymoon tour of Vietnam, and air travel operators charge very little per flight. Note that having a wedding ceremony in Vietnam as a foreign citizen is a complex affair, and one that relies not only on visas and documents issued by your local embassy, but also a permit from local authorities certifying your residence in Vietnam. Upon arrival, immigration and passport checks are straightforward, as long as all your documentation is readily available. It's best to carry your paperwork in your carrier bag.
Arriving into Vietnam by land will take longer, and there are various options. Pass through the neighbouring countries of China, Laos, and Cambodia, going across several border crossings en route. Most land border crossings are also fairly straightforward. Simply have your exit stamp ready and stating the country you came from, as well as your visa approval letter, and some cash dollars for the Visa On Arrival fee.
Crossing into Vietnam is only allowed with a valid visa, passport, and entry letter. A visa is issued upon arrival for many foreign citizens, which is why it's important to bring passport size photos with you. They can also be taken on arrival, but for a hefty fee. You must also have a full page free on both passports for your Vietnam visas. Remember to print out your original Visa approval letter. Otherwise, they may not allow you to board your plane or enter the country.
When in Vietnam, do like the locals and travel by bus. A ticket in Ho Chi Minh City costs around 4,000 VND per ride, which is less than 15p in sterling. Overnight coaches to most large cities cost £3 to £20 only. The train is also inexpensive, though it can take many hours to travel between cities. For a roughly 800km long train journey from Hanoi to Da Nang, your pockets will only be about £25 lighter.
Practical Advice for a Honeymoon in Vietnam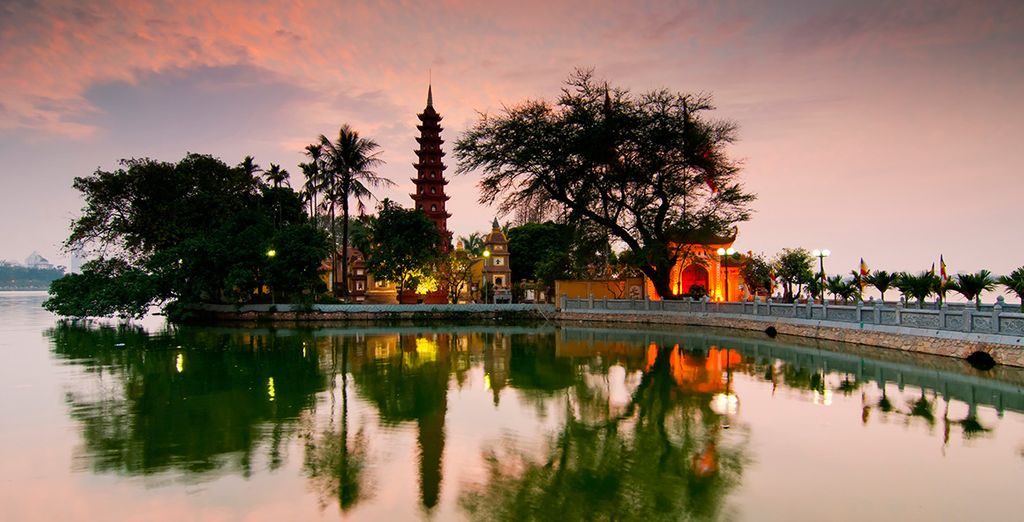 Vietnam is a veritable melting pot with less than 100 million inhabitants, but over 110 languages between them. However, the official languages is Vietnamese and not as many locals speak English as they do French or Chinese. The local currency is the Vietnamese dong (VDN), and a single British pound is worth roughly 30,000, which is about what a bowl of Pho (noodle soup) costs. In terms of time-zone difference, Vietnam is ahead of the UK by 7 hours, and adjustment to local sunrise can take a few days.
When visiting Vietnam, it's important to carry your passport with you always, because some sights are only available to foreigners after showing ID and buying a special permit. As for travel adapters, there are three types of electrical sockets in Vietnam, type A, C, and D. It's best to bring several global travel adapters to match your plugs and their sockets. Portable phone chargers are also a must on long bus and train rides, which are inevitable if you want to explore the country. It's best to also bring GPS or off-grid trackers for long trekking and hiking journeys.
The sun can be quite strong, especially at high altitudes or toward the south. So sunscreen witn a high SPF, hats, caps, and wide-brimmed hats are a must. To help with rain and downpours in monsoon season, bring a light waterproof jacket or a weatherproof poncho, especially if you plan to cycle or ride a motorbike.
The sun can be quite strong, especially at high altitudes or toward the south. So sunscreen witn a high SPF, hats, caps, and wide-brimmed hats are a must. To help with rain and downpours in monsoon season, bring a light waterproof jacket or a weatherproof poncho, especially if you plan to cycle or ride a motorbike.
Luckily, malaria and many other diseases spread by mosquitoes are not common in Vietnam. But Dengue fever is the exception. This viral infection is known to cause outbreaks in urban areas, so insect repellent products are recommended on every Vietnam honeymoon. They should be applied every morning and before every exposure to the sun.