Montenegro Travel Guide |What to See/Do|When to Go - Voyage Privé
Discover the Best Free Travel Guide to Montenegro ? Ultimate guides written by our experts. Tips, What to do/See.. 💡 Plan your holidays now!
Travel to Montenegro
Discover sunshine, culture and a rich history stretching back thousands of years in Montenegro. Located on the Adriatic Sea, Montenegro experiences fantastic weather throughout the year, but particularly in the spring, summer and autumn months. With a wide variety of tourist attractions, historical sites and a rich culture, this is a fantastic holiday destination for all ages.
As Montenegro is close to Dubrovnik and centrally located in Europe, it is a wonderful place in which to enjoy both short and long holidays. Locals are friendly and the culture is rich, diverse and welcoming.
Enjoy the astonishing natural environment, where mountains and lakes stand close to miles of breathtaking coastline. Local hotels offer affordable but high-class accommodation, with all the facilities you could ever need. Each city and town in Montenegro has its own culture and history, as well as local festivals and celebrations.
With activities suitable for all the family, Montenegro is a wonderful holiday destination for families, couples and lone travellers.
Discover more about how you could have your dream holiday in Montenegro.
The top 10 things to see and do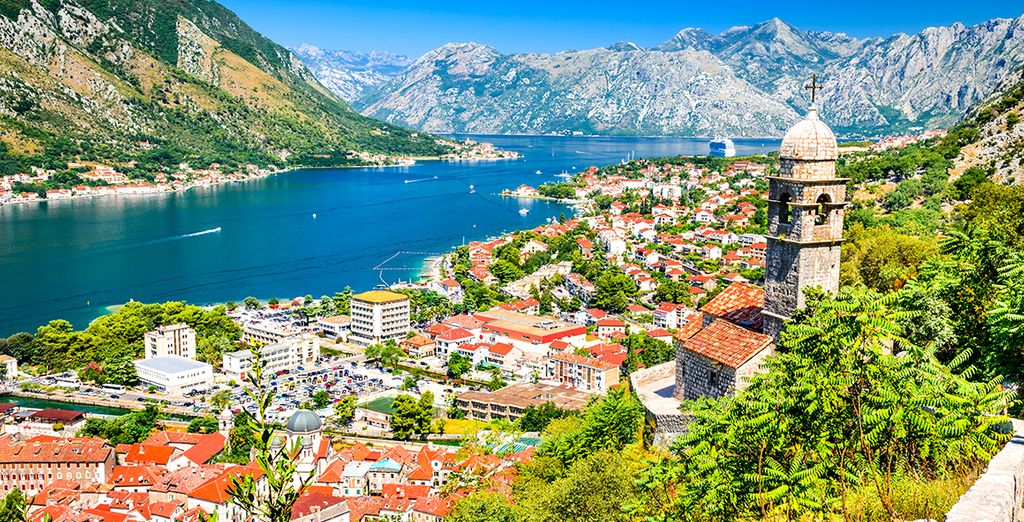 1. Beaches

Visit the stunning beaches of Montenegro for golden sands, clear seas and the ultimate relaxing experience. With miles of ocean to enjoy, consider making the most of local water sports such a kite surfing and body boarding.
2. National parks

With five stunning national parks, Montenegro has plenty of wildlife to discover. Enjoy long walks in one of the stunning national parks and see mountains and lakes of outstanding natural beauty. Dotted around Montenegro, there is always a national park within easy travelling distance.
3. Sports

Make the most of the massive variety of sports Montenegro has to offer, from football and kite surfing to tennis. The Hotel Villages Montenegro offer a variety of sports to guests, with an impressive selection of play areas and sports courts to enjoy.
4. Kotor

Explore Kotor, a 2000-year-old town located at Bokka Bay. This ancient city has a surreal atmosphere as you explore the ancient walls overlooking the ocean. Perfect for a full day out, Kotor is a must for all visitors to Montenegro.
5. Podgorica

Podgorica is the nation's capital and offers all the shopping, dining and city experiences you could hope for. Take a break from the lush nature and beaches to wander the streets of Podgorica and discover shopping, delicious food and a wealth of history.
6. Spa facilities

Experience amazing spas in Montenegro, where world-class facilities will soothe the senses and relax aching muscles. Holiday Villages Montenegro offers luxurious spa treatments and special offers for guests.
7. Long Beach

This is the longest beach on the Adriatic and the views across the golden sands are breathtaking. Spend the day swimming, sunbathing and enjoying the peace and quiet of this spectacular expanse.
8. Try the food

Local cuisine is varied and delicious. Make sure to visit a traditional restaurant to try scrumptious dishes such as Rastan and Japraci.
9. Ulcinj

Ulcinj is a stunning historical town with a rich and diverse history. It was once frequented by pirates but today it makes for a fantastic day out when in Montenegro. Located close to Holiday Villages Montenegro, it offers a less busy alternative to Kotor but is just as rich in history and culture.
10. Monastery Ostrog

The magnificent Monastery Ostrog is now a beautiful outdoor museum which is perfect for guests of all ages. Discover the astonishing history of the monastery and Montenegro as a whole as you wander through this stunning location. There is a multitude of beautiful religious buildings here and plenty of friendly guides to explain how these buildings connect with local heritage.
When to go to Montenegro

The warmest and driest time of year is July to August, at the height of the tourist season. If you prefer cooler temperatures and quieter cities, consider visiting during the spring or autumn months. There will still be plenty to do but temperatures won't be as hot and you can expect it to be less busy.
There are also fantastic festivals and celebrations throughout the year. Easter in Montenegro is a fantastic time to visit for the region's brightly coloured celebrations. If music is more your thing, consider visiting in July for the Sea Dance Festival.
How to get there
Montenegro has two international airports, the first in Podgorica and the second in Tivat. For a more affordable option, you could consider flying into Dubrovnik in Croatia and then travelling to Montenegro as Dubrovnik is just 20 minutes from the border.
From London, you can reach Montenegro in less than three hours.
From Paris, you can reach Montenegro in two and a half hours.
From Rome, you can reach Montenegro in an hour and a half.

If you have a Schengen visa or a valid visa of the United States, United Kingdom and Northern Ireland and the Republic of Ireland, or permission to stay in these countries, you can travel in Montenegro for up to 30 days.

Those with travel documents from the EU, US, Norway, Ireland, Switzerland, Canada, Australia or Japan can also stay in Montenegro for up to 30 days, making this an easily accessible holiday destination for many of us!

Which hotel to choose?




Holiday Villages Montenegro


Holiday Villages Montenegro is a fantastic option for your holiday accommodation. Sitting on the doorstep of one of Montenegro's many stunning beaches, the hotel offers easy access to the foaming waters and pure sands of the beach with stunning views. Holiday Villages Montenegro is a modern, stylish hotel that combines modern essentials with the traditional, warm hospitality of the local area.

The hotel is just five kilometres from the old town of Ulcinj - one of our top 10 sites to see - and there are miles of beaches to be enjoyed all around the hotel. From here, you can experience the best that Montenegro has to offer, as the hotel offers a fantastic base for exploring the rest of this diverse location.

The fantastic all-inclusive offer that is currently available with the hotel includes 50% off premium drinks packages and 25% discount from the wine list.

Local Culture

There are plenty of cultural festivals and celebrations to experience. This might be worth bearing in mind when deciding what time of year to visit this stunning location.

January - Montenegro Winter Cup sees cars racing in the snow

February - The Kotor Festival celebrates local cuisine with plenty of music and dancing!

March - The Lady of Camelia is a Montenegrin celebration in which the Lady of Camelia is selected from the locals and there is music and dancing. Tourists can experience this local celebration and become part of these unique celebrations.

April - The Spring Masked Ball celebrates the new season and offers entertainment for all ages.

May - The Day of Youth is held on the 25th May every year and is a national holiday to celebrate the birth of Josip Broz Tito, the former Yugoslav President. The celebration is something to see if you are in Montenegro at that time.

June - Podgorica's Cultural Summer is a city-wide celebration to welcome in the new season. There are plays, concerts and plenty of opportunities to celebrate.

July - Days of Music is a chance to recognise new talent in the world of classical music. With performances by new stars, this could be a great opportunity to see the best of the classical world gather in one place.

August - The Theatre City at Budva is a festival which celebrates theatre from around the world.

September - The Montenegro Open is well worth a visit for all tennis lovers! See up and coming tennis players battle for the honour of winning the tournament and soak up what promises to be a competitive atmosphere.

October - Mojkovac Movie Festival is an opportunity to view a wide range of world-renowned cinema and is the highlight of Montenegro's cultural calendar. Actors, directors and writers from the film industry join the local arts scene to create this fantastic film festival.

December - New years' celebrations start at the end of December and run until 2nd January. It's a fantastic place to see in the new year and enjoy all of the joy and music that Montenegro has to offer.

Our Practical Advice for Montenegro




What to bring back ?


Rakija - This fruit-fermented brandy will make a fantastic souvenir of your time in Montenegro

Kapa - This traditional hat has distinctive black and red frills and make a fantastic gift or souvenir.

Vranac Wine - Both unique and world-famous, consider taking a bottle of this home to toast the memories of your fantastic holiday.

Etiquette in Montenegro


Montenegro is a conservative country but with a custom of warmth and friendliness. Locals may greet you with three kisses, similar to in France.

Make sure you dress modestly if visiting religious buildings.

Topless sunbathing is only usually allowed on nudist beaches.

If sharing a toast, make sure you maintain eye contact and never pour your own Rakija when in local company.

Memories of Monetengro


With many gastronomic gifts to bring home and the sea and nature all around, whenever you think of Montenegro you will think of its vibrant scents and colour.

Home-made wines and cheese are popular here and the delicate smell of both at local markets is a treat in itself. You could also make the most of affordable local jewellery and religious iconography such as crucifixes while you are visiting.

Local Currency:


Montenegro is in the Eurozone. Credit cards are usually accepted in most shops and restaurants but consider taking cash to make the most of local markets and festivals.

Time Difference


Montenegro is one hour ahead of London

Language


Montenegrin is the official language of Montenegro but a number of languages are spoken there and many locals speak English. Consider learning a few local phrases for your arrival so that you can socialise with the locals and make the most of your holiday.

Getting Around


Most towns can be easily traversed on foot and taxis are easily found for travelling between locations.

It is also simple to rent a car for your stay or make the most of local bus services and ferries.

There are also a wide variety of local tours to see the area and learn about its history as you explore, this can be a great option for seeing as much of the area as possible during your stay.

How long should you stay


Perfect for a long weekend or a full fortnight of sun, sand and good food! As Montenegro is located easily in Europe and allows EU citizens to stay for a month, it is a great location for short and long holidays.

What you should pack


Dress for warm weather during the summer months when weather is usually dry and warm.

How long to stay


Montenegro is great for long weekends or fortnight holidays. There is plenty to see and do, whether you fancy a romantic weekend or a family holiday for longer.

Restaurants on site


Montenegro offers a wide range of international cuisines. For local dishes consider trying Musaka and Sauerkraut.

Family Activities for Teenagers, Babies and Kids


From the aquapark to the colourful sights of the city centre, there is plenty for children of all ages to enjoy in this wonderful city.

Budgeting for your Break


Local transport links are affordable, as is the local cuisine. Choosing guided tours may add to your budget, but overall Montenegro is an affordable holiday.

We would recommend 50 to 100 euros per person per day for most holidaymakers.

Environment




Montenegro has a beautiful landscape with many different types of architecture to view. With both coastline and mountains to be explored, there is plenty to see and do.

Discover our offers to Montenegro : holidays

Visit all our travel guides