Great All-Inclusive Family Holidays
If you have a family and want to enjoy a great holiday, then you should really consider one of our amazing all inclusive family holidays. They offer great excitement for you, your partner and children while also allowing you to experience the culture and food of another country. Our family-friendly holidays are perfect for bringing families together, with spacious hotel rooms, meals made for sharing, activity clubs to keep kids busy, and relaxing pools and spas to pamper busy parents. Join the club today and book your family the holiday of a lifetime. Whether your family is looking for an adventure holiday or a chilled out break, we've got holidays to suit everyone. You can pay all costs up-front and enjoy an all inclusive stress-free holiday with the people who matter to you the most. Our holidays are hand picked by our dedicated team of travel experts, so you can rest assured that your family will enjoy a fun and relaxing break in luxury accommodation, all at unbeatable discounts.
The Voyage Prive travel expert's opinion on all inclusive family holidays
All inclusive family holidays are one of the best deals you can get if you're looking for a family break. In an all inclusive, all your food and drink is covered, as well as entertainment at the resort which usually includes activities and night entertainment. This makes them one of the best options for families who don't want to be overburdened with planning every aspect of their holiday.
All inclusive family holidays allow you to focus your attention on planning activities and entertainment you want to do. You can also be a little more flexible with your day as snacks are often available, therefore, you can arrange your days how you like, rather than around when the hotel restaurant will be open. This can allow you to take advantage of the awe-inspiring locations our hotels are in.
Discover Great All-Inclusive Family Holidays
From a child's first length in the pool without arm bands and building their first sand-castle, to a parent's first weekend off in months, we understand the importance of family holidays in bringing loved ones together and creating happy memories that will last a lifetime. Our family holidays revolve around you, and include planned activities for children of all ages to get involved with, as well as fun for the whole family. Our up-front costs cover flights, accommodation, transfers, food and drink, as well as a great choice of family-friendly activities. From swimming lessons to yoga classes, there's something for every child, parent, and grandparent to enjoy. Discover our holidays in Greece, South of France, Portugal, Spain and more.
Top 5 things to do on all inclusive family holidays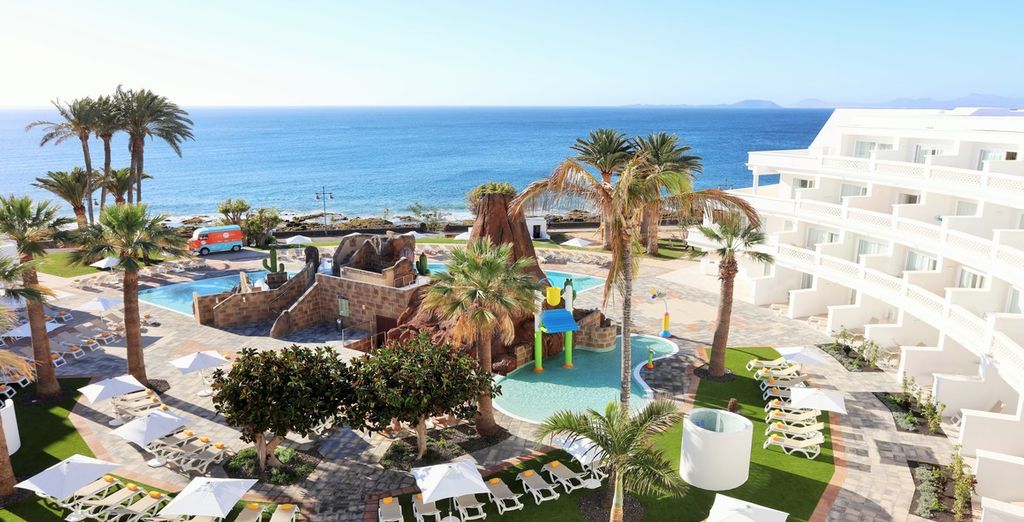 Just because everything is provided for you at all inclusive family hotels, it doesn't mean you can't venture out and explore your local area. Here are some of the best things you can do near one of our fantastic hotels.
1. Timanfaya National Park in family, Lanzarote
One of the most exciting and visited attractions on the island of Lanzarote, Timanfaya National Park is somewhere any visitor to the Spanish island needs to go. The Fire Mountains were responsible for volcanic eruptions in the 1700s. You can really get the sense that you're on another planet with the interesting landscape left behind from those eruptions. There are cones, a lava field and salt marshes. The volcano also helps to grill food at the El Diablo Restaurant. Tours to the area are regular and the park is open from 9 am until 6 pm, though the restaurant closes at 3 pm.
2. Rancho Texas Park for the family, Lanzarote
A true family experience can be had at the Texan-themed attraction which is a mix between an animal experience and water park. There are lots of activities for the whole family including a pool and water slide. If you're interested in animals, then you won't be disappointed. There are some rare white tigers, Komodo dragons, seal-lions and birds of prey.
3. Loulé, Algarve
While the Algarve is known for the beautiful beaches, it is actually Loulé that offers some of the best entertainment in the area. The small town is well-known for the covered market that is extremely busy and entertaining. The location of the market is absolutely stunning, the late 19th-century building has beautiful windows and a distinctive red-dome. There's also a lot of culture in the area. The town hosts a beautiful castle, constructed in the 12th century by the Moors. The castle also has a small, but interesting museum.
4. Albufeira, Algarve
This is one of the main reasons why people travel from across Europe and further afield to visit Algarve. The beaches in the area are some of the most beautiful in Portugal and perhaps the entire peninsula. The wide sandy bay was once a quiet fishing village and if you want to experience a real holiday atmosphere, this is probably the best place to start. Nowadays there are neon-lit streets that highlight a range of cafes and restaurants. There's also plenty of leisure activities to take advantage of for all the family.
5. Askos Stone Park, Zantes
This is one of the most recommended places for those on all inclusive family holidays on the Greek island of Zante. It has a lot of lovely animals there including racoons, tortoises, donkeys, goats, deer and chickens. The park is located at the northern end of the island, near the village of Volimes and not too far away from the island's capital Zakynthos Town. When you enter the stone park you are given a complimentary map and bottle of water. While walking around, you can talk to the attendants who are very knowledgeable about the animals and will tell you how you can feed some of them. A great experience for all the children.
Sun, Sea and Savings
If you and your family are looking for a relaxing break in the sun, Greece is a perfect family-friendly destination. Imagine your family enjoying miles of exquisite beaches, exploring ancient ruins and discovering their captivating histories, not to mention digging into endless mezze platters! Greece is a magical place for visitors of all ages, and our all-inclusive deals will help you get the most out of your holiday - with everything paid up-front, all you have to do is relax and explore!
Which hotel for all inclusive family holidays to choose from
Refurbished in 2012, this all inclusive hotel offers the whole family the time of their life. The modern, sleek design boasts some of the highest quality guest services. Those looking for fun won't be disappointed by the amount on offer at the hotel, but there is still that careful balance that allows you to relax. There is a lot of entertainment available and you are spoiled for choice with the international cuisine.
This hotel should not be missed. There are mini-clubs, workshops and many sports facilities, ideal for families who enjoy staying busy while on vacation. When you're hungry, you can be treated to the restaurants that serve some of the best international dishes. The menus from these restaurants change every day so they can use the freshest ingredients available. There's also a lovely swimming pool and a modern gym you can use.
This luxurious five star hotel is located very close to one of the best beaches on the Greek island. All those staying in the hotel can benefit from three restaurants, three bars and the hotel water park that features water slides. All the guest rooms in the hotel have recently been built and come with air conditioning and wireless internet.
Practical information about all inclusive family holidays
What budget to plan for all inclusive family holidays?
All inclusive family holidays allow you to worry less about costs on your trip. Entertainment, food and drinks are included in your booking price. Therefore, you only need to add more money to any trips out you want, if any. These prices can differ based on the different locations we've mentioned above. However, a good £300-£400 would cover you for several activities that aren't at the hotel for a family of four over a two week period.
Family-Friendly Luxury
Our extensive selection of hotels and luxury hotels has been tailored to meet the needs of families of all shapes and sizes. Our exclusive discounts allow you and your family to relax in comfort and style with spacious family rooms and suites, restaurants that provide kids' meals as well as authentic local cuisine, and family-safe pools with trained life guards, all included in the up-front cost. Go ahead and enjoy family-friendly luxury today.
Book now to enjoy exclusive savings
Our experienced team is always on the lookout for the best discounts in family friendly travel. Our members enjoy exclusive discounts of up to 70% on family holidays around the globe. For a limited time only, we're inviting you and your family to join and receive these exclusive prices too. There's never been a better time to treat your family to a break in the sun. Don't miss your chance to become a member and get booking.