Grand Canyon tours - Best tours in the heart of the United States



Table of contents
Treat yourself to a tour of the Grand Canyon up to 70% off, and discover some of the most beautiful natural landscapes in the United States.
Why go for a tours in the Grand Canyon?
For many people, visiting the United States of America is a once in a lifetime opportunity that simply cannot be missed. If you love visiting natural wonders and immersing yourself in the beauty of nature, then Grand Canyon tours are perfect for you.
There are more than 190,000 square miles of land to explore in the Grand Canyon itself, so make sure you're relatively fit if you want truly want to enjoy your experience. While on the tour, you can enjoy a more active holiday as you transverse the length of the canyon and explore all that the amazing region has to offer. Grand Canyon tours are also great for adrenaline junkies as helicopter flights and even skydiving are popular excursions in the area. However, with a Grand Canyon tour, you don't have to limit yourself to Arizona and you can look forward to visiting other amazing American cities such as Las Vegas where you can see a cabaret show or try your hand at blackjack.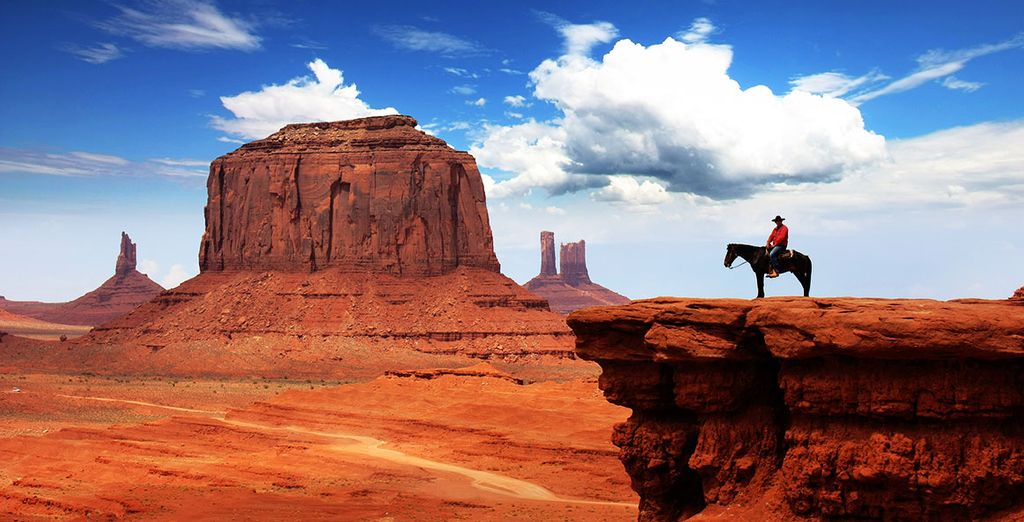 The Voyage Prive travel expert's opinion on tours to the Grand Canyon
Family adventure
Grand Canyon tours are a memorable family experience that the kids will treasure for years to come. The national park has a rich and complex history and is an integral natural monument in the USA. Hiking through the canyon gives you time to bond with your children and really communicate with them without technology disrupting you. Most importantly, a trip to the Grand Canyon is a Geography lesson unlike any other your children will receive in school.
Look forward to sunny skies
During the summer months, temperatures in America can reach as high as 40°C which means it's likely you'll explore the Grand Canyon with great weather on your side. If you're into rocky hill and expansive desert landscapes, then Arizona is perfect for you. The state is a photographer's idea of heaven and the scenery is particularly stunning at dawn and dusk.
Romantic getaway
The tranquil scenery on a Grand Canyon tour is the perfect backdrop for a romantic getaway. The seemingly never-ending hills create a feeling of isolation as if it's just you and your loved one on the getaway. You and your partner can get to know each other even more as you embark on various activities on the tour; a leisurely boat ride along the Colorado River is a great bonding activity to try out.
An active holiday
Don't forget your walking boots on your Grand Canyon tour as there is no better hiking destination in the world; there is a trail to suit everyone's individual preferences in the mammoth national park. There's so much to explore in the Grand Canyon itself, never mind the outlying regions you're going to visit during the entire tour.
A taste of America
Foodies will be in their element in America as they get to experience delicious barbequed food in mammoth portions. Breakfast is one of the staples of the country, so head to an American diner and load up on the pancakes and coffee. One thing's for certain, you'll never be hungry during your adventure.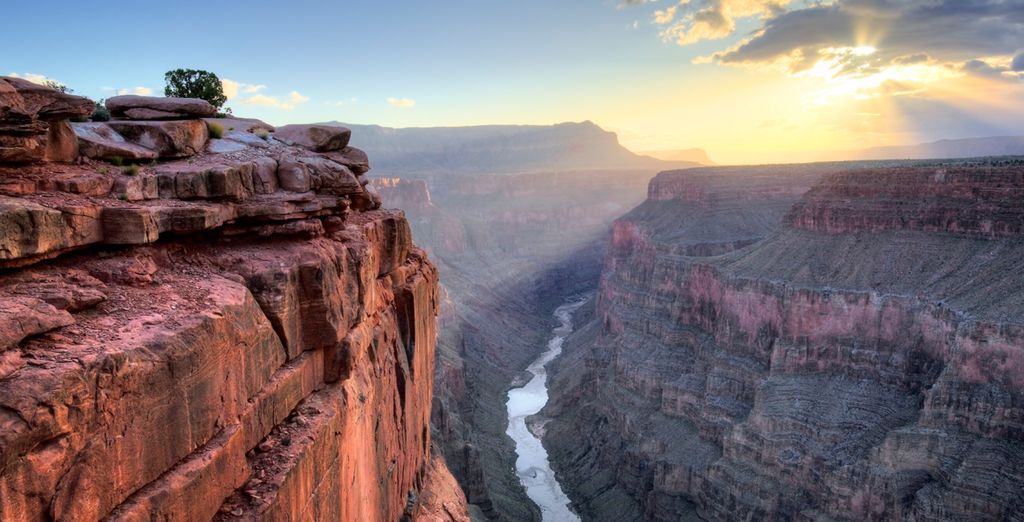 Top 5 things to do/see during a Grand Canyon tours
1. Go on a helicopter tour
The natural wonders in America are best experienced from above, so take advantage of any helicopter tours that are available. The views from above truly are breath-taking and the expansive landscape is guaranteed to liven up your Instagram feed.
2. Watch the sunset at Shoshone Point
There are many vantage points to choose from in the Grand Canyon, but none are quite as spectacular as Shoshone Point. There are barbeques and picnic areas in the region, so make sure to bring a picnic with you.
3. Hike along bright angel trail
If you're looking for a more active Grand Canyon adventure, put on a comfortable pair of shoes and enjoy the wonders of the bright angel trail. It's a challenging journey, but the views when you reach the summit make it all worth it.
4. Embark on a family bike ride
The Grand Canyon is notorious for its bike riding tracks. If you're more advanced, try your hand at some tricks on the hillier parts of the Canyon.
5. Get a guided tour
Whether you're in the Grand Canyon or the bustling streets of LA, you should consider embarking on a guided tour. The tour guide is bound to be informative, as you learn more about the expansive history of the region.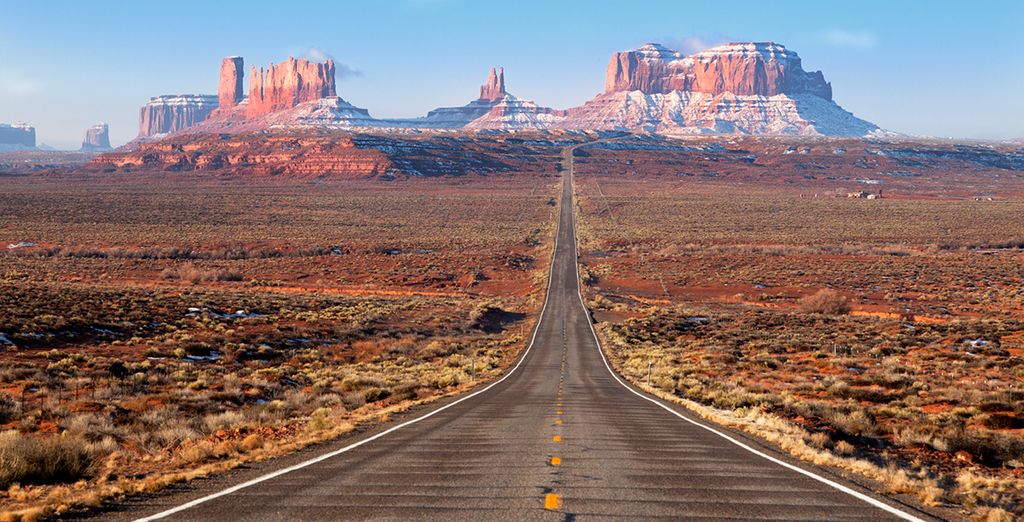 Which hotel to choose during Grand Canyon tours?
The best way to experience America and the Grand Canyon itself is with a self-drive tour. At Voyage Prive, we give you the choice of two different self-drive tours, where you have the freedom to explore the states and we sort out the accommodation. With both tours, you get to experience the wonders of the west coast states such as LA, San Francisco and Las Vegas; not only will you get to visit the Grand Canyon, but you'll also get to see other areas of natural beauty such as monument valley and much more.
With the Classic West Coast Self Drive Tour, Prive members can look forward to a luxurious hotel room wherever they go, as well a free meal at any Hard Rock Café. If you opt for the second tour option, Prive Members can expect a free tank of petrol which they can use to explore the land of the free.
Practical information about the Grand Canyon
What is the weather for Grand Canyon tours?
Between April and September, the weather on your Grand Canyon tour is likely to be perfect; cloudless skies and soaring temperatures are common for the time of year. If you're holidaying during other times of the year, you can still expect great weather but bring a coat in the case of a surprise rain shower.
What budget to plan?
You're travelling all the way to America, so take this as an opportunity to really indulge and splash out on a luxurious adventure. You're likely to be visiting a few amazing states during your Grand Canyon tour, so budget around $100-250 per day depending on what you want to get out of your experience; if you gamble in Las Vegas, maybe you could win some spending money. If you're hoping to save your pennies, make your own lunches instead of eating out.