Looking for a City Break to Rome ☀
Book your City Breaks to ✈ Rome with Voyage Privé. ? Short City Break and Weekend deals up to 70% off🏷️ Book your flight and hotel together and save.
City Breaks to Rome
If you're looking for an exciting and culture-filled trip, look no further than a city break to Rome. This fascinating city is the perfect size for a weekend away. Whether you are interested in history, art, architecture or food, Rome has something for everyone. Just a short flight from the UK, here you can indulge in Italian specialities like fresh pizza and mouthwatering gelato while taking in ancient ruins, beautiful works of art or just enjoying the slower pace of life.
The Voyage Privé travel expert's opinion on travel to Rome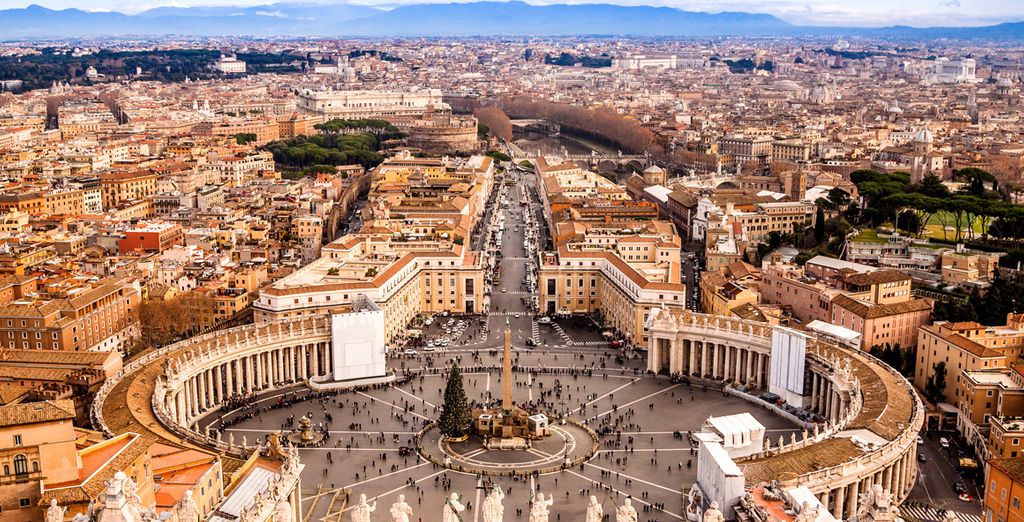 Voyage Privé recommends Rome for the perfect city break. Culture vultures will enjoy exploring all the historical sites that Rome has to offer, with reminders of Rome's impressive history and cultural heritage at every turn. You can wander around enchanting piazzas and down cobblestone lanes, taking in ancient columns and 2000-year old temples. Rome's most famous sites, the Colosseum and the Parthenon, will take your breath away.
If you're looking for a romantic weekend away, Rome will tick all the boxes. Italy is famed for the concept of "La Dolce Vita" or "The Good Life", and you'll certainly feel this while strolling hand in hand through the beautiful city streets or tossing a coin into the Trevi Fountain. In fact, legend has it that throwing three coins into the fountain ensures an upcoming proposal! Rome offers candlelit rooftop dinners, romantic river cruises and plenty of spots to watch the sun go down over the city.
Italy is renowned for amazing food, and Rome is the centre of the foodie scene. Visit traditional trattorias to fill up on carbonara and thin Roman-style pizza by the slice. Local and seasonal ingredients are key, and you can even take a tour of the local food markets to see all the fresh produce and stock up on souvenirs. Don't forget to sample some of the best ice cream in the world too!
Top 5 things to do/see in Rome
1. The Colosseum
This ancient arena is an iconic Roman landmark which cannot be missed. Dating all the way back to the year AD 80, the Colosseum hosted Gladiator tournaments, festivals and performances to entertain the people and the Emperor. It was designed to host 50,000 spectators who would have enjoyed sometimes bloody and brutal entertainment, and our modern-day stadiums and sports arenas are based on the same design.
2. Vatican City
The Vatican covers an area of less than half a square kilometre and is the smallest independent state in the world. Ruled by the Pope, this small area is home to many top sights. The most unmissable destination is the Sistine Chapel, where you can view Michelangelo's sumptuous frescoed ceiling. You can also visit St. Peter's Basilica and see the Vatican palace and gardens.
3. The Pantheon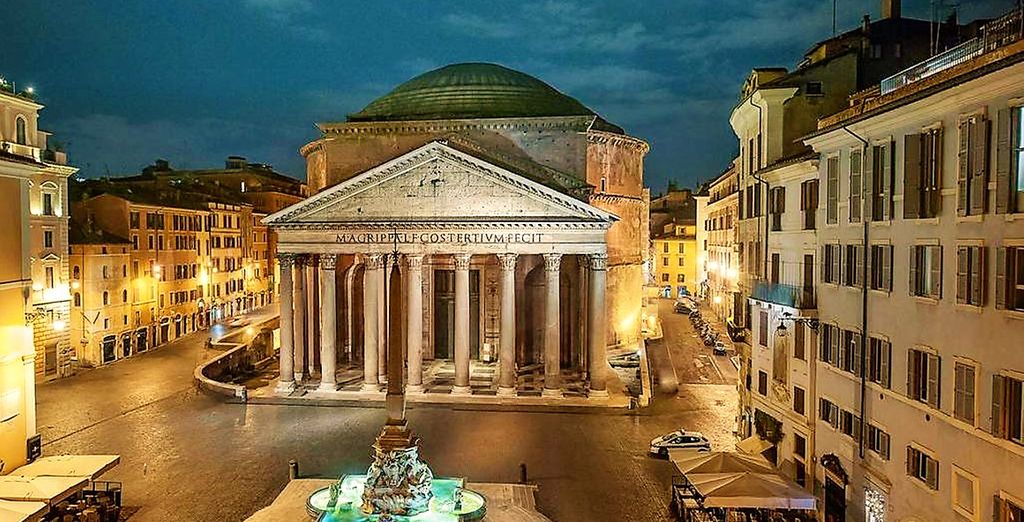 The Pantheon is the best preserved of all the Roman-era sights and gives you a real sense of history. The 43-metre dome was an amazing architectural feat at the time, held up with invisible supports. It is the burial place of Italian kings and other famous figures, including the painter Raphael.
4. Trevi Fountain
This famous fountain has been a backdrop in many films over the years and is now an iconic stop on any tour of Rome. This beautiful landmark features intricate statues and is looked over by the sea god Neptune, while tourists pose for pictures and coins shimmer in the pool below. Throwing a coin into the fountains is said to ensure your return to Rome.
5. Vespa Tour
What better way to see the city than from the point of view of a local - whizzing around the streets on the back of a colourful Vespa! This is a great way to see a lot of the city in a small amount of time or visit the sights further away from the city. You can join a tour, or if you're feeling adventurous drive one yourself.
Which hotel to choose in Rome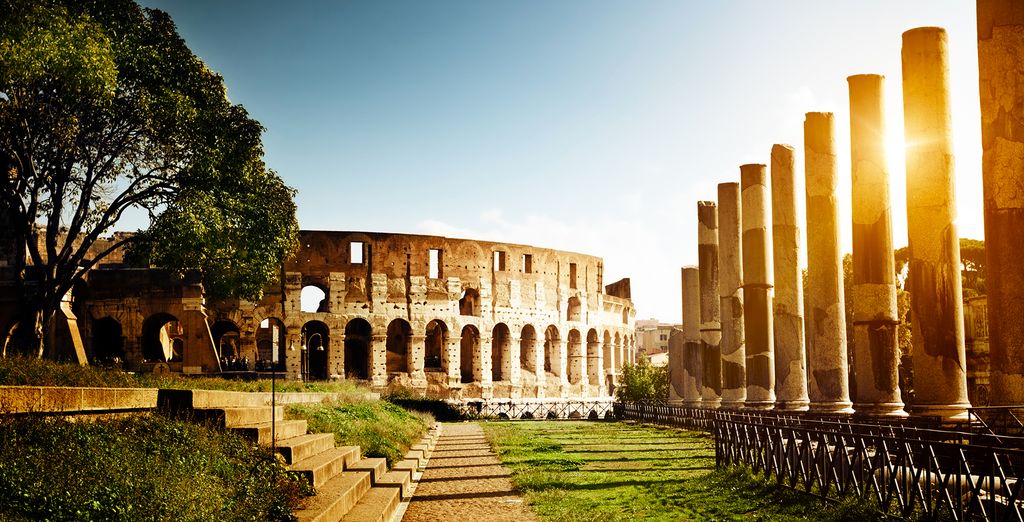 In a perfect location for the Spanish Steps and the Trevi Fountain, the La Griffe Roma - MGallery Collection by Sofitel features a rooftop bar with breathtaking views over the city. Voyage Privé members can enjoy a relaxing stay in a Deluxe Room with dining discounts.
For a touch of luxury, the H10 Roma Citta 4* provides a rooftop pool and serene spa. This stylish hotel is located in the Marconi district and is sure to guarantee a relaxing stay. Voyage Privé members will enjoy dining and spa discounts throughout their stay.
Offering a peaceful stay in the heart of Rome, the Hotel Ponte Sisto 4* is a converted monastery with stylish, elegant rooms and a quiet courtyard. This popular hotel is just 350 metres away from Campo de' Fiori and a 10-minute walk from the Piazza Navona and includes a complimentary welcome gift.
Practical information about Rome
With its temperate climate, Rome is great for a city break at any time of year. A visit in Spring or Autumn is ideal for warm temperatures of 10 - 18°C and pleasant sunshine, whereas the summer months are best for sun seekers. Temperatures can reach up to 40°C in August and many locals leave the city. Winter months are little chillier, ranging from 0 - 10°C, but are much less crowded with no long lines for attractions.
There are many attractions to visit in Rome, and ticket prices range from free (for example to visit the Parthenon and Saint Peter's Basilica) to around €16 for the Vatican museums and Sistine Chapel. You can purchase a Roma Pass for free travel and discounted entry to museums and archaeological sites, which costs €28 for 48 hours or €38.50 for 72 hours. A local restaurant meal can cost around €30 per head, with a top restaurant dinner costing up to €150. Street food such as ice cream or pizza by the slice is affordable. A city centre taxi ride will cost around €10 - 15.
Discover more offers to Rome : Romantic Weekend, Holidays, Last minute