The 10 Best Albania Resorts 2022/2023



Table of contents
Albania holidays: heritage hotspot meets beach haven
Tucked between Greece and Montenegro, Albania is probably best known to today's youth as the place where the disembodied Voldemort went into hiding after his first defeat by Harry Potter, but it is a worthy destination for more than just the most dedicated Potterheads. It was also the scene of the shenanigans that occurred in Twelfth Night, Shakespeare's riotous comedy involving gender-bending, yellow stockings and a vengeful jester, as we know from the answer to Viola's 'What country, friends, is this?', which is 'This is Illyria, lady.' Illyria is the original name for the region, which has changed over time, taking on the nomenclature of one of the Illyrian tribes: that of the Albani. But literature aside, Albania is a beautiful country that deserves to be high on the list of must-see destinations.
Top Five Things to See and Do in Albania
Snuggled in beside sun-soaked Greece, it is no surprise that Albania offers a great range of beaches and beach-side holiday destinations. Whether you are travelling on a shoestring, or looking for some leisurely luxury, Albania has the perfect hotel for you. And as you travel and explore, here are some of the top features that are uniquely Albanian and that should be included on any visit to the country.
1. Berat Medieval Sites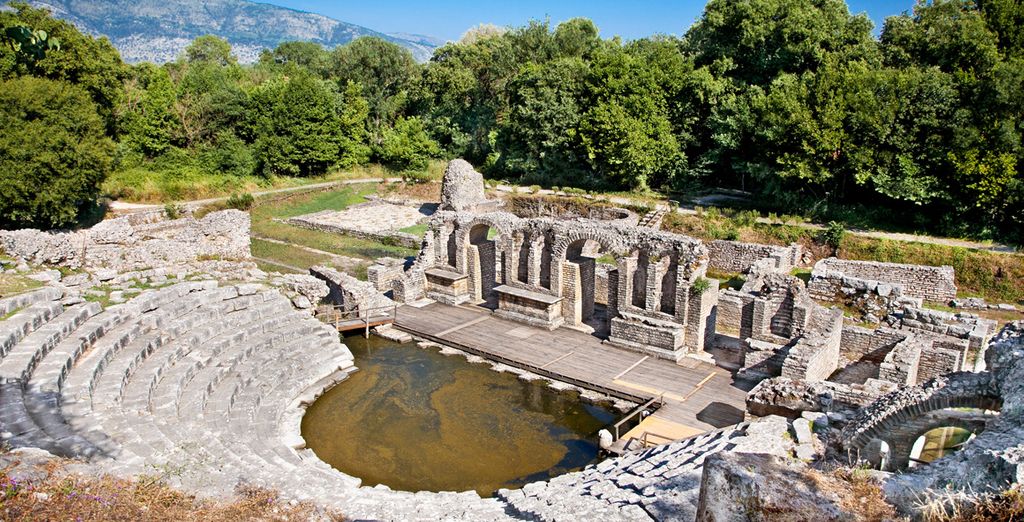 One of the oldest and most continuously occupied cities in Albania, Berat is home to a wealth of historic sites and buildings – as well as being called the 'City of a Thousand Windows' for the unique display seen best from the water, of the modern buildings, covered with a plethora of bright and airy windows. But the ancient buildings to be found in the city's Medieval Centre are – almost literally – from another world. There are exhibits from the ages to be seen, and then, just a short walk (and climb) away is the castle, which is well worth spending an hour or two exploring. Get a sense of Albania's rich, but often overlooked, past as you marvel at wonders from the last two millennia in this vibrant and tenacious city.
2. Lake Skadar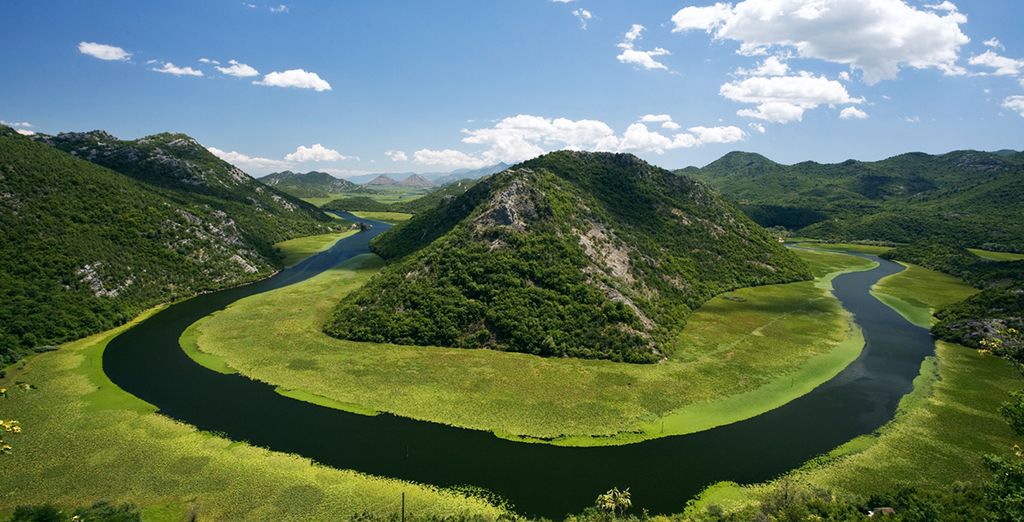 Sometimes called Lake Scutari, but not to be confused with the location where Florence Nightingale imposed her new ways of nursing and hygiene on soldiers who were delighted to find that a war wound was no long almost certain death, this location has a kinder and more natural history, having been formed millennia ago and become a source of nourishment and life for animal and plant life of many species and genera. Today, the lake is famed for boating, sunbathing, cycling and generally enjoying life that moves at a slower, old-fashioned and almost courtly pace. It is the perfect place to visit if you long for friendlier and slower-paced times when nature was allowed to take its course.
3. Walk to a Remote Beach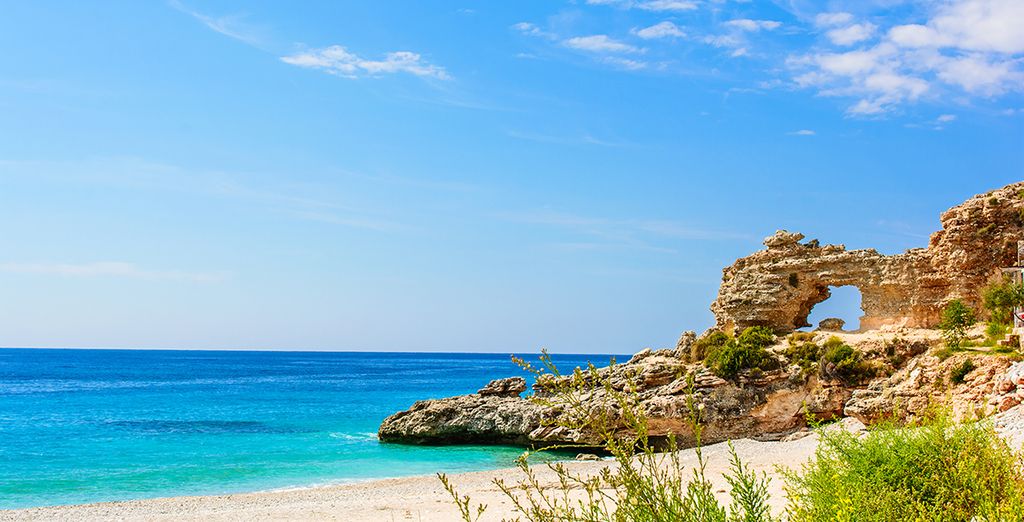 Albania is bursting with beautiful beaches, and in peak season the beaches that are closest to the cities are sure to fill up quickly with visitors and locals alike trying to nab a good spot from which to swim, play and explore. However, there are also many undeveloped areas, and if you are prepared to walk a while, you can find completely unspoiled and untouched beaches that are entirely unoccupied, which you can claim as your very own for the duration of your stay.
4. Gijrokaster Old Town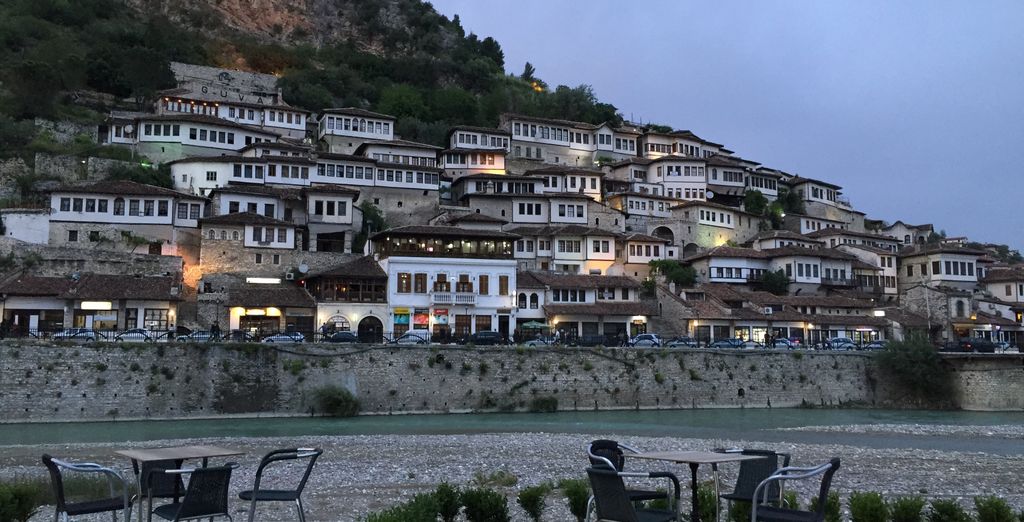 This wonderful old town is a great example of ancient Islamic architecture and ingenuity, and it offers wonderful views, being is so close to Corfu that you can clearly see the island, and it is separated from the Grecian paradise only by the same crystal clear, clean Aegean Sea that you would pay a fortune to access from the other side. Add to this, the fact that Gijrokaster is much cheaper than tourist-priced Corfu, and the Albanian city's attractions seem to grow even more tempting! Add to this, the allure of a castle, perched on top of the mountain, a plane downed in WWII that visitors are free to explore, and proximity to the Blue Eye, a natural spring that bubbles to the surface bringing with it some of the clearest water and forming the source of the nearby river. Divers have descended to at least 50 metres, but the actual depth of the spring is unknown, continuing much deeper, it seems.
5. First School Museum
The National Museum of Education is housed in the building that was, on the 7th March 1887, opened as the first Albanian school which was planned as a way to preserve Albanian language and culture. With some hiccups along the way, the school fulfilled this purpose until 1967, when it was transformed into more dignified cultural status as a museum. A wealth of fascinating artefacts, texts and books are displayed in the museum today, and the building itself, dating back to around 1840, is interesting in its own right. A quirky museum, but one that inspires thoughtfulness and shows a different way to introduce the history and culture of the country.
Our Best Hotels in Albania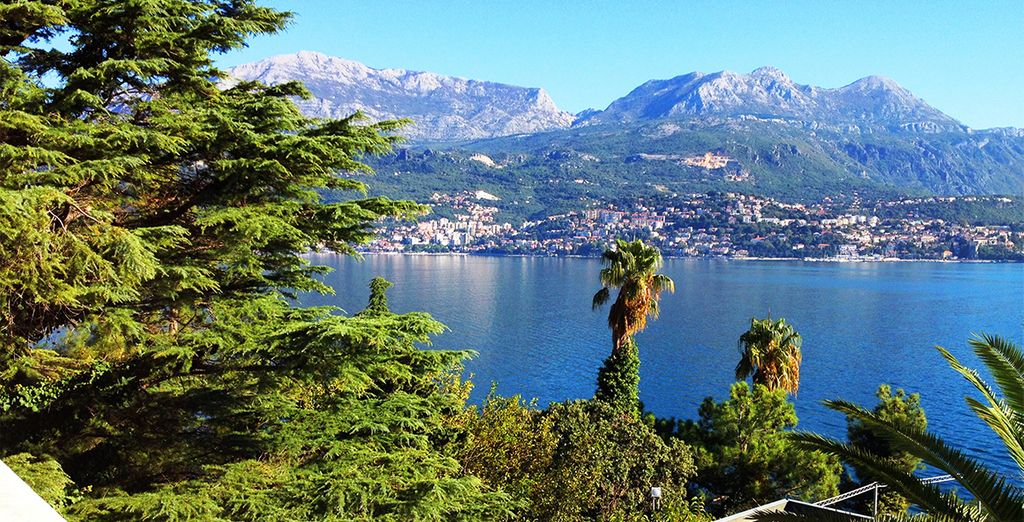 To see the best of the country, why not enjoy a self-drive tour that takes in the best of Albania? The following hotels are just some of those that enjoy great deals with Voyage Prive, and you can be a member and take advantage of those deals in mere minutes!
1. White Dream Hotel, Tirana
Warm wooden floors, crisp white sheets and beautiful, elegant yet comfortable décor are the mark of this recently redecorated hotel which offers 34 well-equipped rooms, a comprehensive and fully-stocked gym and an indoor swimming pool which enjoys floods of daylight so you almost feel that you are outdoors without any of the inconveniences. Dine on the finest of Albania and Italian dishes, enjoying a sampling or two from the fine cellar of French wines, before heading on to your next destination.
2. Apollon Hotel, Sarande
Perfectly positioned between the port and the city centre, this hotel is an ideal stop in your explorations of Albania. Enjoy a sun lounger by the pool, or head out to explore the best of this gorgeous coastal town, whether by taking a drive or a stroll by the sea or heading off to explore the 16th century castle that overlooks the horse-shoe shaped bay. Fabulous rooms await, with real wood flooring, beautiful décor and beds so comfortable that you will not want to leave. Individual balconies give you a private place to enjoy a meal in your room, while absorbing the sun's and breathing in the fresh air, or you can join the other guests to dine al fresco or in the elegant and welcoming restaurants.
3. Grand White City Hotel, Berat
Berat is filled with large old Ottoman mansions, from whose colour this hotel takes its name. A true merging of cultures, Berat is home to wonderful Islamic architecture and also boasts some wonderfully ancient Christian churches too. The thoroughly modern hotel offers parking, free Wi-Fi and 45 beautifully decorated and comfortable rooms, in a clean and contemporary setting. The restaurant areas are welcoming and supply a variety of cuisines and styles to suit all tastes – and the hotel is a short walk from the best that Berat has to offer, so you do not lose a moment of your stay in Berat in transit.
4. Ilieria Internacional Hotel, Durres
Boasting its very own library, along with canoeing, beachfront entertainments and a private beach area, this hotel is the ideal spot to rest for a day or two, recharging your batteries by lounging on the beach or by the pool, enjoying delicious food and fantastic live performances, put on for your pleasure each day. Each of the rooms is uniquely decorated in light airy colours with strong accents that make them warmly welcoming, while the beds are comfortable and inviting. The bathrooms are luxurious, and fitted with everything that you might need while on holiday.
5. Life Gallery Hotel, Pogradec
Literally minutes away from the art galleries and sights of the city, this hotel is bright, airy and modern, offering a striking contrast between neoclassic architecture and minimalist interior décor, the whole becoming a welcoming and inviting home away from home as you tour through Albania. Three bars, restaurants, an indoor pool and much more is complemented by the free Wi-Fi throughout and the easily accessible parking, to help you check in and out effortlessly. Enjoy meals or a drink by the pool or inside, as your taste (and the temperature) dictates, and drink in the authentic ambiance of Albanian welcome from the staff.
When is the Best Time to go on Holiday to Albania?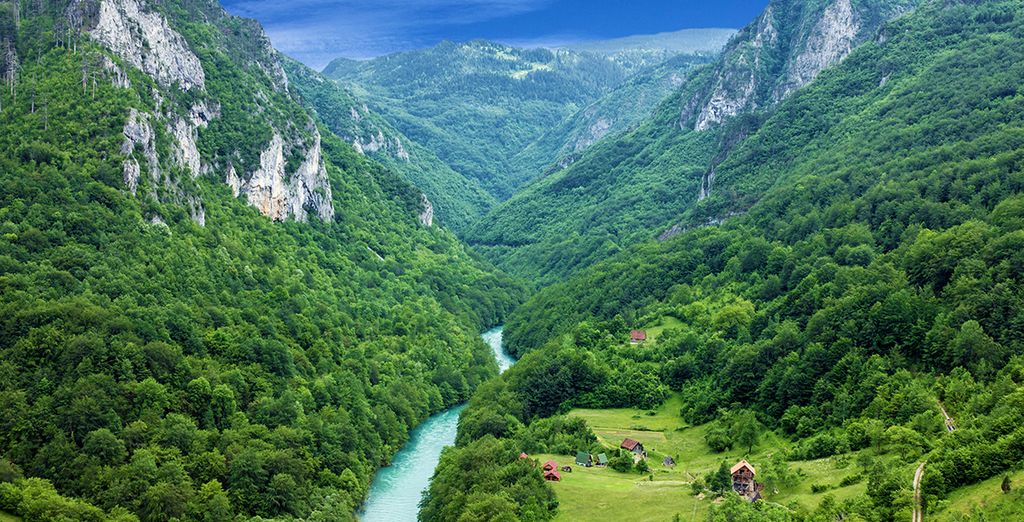 Between April and September are the best times to make the most of the Albanian summer, with the fringe months arguably better from a crowding point of view, although the weather may be a little cooler than you would like.
Getting To and Around Albania
You can fly directly into Albania's Tirana Airport, but many visitors choose to fly into Corfu or Italy and travel across the Aegean from there, usually by ferry. You can drive across Europe to Albania, and enjoy the convenience of having your own car with you to come and go as you like. Getting about the country is best done by car, but there are bus and train services that will get you handily around the country. You can also hire a bike and cycle around the country, or parts of it anyway! Some of the terrain is a bit steep for casual cyclists, so do check out the surroundings before you commit to hours in the saddle!
Enjoy your Albania Holidays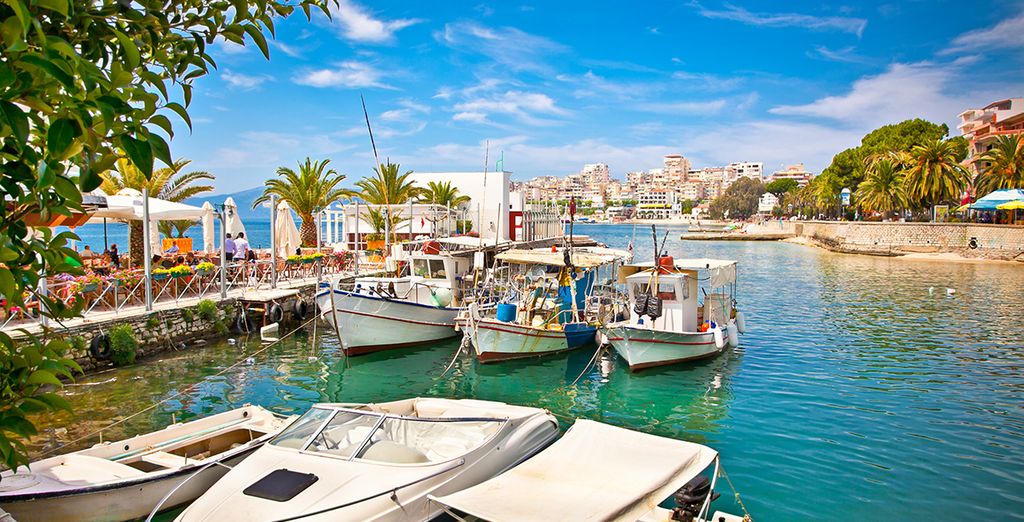 Albania is very family friendly, being a safe country that works at a more leisurely, child-friendly pace, with many accommodations made for children's needs. Pets must come in through the international airport, and must have a valid and fully up-to-date pet passport. When in doubt always check with your local embassy or online to make sure that you pet will be fully compliant. Albania is also great for solo travellers and students, being a reasonably priced summer destination, and it is also highly suitable for romantic getaways such as couple's weekends or honeymoons.
There is so much to see and do in Albania that you should allow a minimum of five days to enjoy the country: but preferably give yourselves a fortnight to make the most everything it has to offer.
The Opinion of the Voyage Prive Expert on Albania Holidays
Albania is something of a dark horse when it comes to tourism. Not many people know exactly where the country is, and finding out that it is awash with beach resorts, crystal clear blue seas and soft sandy beaches can come as a great surprise. At present, the country is still relatively cheap, while actively working on boosting its tourist sector, which means that choosing Albania can net you a great luxury holiday with all the mod cons, for much less than you might expect to pay.
Book a luxury Albanian holiday today and discover the unknown
Largely untouched by Western tourism for the whole of the 20th century, Albania, located in the Balkans on the Adriatic Sea, is a seriously hidden gem. Those in the know have been visiting for years, attracted by its UNESCO world heritage sites and natural wonders. With its own mountain range, many traditional villages, a growing number of beach resorts and a small but charming capital, there's plenty going in this European jewel of a nation.
Despite being a tourist newcomer, the country has a growing number of five-star hotels and boutique resorts. From the capital Tirana to the Albanian Riviera, we've hand-picked the very best of these hotels in Albania and furthermore, our signed-up members get exclusive deals of up to 70% on Albania holidays.
Tirana, the beating heart of Albania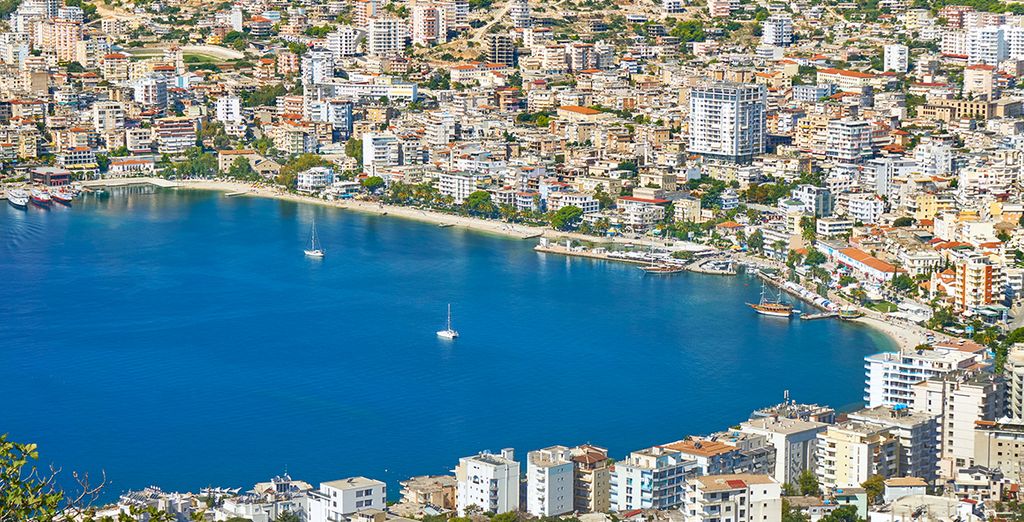 The country's capital is home to a third of its population and is the best place to head to for a history lesson, or to experience local culture and entertainment. Once a drab grey city, the communist-era buildings have now been brightly painted whilst the welcome from locals is always incredible. Café culture abounds in Tirana, although the local plum brandy is also worth a try. Head to Skanderbeg Square, a green space celebrating a national hero and also home to the beautiful Et'hem Bey Mosque, and the excellent National History Museum.
The great outdoors: activity holidays in Albania
Albania has two major natural wonders going for it. Firstly, the Albanian Alps which straddle the country's middle and are fast becoming a hot spot for skiing in winter and hiking in summer. The place to head to is arguably Volbana, a national park which is home to some of the most isolated villages in Europe. The best way to reach the area is via a Lake Ferry which allows visitors to take in some truly incredible sites.
The coastline, the country's second greatest wonder, stretches from Montenegro in the north, to Greece in the south, incorporating both the Adriatic and Ionian Seas. The upscale Albanian Riviera is located close to Greece on the Ionian Coast. Home to numerous luxury hotels, the best of which we offer exclusive deals for, this is where you'll bathe in glorious turquoise waters and sunbathe on golden sandy beaches. Even in the busiest areas, you'll be able to find secluded bays and hidden coves. For nightlife head to the unofficial capital Saranda.