Top 10 Hotel in Barcelona



Table of contents
Hotels in Barcelona

Discovier our Top 10 hotels in Barcelona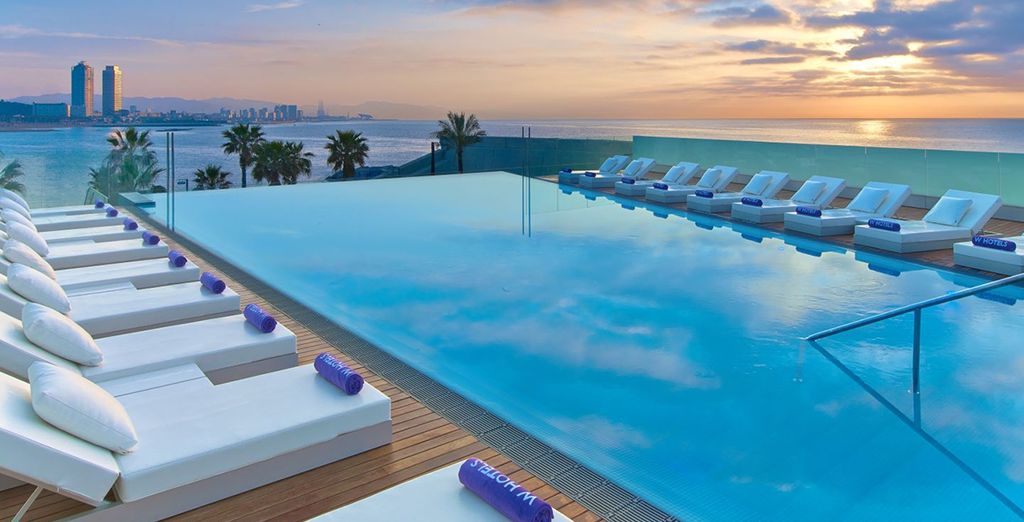 Striking, iconic and luxurious, this five-star hotel has the best views over Barcelona, with a beautiful panorama of the destination's best architecture and cultural centres visible from its many floor-to-ceiling windows. Visit the rooftop bar for even better views and excellent cocktails too.
Modern in design, with all the amenities you could ever need to enjoy this beautiful city, the B-Hotel takes four-star luxury to the next level, with a beautiful sun terrace and on-site swimming pool perfect for relaxing after a long day soaking up the sights and sounds of Barcelona.
A hotel with a difference, the H10 Marina offers a unique experience of the city, and was created for the 1992 Olympic Games. Complete with a swimming pool, a skyline terrace and close proximity to Barcelona's Gothic Quarter, there's plenty to see and do at this four-star hotel.
Industrial, architectural and modern in design, this hotel is more than just a place to stay – it's an experience of its own. Complete with unique features and stylish décor, the four-star Expo Barcelona is perfectly placed to access all the city has to offer.
Stylish, luxurious and the perfect home-away-from-home, the Hotel Sofia Barcelona takes five-star luxury seriously. With four on-site bars and plenty of amenities, you might never want to leave your hotel – but the close proximity to the best of Barcelona's nightlife means you definitely will.
Combining modern charm with a convenient location, the Barcelona Princess Hotel is the ideal stopping place for fans of Barcelona's excellent shopping district, with plenty of four-star amenities on-site to refresh you in between visits to the city's many stores, markets and experiences.
If you're looking for the best views in Barcelona, then the four-star Ilunion hotel might just be what you're looking for. Featuring an eight-floor gym and rooftop pool with stellar views, in addition to its convenient location by the beach, this hotel has all you need to see Barcelona from above.
A stylish boutique-style hotel nestled in the centre of the city, the four-star Hotel Pulitzer features all you need to explore the city, from bike rental to easy access to all the best parts of Barcelona. An on-site fitness centre offers all you need to unwind after a day pounding the pavements.
Eco-friendly, simply stylish and elegantly modern, the Hotel Golden Tulip is truly a unique place to stay in Barcelona. With the option for fresh Mediterranean cuisine in-house and ample opportunity to explore all the corners of the city, this four-star hotel is the perfect base for your next visit.
Located right next to the beautiful and famous Miro park, the Hotel Pestana Arena can be your little corner of paradise in Barcelona. This modern four-star hotel combines effortless style with contemporary service to provide its guests with an experience they won't forget.
What services will you find in our hotels to Barcelona?
Known for its artistic and vibrant backdrop and architecture, Barcelona is a city that lives in full colour, attracting countless holidaymakers for many different reasons every single year. Picking the hotel for your next visit can be just as challenging as knowing what to do and see – so make sure you know what you want to do before you begin.
Many of the smaller boutique hotels offer fast access to some of the city's best areas, such as the shopping and entertainment districts, while larger hotels offer stellar views of Barcelona from above. With a range of different rooms available, from luxury suites to family rooms, there's plenty of choices to suit any budget or holiday type.
Services that are often available in Barcelona's many hotels include on-site pools, spas and great facilities within walking distance, with hotels even including on-site restaurants to enjoy local cuisine in style.
From five-star accommodation with everything included to modern hotels that give you more opportunity to see the city, there's a hotel for you.
Hotel rental offers at Barcelona convenient for all kind of travel
For those looking to experience the vibrant lifestyle of this Spanish city with friends, Barcelona has plenty to offer. Equally, for those who prefer travelling alone or as a couple, there are plenty of more upmarket parts of the city to visit, from the many operas to the galleries and museums.
A city of many faces, there's plenty to do for families and friends travelling alike, from the many bars and clubs for younger party-goers to the more sedate parks and beaches ideal for a slow and steady holiday with younger children and family members.
The range of hotels we offer in Barcelona
From luxurious five-star accommodation to eco-friendly boutique hotels, there are plenty of different experiences to choose from when it comes to staying in Barcelona – and we've got them all. Our range of hotels can match any experience you're looking to achieve.
Barcelona: what should you bring for an hotel stay?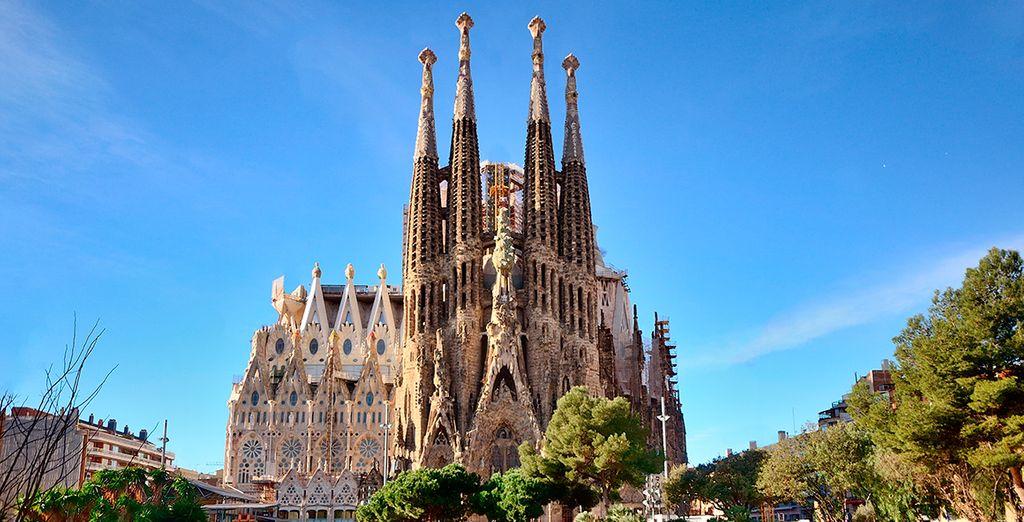 With miles of architecture, parks and museums to explore, bringing your most comfortable walking shoes is a requirement to ensure you can see all you want to. As a seasonal European city, packing for the weather is also vital – with light layers for the summer and cosier pieces for the winter season.
Your best hotel in Barcelona: how to get there and make your booking?
A central travel location and bustling city, reaching Barcelona is comfortable and convenient, with travel by train, plane or car available as per your personal preference.
However you choose to travel, when it comes to booking your hotel for your trip to Barcelona, choosing us is the perfect way to get a deal you'll love for less. We can even drop you a line if we see any offers we know you'll love – just let us know what you're looking for.
The opinion of the Voyage Prive travel expert on hotels to Barcelona
A creatively inspired and truly once-in-a-lifetime location, Barcelona should absolutely be on your list of holiday destinations. From its unique architecture to its fantastic shopping, the many and varied experiences of the city are ideal for just about anyone.
Barcelona, the city of vibrant colour and culture
After dark, there are plenty of bars, clubs and party scenes to experience – while the daytime brings about access to beautiful museums, well-tended parks and some of the best Mediterranean food the city has to offer. You won't regret visiting this unique and beautiful city, so get it booked today.
Visit more travel deals to Barcelona: weekend, last minute holidays, sun holidays, holidays, city breaks, stays, travel guide.