Our free Oman Travel Guide
Discover the 🕌 TOP 10 Oman attractions in our Travel Guide: Find advices, itineraries and hotel deals. Save time in planning your vacation.
Travel Guide - Oman
Oman is an ancient and welcoming land, nestling in the south-eastern corner of the Arabian peninsula, bordering the United Arab Emirates, Saudi Arabia and Yemen. The Arabian Sea laps its southern and eastern shores, while the Gulf of Oman is found to the north of the country. While the country is known for its endless, romantic desert of shifting, golden sand and the Bedouin people who call it home, it may surprise you to know that it also has lush, green mountainous regions and a beautiful coastline. Interesting geological features including fjords add to this intriguing landscape that's full of surprises.
The country's capital, Muscat, is situated on the northern coast overlooking the Gulf of Oman. Here you can enjoy fine dining, sightseeing and shopping in bright, modern malls or the more traditional souks. The city of Salalah can be found in the southernmost region of Dhofar, known for its lush green mountain areas and its beautiful coastline along the Arabian Sea, bursting with colourful sealife. Many traditional villages offering a warm welcome, and ancient forts and castles can be found dotted around the countryside and are also well worth a visit. Oman has it all – the stunning landscape with its endless variety, modern-day facilities and ancient Bedouin culture and tradition to enchant you and provide the warmest of welcomes.
The top 10 things to see/do on site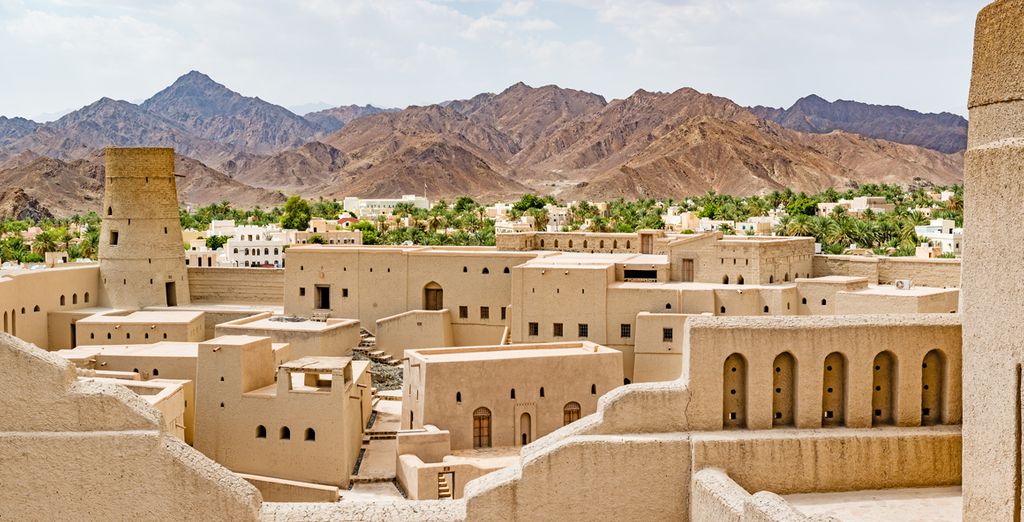 History

Explore some of the 500 castles and forts in the country, each with its own story to tell about Oman's rich heritage. Highlights include the thirteenth-century Bahla Fort (a UNESCO World Heritage Centre), a majestic mud brick structure and settlement two hours south-west of Muscat by car, and Nizwa Fort, with its huge, cylindrical tower, again within easy reach of the capital.
Desert safari

Enjoy a unique experience in a Bedouin-style desert camp. You can see camel racing and get up close to these enchanting animals, meet local Bedouin people, enjoy traditional music and dancing, relish in the delicious, traditional food and come nightfall, make the most of the clear skies to see nature's radiant display of stars.
Shopping

Modern malls offer shopping, entertainment and restaurants under one roof, while for a more authentic experience, try one of the many traditional souks selling local crafts, silver, carpets, clothes and other typical goods such as frankincense and incense burners. Muttrah Souk in the old quarter of Muscat is a go-to destination for being one of the oldest in the Arabic world.
Beaches

Oman boasts 1,700 kilometres (around 1,000 miles) of coastline, offering no end of possibilities for beach lovers. Al Qurum Beach in Muscat is close to many hotels and restaurants and is excellent for walkers or sun worshippers. Further off the beaten track the rocks along Bandar Jissah Beach, some 25 kilometres (around 15 miles) from the capital, offer stunning scenery and a quiet, unspoilt experience.
Visit the Sultan Qaboos Grand Mosque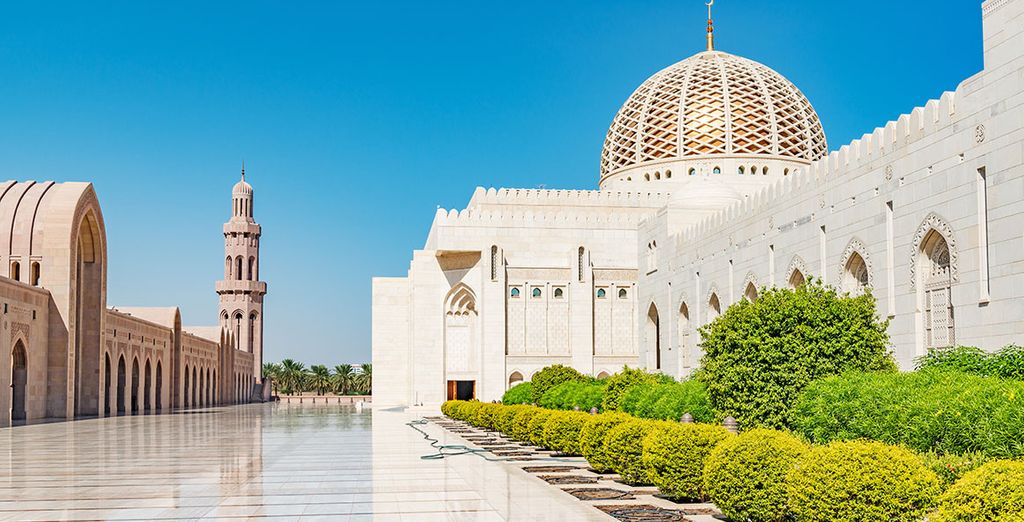 This spectacular building is the largest mosque in Oman and can accommodate 20,000 worshippers at once. Built over six years to mark the 30th year of Sultan Qaboos' reign and opened in 2001, it is made of Indian sandstone and features beautiful calligraphy and mosaics as well as boasting the second largest single piece of carpet in the world.
Nature and wildlife

Oman's diverse landscape means no end of natural areas to explore and wildlife to see. Try exploring the caves and pools at the Wadi Bani Khalid in the north-eastern corner of the country (a "wadi" is a dry riverbed that fills with spring water), or the Al Ansab Wetland in Muscat where nearly 300 species of birds can be seen, a haven for photographers and birdwatchers.
Diving

Warm waters provide the ideal diving experience. Sites around the capital Muscat are home to the whale shark, the world's biggest fish, while turtles, dolphins, sharks, stingrays, pufferfish and morays are just a few of the other varieties of sea creatures that you may see. The coast around Salalah in the south is dotted with bays and beautiful beaches, with seasonal kelp forests that make diving a unique experience.
Boat trips

Appreciate Oman's natural beauty on a boat trip. Specialist excursions such as dolphin tours will allow you to get close to some stunning wildlife while you enjoy the breathtaking scenery. An evening tour on a traditional dhow provides the opportunity to enjoy the sunset or go for a full-day trip taking in some of Oman's rugged coastline and stopping by a secluded cove for lunch.
Off-roading

Hiring a 4x4 is a great way to explore Oman's diverse landscapes. The country's mountainous regions offer a world of adventure, with winding tracks for you to discover, stopping off at charming villages along the way. Explore Oman's main wadis, or for the truly adventurous, try a desert crossing for the ultimate experience.
Geology

Oman's surprisingly diverse landscapes boast fjords, which you can explore on a dhow cruise, and you may be lucky enough to see dolphins as you sail along the majestic waterways. Wadi Ghul, nicknamed the Grand Canyon of Oman, in the Hajar mountain range offers a breathtaking experience. Try the Balcony Walk for outstanding views of the surrounding mountains and the villages below.
When to go to Oman

Oman is one of the hottest countries in the world, with dry weather in the interior of the country, and humidity along the coasts. Summer temperatures in the north of the country can reach 45 to 50 degrees centigrade, while in winter they fall to a more pleasant 17 to 20 degrees. This means that the best time to travel to Oman is between October and April, when the weather is pleasant but not too hot.
Be aware that the Dhofar area in the south has a rainy (known locally as "khareef") season, from the end of July to the beginning of September, bringing light rains and occasionally heavier downfalls. In Dhofar, temperatures don't tend to exceed 30 degrees centigrade, so this is perfect if you prefer cooler weather. In fact, a festival takes place for these months every year to celebrate the pleasant climate, culture and history of the region, attracting visitors from nearby countries where summer temperatures become unbearable.
How to get there?
You can reach Oman easily by air from many European hubs. A direct flight from Paris to Muscat will take seven hours, from Madrid to Muscat flights typically take between nine and 11 hours including one stopover, from Rome to Muscat around eight to 10 hours with one connection, with non-stop flights from London to Muscat taking a little over seven hours.
Travellers from the UK, the EU, the USA, Canada and Australia will need a passport with validity for at least six months to travel to Oman, as well as a visa which can be obtained online. Note that you can also apply for a joint visa if you are travelling to both Oman and Qatar or Oman and Dubai.
Which hotel to choose?
Crowne Plaza, Muscat

This sophisticated choice offers guests stunning views across the Gulf of Oman and access to a private beach. Perfectly located only 20 minutes from Muscat International Airport and close to beachside restaurants and cafés, guests can relax in the infinity pool or simply take in the views from the terrace.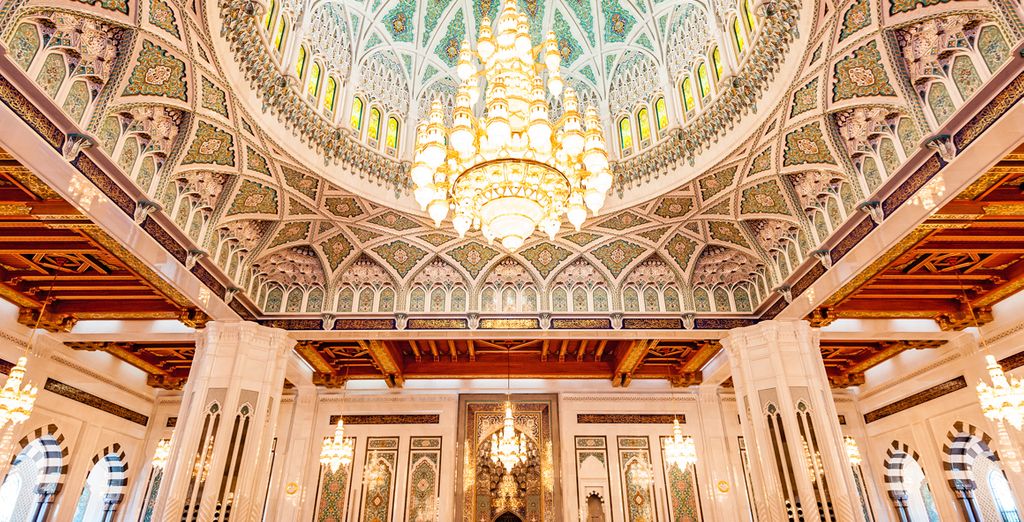 Park Inn, Muscat

A 4-star experience awaits you at the Park Inn, situated near shopping districts and within easy reach of some of Muscat's main attractions. To unwind after your sightseeing, experience the rooftop swimming pool or sample the menu at one of the hotel's restaurants or bars.
Sifawy Boutique Hotel, Jebel Sifah

Only 45 minutes from Muscat in the Jebel Sifah Resort, this luxurious boutique hotel offers a traditional Omani welcome. Guests can take advantage of the many facilities on offer, including a swimming pool with Jacuzzi, tennis and nearby golf course, or just enjoy the tranquil atmosphere.
Golden Tulip Hotel, Nizwa

The Hajar mountains surround this stunning hotel, providing an unforgettable backdrop for your stay. Perfectly located for adventures in the surrounding area, it is also close to the fort and souk at Nizwa.
Juweira Boutique Hotel, Salalah

Overlooking the Hawawa Marina, guests can take in the view of the Indian Ocean from their private terrace, walk to the nearby beach or enjoy fine dining in one of the hotel's waterfront restaurants.
Culture in Oman
For a month over January and February, The Muscat Festival celebrates Omani culture and offers visitors theatre performances, camel races, food sampling and firework displays.
The Sultan Camel Race Cup takes place in March and sees camels compete at high speeds at the Al Fulaij race track in Barka. This centuries-old sport provides visitors with an entertaining spectacle and an insight into the traditions of Oman.
The Salalah Tourism Festival takes place from mid-July to the end of August, celebrating the monsoon or "khareef" season, when the landscape is transformed into a lush vista shrouded in mist. Tourists can enjoy displays of local music and dancing and browse stalls selling handicrafts and food.
Local practices and customs
As an Islamic country, Oman has conservative dress rules with local men wearing a long robe called a dishdasha and women wearing a long black gown known as an abaya. This means that tourists are advised to wear modest clothing, covering their shoulders and legs.
Our practical advice for Oman
Map of Oman
What to bring back from Oman

Oman is famed for its silverwork, so look out for beautiful jewellery and traditional coffee pots. Frankincense is a centuries-old Omani speciality and burning it will bring back happy memories of your trip. Other popular mementoes are pottery, baskets made from palm leaves, wooden chests embellished with metalwork known as "mandoos" and traditional daggers or "khanjars".
What currency to use?

The currency used locally is the Omani rial (OMR), with smaller units of currency known as the baisa. You will be able to use your credit or debit card, with Visa and Mastercard being widely accepted, and withdraw cash in towns or cities such as Muscat, but it's advisable to also have local currency available for cash purchases.
What time difference?

Oman is four hours ahead of Greenwich Mean Time.
What language is spoken at Oman?

Arabic is the official language of Oman, but you will find that English is widely understood and spoken.
How to get to Oman

The best way to get to Oman from Europe is by air. There are opportunities to hire cars and 4x4s if you would like to do some independent exploring once you are there.
What to pack for your holiday at Oman

Cool, loose clothing is a must if you are visiting during the hot months. Be mindful of local dress codes and ensure that you are modestly dressed, especially if you are visiting mosques. In this instance, ladies will also need a scarf to cover their hair.
If you are planning on exploring some of the beautiful scenery, take walking shoes or boots and practical, outdoor clothing. If you're heading up to the mountains, pack some warmer clothes.
Remember that if you are visiting the Dhofar region during the rainy months of July and August you will need appropriate clothing.
While Oman is not a high-risk region for malaria, it's always best to avoid mosquito or other insect bites, so don't forget the repellent.
How long to stay

If you are staying in one location in Oman, a week to 10 days should be sufficient, but allow up to two weeks if you are travelling to more than one place.
Restaurants on site

Typical Omani food includes meat dishes served with rice, with onions, garlic and spices used generously, and dates and date-based recipes served as a sweet dish. Hotels generally serve a range of local and international cuisine, so there is bound to be something to suit everyone.
While alcohol is not consumed by the Muslim population of Oman, it is served to visitors in hotel restaurants and bars.
Family activities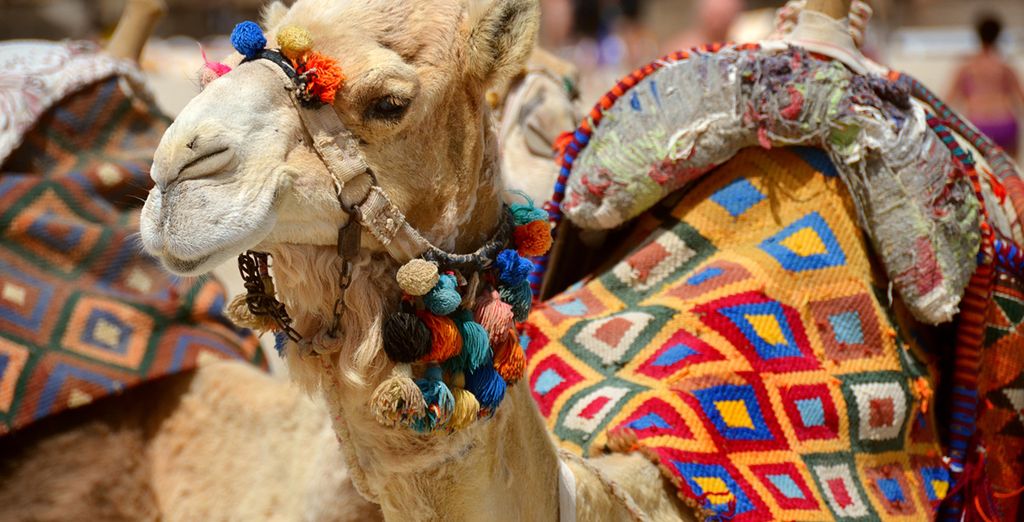 Resorts are family-friendly, with plenty of activities for babies and children including swimming pools. For older children and the more adventurous, there are plenty of opportunities to try hiking or trekking in the stunning countryside or exploring the desert.
Oman: What budget to plan?

Oman is a relatively expensive country to visit, but certain goods and services such as taxis and petrol come cheap. Remember to haggle when you are shopping as the first price offered is invariably not the best!
Environment

Oman boasts a surprising variety of landscapes. The Al Batinah coastal plain is found on the northern edge of the country and offers beautiful beaches and watery views.
The Hajar mountain range in the north, separated by the Wadi Samail, is a dramatic backdrop for many outdoor pursuits such as hiking and exploring by 4x4. The Dhofar mountains in the far south of the country provide spectacular scenery with green, wooded areas, and this area really comes alive during rainy season.
Much of Oman is taken up by the Rub Al Khali desert, one of the largest deserts in the world – a place of vast, endless beauty, days of red-golden sand constantly shifting and deceiving the eye, and nights of intense starlight bringing a magical quality to the area.
Additional practical information

Electrical sockets are of the standard UK 3-pin type with a voltage of 240 V.
Visit all our travel guides