Maldives Honeymoon
Planning and preparation for a wedding can be stressful. You want to look your best, so almost everyone is on a diet of some kind, you have to get in touch with long-lost relatives who would be offended if they were not invited – but you must also be aware who is feuding with who within the family when doing the table placements, and then there is the stress of finding the perfect outfits, venue, official for the ceremony and friends and relatives to be bridesmaids and groomsmen. There is little wonder that after the marriage service you will be completely exhausted and want to just get away from it all for a while! Going on honeymoon is the perfect way to achieve this: and the Maldives just might be your perfect destination.
Honeymoon in the Maldives: Find the Most Luxurious and Romantic Hotels with Voyage Prive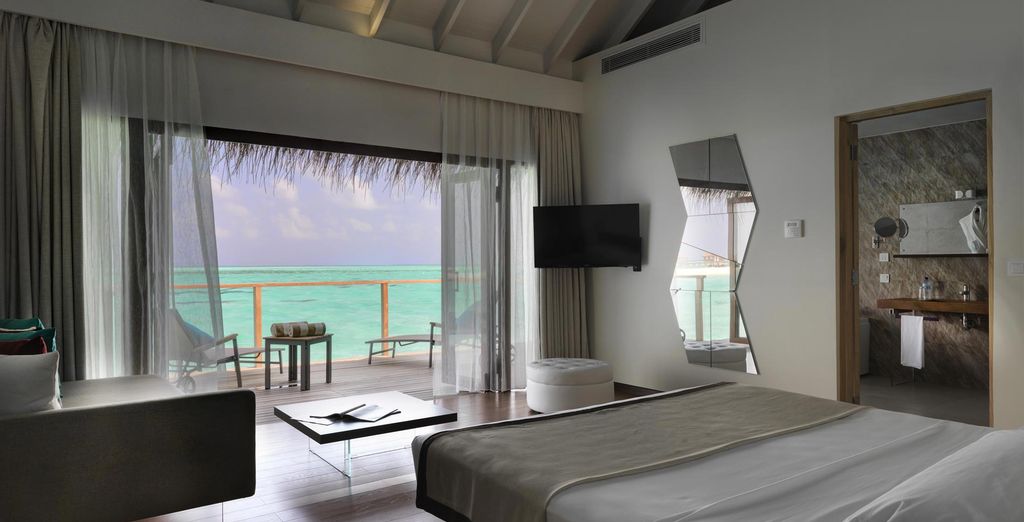 A luxury hotel nestled just on the edge of the sea on a white sandy beach and bounded by crystal clear blue seas, this gorgeous establishment is just waiting to welcome you with open arms. The hotel has 150 rooms, comprising over-water rooms and beachside villas, so you can choose the perfect options to suit your budget and your tastes. Snap up a honeymoon deal with Voyage Prive (becoming a member is easier than ever, and the benefits are enormous) and enjoy a free room upgrade, complimentary wine and chocolates on arrival and even a romantic dinner for two to make your Maldives honeymoon even more memorable.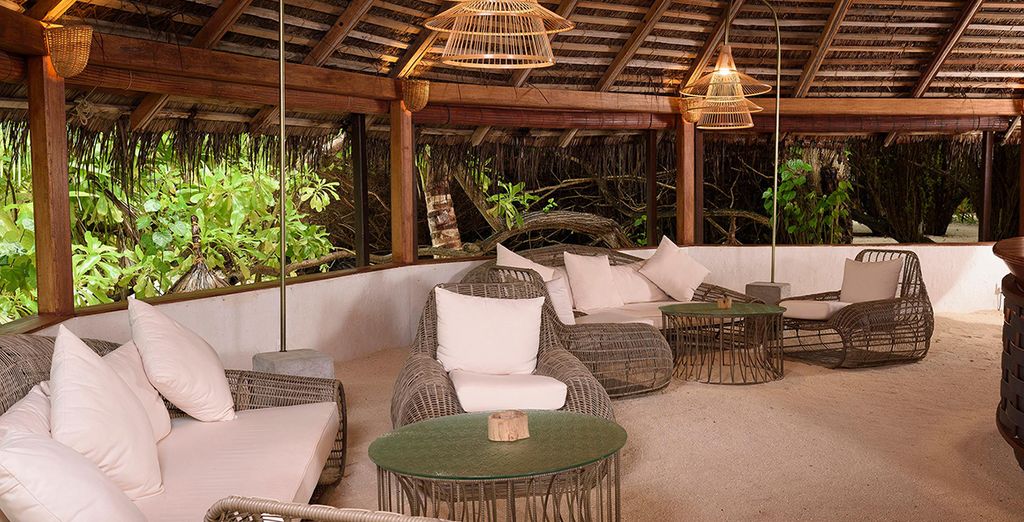 Glistening blue water, soft white sands and traditional Maldivian architecture make this hotel the perfect destination for your honeymoon to this tropical paradise. With your very own bungalow, open air relaxation areas and cool comfortable and beautifully decorated sleeping quarters, you will soon feel at home here, and the superb customer service will make heading home a wrench. The food is delicious, prepared from scratch and includes fresh seafood, local delicacies and plenty of juicy fruit and tasty vegetables.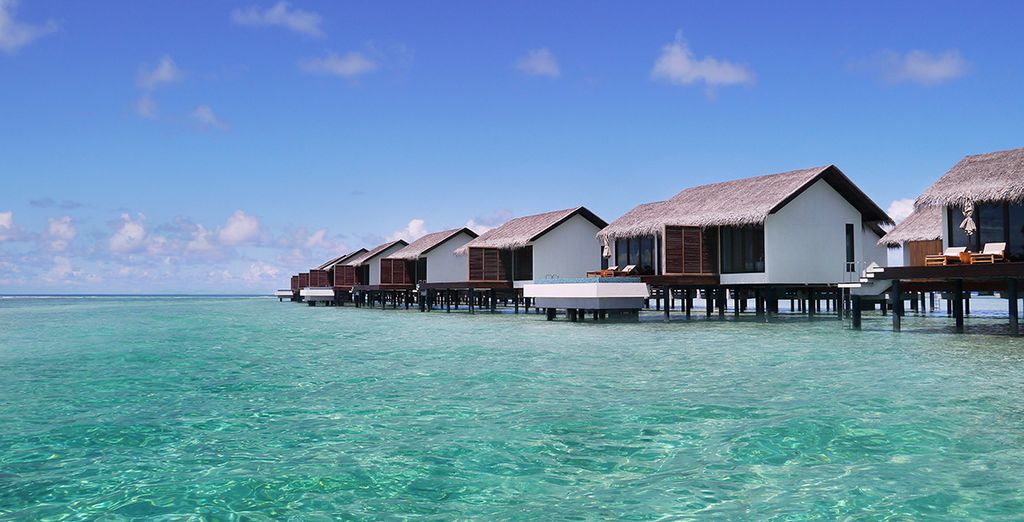 Being on honeymoon is all about spending plenty of alone time with each other, and this gorgeous hotel provides you with plenty of privacy. You can enjoy each other's company in your very own villa that comes complete with your own personal deck from which you can swim and sunbathe far from the crowds. But if you do fancy some company there are many social areas where you can meet up with other holiday-makers and strike up friendships with like-minded people. The hotel offers a cycle hire service so you can explore the island, or you can laze on the beach or in the exquisite infinity pool. Local artefacts and artworks sit comfortably alongside modern conveniences to ensure you have the best possible experience of the Maldives.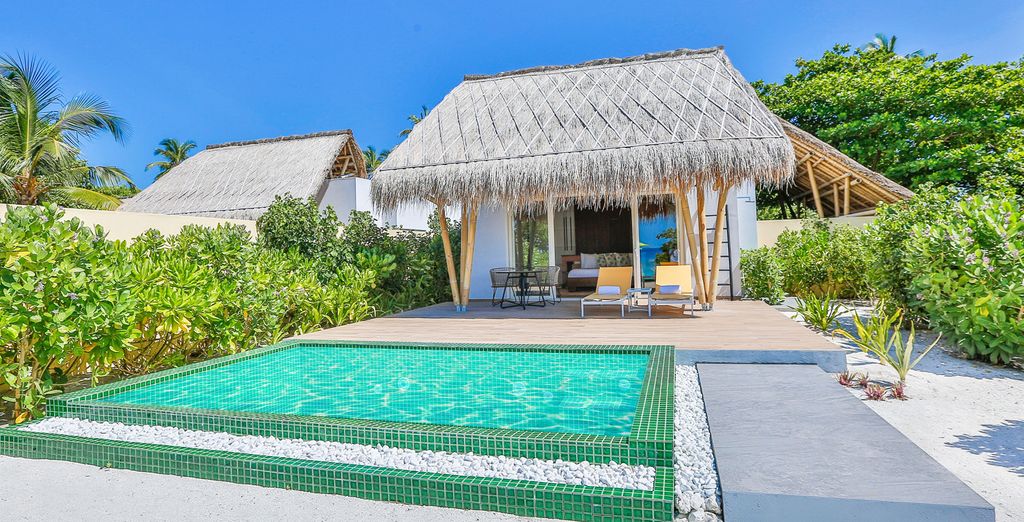 One hundred and twenty villas over the water and on the beach are waiting to welcome holiday-makers and honeymooners from all over the world. Perched on the island of Fasmendhoo, surrounded by the security of the Raa Atoll, this hotel is what you have always imagined when you thought of tropical island paradises. The hotel complex is still fairly new, so all the facilities and amenities are in perfect condition, while the chefs and bartenders are old hands, practised at giving you exactly the delicious opulence you deserve while on honeymoon! The rooms are enormous, and all offer easy instant access to the beach, the sea or your own private pool in which you can splash, play and laze all day, if you so desire.
Housed on a private island, the accommodations in this tropical resort stretch out over the water to ensure peace and privacy to every guest; perfect for honeymooners to get to know each other. When you are ready, there is a fantastic social offering, including several wonderful restaurants and a thriving bar that stands over the water and has a glass dance floor so you can see the water underneath as you party the night away.
Honeymoon in the Maldives: What to See and Do as a Couple to Experience the Best of it
1. Snorkelling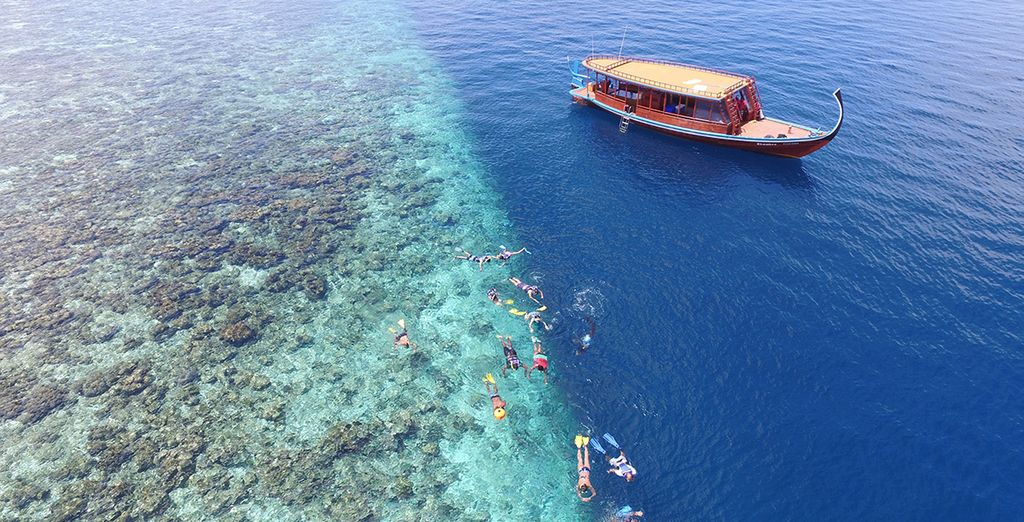 Not as difficult or as dangerous as scuba diving, snorkelling is a great way to enjoy the huge abundance of wildlife to be found in the Maldives. Hire a snorkel, mask and flippers, or buy your very own sets to take home with you for further tropical adventures, and after a little practise to get the hang of it, you will soon be cruising along admiring the thriving coral reefs with their schools of fish, rays, and even turtles all busily going about their lives, oblivious to the busy-ness of the humans sailing, swimming and boating at the surface.
2. Scuba Diving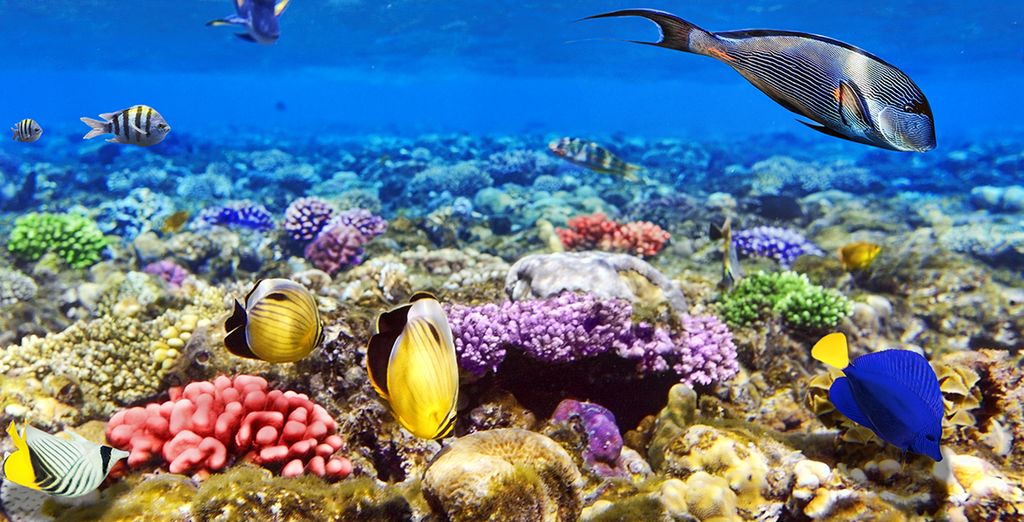 The Maldives is home to over 60 local dive sites, and it is said to be amongst the best scuba diving destinations in the world. The water is clean and clear, the beaches slope gently away under the water, and there are plenty of coral reefs and thriving underwater marine wildlife populations to give divers something interesting to look out for as they cruise along the ocean depths. If you have scuba certification already, you can sign on for more advanced expeditions, while beginners can take their first steps towards learning this technical but fascinating pastime.
3. Enjoy the wildlife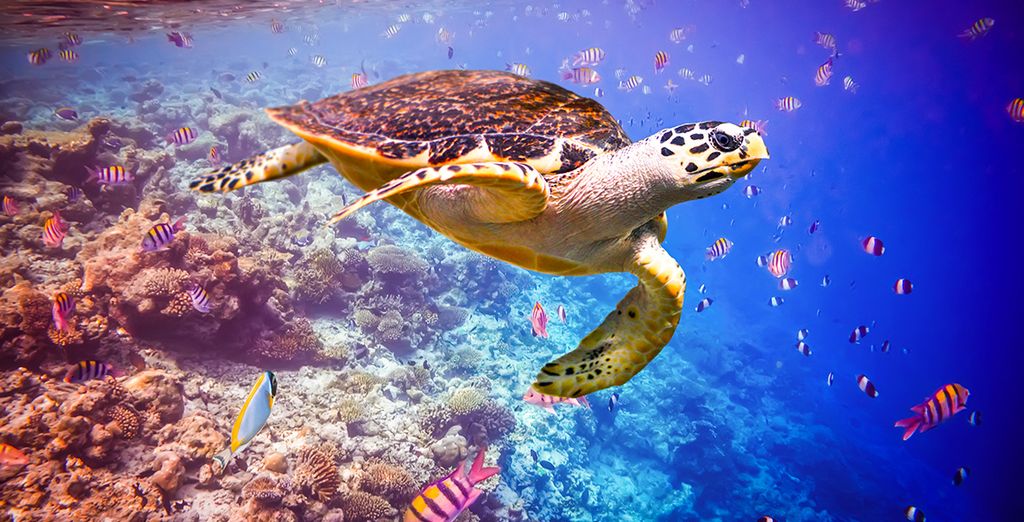 The Maldives is, obviously, primarily water-based, and it should come as no surprise that much of the native wildlife is of the marine type. Look out for groupers, lionfish, pufferfish and wrasse, the latter of which can easily grow to be bigger than a person. Angelfish flutter serenely around the gorgeous but fragile coral reef systems, along with glassfish, the charmingly named unicorn fish and the menacing torpedo-shaped predatory barracuda. With over 1,000 fish species to spot, you can spend hours watching the brightly coloured aquatic creatures, along with several species of turtle, dolphins, and whales who call the area their home.
4. Sunset cruise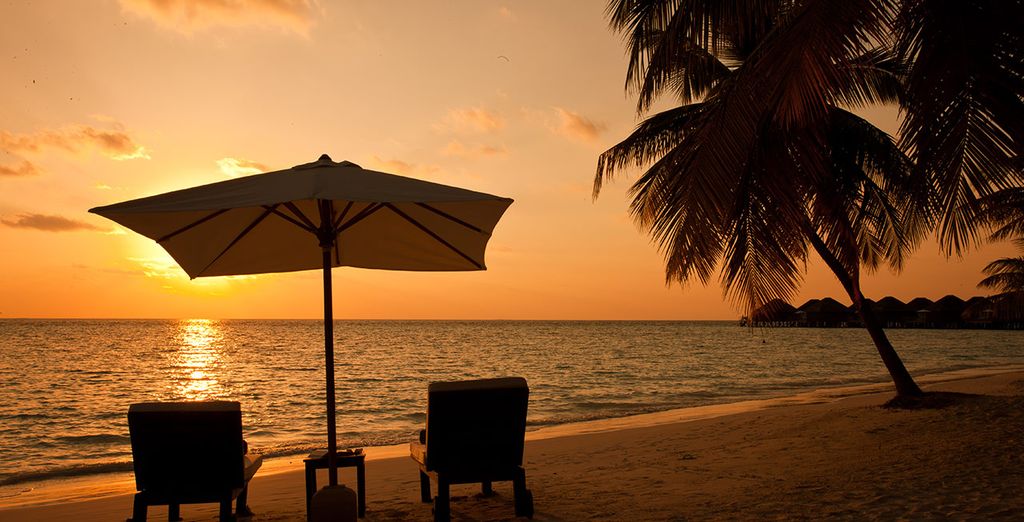 When on honeymoon you must indulge in at lease one soppily romantic gesture, and heading out to sea to watch the sun slide beneath the waves as you toast each other and your union with champagne is a perfect example of this. Plus, it can provide the perfect photo op for a memento that you can frame and put up in pride of place in your shared home to remind of the perfect moment every day of your lives together.
5. Go to the Museum
When tourism threatened to swamp the culture of the island, the authorities established this comprehensive museum to teach the indigenous people of the islands their history and culture. And it is a fascinating history indeed: the islands have been settled for over 2,500 years, the population largely becoming Buddhist before falling into Islamic hands; being claimed – albeit briefly – by Portugal, returning to Muslim control and then being swapped about between the Dutch and British empires over a period of time, before, finally, gaining full autonomy in the mid-960s. The museum has odds and ends from many periods of Maldivian culture and history, and they are beautifully displayed and explained. Spend the day leisurely exploring the artefacts, before heading back to your hotel for a delicious meal, now with more understanding about the place you are visiting.
Honeymoon in the Maldives: Essential Information to Plan Your Getaway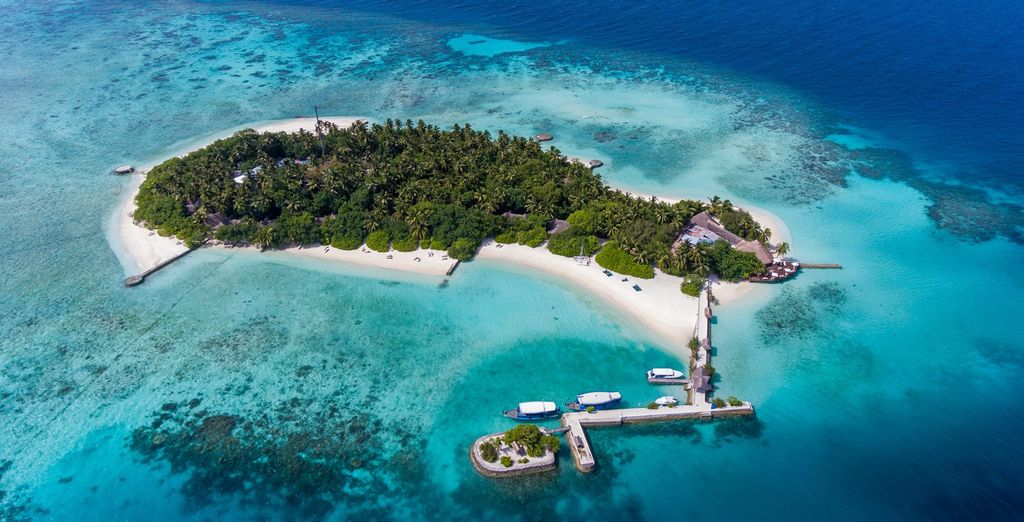 The Maldives consists of over 1,800 islands, of which around ten percent are inhabited, many with hotels or resorts. Almost invariably, each hotel or resort occupies the entire island on which they stand – and indeed, overflow from – many of the hotels extend out to sea with over-water villas and bungalows to maximise occupancy without overbuilding on the coral and sand land mass, which stands an average of 2 metres above sea level.
The best time of year to go to the Maldives
Holiday season in the Maldives is a little different to regular tourist offerings. Peak season when it is busiest, runs between December and March, with November and April also being ideal times to visit. Monsoon season – which can be very scary on islands that are so close to sea level – runs between May and October, peaking in June, and these months should probably be avoided, unless you do not mind losing a day or two of your honeymoon to the weather. The islands enjoy an excellent climate year round, with a range of 23°C to 30°C
What to pack for the Maldives?
With all that hot weather, there is almost certainly going to be an insect issue, and the good news is that there are no mosquitos on the Maldives. However, there are sand-flies, which bite, leaving an intensely itchy spot that will be very irritating. Insect repellent will ward them off nicely. Swimwear is widely accepted in the tourist areas, but do bear in mind that the Maldives is an Islamic country and there are prohibitions on immodest dressing and the drinking of alcohol in areas that are not specifically in the tourist trade. Perhaps carry a sarong and a scarf so that you can easily cover up if you decide to go exploring on the spur of the moment. If in doubt, check with the hotel staff about dress or consumption restrictions in venues that you plan to visit. Many light layers are the key to staying comfortable while out and about, and remember to cover up when you are boating too: it can be easy to miss how sunburned you are getting when you are dipping in and out of the water, or enjoying a cooling breeze from the boat's motion.
Getting to and around the Maldives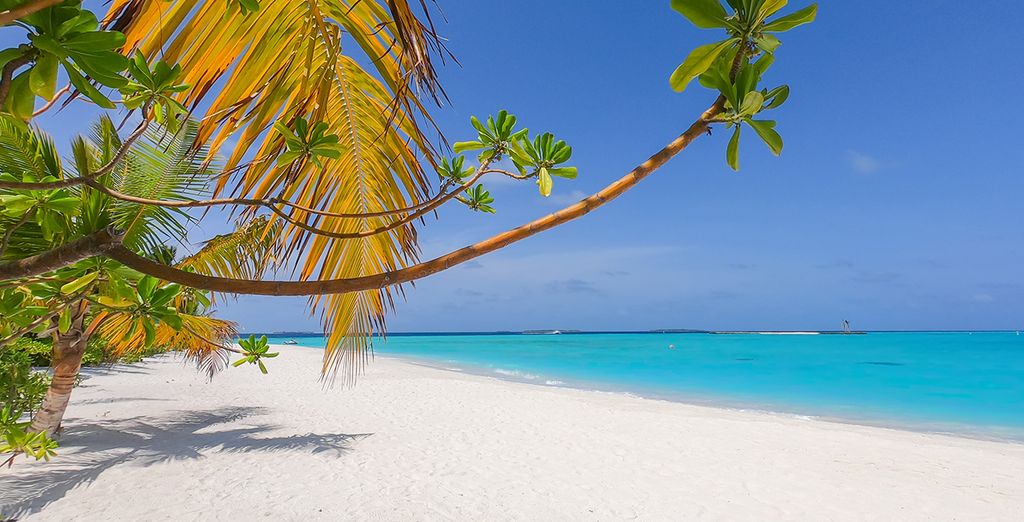 The main way to arrive in the Maldives is by plane, landing on the custom-built reclaimed island of Hulhule' and from there you will be transported to your unique island resort by speed boat or seaplane depending on the options available to your accommodation. Most of your travel about the various islands and their environs, will be by boat of some kind, as is fitting of such a water-dependent region.
Practical information for a Maldives honeymoon
The main thing to remember about the Maldives is that it is a Muslim country, and the rules of the country must be strictly adhered, no matter how relaxed and friendly the hotel staff are. Any breaches of the law outside of the resort areas may offend people who could file a police report which, at best, will be an embarrassment and an inconvenience to you, and at worst could land you with a criminal record. Neither are the types of memory you want to make on your honeymoon!
The main native Maldivian language is called Dhivehi, but a host of other languages are also spoken, predominantly local dialects. English is widely spoken and is used in schools, which means that English-speaking tourists, by and large, do not need to struggle to be understood.
The local currency is the Maldivian rufiyaa, but most hotels accept euros, US dollars and card payments. The small amount of local currency that you will use can be obtained by going into a bank and using their bureau de change facility – avoid using the hotel's services as they tend to take a moderate cut on top of the exchange rate which will cost you more.
The Maldives tends to use the familiar (to UK travellers, anyway) three-pin square plugs, but there are some power points that use two-pin adaptors. If in doubt or needing your gadgets urgently, enquire from the hotel at the point of booking which type of adaptor you should use.
Generally speaking, the Maldives thrives on tourism and the people are open, warm and welcoming, striving to ensure that you have the best possible experience on your visit.