Booking Rome



Table of contents
Book Now your Hotel in Rome with Voyage Privé ⭐ Up to 70% Off on Bookings. Flights + Hotels ✔ Enjoy your Holidays in Rome with Voyage Privé.
Booking Rome
Do you want to stay in Rome for your next trip? Here are our best plans to find the top hotels at the best prices
Discover our top 10 hotels for Rome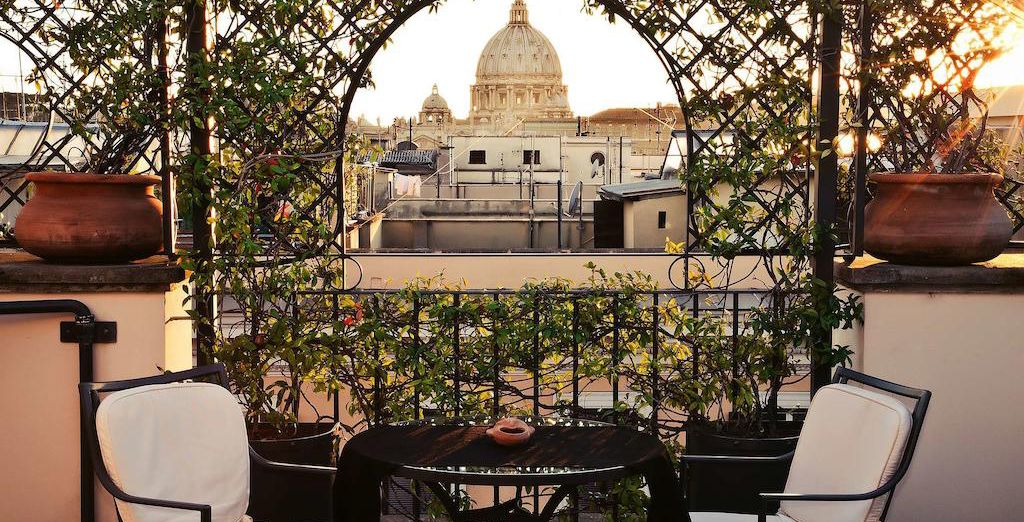 1. La Griffe Roma MGallery Collection by Sofitel
If you're looking for the perfect location for sightseeing, look no more. The La Griffe Roma MGallery Collection by Sofitel is walking distance from the Trevi Foundation, Spanish Steps and the Colosseum. Plus, with panoramic views of the city from the 9th floor roof garden and restaurant you'll never want to leave.
2. Hotel Isa Design
Find yourself in the historical centre of Rome, with just a 15-minute walk to Vatican City at Hotel Isa Design. Each of the rooms are modern and sophisticated but have their own unique styles so every stay is a unique experience.
3. Empire Palace Hotel
For an authentic experience, the Empire Palace Hotel is a preserved historic property with Italian glamour and furnishings. Take a short walk to the Spanish Steps, Trevi Fountain, Piazza del Popolo or Via Condotti, but you can always find time to take a break in the piano bar, fitness centre or restaurant.
4. Crowne Plaza Rome St Peter's 4*
The hotel is ideally located in an elegant building surrounded by century-old trees. The Crown Plaza Rome St Peter's modern hotel is 4 km from the Vatican City and 8 km from the Coliseum.
5. Ripa Roma 4*
Ripa Roma is a uniquely modern hotel located in the trendy area of Trastevere. Its vibrant decor and clean lines give a contemporary feel in an historic city. Having spent your mornings visiting the Vatican, and your afternoons relaxing in a pavement cafe, the Ripa Roma Hotel is a delightful destination.
6. UNAHOTELS Decò Roma 4*
You'll love UNAHOTELS Decò Roma 4*. It offers a stylish Roman hotel with excellent transport links. Located in the historic centre of Rome, this modern property is characterised by its striking architectural design and features a restaurant, bar and 197 well-decorated rooms for your comfort.
7. Radisson Blu Roma 5*
The hotel Radisson Blu Hotel Rome has a wonderful location and a spectacular modern design. With a minimalist style, this 5-star hotel provides convenient amenities for guests. Whether dining alfresco on the rooftop Sette or reclining in the sumptuous spa, customers are treated with the best service.
8. Glam Hotel Rome 4*
Nestled in the heart of Rome, Rome Glam Hotel will welcome you in a modern and exclusive location. Expect warm, comfortable and bright rooms with contemporary furniture, providing a wonderful home and a perfect option to discover Rome.
9. Grand Hotel Ritz Rome 5*
Grand Hotel Ritz is a contemporary property boasting effortless sophistication for a classy stay in Rome. It features its very own spa, gym and restaurant with famous panoramic views of the Eternal City.
10. Roma Lifestyle Hotel 4*
The A Roma Lifestyle Hotel 4* is the perfect place to stay to visit Rome. Situated just 20 minutes from the main airport, this elegant hotel and spa gives you 4-star comfort in a stylish setting.
Our reviews on Rome and its hotels: why make your booking there?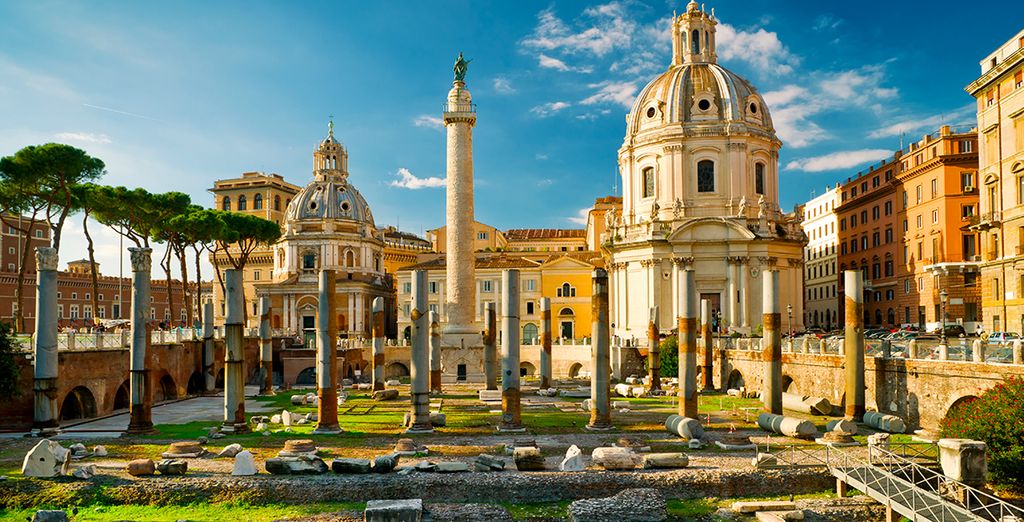 Rome is famous for the architecture, history and landmarks which can be found around every corner. Whether you're touring the Colosseum or taking a stroll across a piazza, you can find beauty in every corner.
From La Griffe Roma MGallery Collection by Sofitel you can make a wish at the Trevi Fountain, and then start a romantic stroll up to the Spanish Steps. With plenty of bars and restaurants lining the way you'll be sure to find the perfect date night.
Just a short distance from the Empire Palace Hotel is Villa Borghese, a park full of kid-friendly attractions. From Bioparco, the zoo to the Giardino del Lago where you can hire rowing boats. There's fun for the whole family, and you can even catch a film at the world's smallest cinema, Cinema dei, Piccoli.
Finding yourself a city break to unwind is easy in the Hotel Isa Design. Surrounded by boutiques and designer shops, it's every shoppers fantasy location. Plus, you're still only a short walk away from the centre of Rome.
How to make my booking in Rome
Register with Voyage Privé by entering your email and clicking "Join Now" at the top of the page in order to find out about our best deals.
Becoming a Voyage Privé member allows you to find an exclusively chosen collection of high-end accommodation with up to 70% off discounts. There's also other perks such as exclusive gifts or special treatments throughout your stay.
Our member services team is available 7 days a week for your support. Customer reviews help sustain continuous improvements on our selection of hotels and deals to make your stay the best stay.
The different ways to make your online hotel booking in Rome
There's two ways to book your hotel online through Voyage Privé which are quick and easy.
Book flight & hotel to Rome
Select "Flights from" and pick your preferred airport to fly from. Choose how many days you wish to travel for, and then the exact dates. Select continue, and then you can choose your flight times and see your updated real-time price. Enter your details, confirm, and then you're ready to start planning your holiday.
Book only your favourite hotel to Rome
Select "Without Transport" and choose how many days you wish to stay. Then, select the exact dates you want. Select continue and see the real-time price that Voyage Privé can offer. Enter your details and confirm. And that's it – you're ready to start planning your activities.
The best places to find hotels
Prati
Just a stone's throw away from the centre of Rome, Prati holds a range of boutiques in its methodically planned neighbourhood. But as the sun goes down, the bars open and bring wonderfully quirky life to the vicinity.
Ludovisi and Via Veneto
Bordering Villa Borghese, the Ludovisi and Via Veneto neighbourhood is full of cafes, cocktails and five-star businesses. Find the perfect coffee and gelato just steps from your hotels door or find some fun activities in the park right next door.
Esquilino
Esquilino takes pride in being one of the oldest neighbourhoods of Rome and being on top of one of the seven hills. Find churches, large piazzas and a fantastic mix of architecture throughout Esquilino's beautiful streets.
Navona / Pantheon / Campo de' Fiori
Holding three of Rome's most famous piazzas, this neighbourhood truly brings the beauty at the heart of the city. Spend time at cafes, boutiques, museums or monuments, you'll find something new to see around every corner.
Trevi
Get right into the heart of the city in the neighbourhood of Trevi, taking the same name as the famous fountain. With a mix of restaurants, gelato shops, cafes and bars, there's no wonder this is a hot tourist spot. With so many landmarks on your door, there's something for everyone here.
Rome, choose an historic city
You can't go to Rome without trying some authentic Italian food. Pizza, pasta, and roman artichokes are just a few of the things that are on the menu. Plus, with so many bars, restaurants and cafés you'll never be short on choice.
From paintings to statues, to fountains and architecture, Rome is full of art. Michelangelo's work can be seen across the city, and there's Renaissance and Baroque churches and monuments filled with art and architectural wonders.
The highest concentration of historical monuments has led to the whole city being claimed as a world heritage site. Each of the famous landmarks has its past laid bare for every tourist to learn about. Being able to behold such magnificent records of history, by just walking down the street or turning a corner is incredible.
Vatican City is the world's smallest state, but also home to the Roman Catholic Church. Contained within are important religious and cultural sites, which include priceless sculptures, frescoes, tapestries and paintings.
Rome also boasts some of the best luxury Italian brands, as well as more inexpensive shops to browse. Purchase for yourself or gift to those back home, but enjoy the mix of boutiques, designers and one-off shops you can't find anywhere else.
Rome also has a mild climate, with limited seasonal changes. That means you'll be comfortable temperature wise all year round.
The 5 best things to see to Rome
1. Colosseum
The Colosseum is the world's largest amphitheatre and is synonymous with Rome. To not visit the stadium would be a mistake, plus you can take a guided tour to learn more about the gladiators, architecture and history of Rome.
2. St Peter's Basilica
If you don't have time to explore Vatican City, at least visit St Peter's Basilica, the worlds largest church. It is held in high esteem because of its architecture and artwork inside. You may even get the chance to see the Pope during a papal mass.
3. Roman Forum and Palatine Hill
The well-preserved ruins and the most central of the seven hills are a must see when in Rome. Climb up to the top for one of the best panoramic views of Rome. Whereas the ruins are of some of the oldest and most important buildings of ancient Rome.
4. Pantheon
The Pantheon holds the largest unreinforced dome in the world. A feat of architecture you can't quite comprehend until you've seen it yourself. Visit between 11am and 1pm and you'll watch as the sun streams through the dome's oculus.
5. Trevi Fountain
Before you leave Rome, make sure you make a wish at its most famous fountain. It's said if you throw it over your shoulder, you'll one day return to the city. And who wouldn't want to return to Rome to discover even more wonders?
Find yourself in the historical centre of Rome, with just a 15-minute walk to Vatican City. Each of the rooms are modern and sophisticated but have their own unique styles so every stay is a unique experience.
Discover more booking offers.