City Break in Berlin
Berlin is a city of two halves, with the division between the former East and West Berlins clearly noticeable if you know where and how to look. But the cold grey austerity of the former East Berlin has given way to a delightful freedom and charming expression of individuality, while the West is welcoming: the whole makes for a beautiful city, interspersed with historic buildings, the lovely river Spree, and beautiful modern streets and avenues.
Discover all our City Break Deals and our European City Breaks !
City Break in Berlin : Top Five Things to See and Do
1. The Brandenburg Gate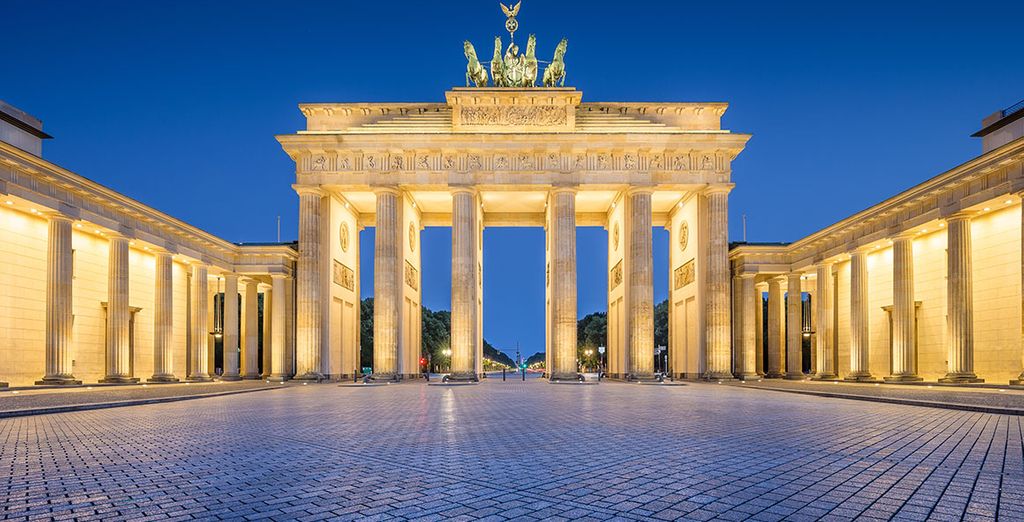 A beautiful monument that now symbolises peace and unity in Europe, the Brandenburg Gate was built between 1788 and 1791, on the orders of King Frederick William II to commemorate the (temporary) success in quashing the Batavian Revolution. The site was chosen as it marked an old city gate on the road to Brandenburg. It is topped by the Quadriga, named for the chariot drawn by four horses, whose driver is the goddess Victoria (Victory). The monument's original name was 'the Peace Gate' and it is fitting that this purpose has been restored to the gate.
2. Berlin Wall Memorial
Berlin was, famously, divided into two: West Germany which was liberal and open, and East Germany which, under Russian control, was subject to tightly controlled communism. In 1989, the cities unified and the Berlin Wall was torn down: officially in some areas and by the citizenry armed with hammers, screwdrivers and anything else that was readily to hand. The memorial is a section of wall that was left untouched so that visitors could see what the layout of the walls and towers were like.
3. Museum Island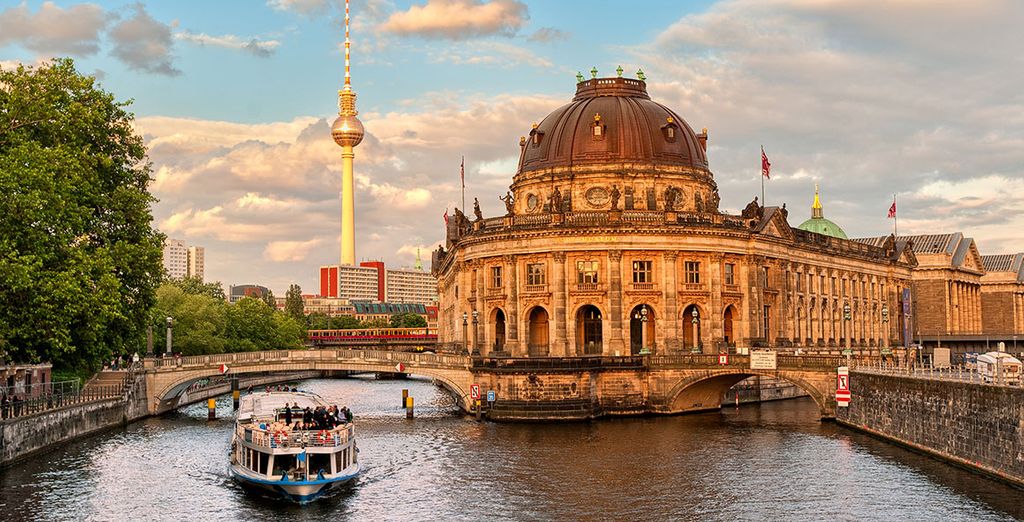 Built on the northern half of an island in the middle of the Spree river on the site of the ancient city of Colln, there is a collection of several museums – it is for these that the island is named. Explore Egyptian artefacts, the finest European art and sculpture of the last thousand years, and so much more as you move between the close set museums. The museums are not free to enter, but purchasing a Museum Island pass will reduce the cost allowing you into all the museums for that one payment.
4. Reichstag
The German parliament is housed in this beautiful building that was built in 1894 and housed the Imperial Diet until 1933. The building has suffered massively in its history, but now welcomes visitors (albeit by appointment only) who can admire the view from the new glass dome that has replaced the original cupola.
5. Tiergarten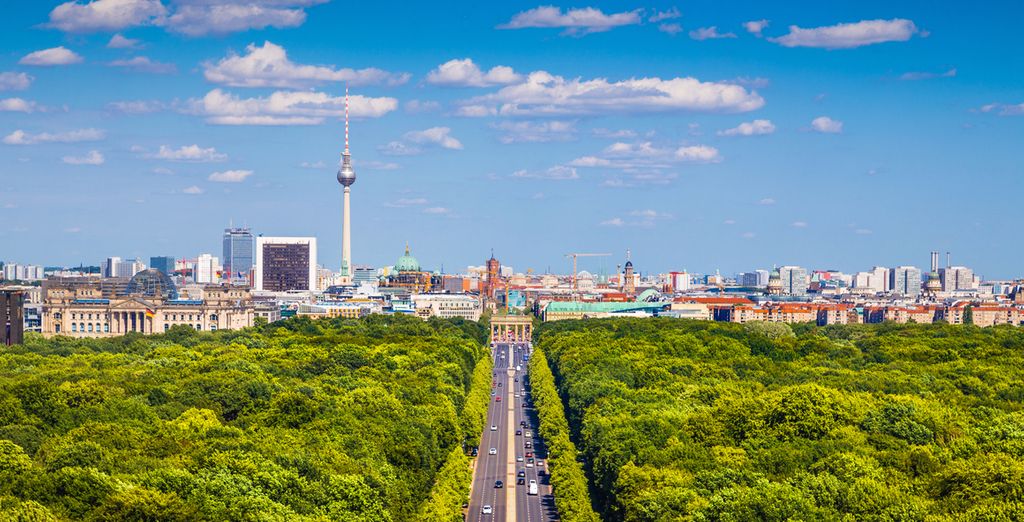 The second-largest public garden in Berlin, this park was established in 1527 as a hunting preserve. King Frederick took the first steps to open the area to the public, installing boulevards and clearing some of the forest in order to allow ready access, a process that his son Frederick II (also known as Frederick the Great) completed, having no love for hunting. Today, the park boasts a zoo, a wealth of formal gardens, pedal-boats for hire, and miles of walks along which people can stroll or jog. It is not uncommon for workers from nearby to come into the park and soak up the sun, in summer – and many will remove a lot of their clothes to do so, nudity being a regular part of life in modern Germany.
The Best Hotels for a Berlin City Break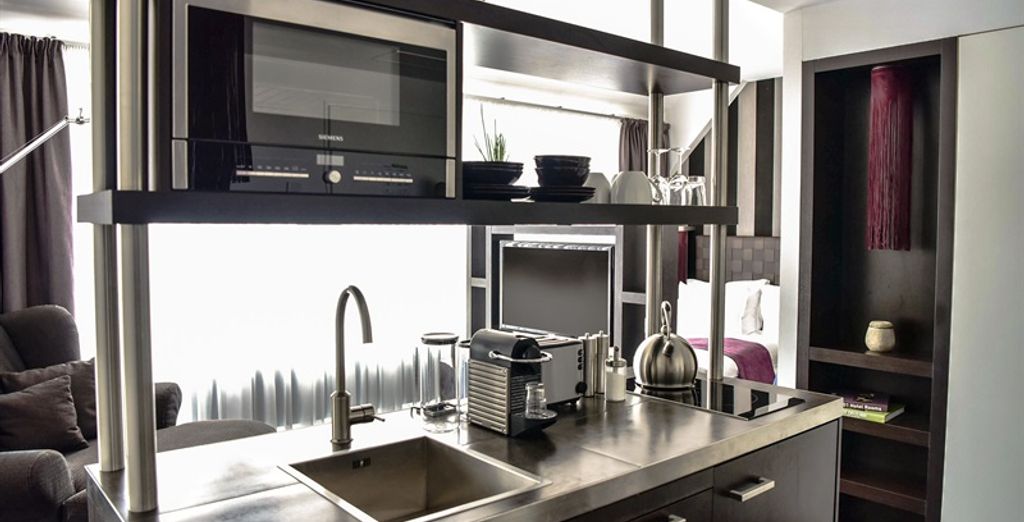 Fully serviced apartments that come complete with a kitchenette equipped to meet all your needs, this hotel is ideally suited to bring to close to all the wonderful must-see attractions of Berlin. With a cleaning service to keep everything fresh and clean, all you need to do is enjoy yourself. There is a breakfast nook in the hotel lobby, to help you get up and out in time to explore the best of Berlin.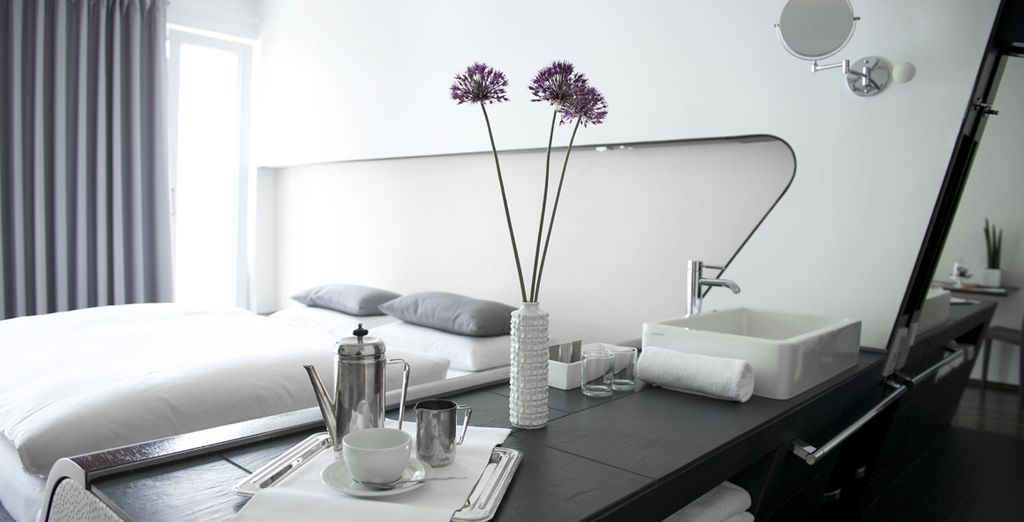 Like its name, this hotel makes an impact from the moment you step through the doors, with a rich red colour scheme, sensuous curves and hyper-modern décor. But the guest's comfort is key, and everything is designed to please: from the comfortable warm beds, to the welcoming bar, delicious cuisine and the welcoming fire where you can while away the evening with a drink and convivial conversation.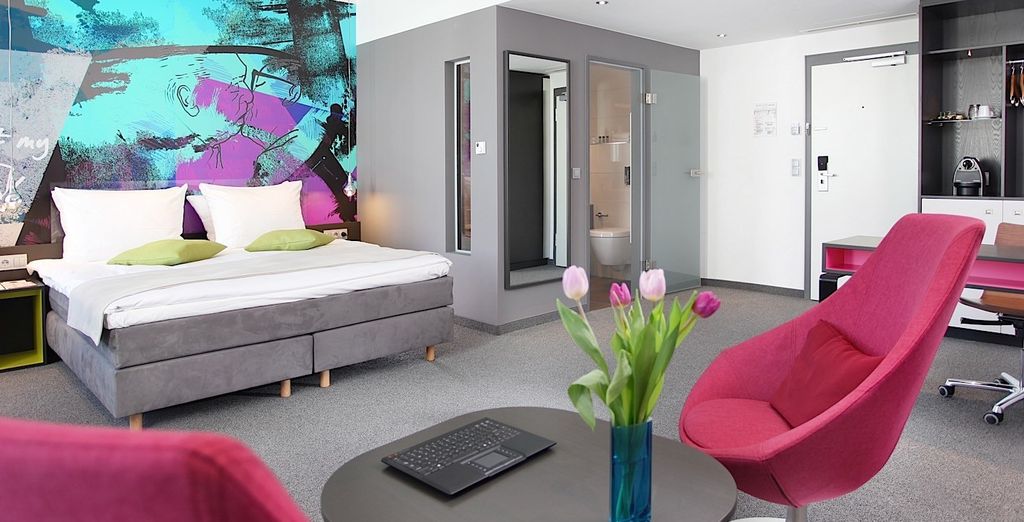 Clean, bright, airy and cheerful this hotel is modern and vibrant and has all the modern conveniences you could possibly desire from a Finnish sauna to a welcoming bar and harmonious décor in every room. You will be well rested and well-fed, ready to explore the best of Berlin so you can make the most of your Berlin city break.
Plan your City Break in Berlin
When planning your city break in Berlin, make sure that you check out all the features and venues on your list: some may charge a fee, others might need to be booked, even if access is free. By checking, you will be able to book places or allocate funds: or, in worst case scenarios, you can find alternate activities to attend instead.
The Best Time of Year to go to Berlin
May to October are pleasant times to visit Berlin. Rainfall is more or less consistent throughout the year, with a little more between June and August, when temperatures are warmer. However, Berlin has a wonderful Christmas market and is well worth visiting in November and December for a little Christmas shopping.
Getting To and Around Berlin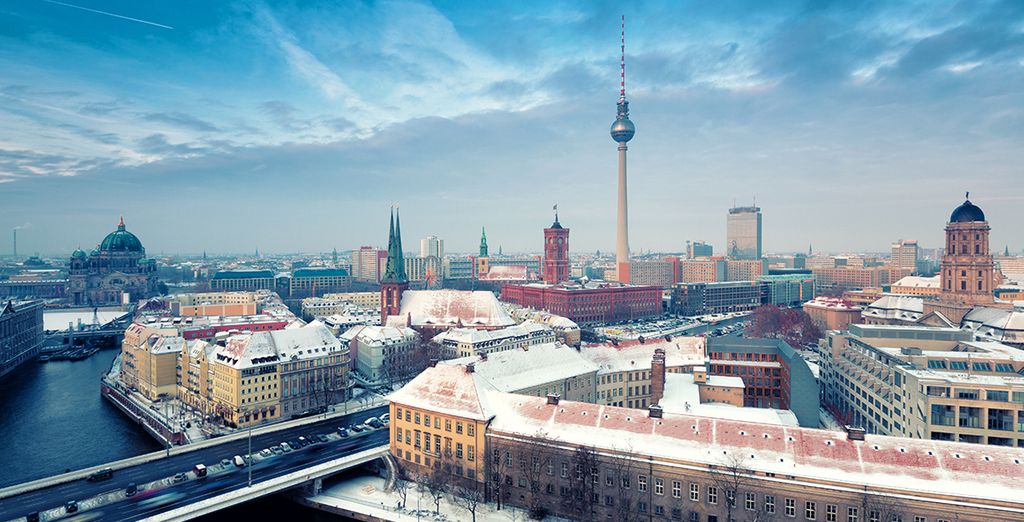 Fly into one of two airports: Tegel Airport or Shonefeld Airport, and then catch a taxi a shuttle. Once in Berlin, you will have the excellent public transport system all around you, that will get you about with the famous German efficiency. Day passes are your best bet, allowing you to travel around all day for less than €10. For something a bit more fun, you can book a cruise down the Spree, spending a few hours seeing the city from a different angle. If you are energetic you can also hire a bicycle and explore the city in your own time, stopping when you see something interesting.
Where to Eat: the Best Districts and Restaurants
Mauerpark – formerly part of the barricade between East and West Berlin, with the Wall on one side and the no-man's land in between, this park's name translates to Wall Park. It is now a fantastic community hub with a Karaoke pit (when the weather allows) and a regular Sunday flea market where you can explore, buy gifts to take home and sample authentic German foods.
Markthalle IX – now filled with stalls packed with locally sourced veg and meat, this covered market hall was saved from closure by the local people, so is a point of pride with the community. You can sample all sorts of food here, from craft brewed beers to bakes. Be sure to keep an eye out for special events like Street Food Thursday which can become very crowded, so popular have they become since their inception.
Nightlife in Berlin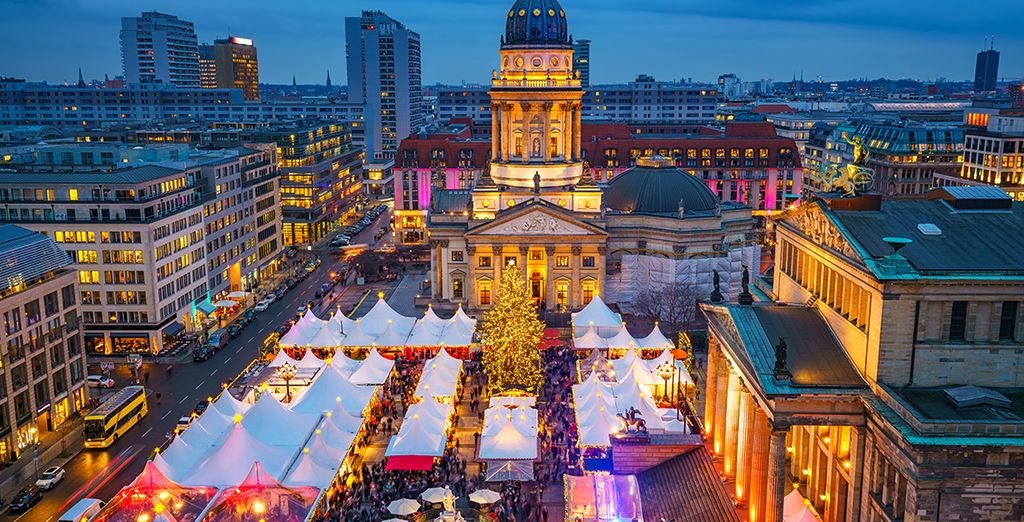 Berlin has a thriving nightlife scene and there is something for just about every niche or alternative lifestyle. While this is a wonderful thing, do make sure that your chosen club or venue is not one of the more specialist ones, especially if you are on the vanilla side! Hoe_Mies, Trade, and Bodysnatch are all very popular and worth an eye-opening visit.
Our Practical Advice for a Berlin City Break
People in Germany tend to be obedient to laws. For example, if there is a 'don't walk' sign illuminated, they will queue politely until the green light shows and they can move on – the habit of foreigners to simply stride across the road when no cars are coming can earn censure – and even scolding from older residents! Speaking of laws, the Holocaust is an immense shame borne by the country, and holocaust denial is a hate-crime for which there is zero tolerance, and saying that you were 'only joking' or trying to laugh it off will only make things worse.
What to pack for a city break in Berlin?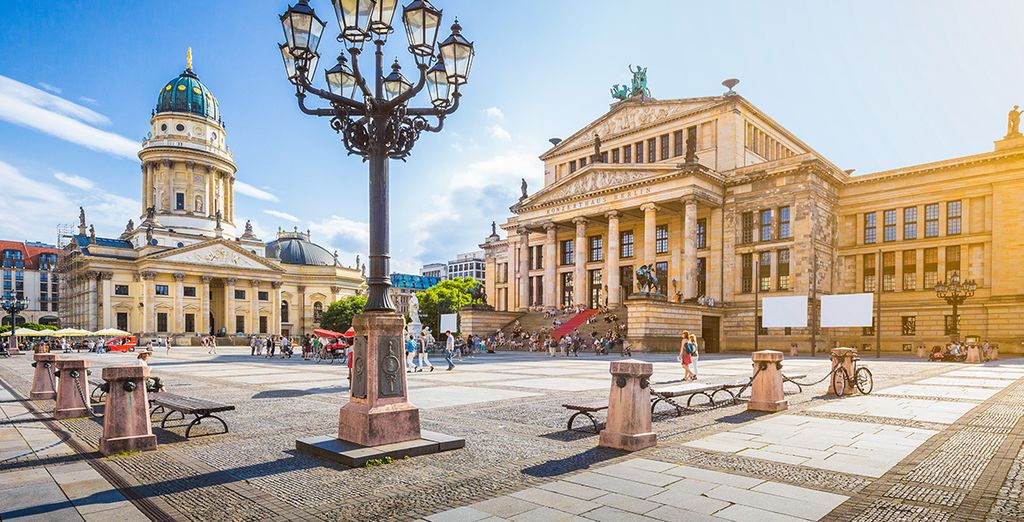 Take an umbrella or pack-a-mac. The rain in Berlin can fall at any time, so being able to whip out an umbrella or waterproof jacket will ensure that it doesn't affect your adventures very much.
What budget to plan?
When planning out an itinerary, think about purchasing a Berlin Welcome card which will offer you free transport and heavily discounted admission to many venues – it can save you a lot of money if you are definitely going include these places on your agenda.
Otherwise, after paying for your accommodation, you should plan to take a budget of between €50 and €100 per person per day, depending on whether you are travelling on a shoestring or wanting to push the boat out and enjoy high-end restaurants and theatre shows.
Useful information before going to Berlin
When you buy tickets for use on public transport, you must validate the ticket you use it for the first time. There are validation machines near the ticket sales, so it is no hardship. The city has awards for the number and quality of vegan-friendly options that it has, so if you are veggie or vegan you will enjoy a wide range of fully vegan foods.