Free United Arab Emirates travel guide
Discover the Best Information for unforgettable holidays to United Arab Emirates🌴. Best locations, itineraries and more. ✅ Find our free travel guide.
Travel to the United Arab Emirates
A century ago, the United Arab Emirates (UAE) was comprised of fishing villages, sand dunes, and a crumbling fort. Powered mostly by oil wealth, the UAE has evolved to have some of the tallest skyscrapers, pristine beaches, luxury hotels and off-the-track adventures, making it a must-visit destination. It is a one-stop destination for fun, shopping, and business because of its modern architecture, opulent resort hotels and its appetite for mega-projects in innovation.
When the UAE is mentioned, the majority of people think only of Dubai. Rightfully so because of its palm-shaped islands, sci-fi-esque city with the world's tallest skyscrapers, mega malls the size of a city and opulent beaches. The diverse mosaic of the UAE, however, presents six more emirates with unique characters and allure to give travellers the same mix of fun, leisure, and adrenaline. These are Abu Dhabi, Al Dhafra, Ras Al Khaimah, Hajar Mountains, and Sharjah.
Top 10 amazing activities to do in the United Arab Emirates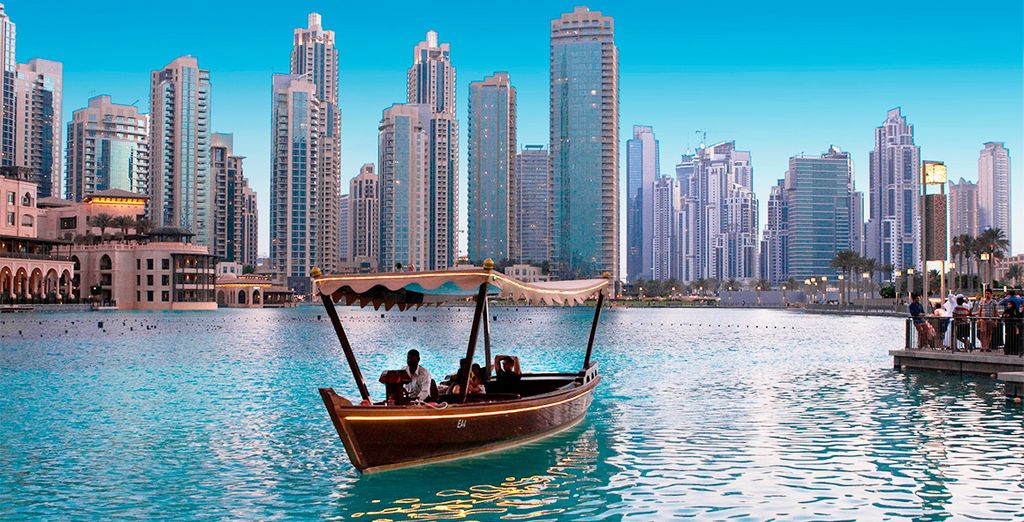 The UAE is not short of activities to engage in. Choosing may even be the challenge with the seven emirates offering different features with both modern and cultural constructions. Here are top 10 things to do on your visit.
1. Take a Burj Khalifs tour

Burj Khalifa is undoubtedly the tallest building in the world, standing tall and strong at 160 stories meticulously designed to echo Islamic art with the syringe-like design, looking to the sky. With a Burj Khalifa ticket, you will ride the high-speed elevator to the 124th floor for a stunning view of the amazing Dubai and Persian Gulf.
You may even opt for the exclusive top sky deck on the 148th floor which is the highest viewing platform at 1,821 feet (555 meters). If heights are not your thing, you can wander around the Burh Khalifa gardens, shop at the Dubai mall located inside the building and visit the fountains for a fun fair with the water.
2. Tour Palm Jumeirah

At the edge of the Dubai shoreline jutting into the Persian Gulf, find the Palm Jumeirah the manmade palm island. Constructed in 2001, Pal Jumeirah resembles a palm tree sprouting out of the beach. It is the world's largest manmade island running 1.2 miles in trunk length and 15 fronds width in a crescent shape.
Palm Jumeirah was first occupied in 2006 and hosts numerous luxurious hotels, designer shops, restaurants and bars to keep you sated. You will also get to enjoy Palm Jumeirah's aqua adventures in the Aquaventure waterpark, dolphin bay and seas lion point, and lost chambers aquarium.
3. Adrenalin rush at the Ferrari World Abu Dhabi

Whether you are a car sports fun or not, the Ferrari World tour is sure to take your breath away. Themed as a race-car, the Ferrari World features 20 rides diverse to fit toddlers, teens, and adults. It features Ferarri prototype cars to excite toddlers and cutting-edge simulators to wow teens. The Ferrari World is also home to Formula Rossa, the world's fastest roller coaster. The ride will have you strapped into a Ferrari Formula-one car that will launch at speeds of up to 150 miles an hour (240km) setting your adrenaline to a whole different level.
4. Have a heritage village tour in Abu Dhabi

Native to the Arabian Peninsula, the reconstructed heritage building will give you a glimpse of what Abu Dhabi looked like before the discovery of oil that transformed it to what it is today. Be sure to visit in the morning before the scorching sun makes it an impossible mission to visit the open-air museum.
Learn about the falaj irrigation system that was used by desert dwellers to grow crops. You will also learn some metal work, spinning, pottery and weaving from workshops conducted by local craftsmen. Get a glimpse of how far the UAE has come with a view of the traditional mosque that is incomparable with the modern Sheikh Zayed Grand Mosque.
5. Explore Emirates park zoo

Emirates park zoo is endowed with 1,700 animals, ranging from local goats to lions and white tigers. This will be a fun full-day family activity. You can begin by feeding giraffes and elephants then proceed to admire other animals like the white tigers, cheetahs, and lions. You will also get a lesson on the role you and your family can play in conserving the environment to minimise the challenges faced by wildlife in our modern world. Emirates zoo has several other sections to explore including the bird park, snake valley, the aquarium, and the primate parade.
6. Experience Jaber Hafeet Tour

At the border of UAE and Oman, discover the 1,068 feet high Jaber Hafeet sandstone landscape. Jaber Hafeet is the second highest peak in UAE, a natural attraction in Abu Dhabi. The journey is as exhilarating as the view of Al Ain below and Oman in the distance. The caves on the mountain had been a discovery point for many fossils, while the foothill had been a burial ground over 5,000 years ago. You may even be able to see some of the burial sites.
Experience natural hot springs at the base of the mountain which houses Green Mubazzarah park, a point to relax once the mountain has been conquered. The Jabel Hafeet mountain road is one of the most iconic and scenic roads, often used by professional cyclists to strengthen their ascend.
7. Visit the worlds largest falcon hospital

A hospital visit is nothing to fancy while on vacation. Nonetheless, the Abu Dhabi falcon hospital is definitely a rewarding experience. As bizarre as it is fascinating, this hospital sees 6,000 birds treated a year. The sport of falconry has deep roots in Abu Dhabi. Falcons are issued with passports and a priced falcon can cost thousands of dollars. With this in mind, falcons regularly visit the hospital for checkups and feather substitutions to maintain good health and balance.
8. Cool down at the Ice Land Water Park

Escaping desert heat at the ice land water park is probably one of the best ways to combine cool down and fun. Located in Ras Al Khaimah, it is phenomenally set up with two of the world largest man-made water activities; The penguin falls (world largest manmade waterfall, 20 feet) and the Polar mountain which comprises 27 different water slides. Away from all the slides, you can casually swim in the Olympic sized pool or the wavy swimming pool covering almost the entire acre of a park.
9. Children's city tour

If you are taking your kids with your, the Children's City tour in Dubai will have learning and playing in one wholesome package. Kids between 2 and 15 will have more than enough to explore and discover. Science, nature, games, theatre, and even planetarium to keep their brains buzzing all day long.
10. Thrill at the Dubai Desert Conversation Reserve

If you are a thrill seeker, then the Dubai Desert Conservation Reserve is your kind of place. In 1993, this land was bought by Sheik Mohammed bin Rashid Al Maktoum. Through inspiration by the South African national park, the reserve offers travellers all sorts of thrilling outdoor activities ranging from fat-bike- riding, sandboarding, falcon demonstrations, camel- trekking and off-roading.
Best time to visit the UAE

The high season, between November and March, is the best time to visit the UAE. Although it is also the time most people are visiting, the weather is cooler than other months making this time favourable for expeditions. If you are looking for a less crowded time, you may consider the season between March and May, which is a little more humid but still bearable. The hotel prices are highest between November and March so be sure to reserve early enough.
The UAE offers incredible experiences throughout the year. Your intention to visit will play a role in determining the best time to visit. If you want to shop, for example, any time of the year will be perfect. Vacations will be best suited between November and March. If you are more interested in a desert expedition, then April to May and October will also be great. The days will be hot but the nights will be much better so sea activities may not be the best at this time.
How to get to the UAE
While making travel plans to the UAE, ensure that your passport is valid for at least six months from the time you arrive. If you are a British national, you can obtain a visitors visa when you arrive, which will be valid for 30 days. All other travellers need to obtain a visa before they travel.
Travelling to the UAE requires that you use air. Travellers from Britain will spend approximately 7 hours in the air, while those from France will spend an additional 45 minutes in the air. You will need to prepare to travel 14 to 7 hours if you are using a direct flight from the United States. In some cases, you may even spend 44 hours on transit depending on the stopover duration and the number of stopovers.
Best hotels to choose in the UAE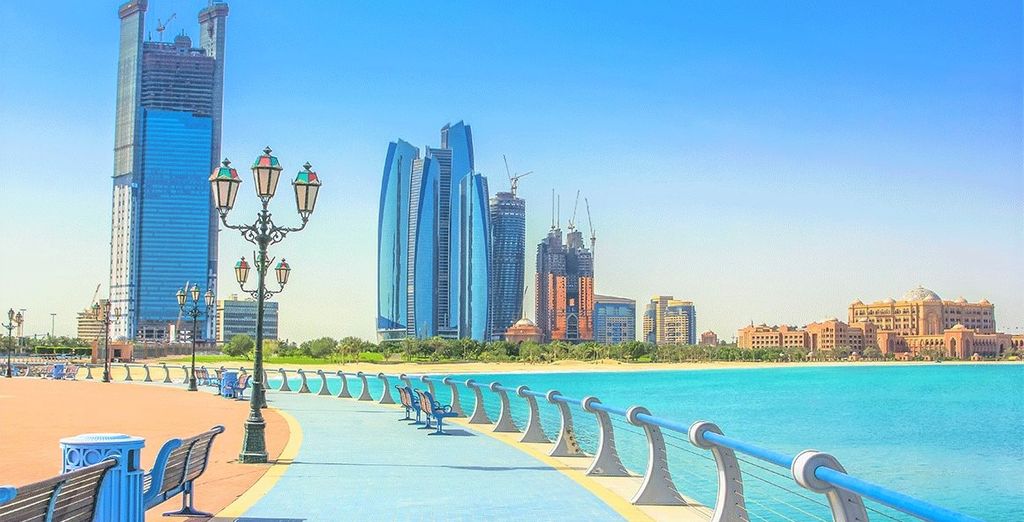 1. The Palm Dubai

The Palm Dubai is located in Palm Jumeirah and is named by the World Travel award as Dubai's Leading Resort. The resort has its own water and adventure park and, boasts as a 5-star luxury resort and offers exquisite restaurants and shopping experience.
2. Grand Hyatt Abu Dhabi Hotel and Residence Emirates Pearl

This hotel is not just about striking building and slick interior. The hotel boasts of rich décor and will be a dining destination with six restaurants and lounges with flair and flavour. The hotel is newly built and is located between Jumeirah Etihad towers ad the Bab Al Qasr towers.
3. Le Meridien Al Aqah Beach Resort 5*

Located in Fujairah, this hotel will have you enjoy the private beach fronted by the Indian Ocean. Guests are also treated to a full activities programme and a spa.
Major festivals to attend
The UAE has a lot of festivals you can attend, with the majority of its major festivals coinciding with the peak season (November to March). The major festivals you can be a part of if you travel during this time are:
Dubai film festival takes place in November for film enthusiasts
National day festival held yearly on December 2nd in Dubai
Dubai shopping festival a month-long festival where all mall reduces their prices
Dubai marathon held in January in Dubai
Dubai desert classic which brings together the best golfers in the world
Emirates world series horse race held in April is said to be the world richest race
Abu Dhabi international jazz festival held in May bring together music lovers and leading jazz artists
National day festival held in December to commemorate the formation of the UAE
Eid held at the end of Ramadan
Our practical advice for the United Arab Emirates
What to bring back from the United Arab Emirates

There are tons of things you buy as souvenirs to bring back from the UAE. You can buy some gold jewellery, Persian rugs and carpets, camel milk chocolate, perfumes and many more.
What currency to use?

You will also be using the UAE's main currency which is the dirham. You can also have some dollars with you as some of the places accept dollars.
What language is spoken at the United Arab Emirates?

Since it's an Arabic country, the UAE uses Arabic as their main language. However, being a major tourist destination, English is also acceptable.
What to pack for your holiday at the United Arab Emirates ?

Pack light, loose clothes. You also need a few swimsuits, sunscreen, hats, lip balm and sandals. For winter travel, you'll need a light jacket or sweater. Don't forget to carry a waterproof camera to capture the memories.
United Arab Emirates: What budget to plan?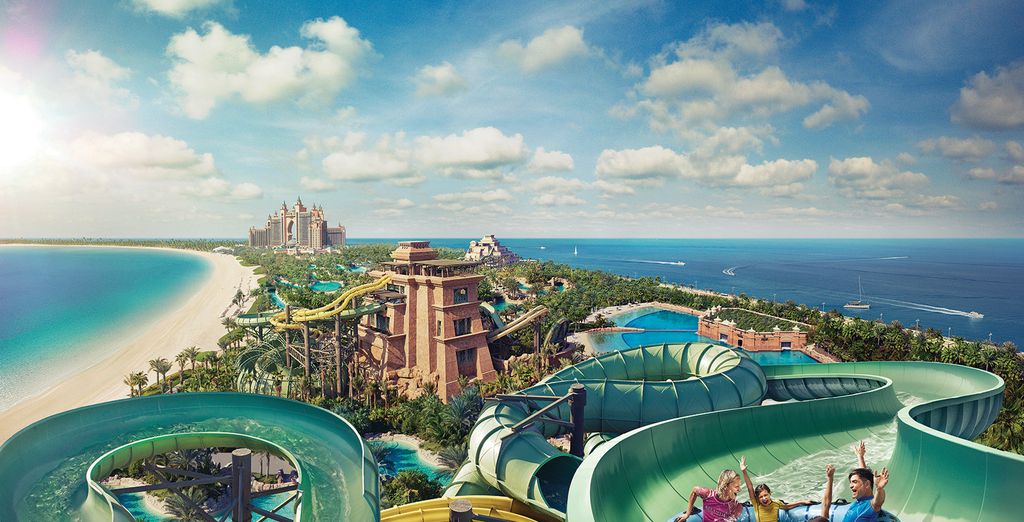 This will majorly depend on whether you plan to take your family or not and the activities you want to experience during your stay. On estimate, you should plan for £45 for food in a day, £225 for accommodation (couple accommodation) and about £400 for flight. You should also plan for transport, water, entertainment, and activity fee.
How long to stay?

To enjoy the UAE, plan to stay for at least two weeks so that you have enough time to enjoy a lot of the places and activities the country has to offer. You should plan ahead of time where you plan to visit so that you can maximise and the best out of your time.
Restaurants on site

Typical dishes of the United Arab Emirates: Khabees, kabsa, dates, camel meat, Al Jabab bread, maqluba, shuwaa, and Tabbouleh, which is a nice treat for the vegetarians.
Additional practical information:

Be sure to have something to cover your head with (for women) as some of the cultural places like temples will require that you cover your hair.
There is no doubt that the UAE will continue to be on a lot of traveller's bucket list. Besides the beautiful landscapes and loads of activities in the region, the UAE offers an experience in innovation and technology like no other destination. There are activities to cover the whole family and keep you excited from the moment you arrive, to your last minute of departure.
Discover more offers to Dubai : Holidays, great deals, sun holidays, booking, last minute deals, .
Discover more offers to Ras Al Khaimah : Great deals, holidays.
Visit all our travel guides.