Japan Tours - Best Tours to Discover Japan



Table of contents
Head to Japan to discover all the wonders of this country ⛩️ The Best Tours to discover this beautiful Asian country ⭐.
Why travel to Japan?
Millions of travellers choose Japan for both its beauty and its welcoming culture every single year. From the hustle and bustle of Tokyo to the serene Kyoto, all the way to wild Hokkaido, Japan mixes cosmopolitan living with ancient history and tradition.
If you're about to tour Japan, you'll already know about the country's mouth-watering food, ancient temples, zen gardens and stunning vistas. There is so much to see and do in this unique country.
While travelling to Japan may be expensive, there are plenty of ways in which to keep costs down.
In this Japan tour guide, we'll provide top tips for getting around, where to stay and things to do. Read on to find out more.
The Voyage Prive Travel Expert's opinion on travel to Japan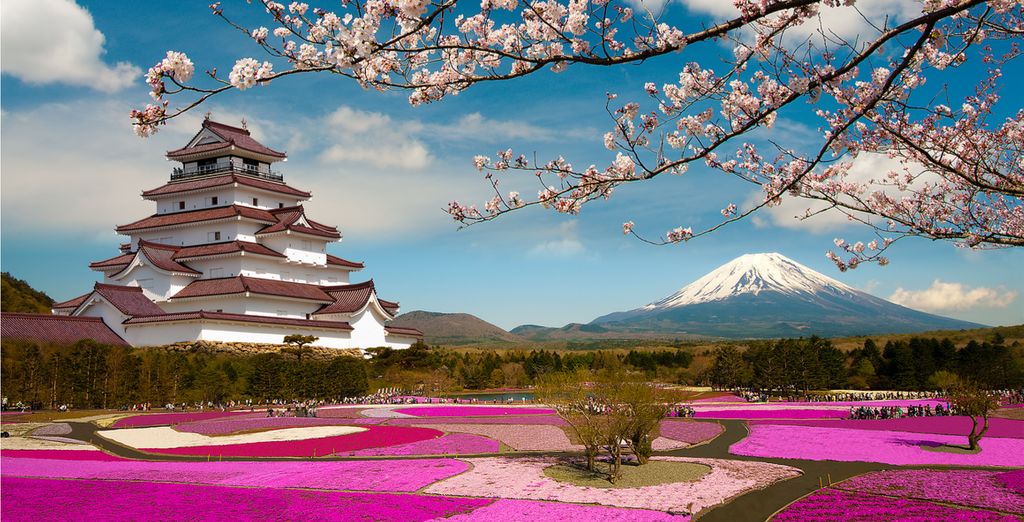 There are several reasons why Japan is popular with holidaymakers and travellers alike.
Not only will you experience a culture like no other, but you'll also see some of the world's most iconic and unusual architecture, sample delicious food and meet friendly locals along the way. There's lots to fit in, which is why many visitors choose a certified tour guide to show them the main sites of this huge and impressive country.
Japan is also a popular destination for active travellers, too. There are mountains to climb (and ski down!) and plenty of opportunities to explore the breath-taking scenery by foot or by bike
.
Tip 5 things to do in Japan
1. Tokyo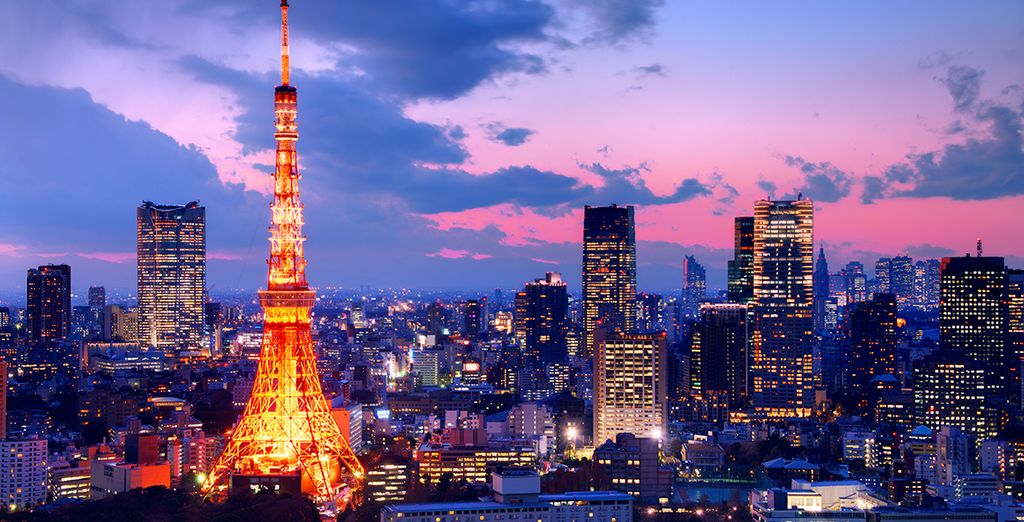 There are few words that can describe the awe of Tokyo. 23 million people live and work in this city, and you'll find all walks of life here.
From tumble-down shopkeepers to high-flying salarymen, Tokyo is a true melting pot of cultures and backgrounds.
This is the city that never sleeps – you'll find the night sky glows a deep indigo thanks to the constant buzz of electric life here. What city brings you a theme park dedicated to manga, right next to another theme park dedicated to Onsens (hot springs)? Browse the latest gadgets while taking in ancient temples, landmarks and traditions – you'll find the two existing side by side in this unique and vibrant place.
If you're on a budget, look out for Tsukiji, the world's largest seafood market. Wander the lanes and pick up unusual and delicious seafood delicacies for a fraction of the price of high-end restaurants.
After a day or two of bright lights and constant buzz, head to Meiji Shrine, a vast, serene garden right in the centre of Tokyo.
2. Cherry Blossom (or Sakura)
You haven't experienced the joy of Springtime until you've witnessed this change of seasons in Japan. As temperatures rise, Japan becomes awash with cherry blossom. These tiny pink flowers only last around two weeks, but the sight of thousands of flowering trees is certainly worth the visit at this time of year.
The Sakura (Japanese for cherry blossom) is the national flower of Japan and is visible right the way across the country. However, there are some spots that are more special than others.
To witness this natural spectacle in all its glory, head to Kyoto. Here you'll see abundant blossoms draping ancient temples and shrines. In Maruyama-Koen, tourists and locals alike can dine under a seemingly neverending canopy of tiny blooms.
If you're looking for something a little more rural, check out the castle town of Kirosaki where you'll discover the Sakura Matsuri festival, with more than 30,000 cherry trees blooming at once.
3. Kyoto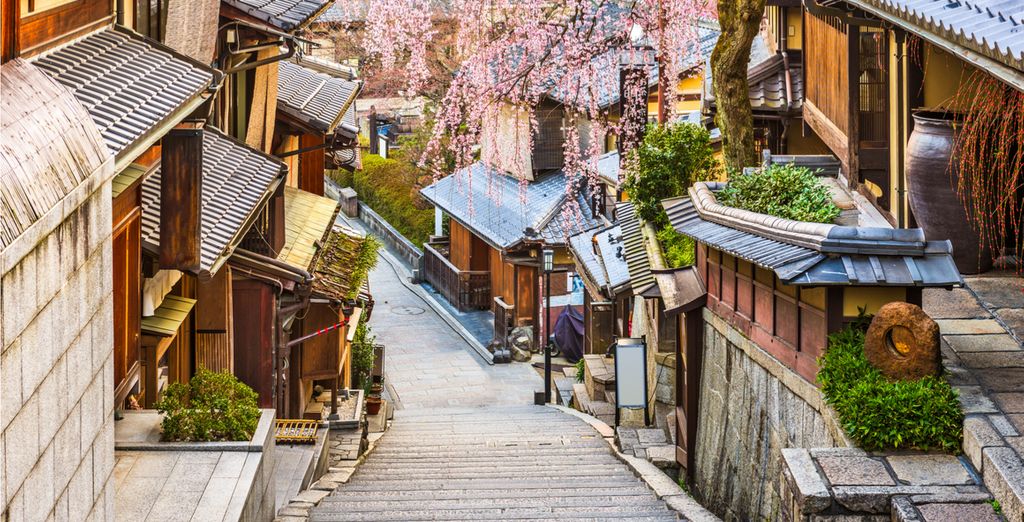 To experience ancient japan in its truest form, visit Kyoto. This sprawling city is home to more than 2000 ancient temples, some more than 1000 years old.
When you think of Japan, perhaps you see geisha girls, Japanese gardens and brightly coloured houses. In Kyoto, you'll find them all, so be sure to pack your camera.
Those with only a few days to explore the city would be wise to choose a guided walking tour to glimpse all this city has to offer. If you plan to stay a little longer, try out Japanese traditions for yourself – perhaps a calligraphy class, kimono class, or tea ceremony? One thing's for sure – it's impossible to get bored in this magical city.
4. The Wild Frontier
After a few days in the bright city lights, head to Japan's wild frontier to enjoy a slower pace and experience wildlife like no other. Hokkaido is Japan's wild region and is its least populated. Home to the indigenous culture of Ainu, Hokkaido is home to some of the country's oldest and wildest national parks.
Brave the cold and go in winter where cars are swapped for huskies and snowmobiles, and hot springs steam in the bitter frosty air. In summer, you'll see lush lavender fields, stunning lakes, breath-taking snow-capped mountains and you may even spot a brown bear too.
If you're hoping for some rest and relaxation, look out for 'Onsen'. These wild rock pools are filled with warm spring water and can be found across the region, both indoors and out. Take a dip to experience the water's restorative properties yourself.
5. Japanese food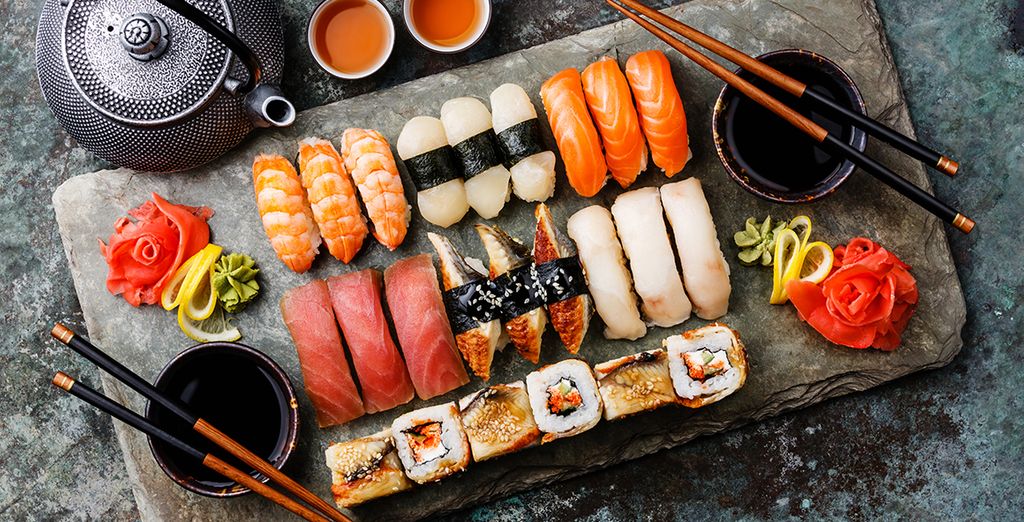 Whether it's a traditional katsu curry or freshly made dim sum you're after, Japan offers something to tickle even the most discerning of taste buds. Did you know that Tokyo has more Michelin star restaurants than London and Paris combined?
If you're exploring Japan on a budget, there are still plenty of more affordable options to try. Japan is famous for its array of street foods available around the clock. From Japanese noodle dishes to fresh seafood, soups, sushi and meats, you'll find most things from friendly street-side vendors.
Where to stay in Japan? The right private travel plan
As a member of Voyage Prive, you'll have access to handpicked luxury travel offers as well as exceptional discounts of up to 70%. Our team members are travel experts, so we'll find you a Japan tour that caters to all your needs, whether you're looking to explore the incredible city of Tokyo or the wild frontier of Hokkaido. Membership is free, so visit our website or download our free mobile app to sign up.
Practical information about Japan
Weather in Japan
The best time of year to visit Japan is either spring (March-May) or autumn (September–November) thanks to the mild temperatures and limited rainfall.
If you plan to ski, December–February are great times to visit but be prepared for crowds in the country's most popular ski resorts.
What budget to plan?
Unfortunately, Japan has a reputation as one of the most expensive cities to visit in the world. There are plenty of budget options available (book your travel and tours in advance and research affordable restaurants before you head out for the day); however, be prepared to take a decent amount of spending money with you. On average, travellers spend around 200 pounds a day in Japan.
The good news is that there are plenty of booking sites that can make your tour of Japan much more affordable. Booking in advance not only means you have one less thing to think about while on your travels, but you'll benefit from great rates too.
Check out Voyage Prive's Immersive Tour of Japan to get an idea of the luxurious tours available at a fraction of the price of competitor tours.
This immersive experience allows travellers to explore the exciting metropolises of Tokyo and Osaka, witness Japan's history, culture and wildlife, and sample its famous cuisine with the help of a friendly and knowledgeable local tour guide. Find out more today.
If you want to discover the beautiful continent of Asia, check our holidays offers or our cruises offers in Asia.