Plan your holidays with the ultimate USA travel guide
Discover the Best Information for unforgettable holidays to USA🌴. Advices, tips, best locations, itineraries and more. ✅ Find our free travel guide.
Travel to the USA
One of the many wonderful things about the USA, is that it can be anything you want it to be. This vast and varied country offers experiences, sights and adventures to suit all tastes.
You can probably name several of America's top landmarks quite easily! However, there are many ways to go "off grid" in the US too. Or, to find pockets of wilderness and untamed coastline that make you feel totally disconnected from your daily grind.
There are many famous destinations to explore in the USA, and opportunities for ski or beach holidays. All this, in one amazing holiday destination.
The top 10 things to see or do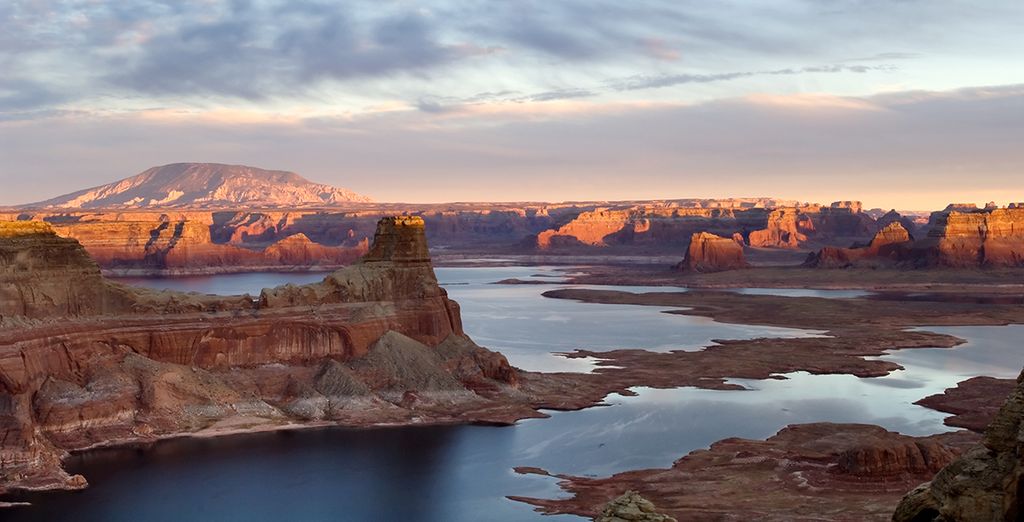 Florida

Every year millions of people arrive in Florida to enjoy the biggest concentration of theme parks on the planet. Orlando is home to Disney and Universal Studios, but there are plenty further afield too including the popular Busch Gardens. The sunshine state also boasts the country's top beaches (Clearwater and St Pete) and the glamour of Miami. Or, you may want to see the Kennedy Space Centre.
California

The original (and some would argue best) magic kingdom is Disneyland in California. A visit to this state also offers you the ever-popular Los Angeles, and a visit to Hollywood. You could get away from it all along the magnificent coast road, the Big Sur. This connects LA to San Francisco, with its iconic Golden Gate Bridge and beautiful bay.
New York

Also known as the Big Apple, for many this is the ultimate American destination. Cosmopolitan and bustling, it's the city that never sleeps. It's hard to miss the Statue of Liberty while you are there. For many, a trip up the Empire State Building is a must. Or, shop til you drop!
New Orleans

This city is another destination requiring lots of energy! Partly as you can party 24 hours a day in this vibrant and colourful place. It's rich with history and heritage too. Or take a trip out to the swamplands and hunt for alligators in the Bayou.
Las Vegas

Las Vegas is a must-see if the bright lights and casinos are calling you. You don't have to be interested in gambling to head here, as there's plenty more on offer; including world-class shows. For some, the biggest pull is the magnificence of the buildings along the Strip. You're also in Nevada's Mojave Desert, which is a natural attraction.
Grand Canyon

Speaking of deserts, a trip to (or over) this incredible sight is a massive draw. It can be viewed by helicopter. Or you can walk to the edge after arriving by bus or train. There are also walking and horse trails in this Arizona location.
Washington DC

The country's capital is packed with historic buildings and gripping museums and galleries. You could probably spend a week exploring the halls of the free Smithsonian museums! A unique city view is available from boat trips on the Potomac and Anacostia rivers. The night time list of eateries and arts events is unbeatable.
Boston

Boston is another city proud of its past, with many interesting buildings carefully preserved. It's a great place to explore on foot. Boston is also the gateway to Cape Cod. This famous peninsular provides a patchwork of stunning harbours, beaches and quaint villages. You can also explore more of New England from here, including the mountains of Vermont and New Hampshire.
National Parks

National Parks are spread across the US, and include famous and lesser-known names. Perhaps best known – and most popular – are Yellowstone and Yosemite National Parks. You could also take in Mount Rushmore, with its iconic carved Presidents. Or, head to the Great Smokey mountains.
Nigeria Falls

Nigeria falls is another great destination to admire nature's handiwork. It involves travelling to the Canadian border. Open throughout the year, you're always promised amazing views, whatever the season. Attractions on site include the iconic Maid of the Mist. There is also the Cave of the Winds, Aquarium of Niagara and Niagara Adventure Theater.
When to travel to the USA

As it is an incredibly diverse holiday destination, covering a large expanse of land, the USA includes six different time zones.
In terms of seasonal preferences, the timing of your holiday depends on where you are heading, and what you hope to experience.
For example, Florida's beautiful beaches and the glorious Hawaiian archipelago enjoy year-round warmth and visitors!
Other top US cities – for example Chicago and New York - can be spectacular in the winter, but also cold and prone to travel problems.
For many, a dream holiday to the USA means exploring Massachusetts, Rhode Island, Vermont, New Hampshire or Maine in Autumn – collectively referred to as New England in the Fall.
If you love to ski or snowboard, the USA resorts of Aspen, Vail and Lake Tahoe tend to reach their peak from November onwards.
How to get there
Many airlines fly across the Atlantic, so travellers can pick their preferred timing with ease and shop around for the best prices for USA flights.
The journey time varies according to where you are heading and whether you can book a non-stop long haul flight. The shortest Europe to North America flight time is around 5 hours 20 minutes. The longest direct flight path is 13 hours!
Thanks to the Visa Waiver Program, most European citizens don't need a visa to visit the US (for under 90 days). The current exceptions are citizens of Bulgaria, Cyprus, Croatia, Poland, Romania. Under this initiative, you will need to apply for Electronic System for Travel Authorization (ESTA) before your holiday though. This is an automated system that pre-authorises you to pass through customs without a visa.
US customs is notoriously rigorous, so keep your passport scrupulously up to date and have your destination address to hand.
Which hotel to choose?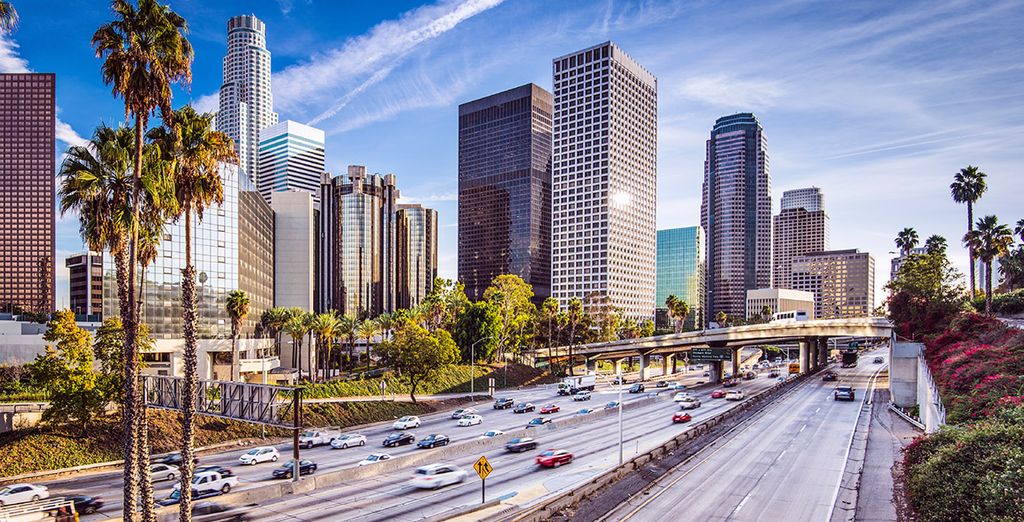 The Northern American service culture is the envy of the world. This is reflected in its unparalleled list of warm and welcoming hotels, willing to go the extra mile for European guests. This service standard cuts across accommodation to match all budgets and preferences. Here are just a few examples, from our partner hotel network.
Shilo Inn Suites in Ocean Shores – the perfect example of how well the US does accommodation with character and charm. On a Washington state fly drive, this is a homely and quirky stop off.
Freehand New York – is recommended on a trip to the Big Apple. It's in Manhattan's Flatiron District and has a great backstory!
Caesars Palace Las Vegas Hotel & Casino – is one of the USA hotels that needs no introduction. It is truly spectacular, and also offers some of the best entertainment in the world.
Culture in the USA
America is big, bold and wonderful, and so are its festivals, foods and entertainment!
Have you heard of Mardi Gras? This is an opportunity to enjoy New Orleans at its loudest and most colourful, with the whole city becoming one big carnival. Mardi Gras (also known as Fat Tuesday) takes place annually on Shrove Tuesday.
North Americans love to celebrate their historical milestones too, and always do it in style. This is especially true of Independence Day (4th of July) with its dazzling fireworks displays; and the more homely Thanksgiving festivities (held the fourth Thursday in November). If you are in New York for the latter, Macy's Thanksgiving Parade is an American institution and utterly unmissable.
Local practices and customs
Due to centuries of immigration, the US is one of the most culturally diverse countries in the world. The indelible impression left by the Native American, Latin American and African heritage people is everywhere.
Wherever in travel in the US will have its own traditions and influences. The expression "melting pot" has never been more appropriate.
For example, the freedom of spirit that characterises everyday life parts of California is not reflected in the more conservative Mid-West of America.
The USA map
Our practical advice for the USA
What to bring back from the USA

The best souvenirs and bargains from North America vary as much as its rich variety of destinations. You may find some electronic goods are cheaper there, but always check if they will continue to work in Europe and that you're not breaching customs limits.
What currency to use?

The US dollar is straightforward to understand and use. It's highly advisable to complete your exchange before leaving home.
Credit, debit and currency cards can be used at the majority of outlets, even small "Mom and Pop" stores in far-flung places. There are also plenty of banks and cash dispensers in America's malls, high streets and small towns.
What time difference?

Where you visit in the USA will dictate the exact time difference to Europe. It's generally five to eight hours though.
What language is spoken in the USA?

One of the few unifying factors, is that 90% of people in the US speak and understand English. Beyond that, you could well come across an incredible 300 other languages spoken in the USA!
How to get about in the USA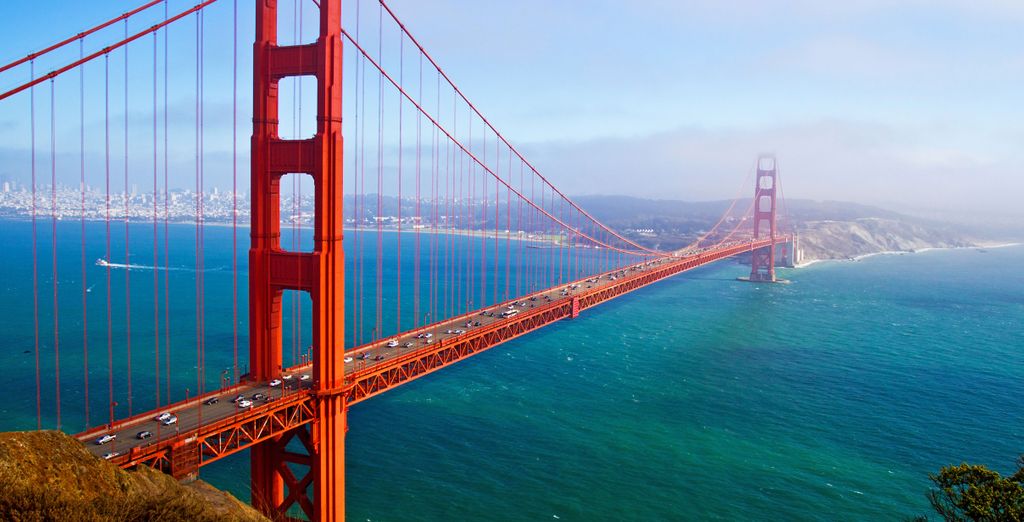 North Americans – overall – don't move around much on foot! The glorious exception to this is walking in their amazing National Parks and accessible sections of their 88,633 miles of shoreline!
In the urban areas, public transport can be part of the rich US experience, such as yellow cabs, water taxis, ferries, trolley buses and of course San Francisco's iconic cable cars
For vast swathes of this glorious country, public transport is at best "limited". Which makes a US fly drive or coach tour highly advisable. Car hire will enable you to see far more of what your target destinations offer, too.
The road system in the USA (which involves driving on the right) is either bewildering or brilliant, depending on who you speak to and where they drove!
As with many world cities, driver behaviour in urban areas can be riddled with inconsiderate actions. Listen out for the endlessly honking horns in New York to get a good indication of this!
American highways can be long, smooth and uninterrupted though, proving many hours of peaceful travel. Get used to undertaking, as well as overtaking vehicles.
Roundabouts or "rotaries" as they are called in the US are to be found in very few places (primarily New England). Though Four-Way stops are prolific. These are not covered by traffic lights but supported by a system that's basic logic. The first to arrive at the junction crosses first, and so on.
What to pack for your trip to the USA

When planning a holiday to the USA, access to good advice from knowledgeable travel advisers is essential. This helps you to research local foibles and any special items required, such as insect repellent in the Florida Everglades and fast passes for Universal Studios visits.
The power supply is different there, so a US adaptor plug is required as standard.
How long to stay

As this is a long haul destination, short vacations to the USA are generally for a specific purpose, such as Christmas shopping in New York. Potential jet lag makes a trip of at least two weeks more attractive. Under the visa waiver scheme the longest you can vacation there is 90 days.
Restaurants

No advice for USA travel would be complete without reference to food! North America is famous for the size and diversity of its culinary offerings. So be ready to face large platefuls, all you can eat buffets and quirky mixtures of both sweet and savoury. The best example is the US-wide love of breakfast pancakes and maple syrup, with bacon, sausage and eggs. (Try it, as it does work.)
Family Activities

The US is considered a highly child-friendly culture, and you will find museums, attractions, parks and facilities geared to families wherever you go.
How to travel to the US with your pet

Longer vacations in the USA do offer the opportunity to take your cat or dog with you. The rules on this have been relaxed, making the USA one of the most welcoming destinations for pets.
As the UK is currently rabies-free, a pet passport (a health check from a Vet) is required, and your animal is subject to inspection; but no quarantine is needed.
Keep in mind that long-haul flights – even in special containers – can be stressful for your pet and expensive.
What budget to plan?

The US cost of living is more favourable than Europe – especially the UK. So, your spending money could go further there.
It's interesting to note that the US has increasing numbers of unmanned gas stations, particularly on its long stretches of quiet roads. This relies on you inserting a card, before filling up your tank. Some let your insert cash but remember in the US you do this before the fuel dispenses.
Tipping is an important issue in the USA. Servers there rely on tips as they form a large part of their working wage. It is one of the reasons the service culture is so strong. It does mean that leaving any kind of eatery or bar without tipping is not acceptable and you could face vocal disapproval.
The rule of thumb is to tip 15-20% of your bill for food and taxis. If it's a buffet, 10% to servers is acceptable. At a bar, you could add 15-20% to your final tab, or tip a couple of dollars per drink.
For car valets, beauty treatments, doormen, food delivery people and the like, a $2 to $5 tip is expected.
Keep in mind when paying for goods and services in the US, the amount you pay will be subject to State Tax. As this varies from place to place, retail prices are generally quoted pre-tax.
Environment

This has been covered in the rest of this guide, which shows the huge variance in landscape and temperature across North America.
Additional practical information

Is crime worse in the USA? With such a large population, the statistics for robberies and other problems can look on the high side. Headlines about the gun law debate add to the concerns of holidaymakers.
The truth is, that the US is as safe as anywhere else. Particularly as it takes the threat of terrorism so seriously – as you will see passing through any North American airport!
Take all the precautions you would if you were visiting London, Paris or Tokyo. For example, don't leave valuables on display in vehicles, don't walk at night in poorly-lit city streets and don't flash your cash.
Discover our offers for United States : Last minute, holidays, Stays, great deals.
Discover our offers for New York : Weekends, great deals, last minute deals, holidays, tours.
Visit all our travel guides.