Honeymoon Thailand
Honeymoons are, these days, lovely leisurely holidays taken to get over the stresses and strains of having recently organised a wedding, complete with all the near-misses, disasters and tweaks to programming that these events usually necessitate. Thailand, home to many a Bond movie villain, if Hollywood is to be believed, is a wonderful country, comprising of a set amount of mainland and even more islands, all positively inviting you and your new spouse to descend on them and see what they offer!
Thailand Honeymoon: Find the most Luxurious and Romantic Hotels with Voyage Prive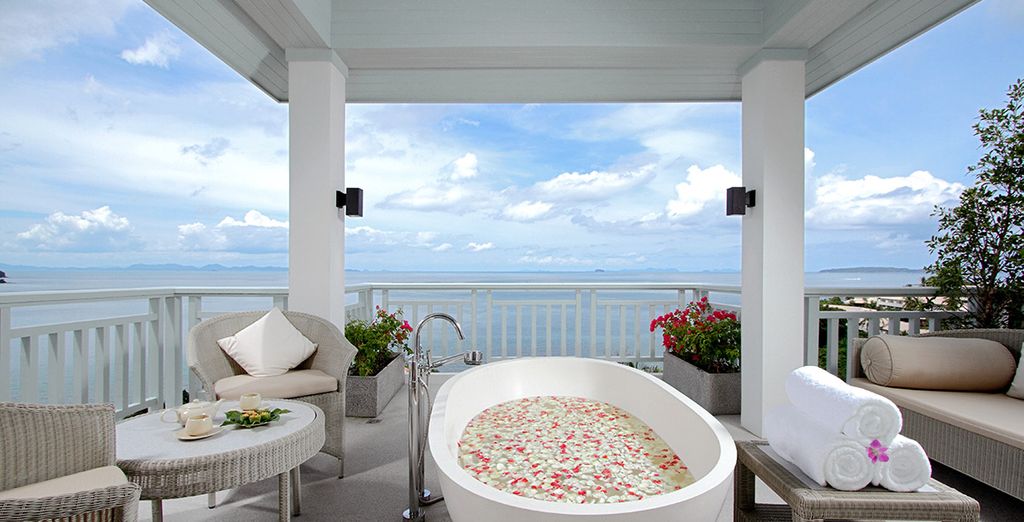 Pamper yourselves in style in this wonderfully elegant and welcoming resort on the beautiful island of Phuket. Share massages, soak in a treatment spa or enjoy a traditional hammam before hitting the beach or heading off on a long, exploratory hike. The menu comprises a wonderfully comprehensive mix of Thai specialities, international favourites and plenty of healthy and nutritious dishes that adapt the best of both. After a meal you can socialise with the other guests or return to your room to sit together on your private balcony, people watching and admiring the view as the stars and the moon rise over the sea.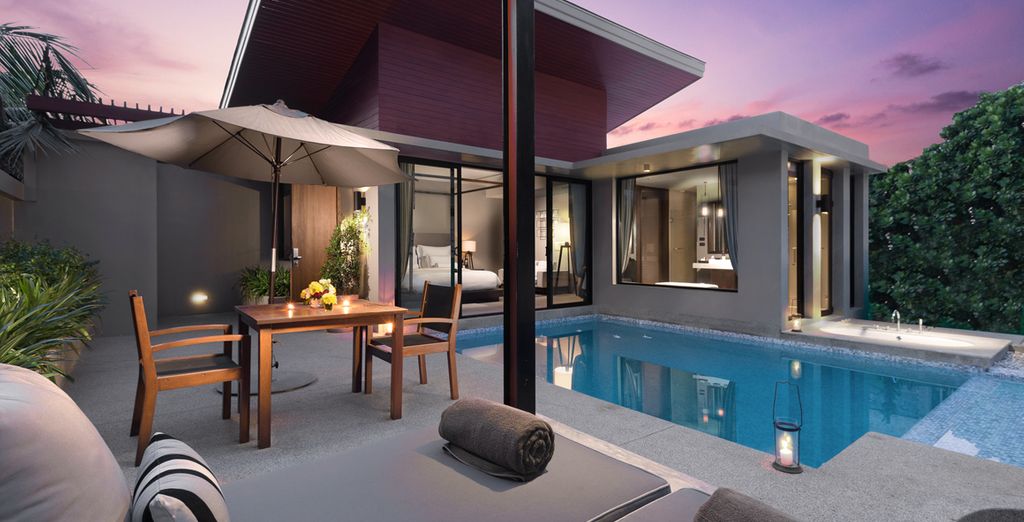 This superb resort lies on the sunset side of the Andaman Sea on the edge of Natai Beach which is immaculate soft white sand edged with turquoise perfection. Sixty-five exquisite villas allow you to make the best of both worlds; enjoying room services and discreet but thorough housekeeping while making the most of the privacy afforded by having the place all to yourselves! And as you enjoy the immaculate rooms, beautiful settings and delicious, lightly spiced Thai food you can soothe your conscience with the knowledge that this boutique hotel actively works towards being eco-conscious and 'green' in all its doings: to the point that it has been awarded the tag of 'Thailand's Best Green Resort.'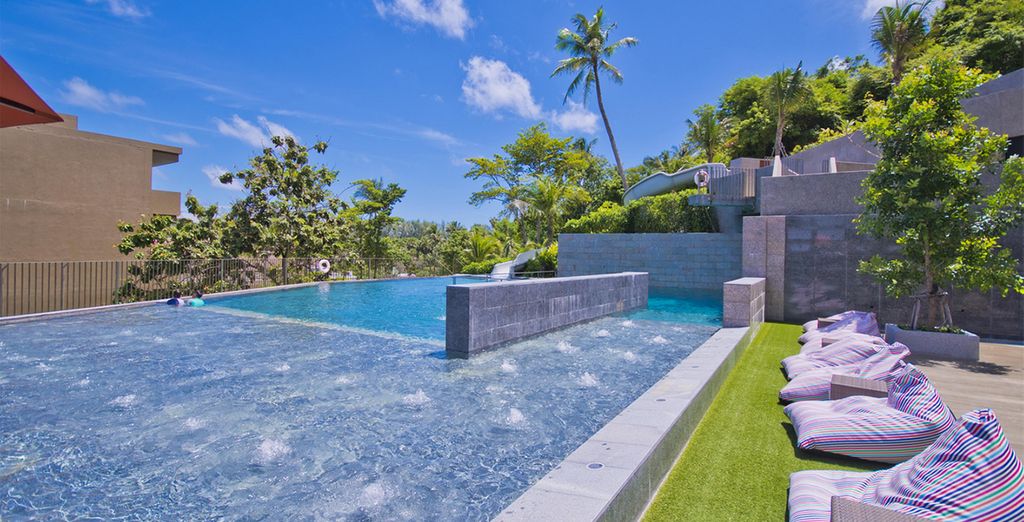 Luxury design, all the modern conveniences, a heavy nod to Asian influences and plenty of space and peace is what you get at this tranquil resort. Swim in the pool, enjoy the spa or a workout, or hire bicycles and pedal off to see the best of the nearby landscapes – which are well worth it! You can be as private as you like (your private balcony boasts a large daybed!), or hang out in the communal areas with fellow travellers, as you wait for it to be dinner time or for your next excursion to explore lovely Thailand. The rooms are sumptuous and welcoming, but the fabulous Sail Restaurant is almost more so! There are more choices of eatery and an onsite bar, so you always have somewhere to be, and people to meet.
Honeymoon in Thailand: what to see and do as a couple to make the most of it
1. Blessings Rain Down Upon You
You have just had a wedding, but sometimes that can feel as though it is all about everyone else: impressing work-mates and old school friends, impressing mum and dad's friends and keeping the various warring factions of the family apart so they do not ruin your day. Treat yourselves to a blessing at a Thai temple where a monk will bless your union in exchange for a gift or a donation. Be wary of scams asking you to pay a fortune for these blessings, as usually the monks will do them free invoking good things upon you, and while a donation of food or money (gift packs for the monks are usually available in the nearby gift-shops) is traditional it is not demanded.
2. Tour the Temples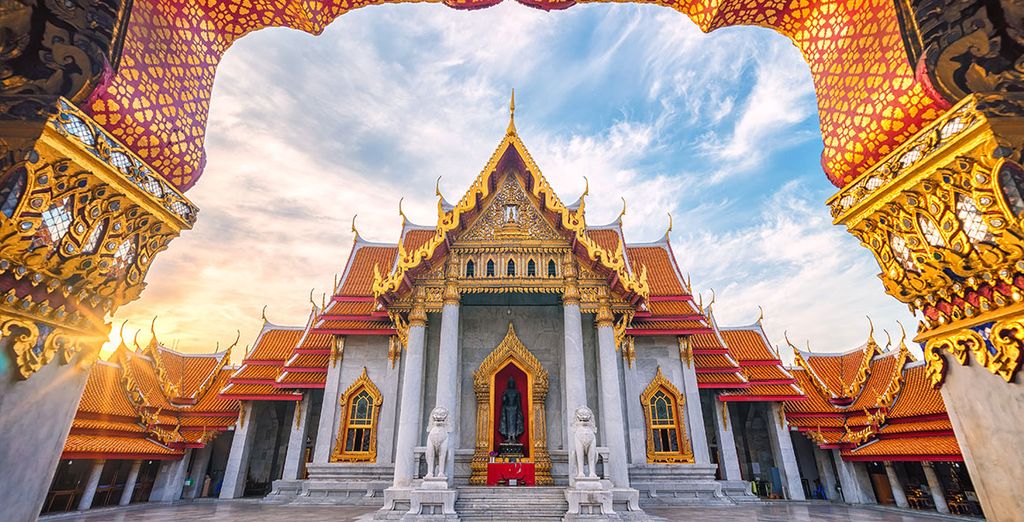 There are many temples in Thailand and almost as many statues dedicated to the Buddha. Pick four or five of each and travel to them in turn, noting the similarities between each and all the differences that make each temple unique: some have tigers living domestically amongst the monks, others are high on mountaintops while still others are in the heart of the urban sprawl of a city. In all cases, dress modestly and show respect for the temple, bearing in mind that they are active religious buildings. Do not be offended if some of the monks, especially the older ones, refuse to speak to a woman, preferring to deal with a man: no offense is intended, it is simply their way. One of the most famed temples is Wat Arun which is immense and impressive and almost four hundred years old.
3. Khao Yai National Park
This immense natural reserve is home to over three thousand species of plants, more than three hundred bird species and many species of mammals including Asian bears, Indian muntjac, wild pigs, macaques and monkeys of many sorts, and the eerily silent Asian elephants which are smaller than their African cousins, but still impressively large. There are no wild tigers left in the park, although it is believed that some may still include the reserve as the extreme boundary of their territory – but none have been confirmed as sighted for many years. Interestingly, two of the park's waterfalls were featured in the movie that first put Thailand to head of the casual tourist's (the backpacker, student traveller, gap year adventurer) must-see, must-visit lists, The Beach which, of course, starred a youthful Leonardo Di Caprio, kick-starting the actor's own commitment to protecting the environment.
4. Scuba Diving
The clear waters and safe underwater environments are perfect for scuba divers who are just starting out, and there are enough exciting reefs, wrecks and sink-holes to explore if you are a more experienced diver to prevent boredom. You can find and sign up for beginner lessons if neither of you have any experience, and take your first hours' certification which is accepted in most places over the world as long as you have used an accredited teacher. This means that you might stumble onto an activity that could become a lifelong shared hobby for you both.
5. Shop Till You Drop
Challenge each other to buy the best present from the magnificent MBK Centre in Bangkok, where over two thousand shops and retail outlets vie for custom over eight floors. There are four floors of one department store alone, Tokyu Department Store, and other outlets include restaurants, bakeries, coffee shops and service outlets. At the weekends, it seems as though half the population of the capital city descends on the mall to snap up a huge array of bargains in items as diverse as handbags, mobile phones, stationery and cameras! Bring some extra spending money and get the jump on this year's Christmas or birthday presents, by snapping up some of the latest must-have toys, gadgets and desirable items to take home and wrap up for your new blended family. Your partner's present is the most important, so don't forget to treat them to the best!
Honeymoon in Thailand: Essential Information to Plan Your Getaway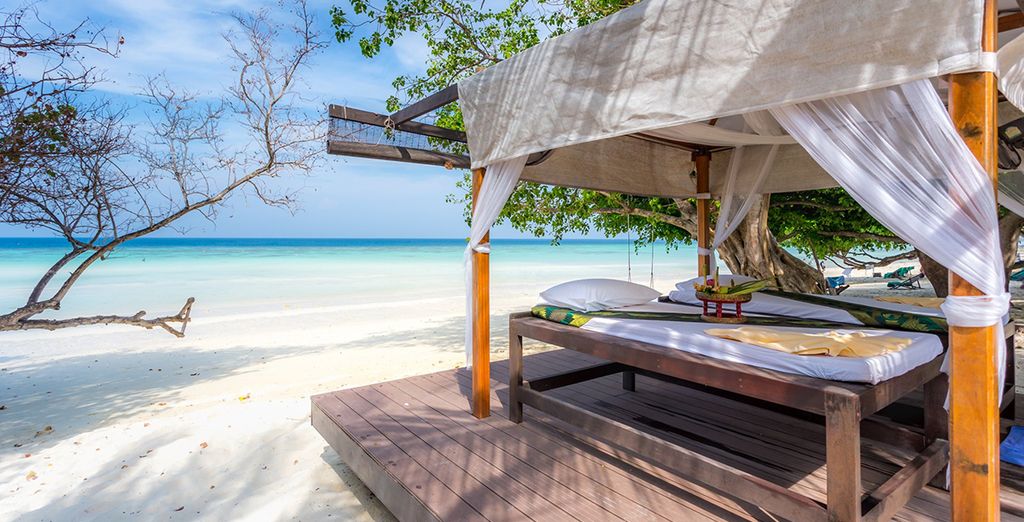 You will not need a visa to visit Thailand as long as your stay is going to be for less than thirty days, but if it will be for longer, you will need to apply for permission to extend your stay. Your Thailand honeymoon probably will not qualify for the extension, but if it does, be sure to book it early to make sure nothing goes wrong for you and your partner!
The best time of year to go to Thailand
In general, you can go to Thailand at any time of year, but do check the specifics of where you will be staying, precisely, to get the most accurate read on what the weather will be like during your stay. From November to April is the best for cooler, dryer weather when most visitors will be most comfortable while exploring the sights and temples and enjoying lengthy hikes, whether for sight-seeing fun or as a way of getting around the islands.
What to pack for a honeymoon in Thailand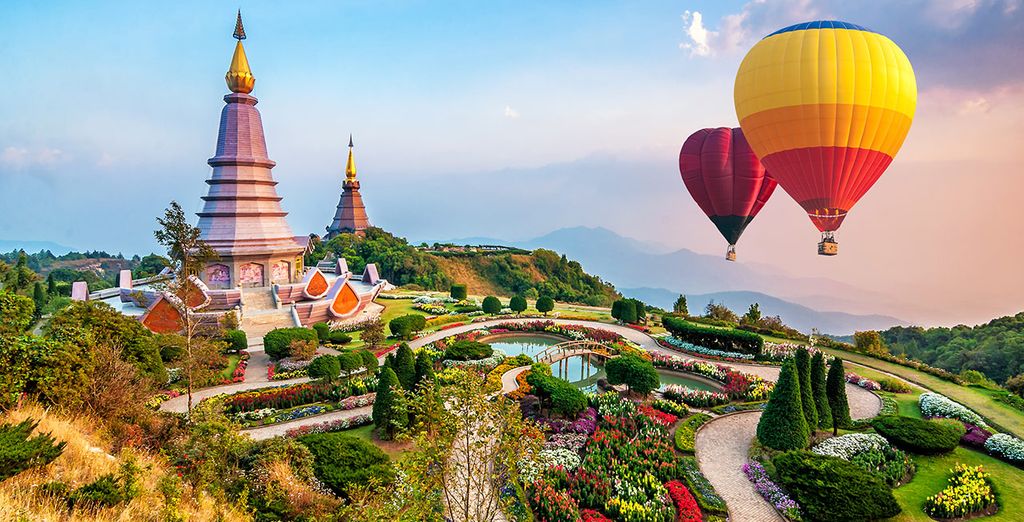 For the most part, the Thai people are very chilled and relaxed about what you wear. However, when you are visiting any royal sites, even when unoccupied but especially when the royal family is in residence, or when visiting temples. In these cases, you should always dress modestly, and while there is an element of ingrained and systematic sexism here, this does apply to men as well, who should not wear shorts, sleeveless tops – or indeed no shirt at all – to visit these sites as it will be taken as a sign of massive disrespect, as would speaking derisorily about the royal family or interrupting the monks as they go about their business.
If you are asking the monks to bless your wedding, make sure you dress up for the occasion. Not only will you prefer to look your best for each other, but it shows the monks that you respect them and their place of worship and that you are serious about the other: this is not some spur of the moment decision, taken in haste and soon to be repented at leisure!
Bug spray will save you from many bites and potential diseases, so be sure to carry a small spray bottle wherever you go. Mosquitos are known to be disease carriers, and leave itchy or painful marks, but sandflies are only one-third the size, and they also bite, leaving painful and itchy weals. However, repellent works well to keep them away, literally saving your skin.
A raincoat of some kind is a must. Rain in Thailand can come on suddenly, pour down for minutes, absolutely soaking everything, including you, and then go away again as though someone had thrown a switch! Without a raincoat, you will be soaked, and while the heat will soon have you steaming dry, it is best to avoid such damp discomforts!
Going on Thailand Honeymoon: How to get there and get about
There are many smaller airports in Thailand and a number of international flights come into the country every day. Having said that, the most common and potentially the cheapest option is to buy a plane ticket into Bangkok, and then hop a domestic flight – or several – to get to your destinations in turn.
Other ways to get around include buses, tuk-tuks and taxis, but always establish the price before you travel to avoid being stuck with an unrealistic bill.
Practical Advice for a Honeymoon in Thailand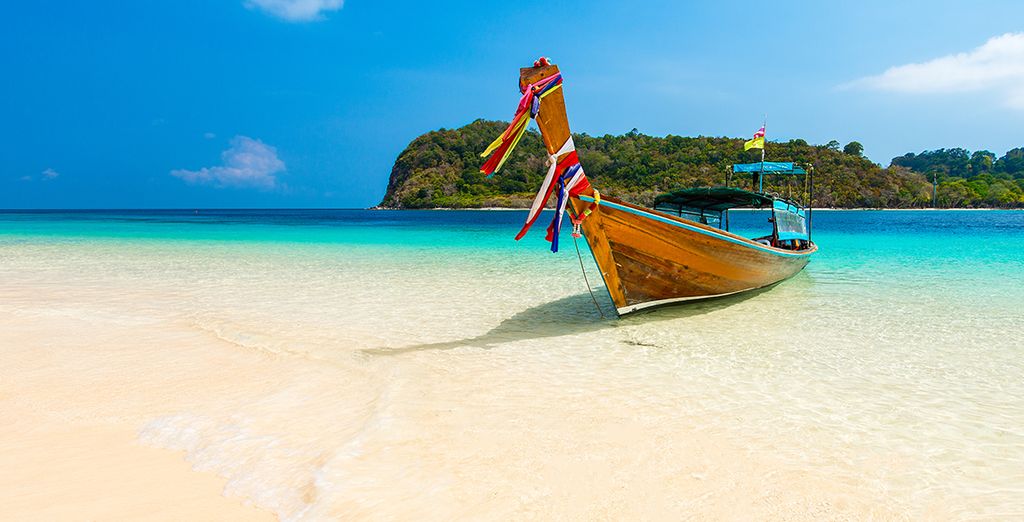 The sole official language of Thailand is Thai, but many people in the larger cities or who are involved with the hospitality trade speak reasonable or very good English, so you will usually be able to make yourself understood. Of course, carrying a phrase book about with you will always create a good impression, as will making the attempt to say hello and make basic conversation in Thai.
At a rate of about 4 baht to a pound, the Thai currency is not as weak as people may assume, and it is used throughout the country. Many tourist destinations allow the use of US dollars or euros, as this means they get to seize the desirable foreign currency for their own reasons, whether honourable or nefarious, but Thailand is not one of those. Instead the baht must be obtained and used in every cash transaction.
Be wary with animals in Thailand. Some are kept drugged so tourists can pose with them, while others – like wild monkeys – can become very emboldened, stealing wallets, glasses and cameras, sometimes with highly unwanted results. Ensure you check the credentials of any organisations that work with animals, and make sure they are doing good for the species rather than simply exploiting it.
A final, rather prosaic piece of advice would be to bring your own toilet paper with you. Carrying a roll with you, wherever you go, can save you from the embarrassment of not knowing how to use the Thai-style bidets which have largely taken the place of pipe clogging and wasteful paper!
However your honeymoon goes – and hopefully it will all flow smoothly – there is one Thai saying you must learn: 'Mai pen rai'. It means, loosely, 'no worries,' 'you're welcome' and some other similar sayings, all meaning basically that life is good.