Weekend Break in Santorini



Table of contents
Santorini breaks - enjoy a luxurious Aegean beauty hewn from volcanic rock
Once seen, never forgotten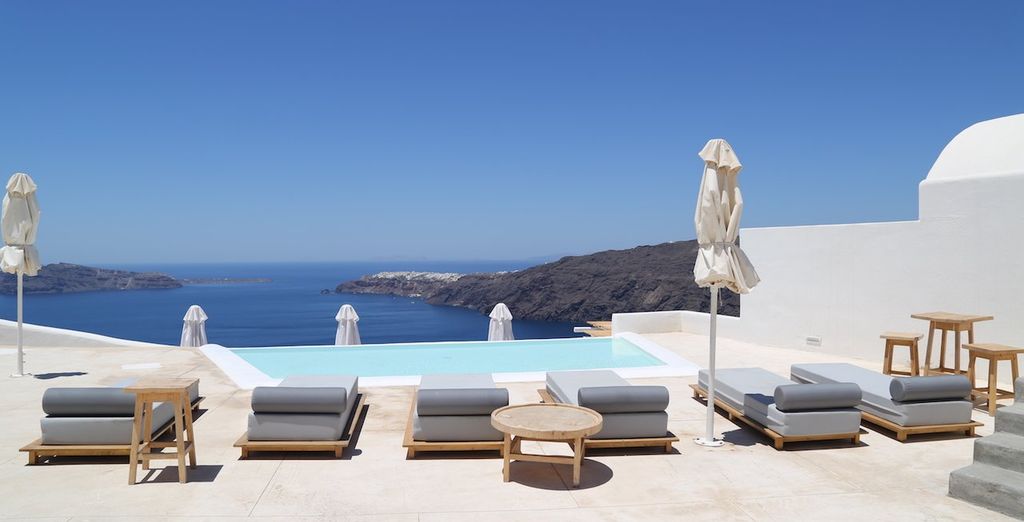 Just a few hours from Europe's capitals, the island of Santoríni is a glorious getaway and one of the Mediterranean's true gems. Santoríni was formed by a huge volcanic eruption in 1620 BC, which caused the island's centre to collapse, leaving the distinctive crater rim which makes up Santoríni and the smaller island of Thirasia. Views are picture-postcard perfect, beaches are pristine and, whether you are spending an extended weekend or are on a longer getaway, there is no shortage of ways to pass the time in wonderful surroundings.
It should be no surprise that Santoríni is popular with those seeking a luxury holiday – easily accessible and with an excellent selection of five-star hotels, it is just far enough away to make it a genuinely special destination on one of those extended weekends you've promised yourself. Our handpicked offers will help you make the most of this gorgeous island, and our exclusive prices will make a luxury break utterly irresistible.
The best time to seek sun... and where
Most visitors lap up Santoríni sun in the summer months but, in early autumn, the island is less busy and the sea is at its warmest. You will pay less for your luxury break at this time, as you will if you visit in late spring, when much of the island is still green.
The island's beaches are famous for their dark volcanic sand and pebbles. Perivólas and Vlyháda, in the south, are good bets, particularly if you are on a weekend break and time is a tight. For hikers, the route from Períssa to Kamári will take you on a cobbled trail, past ruins at Thera and the cave of Zoodóhos Pigí, where you can fill your water bottle from the local spring. The trip will take 90 minutes, depending on how often you stop for photographs, and there are boats at Kamári for a more sedentary return journey.
It's not just sun and scenery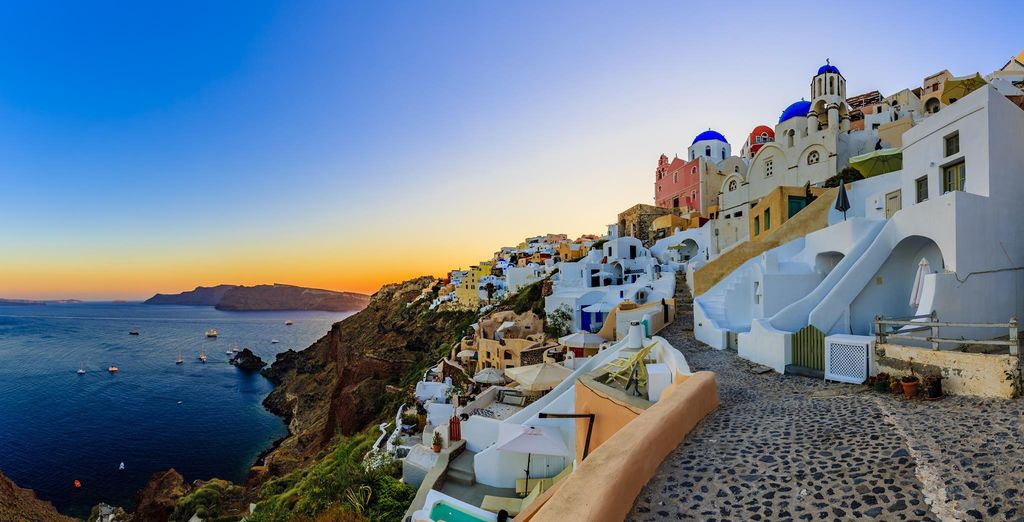 If you can tear yourself away from the views, visit the Museum of Prehistoric Thera, in Firá, with its Minoan murals. Santoríni breaks are a good excuse to sample wine – the island is an AOC domaine and several winery tours are available. Boutari, near Megalohóri, is the largest, and tours run from April to October. Seek out microwineries too, especially if you have a penchant for more luxurious vino or vinsánto. If beer is more to your taste, in the centre of the island you'll find a microbrewery called Donkey Beers, where "Hip Hoppy Kick-Ass Ale" is brewed by a small company set up by individuals from Greece, Austria, California, England and Serbia.
For access to our exclusive prices and fantastic offers on luxury getaways, simply sign up with us – only members can take advantage of our handpicked offers.
FAQ Weekend Santorini