All Inclusive Holidays To Marrakech
Marrakech is a beautiful city bursting with culture and iconic landmarks to visit. The landscape is incredibly eclectic; one minute you're walking along the stunning shore line and the next you're admiring the snowcapped mountains on the alpine peaks. There's so much to do in Marrakesh which is why everyone should visit when they holiday in Morocco and for a truly luxurious stay, upgrade your hotel to be all inclusive. Your Marrakech holiday should be a chance to unwind and forget about your work stressors; nothing screams relaxation like unlimited food and drinks and activities all paid up front.
Which kind of rental for your holiday to Marrakech?
Where you choose to stay can make or break your holiday. Make sure you choose luxury accommodation that you'll look forward to come back to after a long day of Marrakech adventures. All inclusive holidays to Marrakech are the perfect option for families and couples who just want to relax and enjoy their holiday.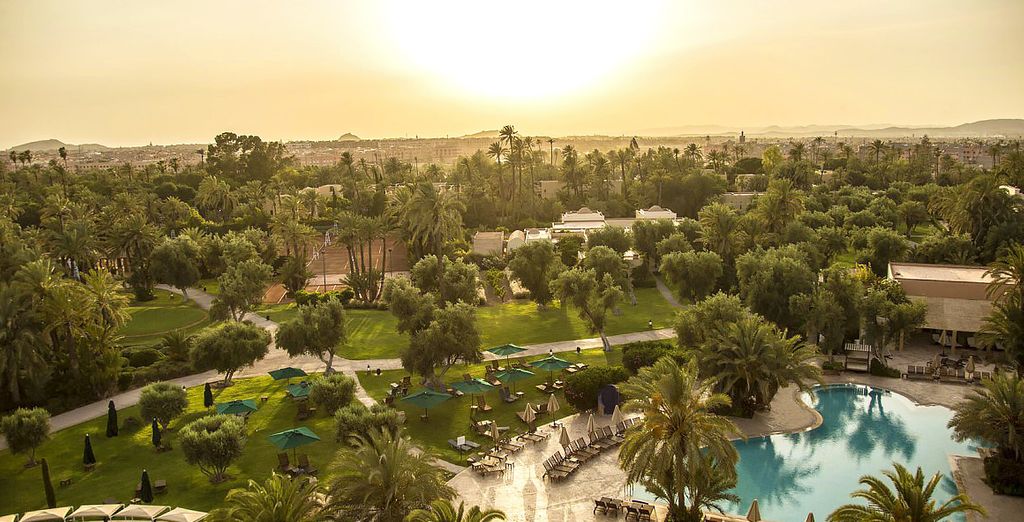 If you don't want to be too far from all of the action, then Club Med Marrakech La Palmeraie is the perfect hotel for you. Our members can look forward to an amazing 7 night stay, as well as delicious lunch menus. During your all inclusive stay, you can also look forward to a selection of free sports facilities that are great fun and an easy way to keep you active.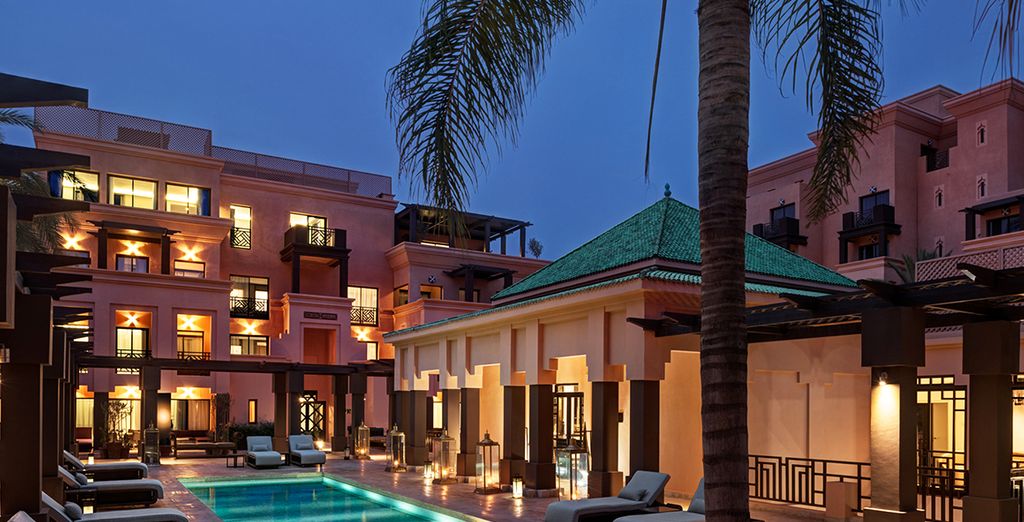 When it comes to holiday hotels, why compromise? This 5* hotel is one of the most luxurious in Morocco and simply surrounding yourself in the opulent décor is a delight. The interiors are breathtaking and the hotel has every amenity you could ever desire. Voyage Prive members can look forward to daily breakfast, as well as a relaxing complimentary massage.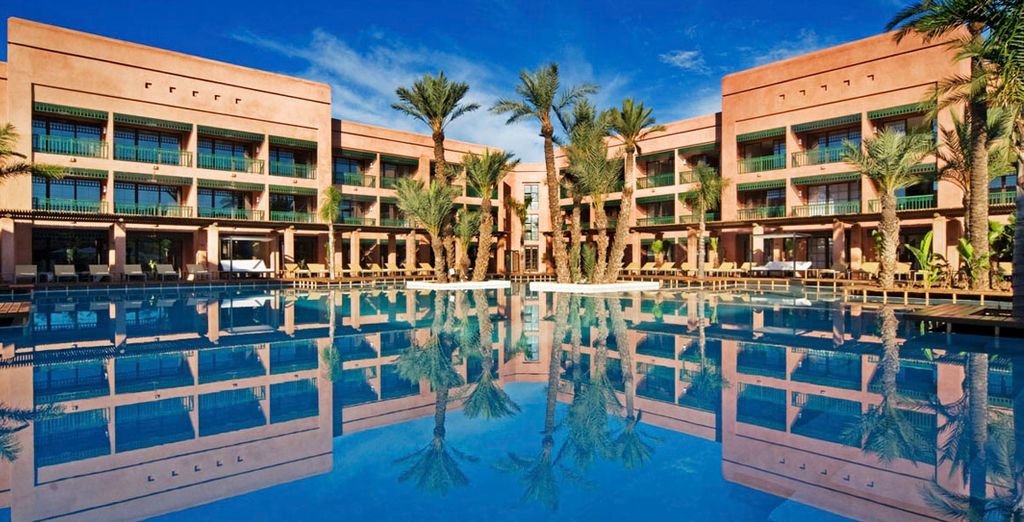 Spa facilities, stunning views, and an expansive golf course just a stone's throw away: this hotel truly has it all. Hotel du Golf Marrakech is ideal for holiday makers who want to improve their golf putting and also take advantage of the spa facilities that Morocco is renowned for. If you choose to stay here, you can look forward to state-of-the-art facilities as well as a heated pool.
Going on holidays to Marrakech
Getting to Marrakech is simple, especially if you decide to fly. Depending on where you live, it can take between 3-6 hours to fly to Marrakech, making it the ideal short-haul flight if you're planning on travelling with the kids. Once you land, getting to the hotel should be a breeze as the bustling city is always filled with taxis and public transport that will get you to your accommodation. If you plan in advance, you can organise a shuttle bus to transport you from your hotel and drop you directly outside of your accommodation.
Marrakech: Where to go and spend your holidays?
You'll be spoilt for choice when it comes to exploring Marrakech, as each region has something completely new to offer.
If you want to shop until you drop, then head to Souq Semmarine and Souq El Kebir as this is where the main market streets are. Here you're guaranteed to grab a bargain as well as some unique items that you won't find anywhere else in the world.
The Medina is the heart of Marrakech and is always bustling with life. Stay here if you want a more fast-paced Moroccan adventure as the streets are lined with pubs, bars, and restaurants all waiting to be explored.
For those hoping for a more culture-rich Marrakech holiday, head to the old Jewish district of the Mellah. This is where you'll find stunning religious buildings and learn more about the faith and religion of the locals.
Top 5 activities to do/see in Marrakech
1. Visit Ouzoud Falls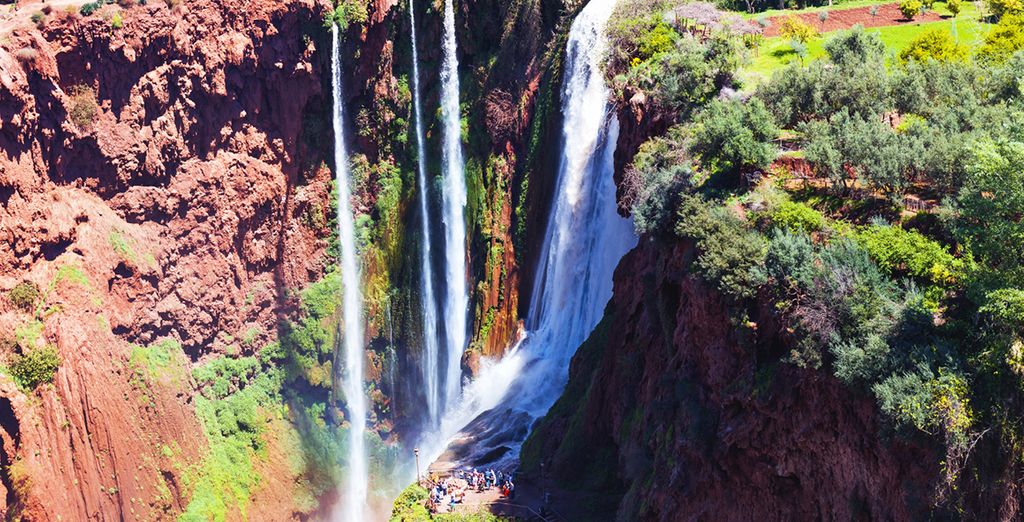 This collection of waterfalls truly are a natural wonder and every visitor to Marrakech should come to admire them.
2. Take a camel ride
This popular tourist activity should be experienced by people of all ages; for a truly unforgettable camel ride, set off to watch the sunset.
3. Try a Moroccan cooking class
Foodies will be in their element at an authentic cooking class, as they use a blend of herbs and spices to give their dishes that authentic Moroccan flavour.
4. See Bahia Palace
This stunning piece of Moroccan architecture was built in the 19th century and was meant to be the greatest palace of all time; the entire palace area is a delight to marvel at and explore.
5. Immerse yourself in Marrakesh culture
For a true taste of Marrakesh culture, visit one of the many museums in the region. Mohammed VI Museum Modern and Contemporary Art is particularly popular among tourists who are interested in creativity and the art scene.
Enjoy your holidays in Marrakech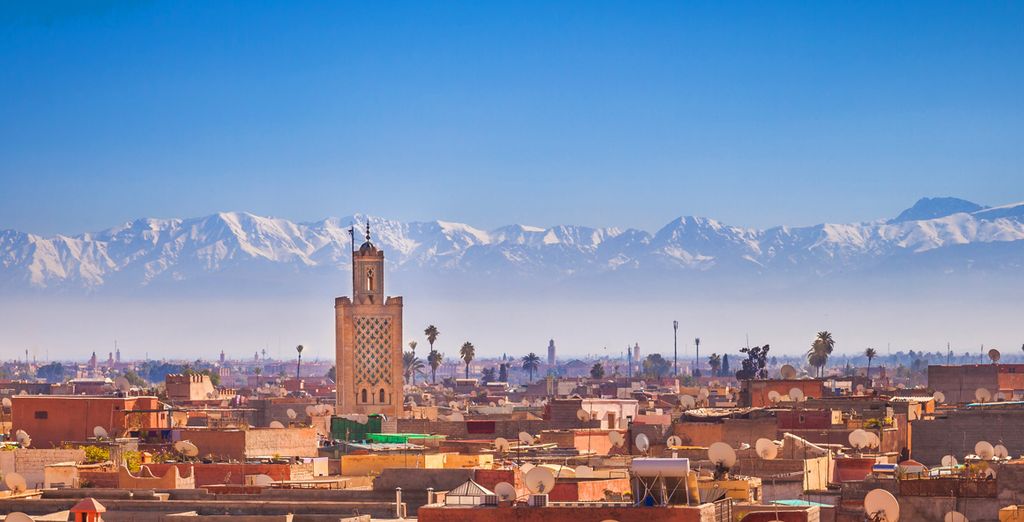 It doesn't matter who you are, everyone can enjoy a Marrakech holiday. There's so much to do which makes it the ideal holiday for families yet the idyllic scenery and isolated nature also makes it the best destination for young couples. If you choose to stay near the centre of Marrakech, the city is perfect for groups of friends on an action-packed city break.
How long should you stay in Marrakech for holidays?
Marrakech is best experienced over a longer holiday break and the optimum time to go is between July and September; the temperatures are soaring and there are a lot of activities going on that tourists can take advantage of.
The kind of holidays available for Marrakech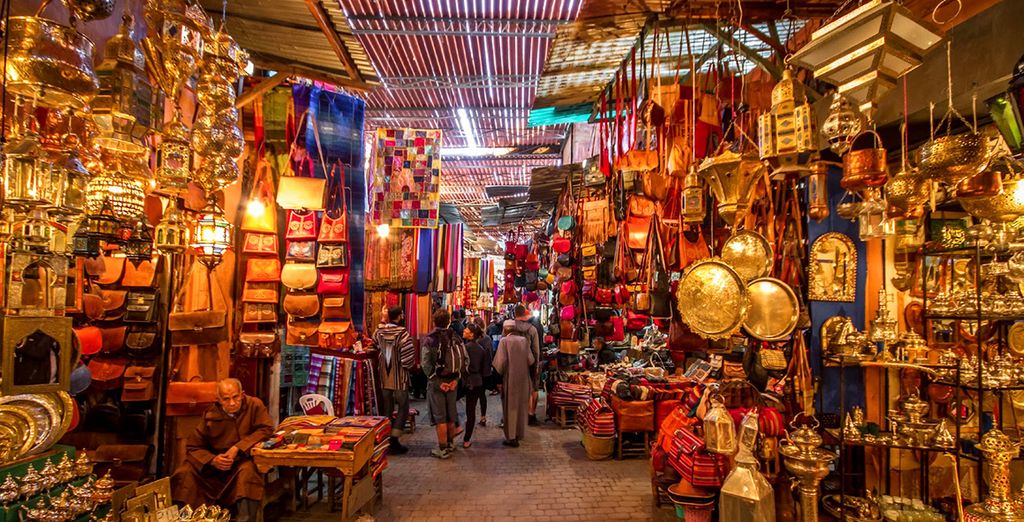 All-inclusive holidays to Marrakech are the best way to experience the Moroccan city. All inclusive takes the stress out of your stay, as many of your activities and meals are catered for.
Our opinion on holidays to Marrakech
Not only is Marrakech breathtakingly stunning, it's also packed to the brim with unique activities and excursions that all tourists should try for themselves. There's a rich history behind Marrakesh that is interesting to uncover by visiting touristic hotspots and museums in the region. If you're an avid traveller, add Marrakech to your travel bucket list as it simply has to be visited by everyone.
You can also discover all our all inclusive resorts!