India Travel Guide - What you need to know
India travel guide: Discover the cradle of Hinduism and Yoga.???? Best Activities to do in India, Best attractions, Advices, Hotels.? FREE travel guide.
Travel to India
India is rightly known as one of the most beautiful, vibrant and exciting countries on earth, with a rich culture, breathtaking landscapes and the most incredibly warm and welcoming people. Visitors are drawn to India for all sorts of reasons, and it can feel like there is so much to see and do that you could never pack it into one lifetime, let alone one holiday.
This country is a byword for diversity. Various religions, languages, ecosystems and cultural practices all rub up against one another and somehow manage to co-exist peacefully, for the most part. India is also an incredibly spiritual country, with many seeing a visit here as something of a pilgrimage or rite of passage.
Few countries offer such a wonderful assault on the senses, and we want to see you get the most from your stay.
The Top Ten Things to See and Do in India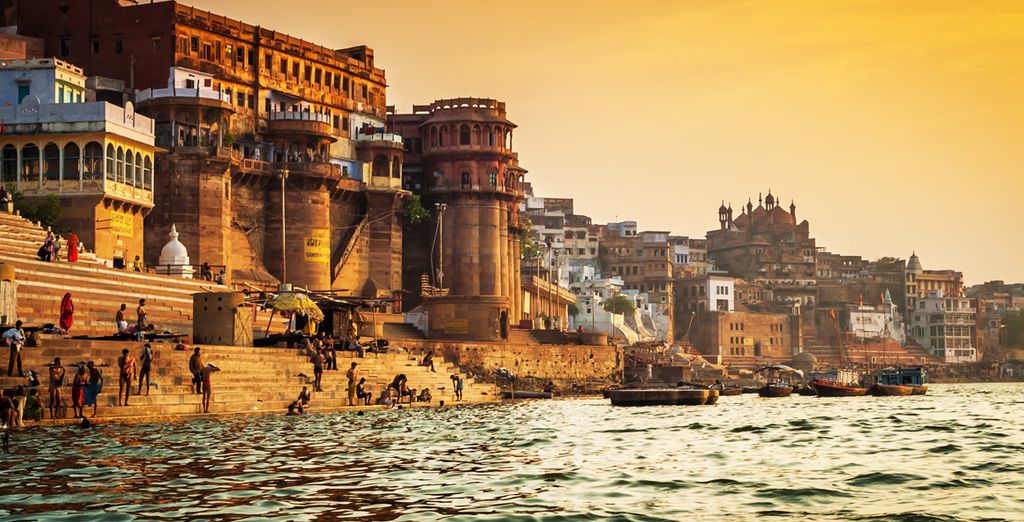 1. The Taj Mahal

No holiday would be complete without a visit to the Taj Mahal in Agra. Commissioned in 1632, the 'Crown of Palaces' is a mausoleum built by Shah Jahan in memory of his favourite wife.
2. Take a train across Rajasthan

We highly recommend boarding a luxury train across the breathtaking Rajasthan, one of the most incredible railway journeys you'll ever take.
3. Ranthambore National Park

Choose to stay in Delhi and enjoy a safari through the Ranthambore National Park to see tigers in their natural habitat.
4. Visit Kerala

Take a tour of Kerala and see India off the beaten track, with visits to Cochin, Munnar and Periyer.
5. River Ganges

Dip your toes in the incredible River Ganges, one of the most sacred places in all of India.
6. The Amber Fort

Pay a visit to the Amber Fort, which blends Hindu and Muslim architectural styles to stunning effect.
7. The Gateway of India

Visit the Gateway of India in Mumbai, an impressive stone archway built to welcome the King and Queen of England in 1911.
8. Elephant rides

Take a traditional elephant ride, to get up close and personal with one of the most incredible creatures on the planet.
9. Take a tea plantation tour

If you can, take a tour of one of the country's many tea plantations, to see where the leaves which make your favourite brew have come from.
10. Delhi markets

Explore the bustling markets of Delhi, to experience the vibrant colours and rich aromas of a country famed for its spice and fabrics.
When to go to India

Summers in India can become unbearably hot, with the mercury regularly exceeding 40°C. We recommend that you visit between October and March, when the tropical heat reaches more manageable levels.
How to get there
Flights to India take off from the main London airports, as well as from Edinburgh, Birmingham, Manchester and Glasgow. If you book with Voyage Privé, you can choose your preferred departure time and be guaranteed seats on the flight of your choice.
Which hotel to choose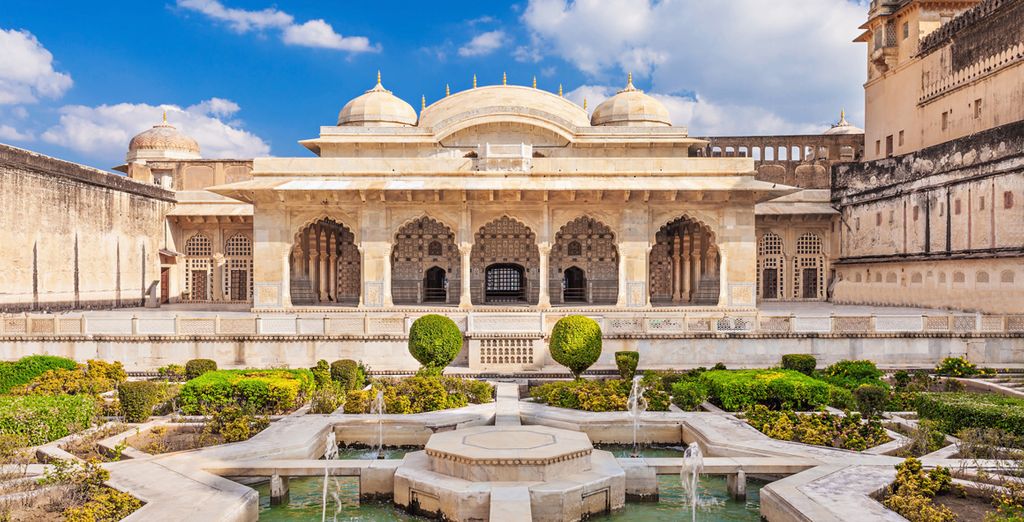 India offers some superb hotels in all the major cities and off the beaten track. We have a curated collection of hotels to choose from, depending on the package you select.
The Palace on Wheels

If you choose a trip through the beautiful countryside of Rajasthan, you'll spend seven nights aboard the Palace on Wheels. This sleeper train has been named the most luxurious in the world, allowing you to travel in comfortable and opulent style.

Kerala and the Backwaters of India 4*

Join us for our Kerala and the Backwaters of India tour and you'll stay in some of the region's most luxurious hotels, including the breathtaking Poetree Resort and the sumptuous Abad Turtle Beach Resort.
Mystical Journeys through India

Book our Mystical Journeys tour and you'll be treated to the most superb hotels India has to offer, including the palatial Sheraton New Delhi, the Amar Mahal and the Radisson Hotel in Khajuraho.
The culture of India
India is one of the most culturally diverse countries on the planet. Religion, music, dance, cuisine, arts and architecture will vary from region to region, making this one of the most exciting places to visit and explore. Indians are extremely proud of their rich history and heritage, so it's worth seeing as many cultural sites as you can, and taking part in any festivals and celebrations which take place throughout the year.
Local practices and customs
Practices and customs will vary between the countless regions of India, with multiple religions co-existing and historical traditions still upheld. There are festivals marked throughout the year, so your visit is almost certain to coincide with some sort of celebration.
Map of India
Our practical advice for India
India is, for the most part, a very safe country. That said, you should avoid travelling alone when possible and always ensure you keep your passport and other valuables on you and secure at all times. Clothes with a concealed inner pocket are highly recommended, to ensure your money and travel documents are out of reach, as streets and public transport can be incredibly crowded.
Rabies is still relatively common in India. Cute as they may be, avoid petting dogs or cats. When it comes to wildlife, never stray from designated routes and always follow the instructions of your guide.
What to bring back from India
You're bound to want to bring back some souvenirs from your time in India. The country is famed for the vibrancy of its textiles, so a beautiful saree or pashmina shawl can be like taking home a little piece of Indian sunshine and make a wonderful keepsake.
It's unlikely you will be able to take home any food or drink, but spices can be a good holiday reminder if well packed, as can jarred pickles and chutneys.
Indian handicrafts, artworks and musical instruments also make good mementos of your time in the country.
What currency to use
The Indian Rupee is the currency throughout India.
What's the time difference?
India is five hours and thirty minutes ahead of the UK when it comes to time difference.
What languages are spoken in India?
There are many languages spoken in India, the main ones being Hindi, Gujarati, Punjabi, Bengali, Assamese and Sanskrit. Before you go, it's worth mastering a few basic phrases relevant to the region you're travelling to.
How to get to India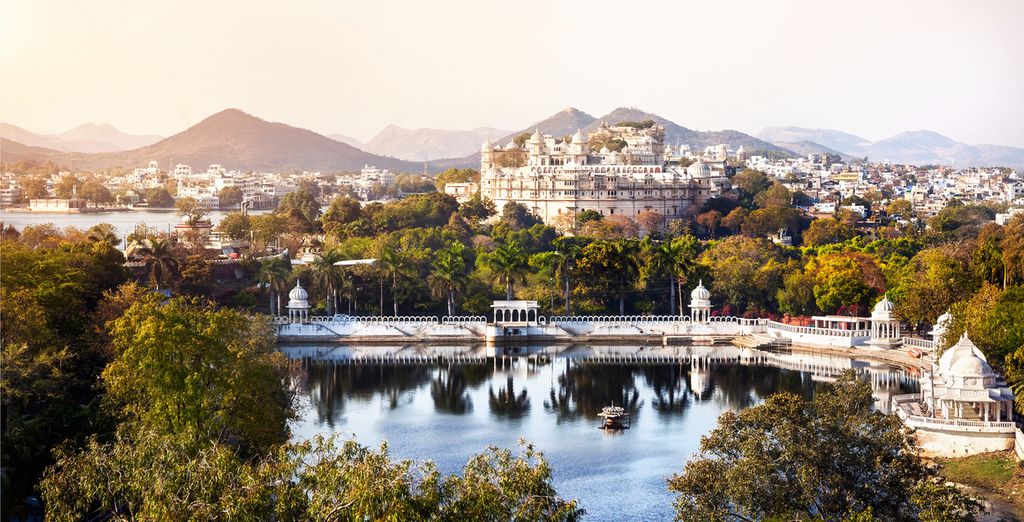 To get into India you will need a valid UK passport, an Indian visa and a return or onward ticket to present. If your stay is going to last under thirty days, you should apply for an Electronic Travel Authorisation (ETA) through the Indian government website.
What to pack for your stay
Remember that India is still a relatively conservative society, so dress appropriately at all times and prepare to cover up and remove your shoes when going around sacred sites. It goes without saying that you should pack cool, cotton clothes which are loose fitting.
Always take sun screen and after sun products, as well as a hat which will keep the sun off your neck and sunglasses.
You should also take healthcare products including a personal water filter, charcoal tablets to help with diarrhoea and prevent dysentery and mosquito repellent. Also pack an Indian power adaptor, and a sturdy, waterproof backpack for any excursions.
How long to stay
As long as you can! You can barely scratch the surface of this country in two weeks, so book for a month or more if that's possible.
First time visitors to India often reach burnout very quickly because they have tried to pack too much in to their visit. Travelling with a package provider such as Voyage Privé means you take things at a more manageable and enjoyable pace, with none of the stress associated with trying to arrange tours yourself in a language you cannot speak.
Organised tours such as those provided by Voyage Privé help you structure and plan your visit to ensure you see as much as possible within a limited time frame. You may choose to stay on after your tour to explore more of this fascinating country, so make sure you set aside enough time to see and do everything you want to.
Restaurants
Street food is extremely popular right across India. To avoid 'Delhi Belly', it's worth considering eating in your hotel restaurants where the hygiene standards and ingredient quality will almost certainly be higher. The hotels we have hand-selected have kitchens which run to the highest standards, reducing your risk of food poisoning.
Any water or other beverages you consume should either be bottled or put through a personal water purifier beforehand. Visitors to India often get sick because food has been prepared in untreated water or they have drunk water which hasn't been purified.
Family activities
India boasts some of the world's most amazing beaches, and family days out to the sun-kissed sands are a must whether the little ones are toddlers or teens.
Safari trips are almost always geared up for family bookings, and they can be an incredible way to introduce your children to the wonderful natural world and the breathtaking wildlife of India.
It's also worth taking them to sites of great cultural or religious significance. This may be a once in a lifetime experience which will certainly stay with them forever, so opening their eyes to a completely other way of living is a richly rewarding experience for all. The Taj Mahal is a great place to start.
How to travel to India with pets
If you're planning on taking the family dog on your trip to India, all animals entering the country must obtain a No Objection Certificate (NOC) from the Animal Quarantine Station in India before they enter the country. The Indian government has tightened up the restrictions on animals entering the country in an effort to control disease, so applying or an NOC can take a very long time. Be sure to check and start making arrangements well in advance of travelling to India.
What budget should you plan?
If you've booked your package through us, most of the stress of budget planning will have been taken care of. Many aspects of Indian travel will be very cheap, with food and drink costing a fraction of what it would in the UK. Market stall holders will always be happy to haggle, just make sure you're careful they're not taking advantage with a hard sell.
On average, you will probably spend between £700 to £900 a month if you decide to stay on after your package trip, but it really depends on how low or high cost you plan to travel.
Environment
India has a tropical climate and temperatures during the summer can exceed 40°C, posing serious health risks if you do not take precautions. Winter temperatures are much more pleasant, and we strongly advise you travel over the autumn and winter months. Between July and September, some regions of the country will experience the monsoon season, which can mean heavy and prolonged downpours and flash flooding. Always check with your travel provider before you book, to ensure the region you're travelling to will be safe.
India contains some of the most biodiverse ecozones in the world, ranging from the icy Himalayas to the tropical jungle and the arid deserts. There are more than 350 different species of animal, over 375 species of reptiles and 1,200 species of bird, making this an incredible destination for wildlife lovers.
Pollution is the biggest threat facing the Indian environment. Water, land, air and noise pollution are all extremely high, although the government is now taking steps to reduce the harm they cause.
Additional information
Take precautions around what you eat and drink. Your stomach won't be able to tolerate untreated water, so always ensure you have plenty of bottled water and drinks and keep your supplies stocked up. Avoid raw salads which will have been rinsed in untreated water, and stick to peeled fruits and vegetables when possible. That doesn't mean you should rule out the mouth-watering street food altogether, but choose things which have been boiled or fried as there's less risk of bacteria. Dining in the hotel restaurants your provider has chosen will also lower the risk of picking up bugs, as they will have been vetted for higher hygiene standards.
Discover more travel guide to spend unforgettable holidays.