Marrakech City Breaks 2022/2023



Table of contents
Enjoy Luxury Holidays to Marrakech up to -70% ⭐ Discover a fascinating culture of ancient mosques, vibrant souks and exotic squares. ✅.
Top Ten Things to Do in Marrakech
1. Ben Yusuf Madrasa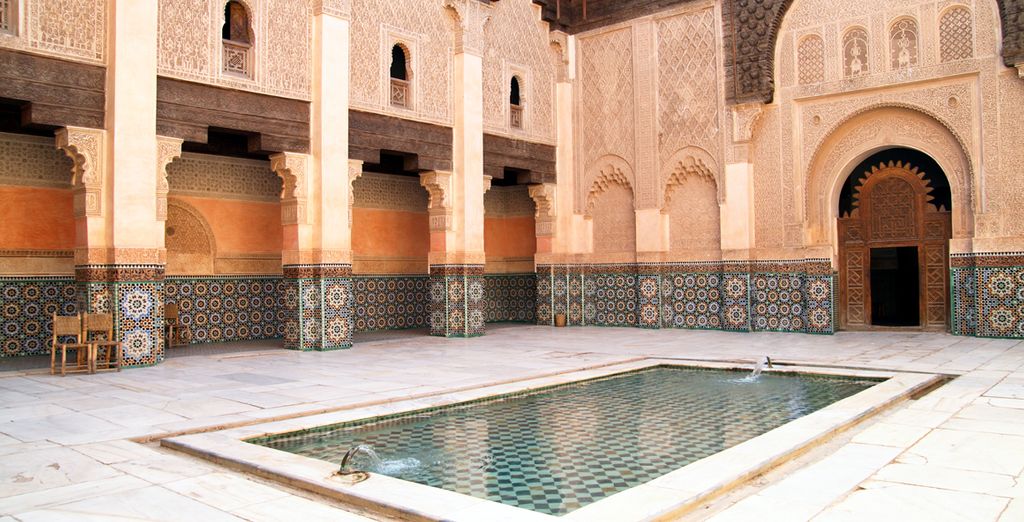 This is an ancient school that displays well preserved, exquisite architecture. There are, in common with many Islamic buildings, instances of sensory delight. Enjoy the contrast between the typical, relatively modest, entry into the wide open lavish interior. The school could cater for 800 students in its 130 rooms (6 or 7 per dorm) in its prime. Check to make sure it is not closed for refurbishment before you travel.
2. La Maison de Photographie
Despite the name – and, indeed, there are many photographs – this collection offers an archive of Marrakech over the last five or six decades with newspapers, postcards, maps and so much more. The photographs are wonderful, offering a candid and fascinating glimpse of Marrakech through the decades. Exhibitions by famous Moroccan photographs are held regularly.
3. The Medina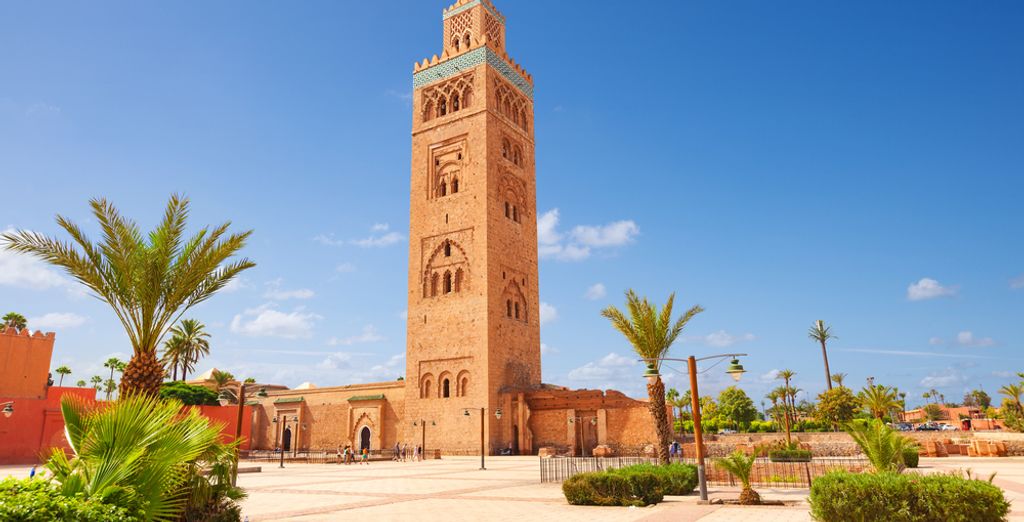 The old town part of Marrakech offers plenty of haggling opportunities. There are lots of small streets and archways, and it is easy to get lost in the souks if you are not careful. If this happens, take a deep breath and look for the signs, they are there, but discreet! Failing that, ask a shopkeeper to point you in the right direction.
4. Balloon Ride at Dawn
Enjoy a beautifully cool bird's eye view over the city and its surrounds in a bucket list balloon ride. Allow about four hours for the whole experience, of which one hour is flight time.
5. Koutoubia Mosque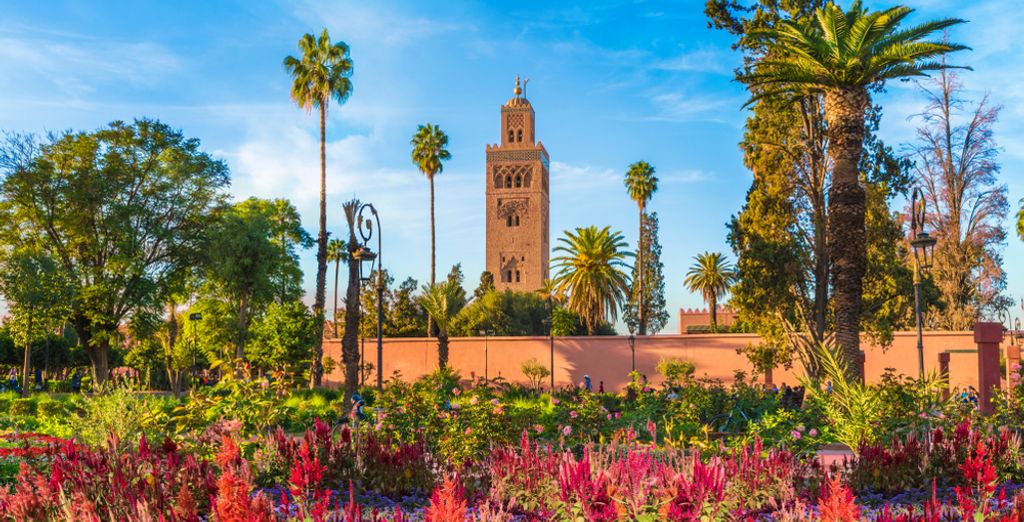 This ancient mosque is eye-catching, especially in a city where no building can be higher than a palm tree, according to an ancient law. Stretching about three times the height of a palm tree, the interior of the mosque is off limits if you are not Muslim, but you can admire and photograph the exterior of the beautiful building.
6. Saadian Tombs
The 'lost' resting place of Sultan Ahmed Al Mansour ed-Dahbi and 200 of his family and loved ones, this site was rediscovered in 1917 through an aerial photograph of the area. A tranquil place of reflection, it makes a worthwhile visit.
7. El Badi Palace
Built by Sultan Ahmed Al Mansour ed-Dahbi as mentioned above, this is a magnificent ruin – a state apparently predicted by the Sultan's jester when asked what he thought of the then newly built palace – that you can spend two or three hours exploring, even in its current dilapidated state.
8. Ouzoud Waterfalls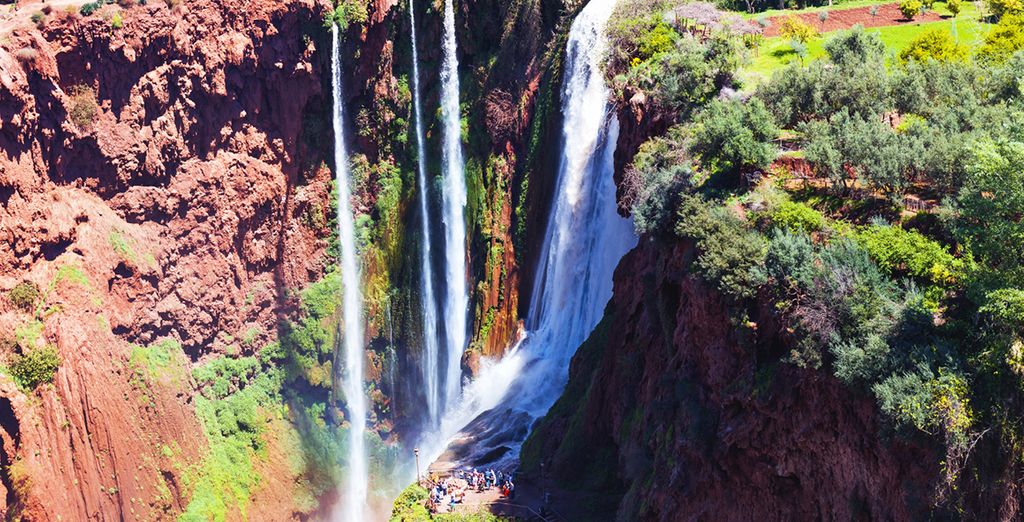 Take a day out from your Marrakech holiday to travel to the Ouzoud Waterfall. Two or three hour's drive to the north east of Marrakech , the falls mark the point when several rivers spill over the El-Abid River Gorge, creating a beautifully cool splash of greenery in the otherwise fairly relentless yellow-red of the desert. Plan to spend the whole day there as there is plenty to see and do in the area, before hitting the road to get back to Marrakech in time for a late dinner.
9. Enjoy a Hammam
A steam-filled room and a soapy scrub down followed by a refreshing and energising massage, a hammam is a great way to experience something a little different. Depending on the hammam, you may be expected to exfoliate and rinse yourself, or you may be treated to a pampering experience where you just lie there and enjoy the sensations of being taken care of for a while. Hammams are segregated by gender: you may be surprised to learn that the highly modest women who are covered from head to toe outside happily strip down to fully nude inside the hammam!
10. Visit a Riad
These are often run as bed and breakfasts, but the word means traditional Moroccan palace or home with a central interior garden or courtyard. The word 'riad' means garden, and probably hearkens back to a time when a home with a central garden or even fountain was a luxury or sign of success.
When to Go to Marrakech
Temperatures in summer can reach 45°C which is highly uncomfortable and can be lethal if you are not careful. In midwinter, temperatures are still around 25°C, which is pleasantly comfortable, making winter a favourable time to travel. The most rain will fall in winter, but this is still only 6 or 7 rain days per months, making it an acceptable trade off for burning heat.
How to Get There
Morocco is on the west coast of Africa, to the north of the continent, and lies on the coast. It is easily accessible by ferry from mainland Europe, and you can also drive your own vehicle, taking a ferry across the Strait of Gibraltar. Flying straight into Marrakech is probably the best option for most travellers, and all the major car hire firms are represented at the airport, ready to send you on your holiday without any delay.
Which Hotel to Choose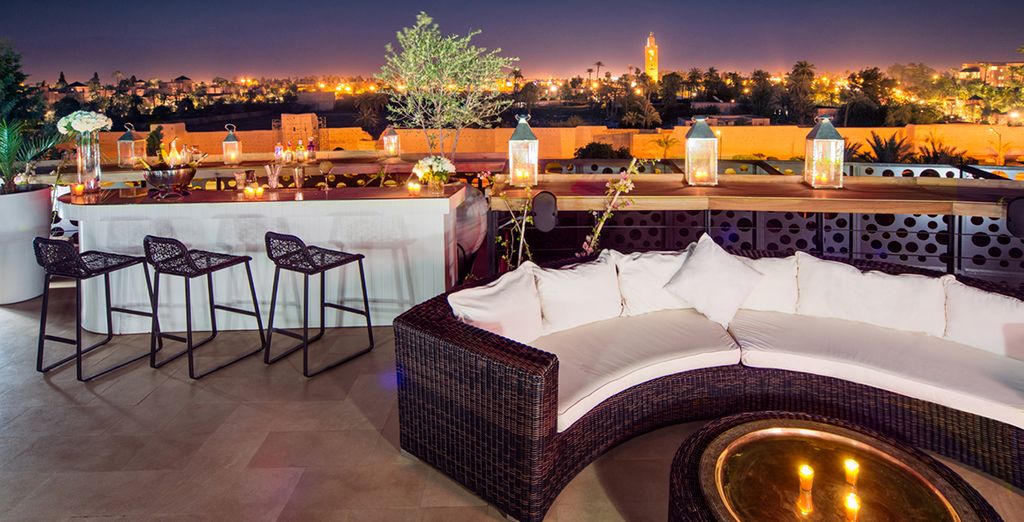 In the heart of bustling Marrakech , enjoy the delights of this ancient city even as you luxuriate in modern five-star comfort. Watch the glorious sunset from the cool of the rooftop pool terrace, pay a visit to the beauty salon, or work up even more of a sweat in the fitness centre. Silk, velvet and marble combine to create the most sumptuous rooms, and there is a wide array of eateries to choose from ranging from cordon bleu excellence to home spun Moroccan deliciousness.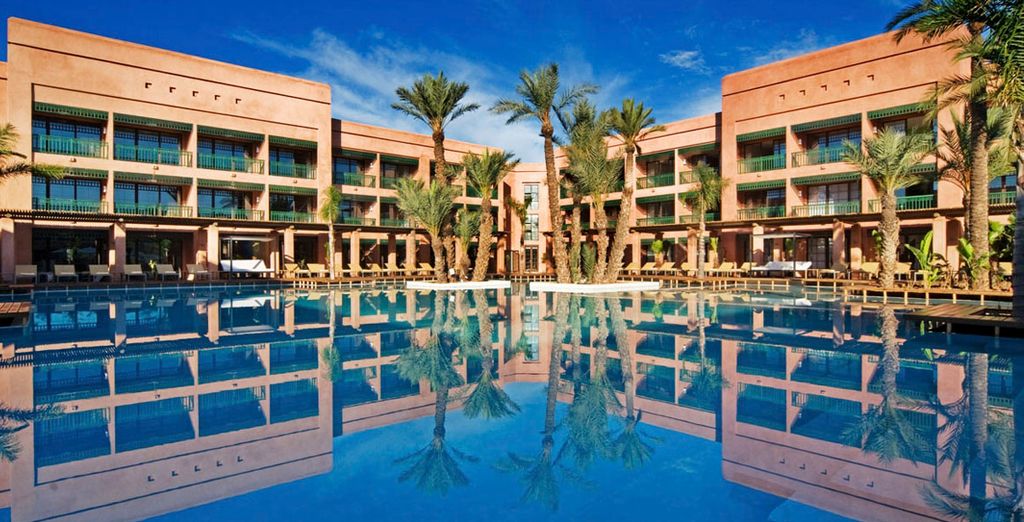 High ceilings, cool décor and a warm welcome can be found at this sumptuously modern hotel where your every need has been anticipated. Play golf on the nearby course, enjoy a luxurious hammam or a stint in the jacuzzi or the heated swimming pool, before choosing which of the fine array of restaurants you will be dining in today!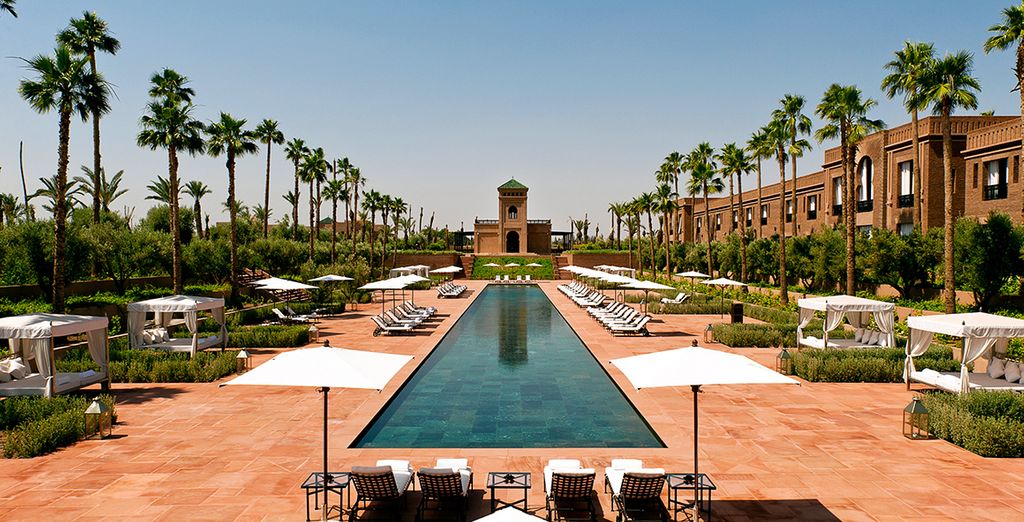 Just ten minutes from the heart of Marrakech you will feel as though you are in an Arabian legend, with a stable of purebred horses (who freely wander throughout the hotel!), three heated swimming pools, a coolly comfortable bedrooms that are elegantly decorated. While you may feel you have stepped back in time when you see the beautiful horses, green lush gardens and welcoming pools, you will still enjoy all the conveniences of modern life, cunning concealed but there when you need them!
Culture in Marrakech : Local Customs and Practice
Morocco is a Muslim country and there may be some gender segregation and an expectation of dressing modestly in some areas. Marrakech is a very popular tourist city, and tends to be a little more liberal, so you should be okay with your usual clothing. In general, if there is a price tag on an item for sale, you are expected to pay that price, but if there is no price you are free to haggle. Ask around about items that you very much like and set a reasonable price range in your head and then work towards that range, or expect to pay 50% or thereabouts of the vendor's original price. Do not expect timings to be fixed as there is something of a laissez-faire attitude towards appointments: patience is needed.
Immerse yourself in Berber culture in bustling Marrakesh
Whether you're haggling for crafts in the lively markets, or resting in the shade of fragrant jasmine in a quiet garden oasis, a holiday to Marrakesh is an unforgettable assault on the senses. Located in the south of Morocco, in sight of the snow-topped Atlas Mountains, Marrakesh is a former imperial city, and its illustrious past is evident everywhere you look, from the ancient city walls that circle the Medina (or old town) to the many spectacular palaces that grace the city.
Take a trip back in time
Entering the medieval old town is like stepping back centuries. Donkeys laden with goods walk the winding maze of car-less streets, the pungent tannery district processes hides in the way it has done for hundreds of years, and the call to prayer that sounds several times a day from Koutoubia Mosque is ancient and evocative. In the heart of the city is Djemma el-Fna, the medieval square where the spectacle of belly dancers, snake charmers, soothsayers, tooth pullers and storytellers has been played out since the city was founded in the 11th century. Come evening, the entertainment dissolves into the night and is replaced by a huge food market, where you can sample Moroccan stews called tagines, and aromatic mint tea while breathing in the intoxicating smoke and spices that fill the air.
Chill out in a tranquil garden
Beyond the city walls is the beautifully manicured, jewel-like garden Jardin Majorelle, home to huge cacti, twinkling fountains, vivid mosaics and shady bowers. Wander its two and a half acres along paths following pools and streams and watching the darting birds before ducking into the garden's Berber Museum, where you'll learn about the art, culture and history of this fascinating community.
For all its ancient history and Moorish charm, Marrakesh is a modern city, with luxury riads (hotels built around a central courtyard) boasting contemporary interiors and high-tech in-room gadgetry; cosmopolitan rooftop bars offering signature cocktails; and indulgent hammam spas where you can unwind with a body scrub and massage after a busy day's haggling.
Whether you're looking for an all-inclusive holiday to Marrakesh or a weekend getaway, our selection of luxury hotels are available at exceptional discounts. Sign up to the website to see all the available offers today.
The Map of Marrakech
Our Practical Advice for Marrakech holidays
Bear in mind that Morocco is a predominantly Muslim country, and quite apart from the dress and behaviour requirements, it runs on the Islamic calendar. Ensure that you have a good understanding of which days are which when planning between the two calendars!
What to Bring Back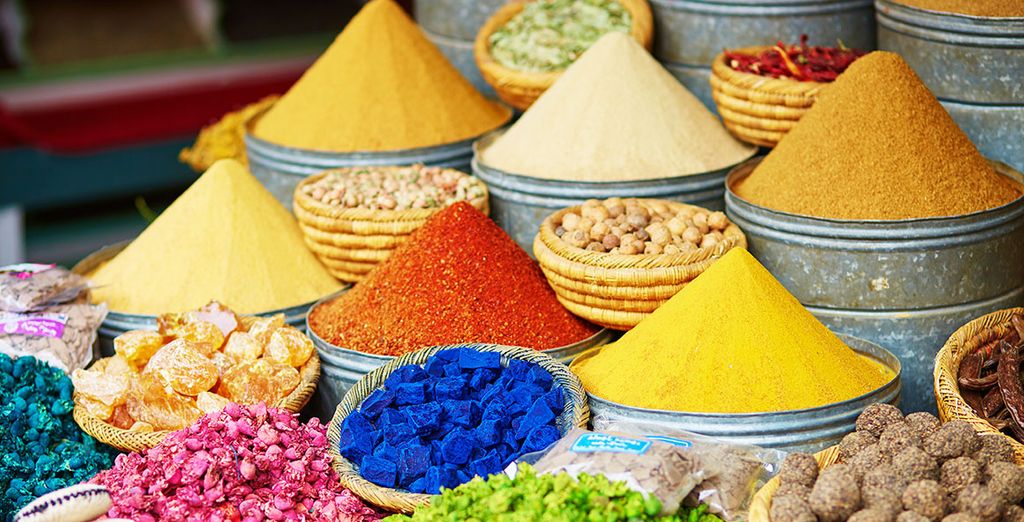 Leather goods are plentiful and fairly cheap in Marrakech , and most items will have been made by the vendors, so there will be big differences in styles, workmanship and more. Metalwork is also a popular skill and you can buy an ornate lantern, or a genie-style lamp. You can also buy herbs, spices and herbal medicines, and textile items like traditional clothing.
What Currency to Use
Bring cash with you, if you can, or travellers cheques, as ATMs can be hit and miss, and few and far between besides. While most restaurants accept card payments, informal traders require cash, preferably the local dirham but euros are widely accepted too.
What Language is Spoken in Marrakech
Arabic and Amazigh (the Berber language) are the official languages of Morocco. These and French are the most commonly spoken languages with a little bit of English too. Most international hotels will have a good grasp of English.
How to Get Around Marrakech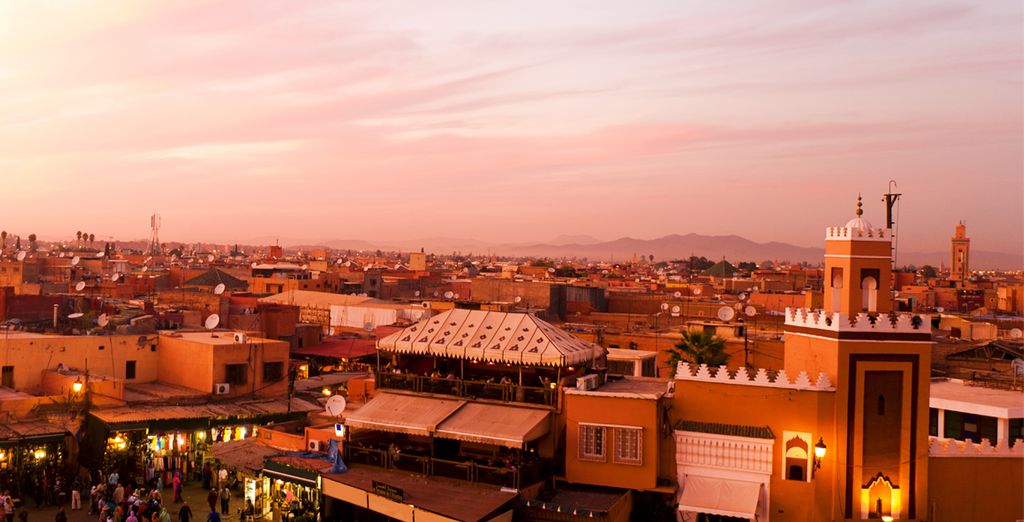 Buses are common and ply routes covering many areas of the city, but they can become very crowded. Taxis are readily available too, but be wary of scams and always try to lay down a price before committing to travelling. You can also hire a bicycle or take a horse-drawn carriage about.
What to Pack for your Marrakech holidays
Take sun screen and apply it rigorously, and use sunglasses to protect your eyes from the glare. Clothing, as discussed elsewhere, should be modest, but can be casual.
How Long to Stay
You can do Marrakech in as little as three days, but to enjoy the full flavour of the city, consider taking up to two weeks.
How to Travel with a Pet
You can bring you pet into Morocco, but there are some fairly stringent regulations that must be adhered to, so be sure to read up and ask your vet to help make sure that you are fully compliant to avoid any issues. Cats are widely tolerated throughout the city, and often scraps of food and bowls of water will be put out for them.
What Budget to Plan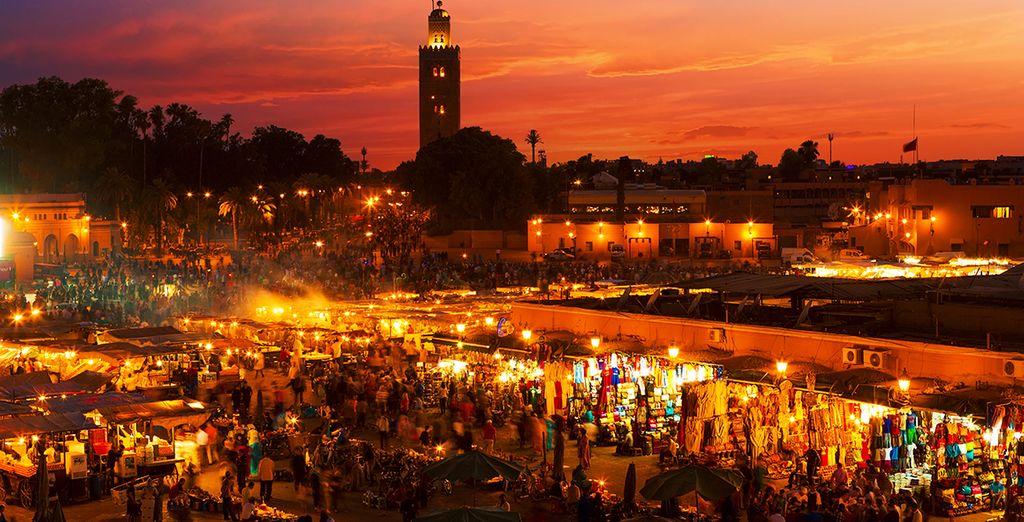 Marrakech tends to be a very reasonable city to visit, and allowing around fifty euros per person per day will probably be enough to guarantee you a good holiday. If you want to enjoy a more luxurious holiday, adjust your budget upwards.
Environment
The tap water isn't great, so avoid drinking it, take a travel bottle with you and refill it when you know the water is okay.
Practical Advice for Travelling in Marrakech
Alcohol is provided in tourist areas like pubs and hotels, but it is strictly prohibited elsewhere. Do not be tempted to try drinking public, or even while visible to the public from a private balcony. Public displays of affection are frowned upon – while you may notice many men holding hands, this is purely platonic and accepted. Dress can be a relaxed affair and you can wear shorts fairly freely. However, this may make some locals uncomfortable and it might be politic to dress more modestly outside of the hotel grounds. Strangers offering you unsolicited advice may have an ulterior motive – get directions from your hotel whenever possible and stick to those. Otherwise you may find yourself lost, at a stranger's mercy and expected to pay a hefty 'guide' fee to get back to familiar ground.
Discover more travel to Marrakech: sun holidays, last minute, short break, weekends, stays.