City Break in Venice
Known as the Floating City, Venice has been a popular tourist destination for over two hundred years with poets, artists and aristocrats visiting to marvel at the city, built on over 100 hundred islands and now tragically at risk of being lost to rising sea levels. However, the city persists, and tourists still flood to admire the more than 400 bridges, canals, wide squares and piazzas, and the wealth of fabulous artwork to be seen in the various museums and galleries in the city.
Discover all our City Break Deals and our European City Breaks !
City Break in Venice : Five Things to See and Do
1. Go to the Opera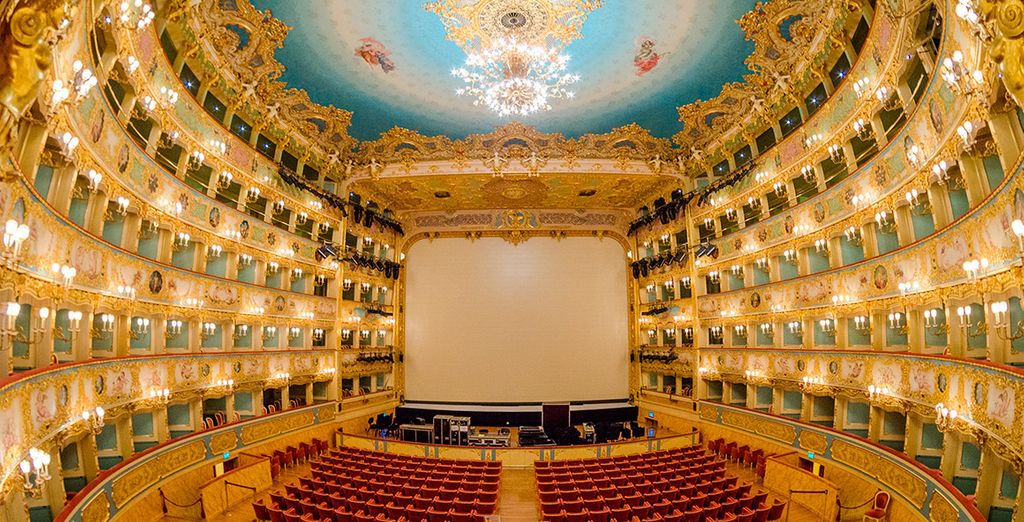 Opera is seen as something of a posh pastime, but in fact it is high theatre at its grandest. Venice is home to not one but two opera venues: Teatro La Fenice, restored to its original sumptuousness after a devastating fire, and the only marginally less grand Teatro Malibran. If all that intensity, high notes and melodramatic passion are not for you, you can still tour Teatro La Fenice for a small fee: tickets for admission only are just over €10, while performances can cost well over €100. Whether you just explore the building, enjoy a guided tour, or go the whole hog and attend a performance, sinking into a world of red velvet and the golden glitter of the stage will whisk you away to another world.
2. Art, Art, Art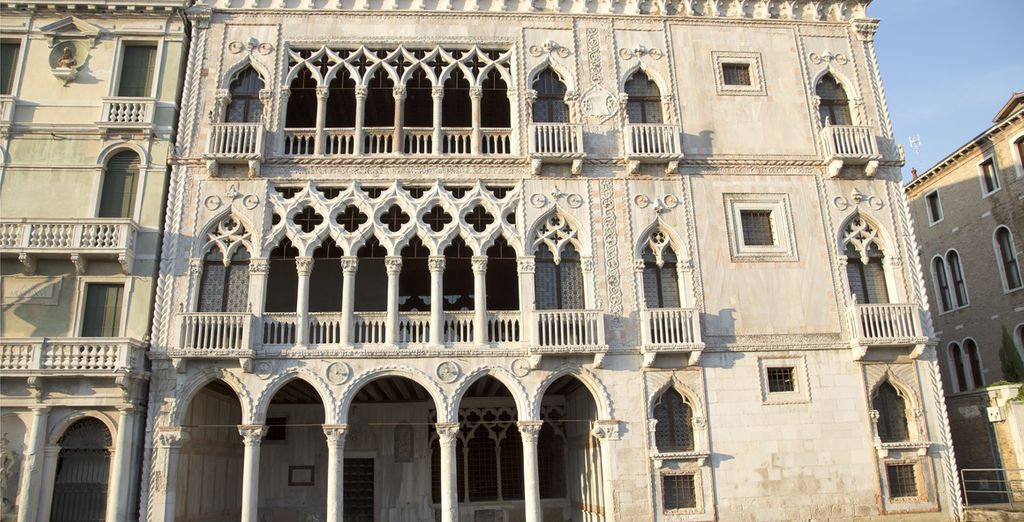 Perhaps a little sadly, Venice clings to her past, and while this can past a melancholic nostalgia over the city, it is fantastic for historians and art lovers who can visit palazzos, museums, galleries and Doge's palaces to see what the exquisite city was like in its heyday. Just some sites to choose between: Madonna Del'Orto (a church at which the artist Tintoretto is buried and many of his canvases can be viewed); the palazzo Ca'd'Oro or Palazzo Santa Sofia (packed with the original owner's extensive and glorious art collection); Museo Storico Navale (a celebration of the Venetian Navy's glory days, when the city was a formidable power on the high seas – your entry will include access to the Padiglione delle Navi, which is a collection of historic boats and ships can be viewed), and the Murano Glass Museum (where you can learn about the celebrated Venetian glass that made the city famous on an almost global scale).
3. Grand Canal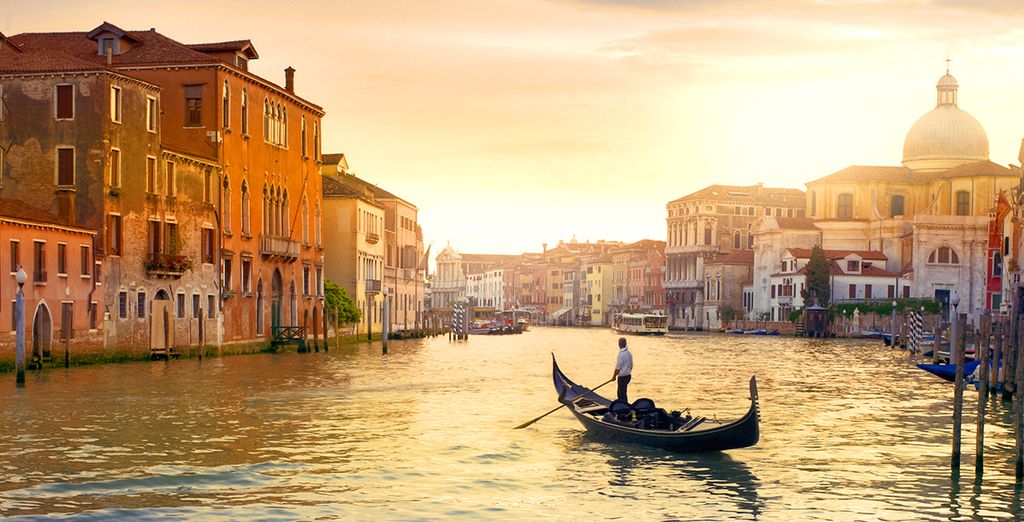 Curving leisurely through the city and lined with ancient palazzos, the Grand Canal ranges from between 100 to 350 feet wide; 175 feet is the usual width. It is four kilometres long and has an average depth of five metres – plenty for most river boats and barges, and in the past, able to allow the passage of ships weighing up to 400 tons. The canal can be said to be Venice's main thoroughfare. Because of its location, leading from the lagoon to the sea (and vice versa!) the canal is subject to tides, changing the direction of its flow every six hours and 12 minutes. Because of its width, there are only four bridges crossing the Gran Canal, each built in different styles in different times. The canal is home to a lot of boat traffic, from vendors to romantic gondolas to tourist-filled water buses and even some private traffic. Many festivals are celebrated on and around the water, and it canal is the central artery of the city: vibrant and alive – well worth cruising along to see all the sights.
4. Learn to Make Perfume!
Venice was skilled at many things: glass, trade and more, and there was a lot of money in perfume in the days when travel was a lengthy and time consuming process, and rare ingredients were more valuable than gold and gemstones. See the fashions of the time as you learn how to mix perfumes to achieve the right fragrance and how to fix them so they do not separate out again with a two-hour course at the Palazzo Mocenigo.
5. Enjoy St Marks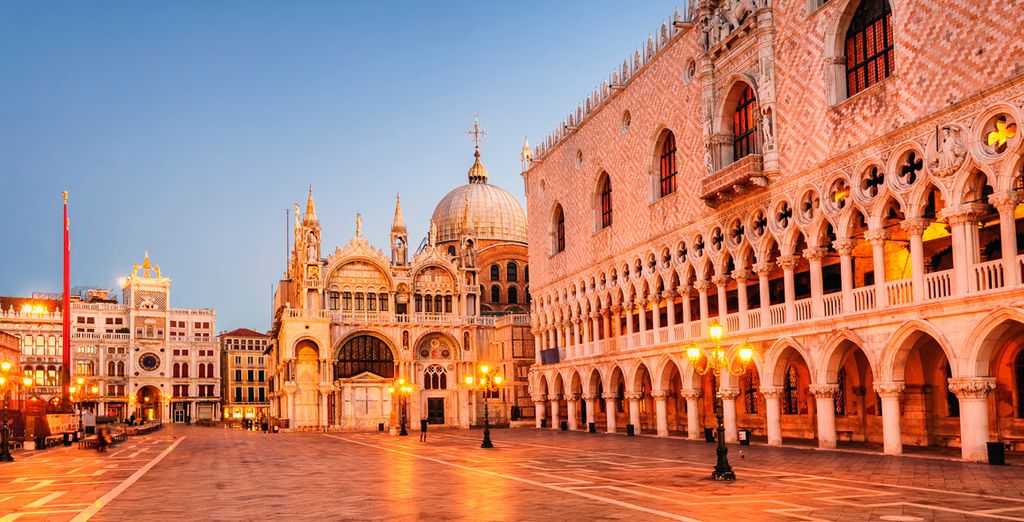 This is a double win: St Marks Square is bordered on one side by St Marks Basilica and both are wonderful venues for your to-see list. The Basilica does not look like any other Christian church seeming to resemble a mosque, Moorish palace or Arabian castle more than anything else. Domes, gilt and ornate decoration make it a fascinating place to wander around in admiration. For a small fee you can admire the treasury and the chancel and Pala'D'Ora – although your conscience may not be entirely happy about the way those treasures were acquired! The square is an immense expanse, bordered by wonderful shops, cafes and more, with the freestanding bell-tower the only edifice on the square itself. You can ascend the tower – in a lift, unusually for old towers – and from there enjoy 360° views over the city and out to sea.
The Best Hotels for a City Break in Venice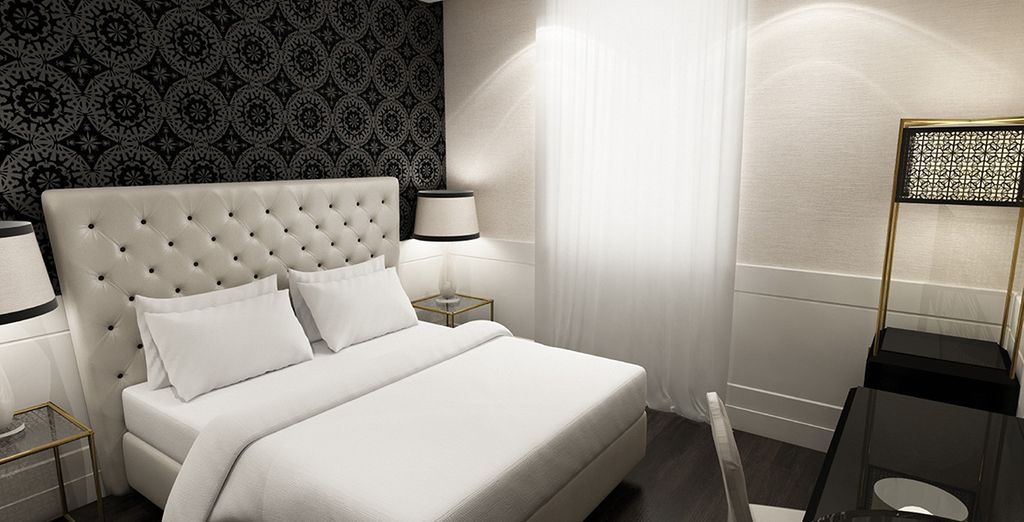 No more than half an hour's walk from the major sights of Venice, this hotel is bright and spacious, beautifully decorated and inviting. You will be charmed by the décor even as the staff and the welcome make you feel at home with fresh food, comfortable beds and plenty of social spaces where you can relax and meet other guests.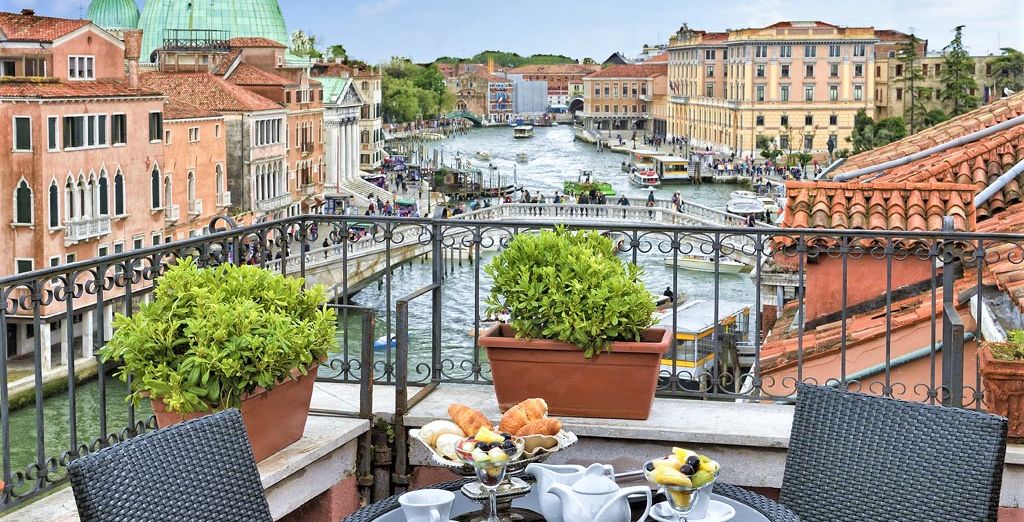 For a glimpse of old-fashioned Venetian charm and comfort, this hotel is the perfect destination: the furniture is antique and the décor classically Venetian. It is ideally situated on the Grand Canal with easy access to St Mark's Square and close to both the train station and the ferries to Rialto and onwards, and even has a private water taxi point so you can come and go as you like.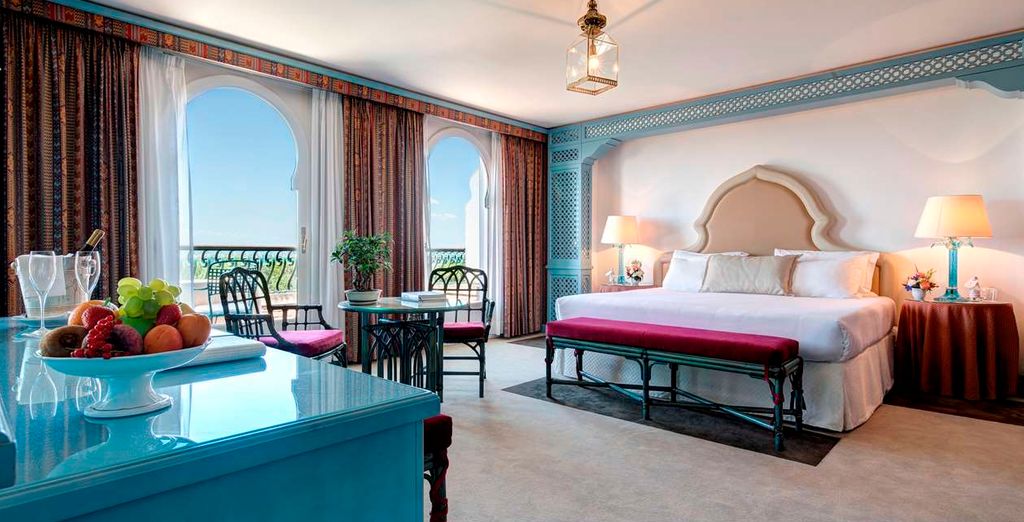 A private beach, exotic Moorish architecture, two restaurants and two bars, all showcase the perfect getaway experience for a relaxing city break. The hotel sits on the Adriatic coast, offering breath-taking ocean views and cityscapes. So beautiful is the hotel that it was chosen as the venue of the Venice Film Festival, an honour it has held since 1932.
Plan your City Break in Venice
There is so much to see and do in Venice that you must manage your expectations and come up with a reasonable and modest itinerary. Consult each place online before you go, and see if you need to book tickets and if there are ways to avoid the queues so none of your time is wasted. Bear in mind that large cruise ships come into the city at set times, filling the streets and piazzas (and the gondolas and water taxis too, for that matter!) with hordes of tourists anxious to experience Venice in the few short hours that they are there.
The best time of the year to go to Venice
April to May and September to October are good times to visit Venice. The big cruise season is over or has not yet begun again, and the weather is pleasantly warm. From October until January, the water levels rise, although flooding can occur at any time of the year.
Getting to and around Venice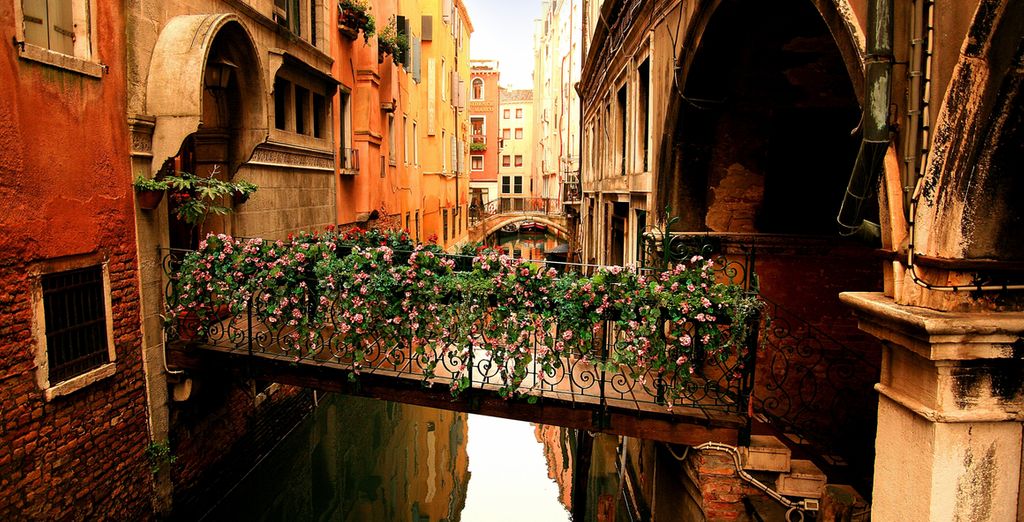 There are water-buses that are reasonably priced, water-taxis that are a bit more expensive and gondolas that are, being an experience in themselves, fairly pricy. You can walk around most of the sights: usually everything lies within half an hour or so of St Mark's Square, much of it a good deal closer, and there are plenty of walkways and bridges that allow for this.
While Venice itself seems too small to have an airport, in fact it boasts an international airport! Venice Marco Polo Airport is just a few miles from the heart of the city, on the mainline and lying along the coast – it is the fourth busiest airport in Italy. If you are driving or want to avoid flying, you can drive most of the way, or arrive by train.
Where to Eat? The best districts and restaurants
In Venice the food is almost uniformly very expensive: but it is all of excellent quality. There are many cafes and restaurants, catering to all tastes and preferences, scattered widely through the city.
Nightlife in Venice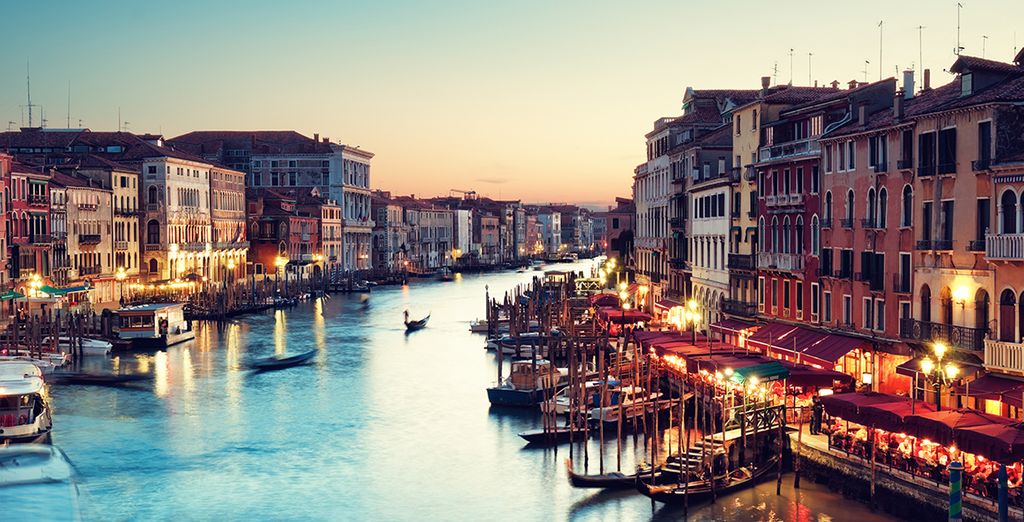 You will not find much in the way of techno-electro-punk in Venice, but there are cocktail bars, jazz performances, and various pubs and clubs. Barcaro Jazz is rated highly by visitors, offering great cocktails and professional jazz musicians. For traditional clubbing, even Venetians head to the mainland.
Our Practical Advice for a Venice City Break
Do not just confine yourself to the centre of the city, head out to the outlying areas too. There are many fascinating features to see – the quarantine islands are interesting if a little grisly – and you will find a bit of space away from the crowds. Another good tip to avoid the crowds and get some amazing photos is to get up early and explore while everyone else is still in bed – a few hours can make the difference between an empty piazza and one so crowded that you cannot see the ground!
What to Pack for a City Break in Venice?
Venice is a very stylish city so bring along some nice outfits if you want to see and be seen in the best places! Aside from that, it can rain at any time, so bring along an umbrella or raincoat so your nice clothes will not be ruined. The city is quite noisy and it can seem that it is just as busy at midnight as at mid-day: if you are a light sleeper, you might want to bring along some earplugs. Mosquitos are drawn to water, so repellent is a good idea – they are not always around, but even one mosquito biting you can be a trial
What budget to plan?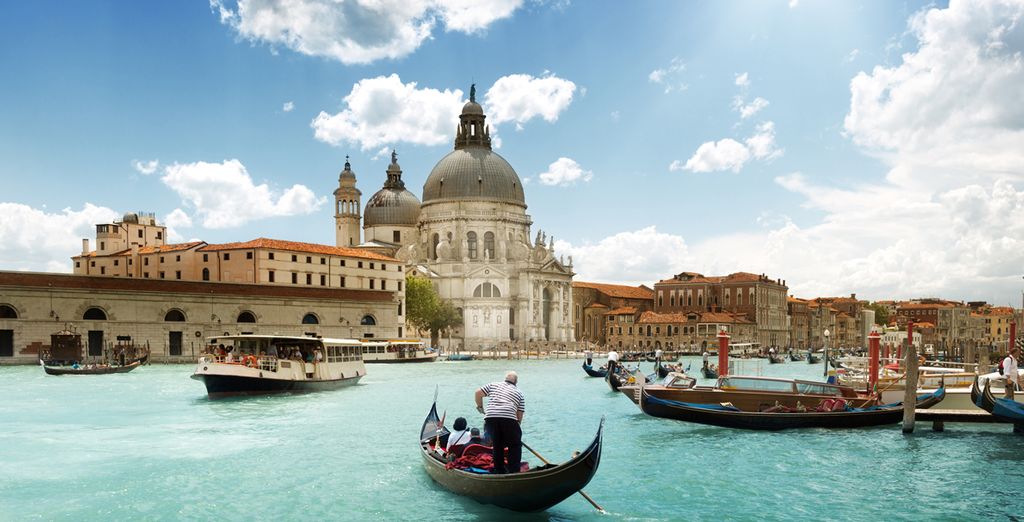 Venice is one of the more expensive destinations – and in peak season prices shoot up unashamedly as hotel owners, restauranteurs, and vendors all aim to make enough profit to see them through the lean winter months – so a budget of around €100 per person per day is recommended.
Useful information before going to Venice
Do take in the most famous sights, they are famous for a reason. As well as those mentioned above, the Bridge of Sighs is a worthy destination, and do try and sample the gelato – it is world class! The original language spoken in Venice is not Italian, it is actually Venetian which is closer to Spanish and French than it is to Italian and it is still spoken by some residents. However, the official language is Italian, and many people in the tourist trade also speak reasonable English.