The TOP 5 hotels in Isles of Scilly



Table of contents
Escape to one of the UK's most treasured beach destinations with Isles of Scilly hotels. Take your pick from gorgeous waterfront hotels and tranquil island retreats through Voyage Privé!
Our best hotels in Isles of Scilly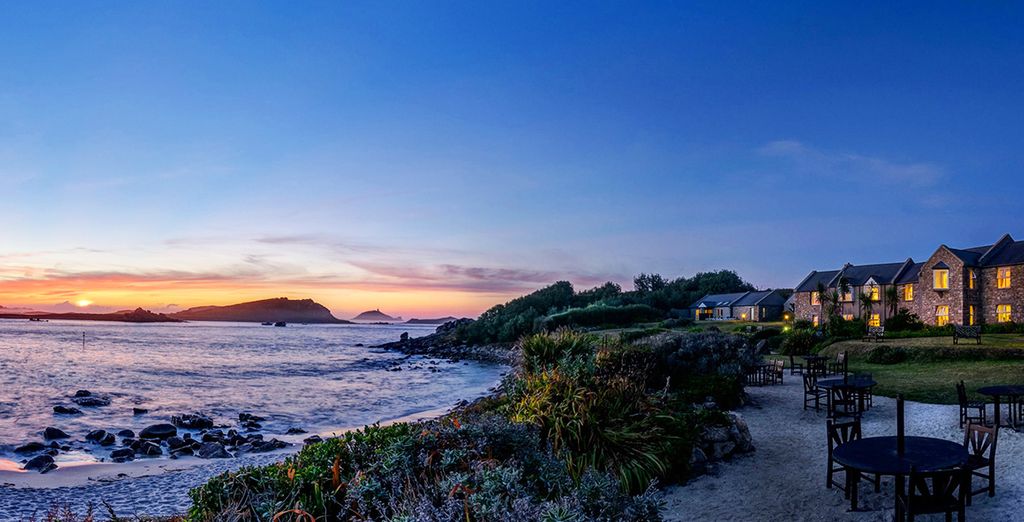 Enjoy morning sea views and quiet trails down to sandy shores at Karma St Martin's. The hotel exudes an attractive nautical charm, with welcoming bars and cool, blue interiors. Indulgent spas and an ocean-sourced restaurant provide luxury for guests in one of the UK's top beach destinations.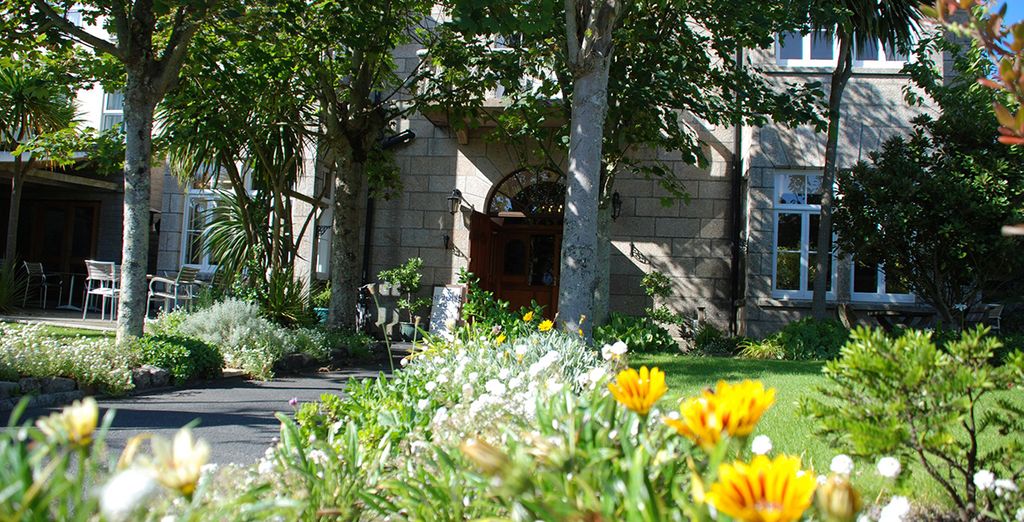 St Mary's Hall is a delightful waterfront hotel surrounded by pretty gardens and sand-strewn trails. Rooms contain plush bedding and fine Egyptian cotton, which pairs perfectly with the surrounding sea air. Enjoy fabulous dinners sourced from local farms and the bountiful waters around you.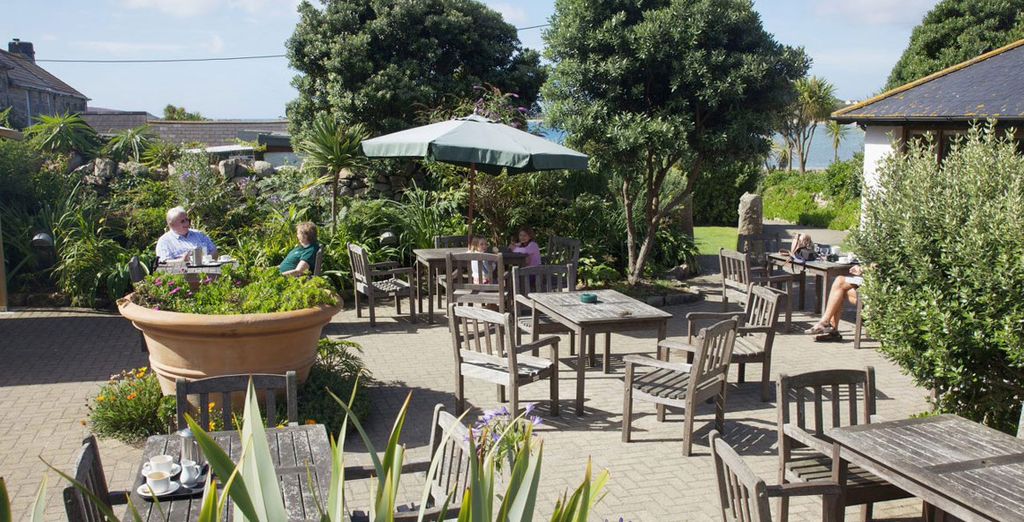 This beautiful coastal hotel is the beating heart of Tresco. You'll find a welcoming, traditional pub, cosy sea-view rooms and an inviting lounge to relax in. Winner of multiple awards, there are plenty of activities in the vicinity, from heated swimming to direct beach cycling trails.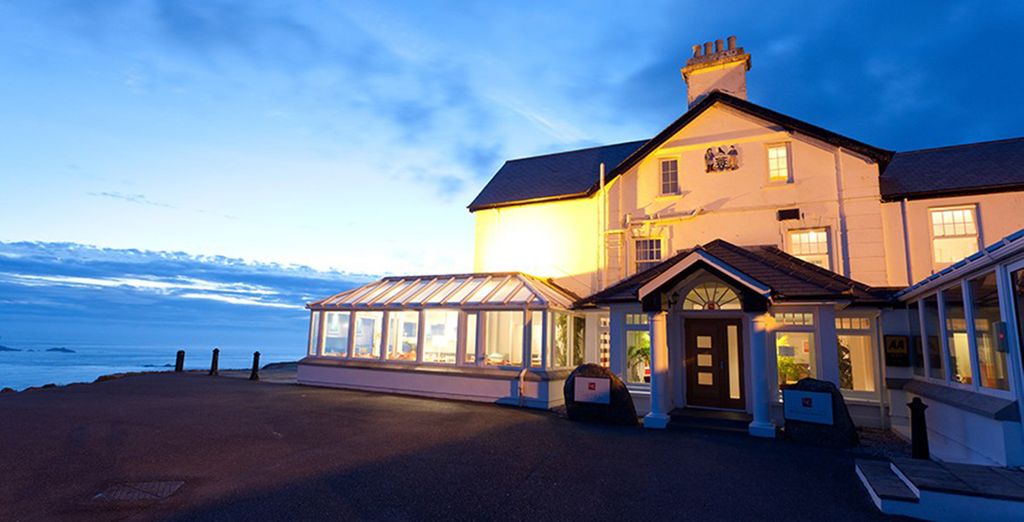 Enjoy day trips to the Isles of Scilly from the southwestern reaches of Cornwall. This breathtaking coastal hotel offers stunning sea views from all corner of its charming grounds. Guests have access to a delightful waterfront restaurant that provides a fine selection of Cornish classics.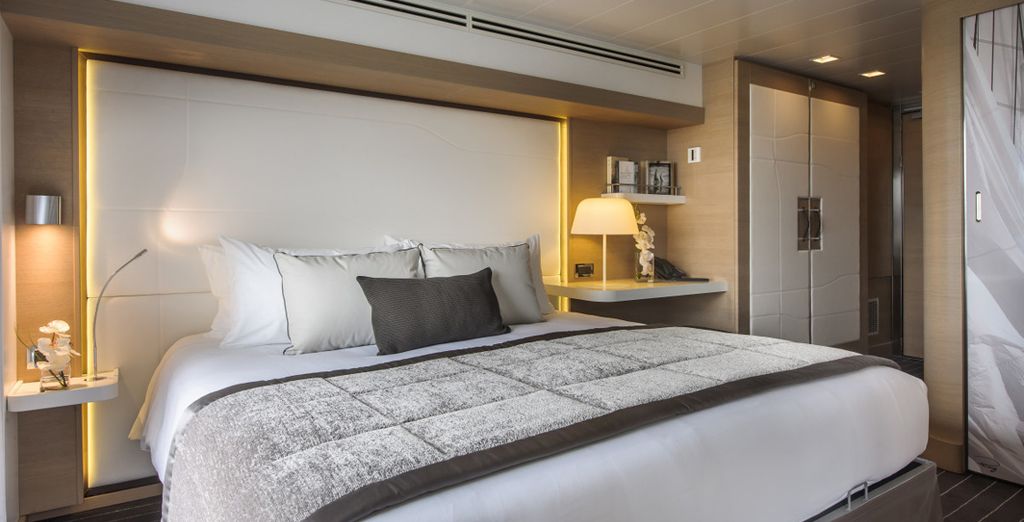 Experience a different side of the Isles of Scilly with this captivating cruise. Departing from Dublin, you'll visit many of the British Isles' most remote and breathtaking sites. Your cruise features delightful French-inspired furnishings and first-rate food among daily adventures in choice locations around Scilly.
Services will you find in our hotels in Isles of Scilly
Free Wi-Fi
Tea and coffee-making facilities
Flatscreen TVs
Luxury bathroom amenities
Excellent dining options
Cosy bar and lounge
Pretty gardens
Swimming pool and spa
Sea-view rooms
Going on holiday in Isles of Scilly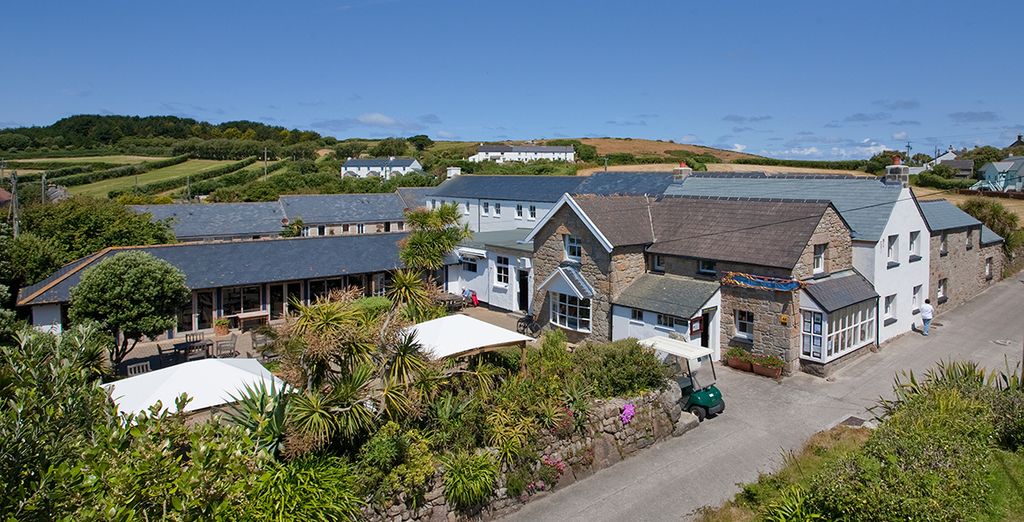 Scilly is most pleasant from May until September when the weather is warm and the islands lively. Perfect for sailing, bathing and lounging, the summer months, in particular, are ideal for swimming. Crowds are never usually an issue here, but prices do rise in the high season; other fine times to visit include Easter and October half-term. While winter can be equally stunning, services are greatly reduced. It's a quieter time that's perfect for pub visits and windswept walks – just don't expect the same warming waters. Star-gazers will find much to cherish too on these isolated and unspoilt islands.
Hotel offers at Isles of Scilly convenient for all kind of travel
Romantic, secluded, peaceful and adventurous, the Isles of Scilly are suited for many travellers. Most of all, the romantic sea-view offerings provide much needed 'we time' for couples. Enjoy long walks on the beach and time together to watch the evening sky. More adventurous groups and holidaymakers will find fine walking and sailing excursions. These include visits to private beaches and wine tasting on the seashore. Families will be fascinated too by the archipelago's rich history and alluring features. Highlights include seal spotting, snorkelling and kayaking.
The range of hotels we offer at Isles of Scilly
Seafront hotels
Cruise ships
Cosy cottages
Spa hotels
Isles of Scilly: what should we bring for a hotel stay?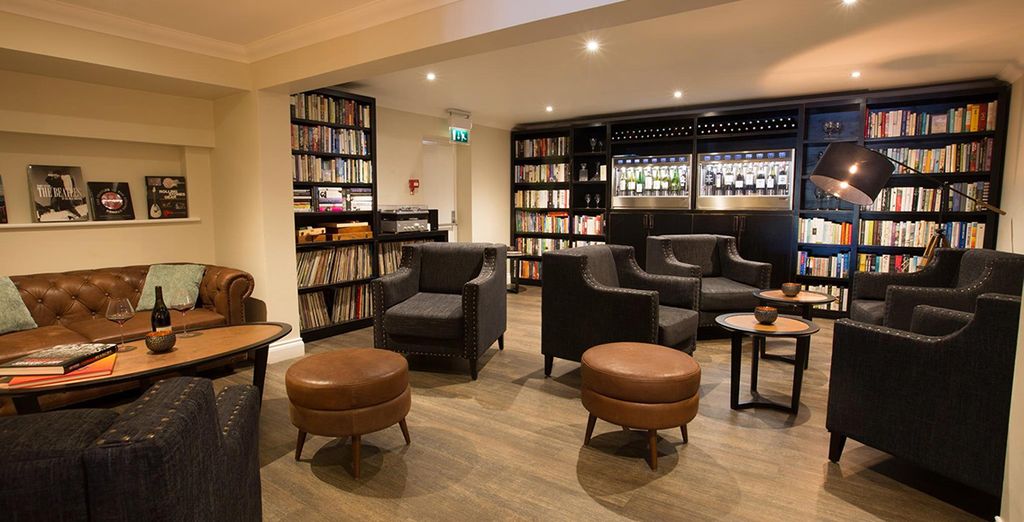 Charging cables
Guide book
Comfortable walking shoes
Breathable walking clothes
Pack-away towel
Evening attire
Sun lotion
Swimming costume
All-weather clothing/umbrella
Your best hotel in Isles of Scilly: how to get there and make your booking
How to get to Isles of Scilly
The Isles of Scilly are easily accessible from Cornwall by air, with longer visits possible by boat. This is a small archipelago, so boat, foot and cycle are your best means of exploring. St Mary's is the largest island that provides efficient ferry links to smaller islands like Tresco, Bryher and St Martins. In terms of overseas arrival, the best points of departure are Land's End, Penzance and Newquay. All provide airborne connections to St Mary's.
How to book your hotel in Isles of Scilly
Discover spectacular savings on Isles of Scilly hotels here at Voyage Privé. Voyage Privé is an exclusive, members-only booking platform that offers unique handpicked hotels at extraordinary rates. Registration is completely free, after which you'll gain access to unmissable deals. To get started, sign up and type in your travel dates for a full breakdown of available offers. You'll find everything from simple overnight offers to exceptional package holiday deals. We've got everything from cosy seafront hotels to full-blown cruises here to book today.
The opinion of the Voyage Privé travel expert on Isles of Scilly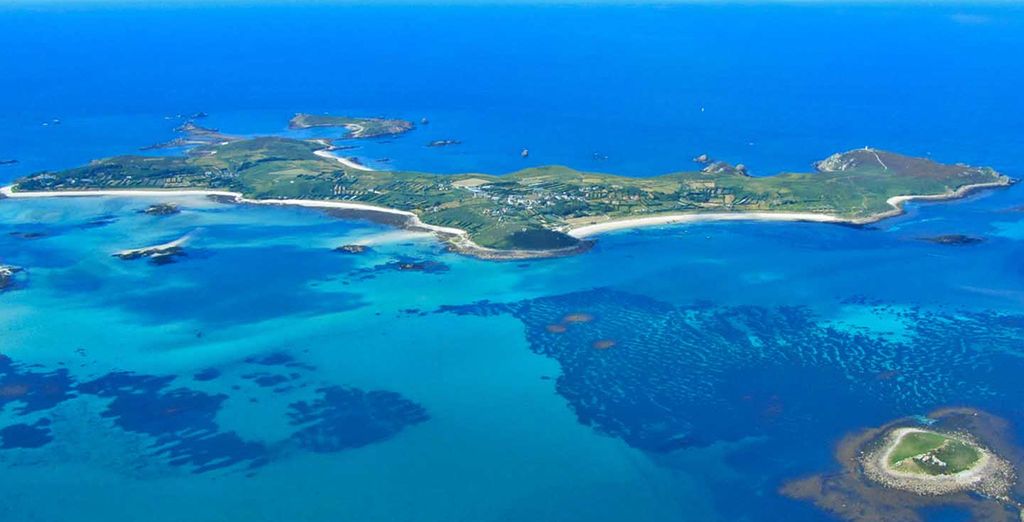 Just 28 miles from mainland England, the Isles of Scilly are like another world. There are over 100 islands here to visit and explore, although only 5 are inhabited. A holiday here is an escape from it all. Fine sandy beaches, wide-open skies and a laidback feel await. Our Scilly hotels are renowned for their individual character, offering unique and welcoming respites from the modern world. Among the best qualities here is silence; no cars, no industry – just lapping waves.
Isles of Scilly – enjoy a fascinating island history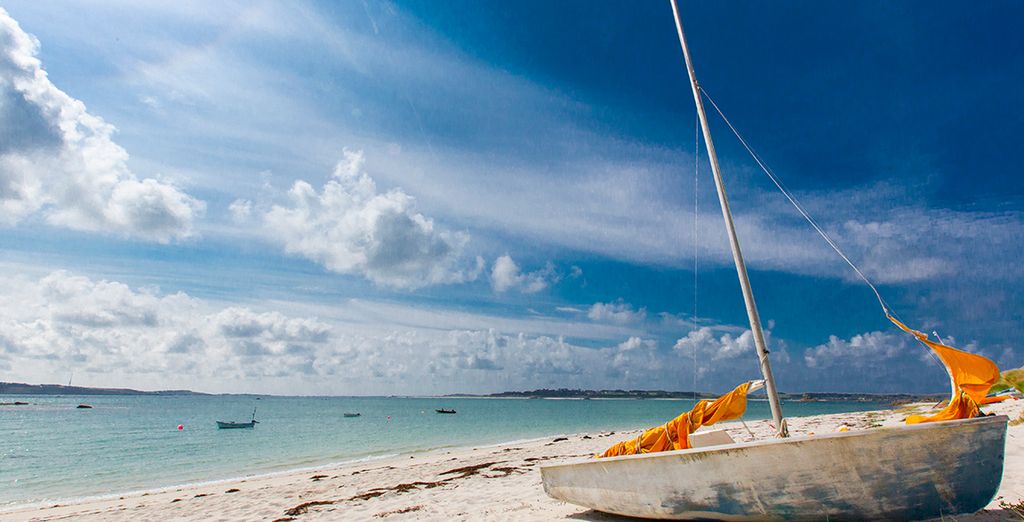 While the solitude and beaches are immensely appealing, Scilly is also bursting with history. Neolithic chamber tombs like Bant's Carn near Halangy Down offer a glimpse into the life of Iron Age islanders. Later in history, explore Cromwell's Castle on Tresco, a 17th-century fort from the English Civil War. Enjoy a deep dive into the archipelago's history at the Isles of Scilly Museum on St Mary's.