Machu Picchu Tours Packages
It's time to discover some breathtaking scenery 🌄 With our Machu Picchu Tours you will discover one of the best wonders of the world ! ⭐.
Why should you book a tour to Machu Picchu?
There are few feelings quite like the pride and awe you experience when looking out across the spectacular sight of Machu Picchu. Striking, towering mountainside emblazoned by the Incas' stunning infrastructure provides a blend of nature and human innovation that's unrivalled across the planet. There really is nothing on this Earth quite like it.
If your passion is hiking, treks or snapping the perfect photo for Instagram, Machu Picchu needs to be elevated to the top of your bucket list. But even if none of those are particularly to your liking, the breathtaking scenery makes it a must-see for everyone.
The Voyage Prive travel expert's opinion on tours to Machu Picchu
Few natural wonders of the world are so accessible for people of all ages: kids, families, couples and elderly people can make the trek up to the apex of Peru's greatest attraction. There are tours of varying length and hiking time, so keen hikers can embark on a four-day arduous journey, whilst those lacking in fitness can take a coach to the top. No matter how you get there, whether you trekked from Hidroelectrica or got the bus from Cusco, one thing remains the same - the view from the top is always worth the journey. You'll want to enjoy every minute whilst you're up there, so make sure you wear comfortable shoes and warm clothing.
Pack plenty of water for your journey, whether you're walking or travelling via coach - the ruins are so huge that traversing across all of it exhausts a lot of time and energy. Don't worry if you're a little short on food and drink, however, there are plenty of savvy, local entrepreneurs selling bottled water and refreshing orange juice on your way up the steps. There's also a cafe and shop just before you reach the main entrance, allowing you a final chance to refuel before entering the mesmerising magic of the winding walls and paths. Be warned though, the eateries before the entrance can be a little pricey, especially in comparison to the average price of a meal in Peru, so it's best to pack some snacks before you set off.
Top things to see/do at Machu Picchu
1) Temple of the Sun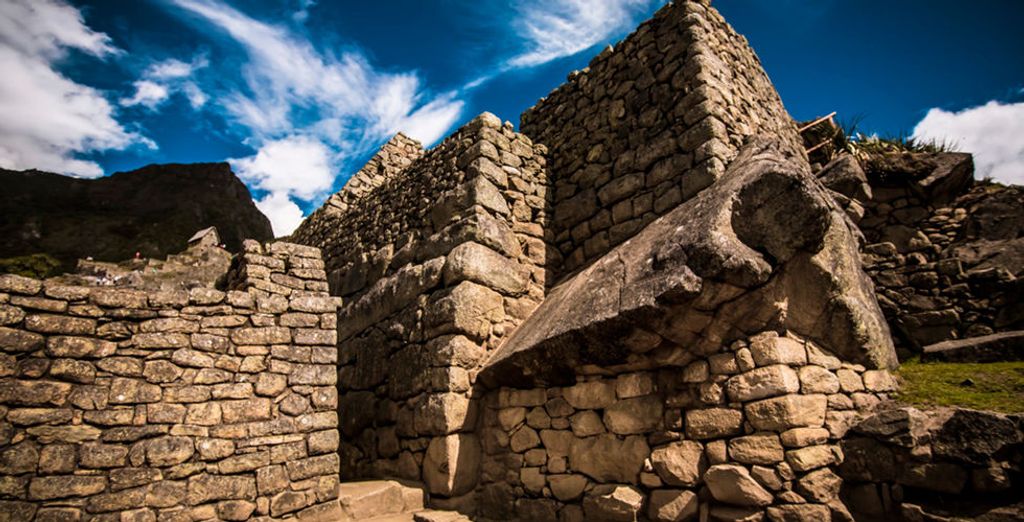 Machu Picchu is drenched in incredible architecture and design, showcasing unorthodox and unique structures from every angle. The Temple of the Sun is possibly the jewel in its crown, demonstrating some of the finest stonework across the ruins. It's one of the first spots archaeology and history buffs strive to see.
2) A selfie with a llama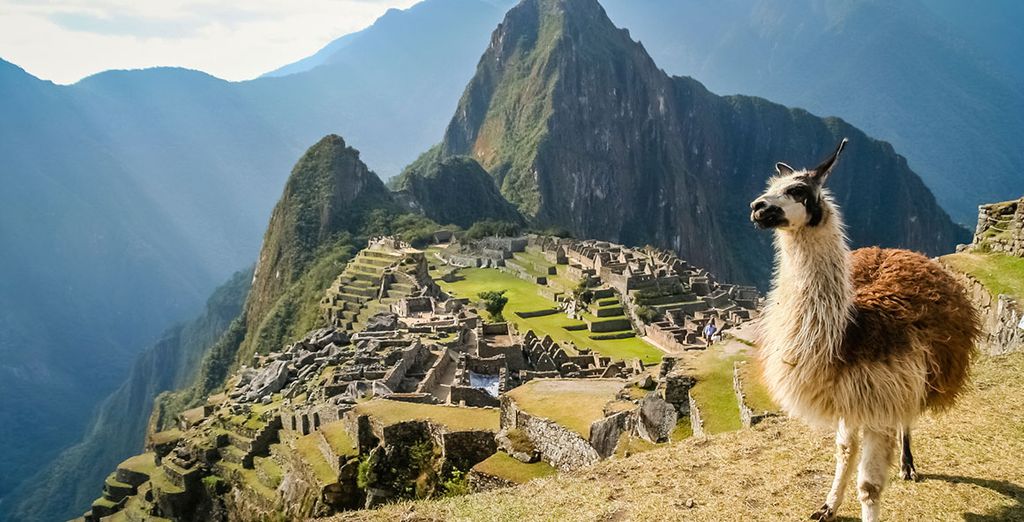 Whilst many great armies and tribes were travelling or transporting goods with donkeys, the Incas opted for a more unique approach: llamas were their animal of choice, and you can still see plenty of them dotted around Machu Picchu to this day. Of course, you can't get too close to them, but you can snap a few photos for your collection.
3) The Inca Bridge
Admire the originality of the Inca Bridge, sewn together by tree trunks to negate eroded gaps in the structure. The narrow and compact nature of the bridge makes it a nightmare for those scared of heights, luckily you can just bask in the innovation of it instead of walking its path.
4) The Prison Group
Life was pretty good for the Incas, but not so good for those that they imprisoned. Have a look at where the prisoners were kept and the conditions of their stay, typically in large holes with cell doors. Enjoy the creative carvings surrounding the prison cells to bring a bit of light relief.
5) Explore Aguas Calientes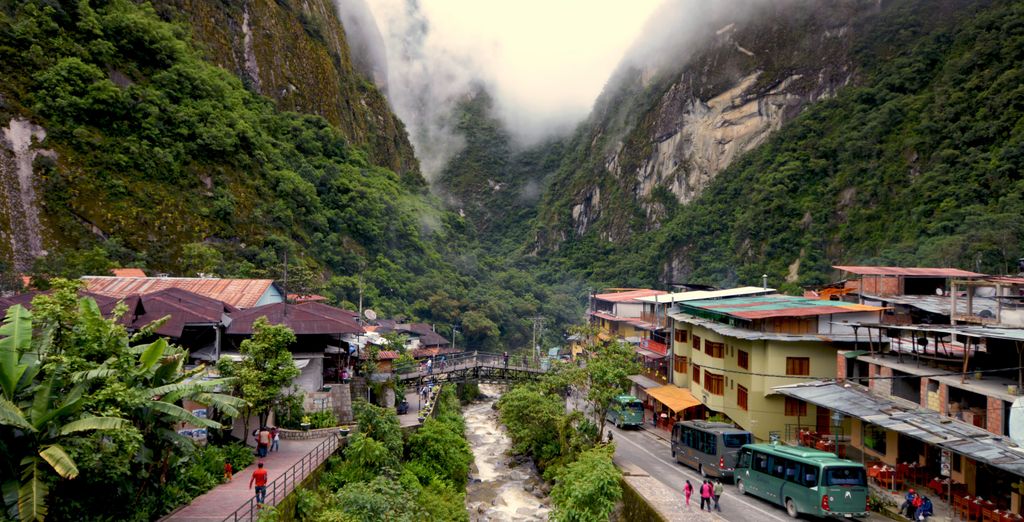 The town surrounding Machu Picchu doesn't often get the recognition it deserves. However, Aguas Calientes is adorned by several fine restaurants, shops and cafes. The whole town embodies a special ambience, as excited travellers give the town a vibrant energy which brings it to life.
Where to stay on a Machu Picchu tour? The right private travel plan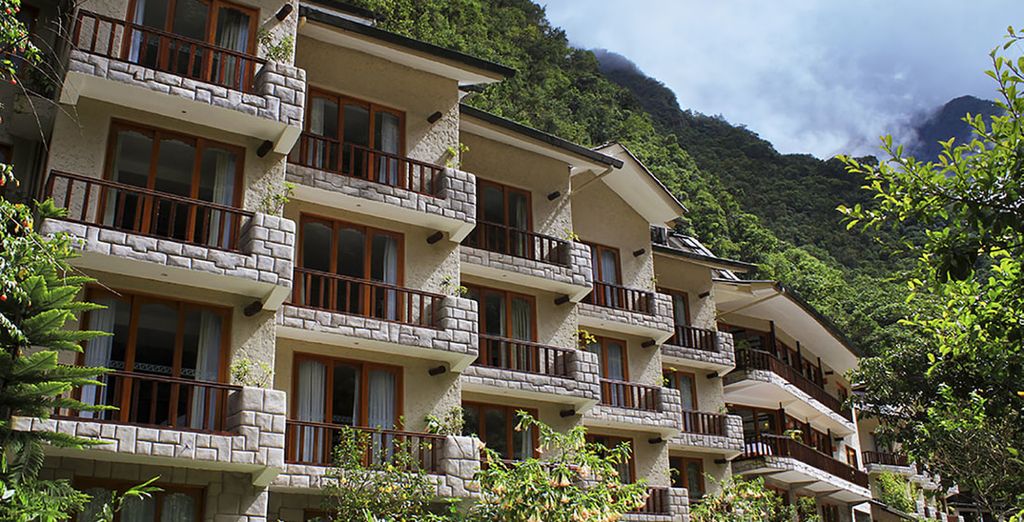 Sumaq Machu Picchu Hotel is the standout hotel in the area, offering professional service, deluxe facilities and the chance to sample some of the best cuisine in Peru. Have a look for deals to get money off your stay so you can buy an extra souvenir or two for the family back home.
Practical information about Machu Picchu
What is the weather like at Machu Picchu?
Most people choose to visit the ancient wonder from May to September - the driest and coolest months of the region. It can get quite cold and humid at the top, so bringing a few layers is paramount. The warmer months of December to March can make for the most rewarding hike, though the lack of oxygen as you get higher can take its toll on your body. Unless you're fully confident in your fitness levels, the warmer months may be too tough of a task. Though if you intend to travel by coach to the top then don't worry, you can enjoy the inspiring sights all year round.
What budget to plan for your Machu Picchu tour?
Aguas Calientes is one of the more expensive places in Peru, and even the entirety of South America, though it is still relatively cheap. A meal in a lavish restaurant will cost you around 30 sol, which equates to around $9 or £8 - wonderful value for money to enjoy some of the region's most delicious food close to one of the world's most astounding natural sites.
Snacks in the local shops can be purchased for around 5 sol, and clothing can be purchased at very cheap prices - just make sure you have your haggling mindset fully engaged.
Don't stop here and check our Tours to South America !