Join for free
Join for free
Save up to 70% on UK countryside stays, European city breaks & exotic beach holidays.
More than

7.3 million

people have already trusted us with their holidays!
Member-only rates & exclusive perks
Save up to 70% on luxury travel
A reliable team, 7 days per week
Cyprus Free Travel Guide - Tips and Inspiration
Discover the Best Information for unforgettable sunny holidays to 🏝️ Cyprus. Advices, tips, best locations, itineraries and more.
Travel to Cyprus
Cyprus, officially known as the Republic of Cyprus, is an island nation in the Mediterranean. It is the third largest and populous island in the Mediterranean sea. The island is also known as the crossroads to three different continents, with Africa, Asia and Europe all fairly close to the island.
With its rich, diverse culture, long warm weather, beautiful beaches and tasteful local cuisine, Cyprus has become one of Europe's tourist hotspots.
Cyprus has one of the most awe-inspiring landscapes. The landscape is a mix of beautiful coasts with clear blue seas and forested mountains with vineyards, villages and historic buildings to explore. In the towns, you'll find there are lots of attractions whether you're looking for culture or modern conveniences.
The local Cypriots are known for their friendliness and hospitality. There are three groups in Cyprus, split into three areas. The first group includes the two British military bases on the islands that were established as part of the independence deal. The second group is the Greek Cypriots who inhabit the southern areas of the island. The last group are the Turkish Cypriots who inhabit the northern areas of the island.
In the past, it was hard for tourists to visit the north and south of the island due to tensions between the Greek and Turkish Cypriots. However, tensions are now lessening and it's becoming easier for visitors to explore all of this beautiful island. You can even explore both Greek and Turkish culture in the capital simply by walking down one street and entering different halves of the city. There are few places in the world where you can do this for any cultures.
Whether you're interested in historic monuments, like the six remaining icons of the House of Lusignan, or if you prefer to enjoy live entertainment from the numerous fine dining restaurants, beach cafes and bars or Karaoke hot spots there, then there's something for you on the beautiful Mediterranean island of Cyprus.
The top 10 things to see/do in Cyprus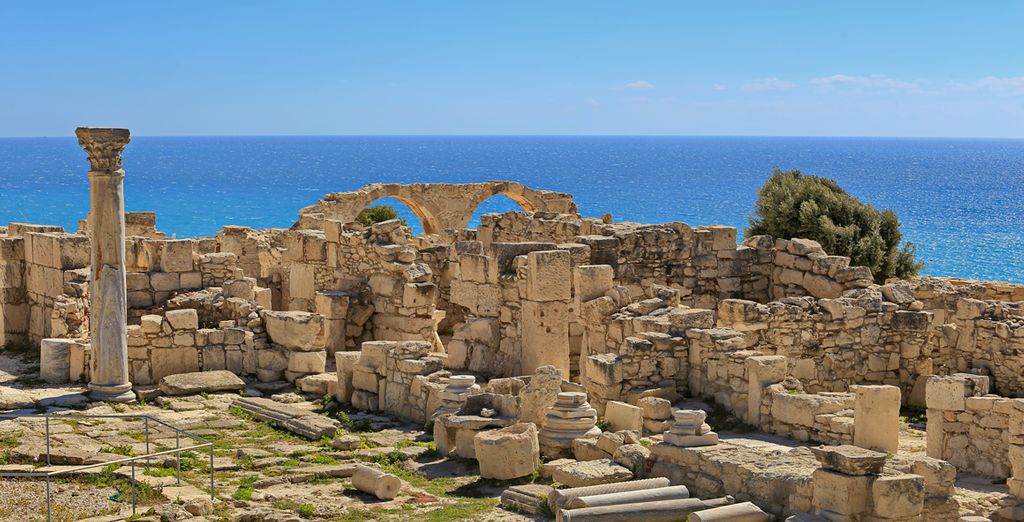 1. Adonis Baths

Known as a favourite spot for the gods Adonis and Aphrodite, the Adonis Baths is rich with historic Greek culture. To recognise her love for the area, there is an Aphrodite statue that is an amazing 10-metres tall. Visitors can also enjoy a swim in the beautiful pools that are just below mesmerising waterfalls. There are plenty of walking opportunities on the trails and even a small museum and photo gallery to visit. If you're looking for a truly luxurious time, you can try out the mud therapy available.
2. Stavrovouni Monastery

Sited 750 metres above sea level, the 4th century Stavrovouni Monastery is one of the best places to visit if you're interested in early Christianity. Founded by St. Helena, a piece of the Holy Cross was left there and it is one of the few places in the world where you can see a relic of such religious importance. There are strict rules for the monastery. For instance, women are not allowed to enter the historic premise and men who wish to attend must be dressed in appropriate attire. In addition, no photos or videos can be taken.
3. Cape Greco

This protected national forest park offers nature lovers a beautiful and scenic place to visit. There are nine nature trails to explore, not to mention the thrilling sea caves and the breathtaking sea views. If you're interested in cliff-jumping, snorkelling, swimming or even taking a walk in a cave at low tide, then this is the area for you. Also on this site is the stunning Agioi Anargyroi church, known for being white-washed.
4. Avakas Gorge

The Avakas Gorge is one of the most beautiful walking trails in the whole of Cyprus. The 7 km gorge has limestone walls that can reach up to 30 metres creating one of the most scenic spectacles on the island. There is a diverse range of flora and fauna amongst some of the most interesting rock formations you'll find anywhere in Europe. This place is not for those who are not used to hiking. There are narrow parts of the gorge and you should take enough water for several hours.
5. Hala Sultan Tekke

The Hala Sultan Tekke, or as it is also known, the Mosque of Umm Haram, is a seventh-century mosque, built on the spot where Umm Haram, a relative of the Prophet Mohammad died, it is an important place of worship for the Muslim faith. Everyone is welcome to view this spectacle and there's no admission fee.
6. Amathus

Amathus is an ancient royal city of the island and was built in 1100 BC and survived until 300 AD. Now the spectacular ruins of the city are a UNESCO World Heritage Site. The site is such an important historical and cultural part of the country's and Europe's heritage that excavation continues to this day. Even so, there are many areas to explore including the market, public baths and the beautiful remains of a fountain complex. You'll need about two hours to explore the entire site.
7. Limassol Castle

While the original Limassol Castle was built in the 12th century, the current attraction was built in the 18th century by the Turks on the old spot. Still, there's plenty to see, with the 2 metre thick outer walls and the ground floor prison that was still in use until the middle of the twentieth century. The castle also houses the Cyprus Medieval Museum. There are many displays in the museum that range in date from before the first castle was built, all the way up to the 18th century.
8. Limassol Zoo

Limassol Zoo is home to 300 animals and birds that include some impressive tigers and panthers. The zoo is the perfect destination for families as it regularly organises events for children of all ages and there is a very good petting zoo on the site. There's also a natural history museum on the site. In the museum you can look at the numerous specimens that have been preserved through taxidermy.
9. Choirokoitia

A UNESCO World Cultural Heritage site since 1998, this is one of the most valued Mediterranean prehistoric sites. The Neolithic settlement was inhabited between 7000 BC and 4000 BC and only re-discovered in 1934, but it already has on display remains from each phase of the settlement's 3000-year history. There are also reconstructions of the dwellings that the original inhabitants would have built, carefully reconstructed using the same materials and techniques available at the time. Inside the dwellings are replicas of items found on the original site.
10. Nicosia

Nicosia is a shopper's dream with vast malls and trendy stores. The whole shopping area is a combination of European and Middle Eastern culture that makes this a cultural trip as well as a shopping spree. There are many places to find whatever you're looking for in this area. On Ledra street, you can find traditional jewellers, fabric and shoe shops. If you're more in the mood for souvenir shopping, then you should go to the Laki Geitonia neighbourhood. And if you're looking for a shopping experience like London's Bond Street, you can go to Makariou Avenue.
When to travel to Cyprus

Cyprus is a wonderful place to visit year round, but if you want a great visit with plenty of sunshine and good temperatures then you'll want to visit in the summer. During the summer, temperatures can get to about 31 degrees Celsius and there is little if any rainfall.
During the winter months, you can also expect temperatures to be fairly comfortable, with them averaging about 17 degrees Celsius. However, there is much more rain during this period.
The tourist season in Cyprus runs from April to October. So, if you want to visit at a quieter time, it's best to go between November and March. However, if you really want to experience the full culture of Cyprus, it is highly recommended to visit the island during the Greek Easter. During this time the towns, villages and cities are filled with decorations and there are many events you can attend at the same time.
How to get there?
There are many ways to get to Cyprus. One of the best and quickest ways is by plane. From Heathrow or Gatwick, the direct flight takes about four and a half hours. From Paris, Rome or Berlin you might need to make a stop and this can extend the journey to five to six hours.
Prices for flights can vary, but generally, visiting the southern part of Cyprus is cheaper than the northern territory.
Entry by boat is much more challenging. Regular ferry services from Greece were suspended in 2001 and the only option is now via Turkey.
You don't need a visa currently to visit Cyprus for less than three months. A current passport is all you need.
Which hotel to choose?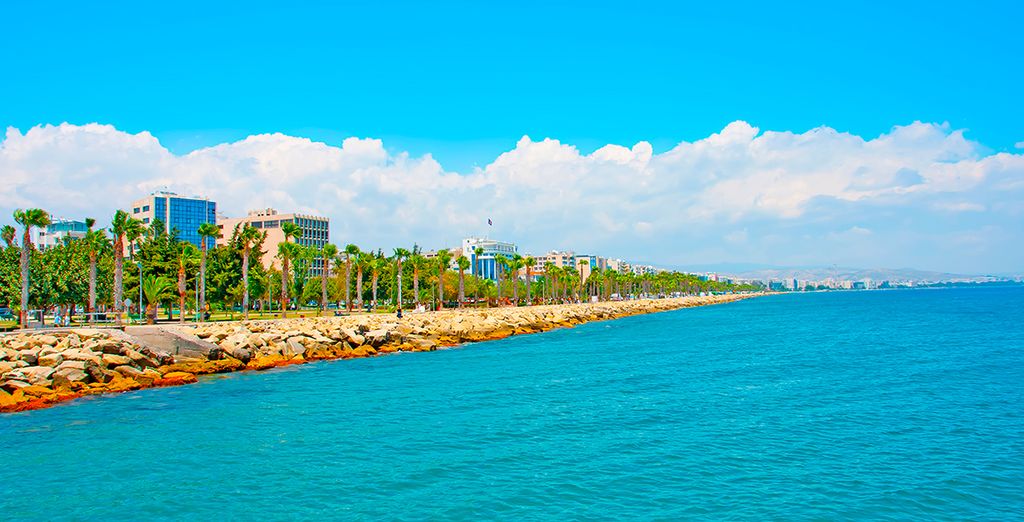 Hilton Cyprus 5*

Located close to the International Conference Centre, the Hilton Cyprus is a spectacular five-star hotel. The hotel is decorated in the best fabrics to emanate a warm tone. All the 294 rooms have spacious work areas and private balconies for you to enjoy. The luxurious bathrooms are a great way to prepare for the day ahead or relax at the end of the day.
Coral Beach Hotel & Resort 5*

This five-star hotel offers one of the best luxurious experiences on the island of Cyprus. The family-friendly resort is situated just five hundred metres from a gorgeous beach and there is also a lovely outdoor swimming pool. Fill your day by treating yourself to a spa treatment, enjoy a meal in one of the four bars or six restaurants, or just relax in the beautiful grounds of the hotel.
E Hotel Spa & Resort 4*

The E Hotel Spa & Resort offers one of the most tranquil and breathtaking experiences on the whole of Cyprus. With the beautiful sea views, the hotel contains a wellness and fitness centre, extensive lawns and three pools that offers excellent swimming opportunities. The Faros beach is not too far away and has one of the finest white sand beaches in Europe with clear waters to match.
Culture (festivals, etc...) in Cyprus
Considered as a notable carnival worldwide, the Limassol Carnival Festival is a must for those wanting to experience the rich culture of Cyprus. Held annually twelve days before Lent and fifty days before the Orthodox Easter, this event lasts for 10 days. During the ten-day festival, you can expect to see lots of colourful events, spectacular meals and lots of entertainment.
You can also experience the rich culture of Cyprus at the end of September at the Ayia Napa festival. This annual event includes performances of drama, music and dance that all have their cultural roots in local tradition. There are also exhibitions that will showcase the diversity of the flora and fauna of the island.
The Kypria International Festival is held in September and October. It is the biggest cultural festival in Cyprus and includes great local and international performances at locations throughout the island. Performances include ballet, drama, opera and other family-friendly events.
The Cyprus map
What to bring back from Cyprus
There are lots of souvenirs you can bring back from Cyprus. However, there are a few special things to look out for which include olives, olive oils, wine, any carob product and local embroidery.
What currency to use?
Cyprus uses the Euro. There are many places you can withdraw money from and tourists should have no issues using credit and debit cards in the country.
What time difference
Cyprus is two hours ahead of London, UK.
What language is spoken in Cyprus
There are three main languages spoken on Cyprus. In the north of Cyprus you'll find the prominent language to be Turkish. In the south you'll find the prominent language to be Greek. In the UK bases, the main language is English, but you're unlikely to be on the base. However, some locals do speak English, but it can't be assumed.
How to get to Cyprus
It is best to get to Cyprus by air. Boats from Greece are irregular and travelling via Turkey can pose more challenges. While on the island, you can rent a car to get around the island or take local transport.
What to pack for your holiday at Cyprus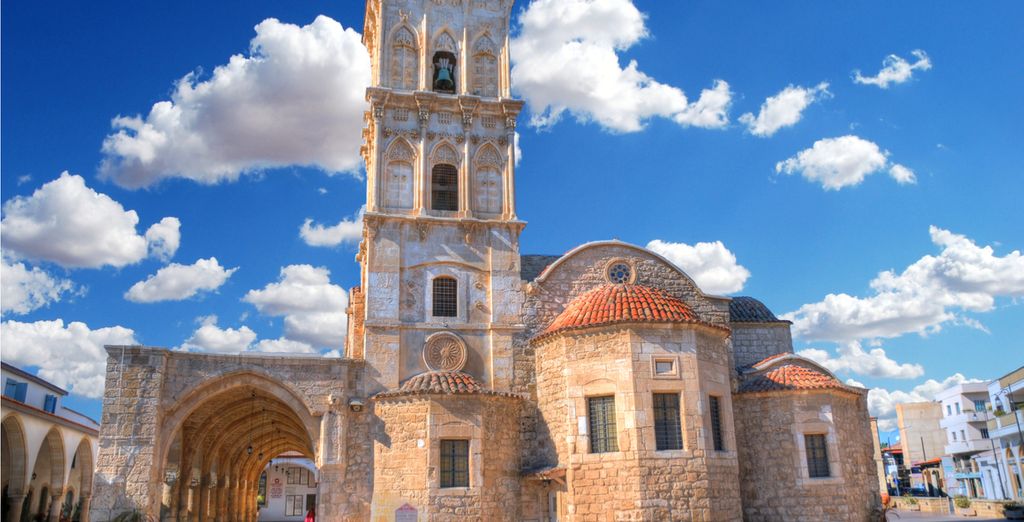 Due to the warm weather, it is best to ensure that you pack light clothing. You should also include lots of sun-cream for your stay. Due to the local opportunities, if you have snorkelling equipment, it is highly recommended that you take this.
How long to stay
To fully experience Cyprus, you should plan a trip of about two weeks. There are lots of things to do on the island and even for this amount of time, you might wish to extend your stay.
Restaurants on site
There are numerous good restaurants and other places to eat in Cyprus. If you're looking for a good authentic local dish then you will have lots of choices. A local favourite is meze but the meal itself varies. Another good traditional dish is the lamb kleftiko, a baked stew with vegetables and spices. The meal is cooked slowly on low heat until the lamb meat falls off the bone.
Family activities, for teenagers, children, babies
There are many family activities to enjoy with two big zoos and an aquarium on the island. In addition, children will love the events that are hosted all year round and the beaches with their many attractions can be great.
Cyprus: what budget to plan?
The prices of items in Cyprus compared to the UK are varied. An inexpensive meal at a restaurant in Cyprus, for example, can be 25% less than in the UK, however, a McDonald's is 8% more expensive. Likewise, a bottle of water is 27% less in Cyprus, but a bottle of fizzy drink can be 13% higher than in the UK.
Environment
Cyprus has two mountain systems that flank a central plain. While the central plain was forested, it is now a treeless region. You won't find many lakes or rivers on the island. Those that are there are often tourist destinations or small rocky channels.
Additional practical information
During the afternoon, many local shops will close for a couple of hours for a siesta. Some tourist areas may remain open during this time. When eating, do not start eating until the host has started and when finished, place your knife and fork parallel on the right side of the plate. You should never pass a dish with your left hand. It is also best to dress conservatively if you are planning to visit many of the cultural sites.
Discover our offers to Cyprus : Last minute, Stays, holidays, Weekends, holidays to Paphos
Visital all our travel guides