The Best Family Resorts in Greece



Table of contents
Are you looking for the best hotel in Greece for your next family trip? If you are looking for luxurious family-friendly resorts where both kids and adults will be happy, you will be sure to find the perfect fit on Voyage Privé.
Our best family resorts in Greece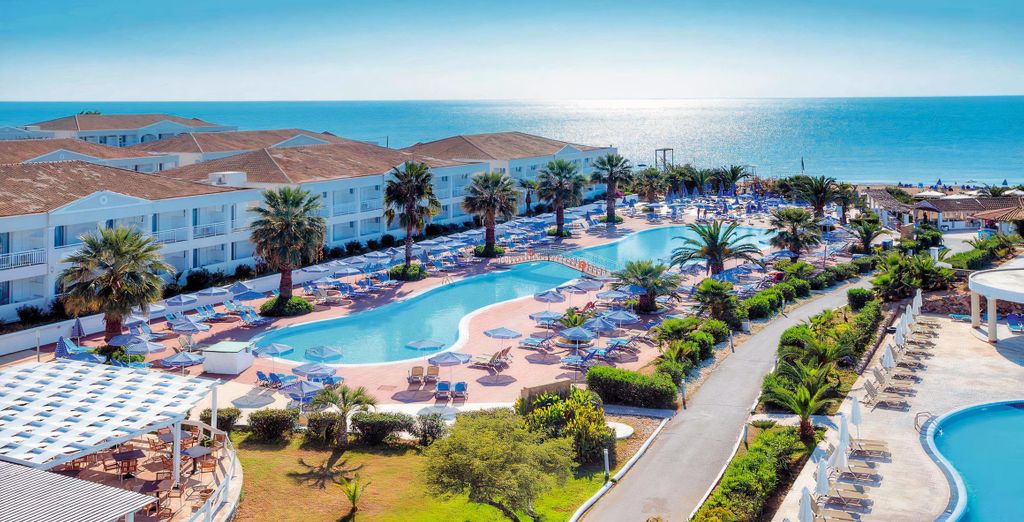 The LABRANDA Sandy Beach Resort is an incredible five-star resort that offers everything a family needs, including a spa, swimming pool, water slides, live entertainment, tennis and mini football. This tranquil resort is located on a beautiful Corfu beach, which parents can bask on as they watch the kids playing.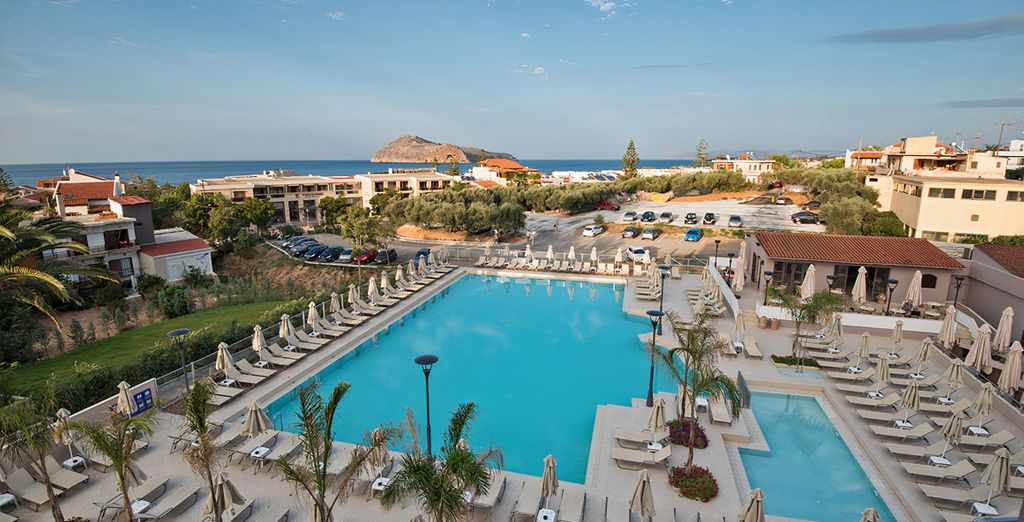 Located deep in the heart of the cosmopolitan village of Platanias is the newly renovated Porto Platanias Village Resort. The resort's surroundings are peaceful, mainly due to the picturesque pathways, gardens filled with flowers and this hotel also boasts a large freshwater swimming pool and a sandy beach that both kids and parents will love.
Located in Crete, Greece, the Porto Platanias Beach Resort and Spa is an all-inclusive resort and spa suitable for everyone. It is a five-star resort, offering several room types along with a welcoming ambience that is characterised by lovely interiors and great amenities. At this resort, sophisticated design meets the Cretan hospitality culture.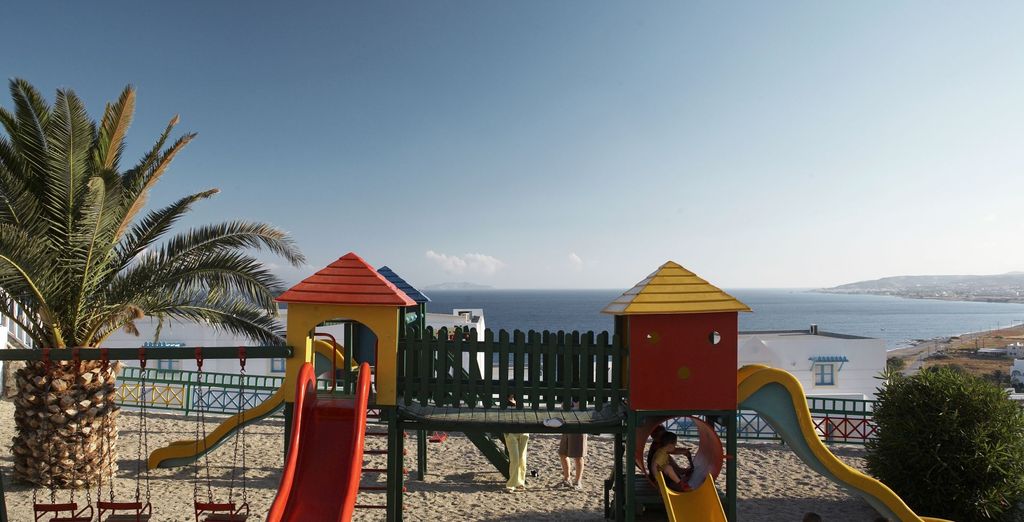 This family-friendly hotel at the foot of Mountain Dikeos offers superb views of the Aegean Sea. The hotel is right at the water's edge, just 5 minutes from a Blue Flag pebble beach. While here, families can enjoy the seawater swimming pools, water slides, a tennis court and beach volleyball. The family rooms offer privacy curtains and separators so that adults can keep an eye on kids while getting some alone time.
Services you will find at our hotels in Greece.
Keeping in mind that all our hotels are top-of-the-line, here are some of the services and facilities you will find in our hotels:
Spa treatments
Water-based activities
Gourmet restaurants and onsite bars
Kids' activities
Complimentary Wi-Fi
Fitness centres and swimming pools
Going on holiday in Greece
The right time to visit Greece is from late April to early November because of the favourable weather. The period from May to October is exceptionally sunny. July and August are the hottest months of the year. This means that this period has fewer people and travel costs are lower.
Hotel offers in Greece convenient for all kinds of travel
Family-oriented resorts offer all kinds of activities to keep everyone happy. The sandy beaches and water-based activities are great for everyone to keep cool and let off steam. Pools are enjoyed by young and old, and other sports activities offer great bonding opportunities. For those who have the energy, fitness centres allow you to keep in shape after enjoying the delicious Greek cuisine. Adults can enjoy a sundowner or two, as kids use the complimentary Wi-Fi to catch up on their favourite shows and movies. There is something for everyone in our resorts.
The range of family resorts we offer in Greece
At Voyage Privé, we offer a number of hand-picked family-friendly resorts, from the most affordable to high-end, all-inclusive deals. You can choose a resort near the tourist attractions or find a getaway on a tranquil beach. Family resorts in Greece have everything you need to keep the kids entertained while the adults unwind.
Greece: what should we bring for a holiday stay?
Some useful items on a family holiday to Greece include sunscreen, sunglasses, swimwear, beachwear, travel-size umbrellas and sunhats.
Your best hotel in Greece: how to get there and make your booking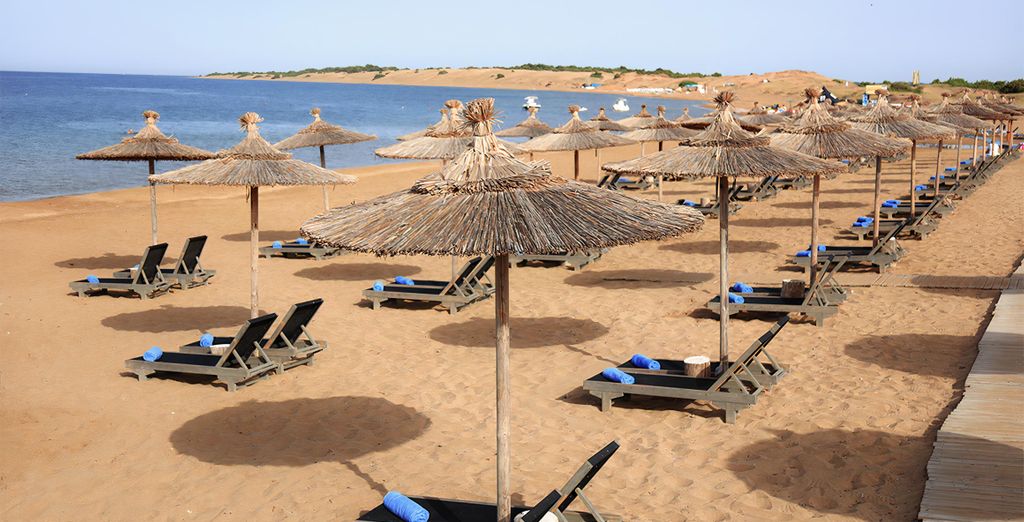 How to get to Greece
The simplest way to travel to Greece from the UK is by air and all the main airports in the UK offer flights from various airlines to Greece. The flight time to Greece from the UK is 3-4 hours. Greece has a well-developed infrastructure and you'll easily find a shuttle, ferry or taxi from the airport to the resort of your choice.
How to book your hotel in Greece
To book an exclusive deal on a family-friendly resort in Greece, simply register via the Voyage Privé website for free and take advantage of our members-only offers. All you need to do is log on to the website, create an account by providing a valid email address and provide a strong password for your newly-created account. After this, you will be able to view all the available offers for family holidays in Greece. In a few clicks, you can book a resort that best fits your needs.
The opinion of the Voyage Privé travel expert on Greece
Greece is a wonderful destination for families. It is home to rugged mountains, pristine beaches with crystal clear water, quiet lakes, olive groves, vineyards and incredible architecture and history. Undoubtedly, Greece has it all. Greece has been a popular tourist destination and an attraction for tourists since the 1970s because of its rich and diverse history. It is largely praised for its extensive coastline, numerous beautiful islands and beaches. The people here are also hospitable and let's not forget about the mouth-watering food and the Mediterranean climate.
Greece, a serene country with a rich history and lovely sandy beaches
In Europe, there is undoubtedly no country like Greece. Here, both kids and adults will find something to love and truly relax. Not too far away from the UK, Greece is a great family holiday destination that should be at the top of your bucket list. Visit Voyage Privé today to make a luxury Greek resort booking for unforgettable family memories.