Booking
Book you holiday at Exclusive Prices with Voyage Privé Up to 70% ✅ Off on your Booking in the Best Luxury Hotels ★ Spain, Dubaï, Asia & more...
Booking a holiday? Do it with Voyage Prive
When work life gets on top of you and all you're beginning to dream about is your bed, it's time to book a holiday. Unwind and de-stress in the sunshine and thoroughly immerse yourself in the culture of the country. Switch off your mobile phone and embark on a group hike exploring all of the natural beauty in your chosen country. No matter where you go, book with Voyage Prive for a luxury experience that you're unlikely to forget.
Travel to Spain and the United Arab Emirates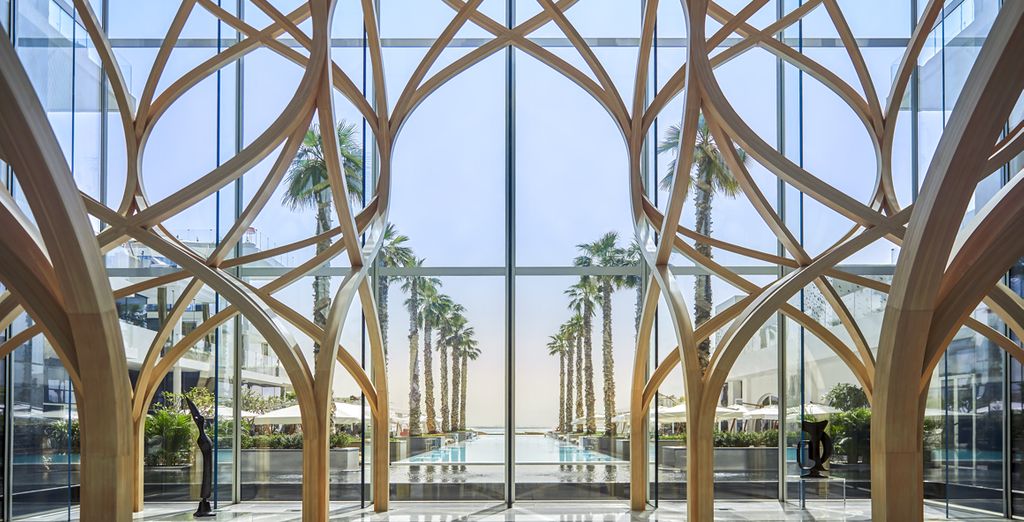 Spain is a classic holiday destination that never fails to impress the tourists who visit. You will be spoilt for choice with sandy beaches to relax on with a cool drink in hand. Spain is the ideal destination for anyone; the scenic views are the perfect setting for lovers on a romantic break, while the national parks and volcanic sites are ideal for families hoping for an active holiday. The nightlife in Spain is fast-paced - the clubs and bars are a delight to explore for adventurers on a group holiday.
The United Arab Emirates is an area of luxury, filled with high-end shops and unique activities to try. The romantic surroundings make it the ideal holiday destination for couples hoping to splurge and taste some of the most amazing food in the world. Sightseeing in the United Arab Emirates is unlike anywhere else, with stunning mosques and architecture to admire.
The Voyage Prive travel expert's opinion on travel to Spain
With so many great activities to partake in, you would be better off spending two weeks in Spain just to fit everything in. There are many architectural wonders to admire and explore, including the Alhambra complex which is filled with ancient temples and courtyards decorated with lush greenery.
Barcelona is a must-see city if you're booking a holiday to Spain, as it is bursting with culture and filled with beautiful buildings and beaches. With a new festival every month, you'll never run out of exciting things to do if you're a fan of music and the arts.
Adrenaline seekers will never want to leave Spain as there are an innumerable amount of water sports activities to try in the Mediterranean ocean. Jet and speed boating will be available in most coastal areas and you could even try your hand at scuba diving where you can explore aquatic life.
You don't need to be in a coastal area in order to enjoy Spain and a city break in Madrid can be just as enjoyable. Use your escape as a chance to sample the delicious and fresh Spanish cuisine which consists mainly of succulent fish and tasty rice.
Top 5 things to do/see in the United Arab Emirates
1. Visit the Dubai Mall
Shopping is a big part of the United Arab Emirates experience and there is no better place to do this than at the Dubai Mall. The giant building is a wonder in itself and home to many luxury shops. Visitors can also look forward to seeing the building's aquarium and even try their hand at skiing in the mall's indoor arena.
2. Go to a theme park
If high-end shopping isn't your idea of fun, then prepare for an intense adrenaline rush at one of the Emirate's many pulse-racing theme parks. Car lovers would adore the quirky Ferrari World and the sports-car themed rides and attractions are guaranteed to be fun for all of the family.
3. Climb the world's tallest building
Standing at 829.8m, the Burj Khalifa holds the title of being the tallest building on the planet. Making the climb should definitely be on your bucket list as it is a truly exhilarating experience that you'll treasure for a lifetime. The views from the top of the structure are magnificent and they give you a birds-eye view of the stunning city of Dubai. Stop by one of the building's viewing platforms or dine in a quality restaurant at the very top of the world.
4. Visit a museum
The United Arab Emirates is packed to the brim with culture and you have to visit a museum during your stay. Dubai Museum charts the evolution of the country and how it built its way up from a fishing port to a tourism hotspot and home of many luxury brands. The museum also boasts archaeological finds of aquatic life as well as rare gems and stones that divers uncovered. Walking through the museum is an eye-opening experience that will stay with you, even after you return home.
5. See a mosque
People in the region take their religion very seriously and most of the population classify themselves as Muslim. The mosques can be visited even if you aren't religious yourself and they truly are beautiful structures. The stained glass windows and bejewelled walls are a delight to admire and the impressive architecture will leave you speechless. A trip to a mosque is also an enlightening experience for tourists who want to learn more about the lifestyle and culture of the people in the country.
Visit our booking offers
Booking in Australia
Booking in Austria
Booking in the Balearic Islands
Booking in Canada
Booking in Czech Republic
Booking in France
Booking in Germany
Booking in Iceland
Booking in the Indian Ocean
Booking in Indonesia
Booking in Ireland
Booking in Italy
Booking in Japan
Booking in Morocco
Booking in the Netherlands
Booking in Portugal
Booking in Scotland
Booking in South Africa
Booking in Spain
Booking in Turkey
Booking in the United Arab Emirates
Booking in the UK
Booking in the US
Which hotel to choose when booking your holiday?
Are you thinking about booking a holiday? Make sure you choose a luxury hotel that you can relax in after a long day of exploring.
1.Hard Rock Hotel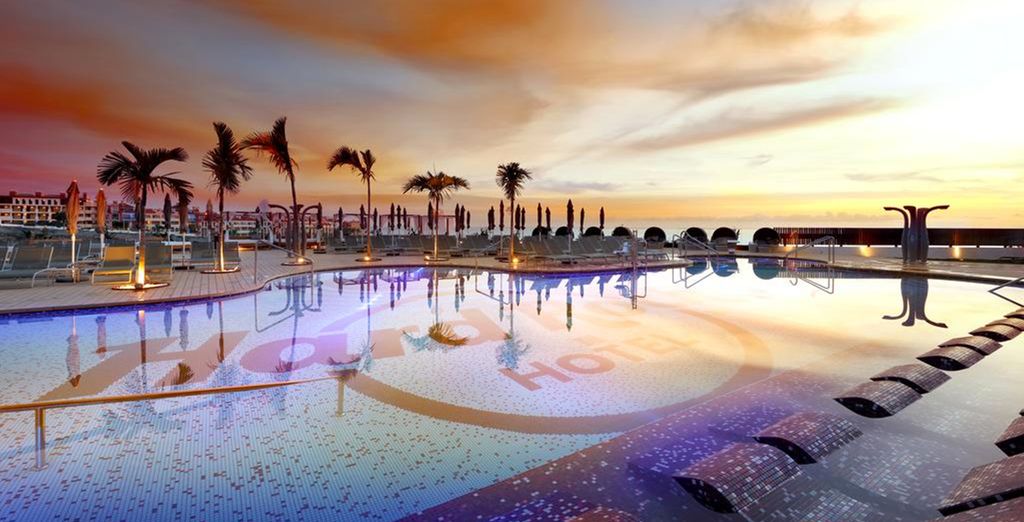 Ideal for a family holiday in Tenerife, this 5* hotel hosts every amenity you could ever need. Guests can dine with a sea-view, take a dip in the swimming pool, or sip cocktails at the beach club. Prive members can look forward to a host of amazing deals, like access to a Deluxe gold room where kids can stay for free.
2. FIVE Palm Jumeirah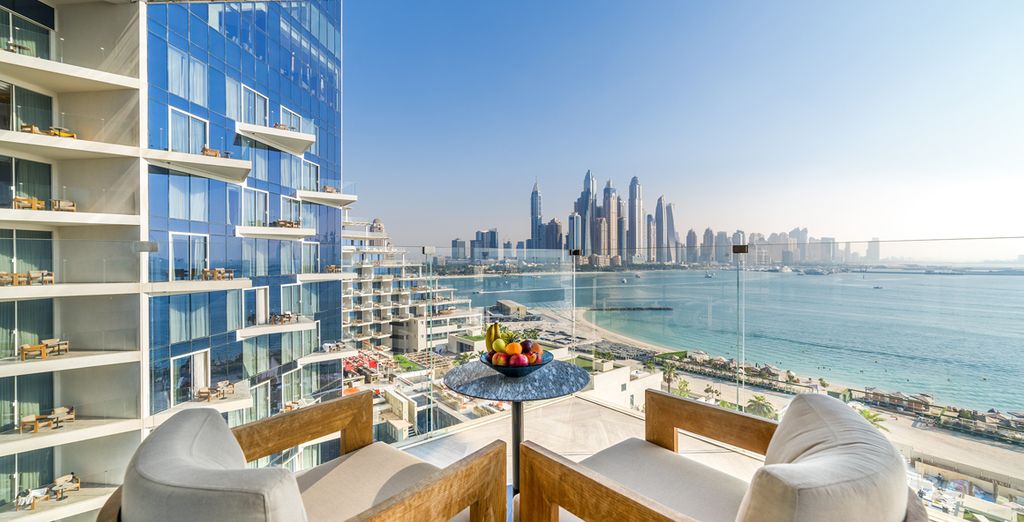 If you find yourself in Dubai, make your stay as luxurious as possible by booking this 5* structure of luxury. This seafront hotel gives guests a choice of three pools and five restaurants to try; you'll never want to leave the hotel complex. Our members will enjoy their stay in a Superior Sea View Room and also receive amazing spa and restaurant discounts.
3. H10 The One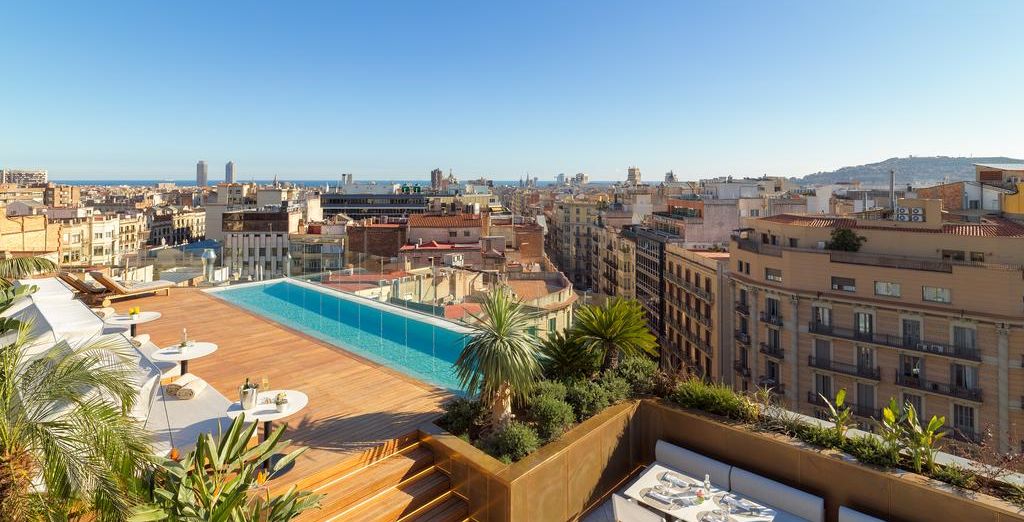 If you're on a city break in Barcelona, then this 5* accommodation is just right for you. Located in the bustling Eixample District, you're never far from all of the action and nightlife. Voyage Prive members can look forward to staying in a Cosy Barcelona Room as well as a bottle of wine and chocolates on arrival.
Check all our hotels offers !
Practical information about Spain and the United Arab Emirates
What is the weather in Spain and the United Arab Emirates?
The temperature is relatively hot in both countries even in winter, so pack light and loose clothing that will keep you cool. There is a stricter dress code in the United Arab Emirates, so make sure to dress modestly with as little flesh showing as possible.
Spain and the United Arab Emirates: What budget to plan?
You could visit both countries on a strict or large budget, but for the best experience you should save up and splurge on accommodation and dining. Visitors to Spain should budget around £50-200 per day, while tourists in the United Arab Emirates should budget around £150-300 per day.