Rome Tours - The Best Way to Discover The City



Table of contents
Rome is one of the world's most historic cities. Steeped in more than 2,000 years of history, Rome has a seemingly endless collection of monuments and UNESCO world heritage sites, and welcomes millions of tourists a year for that exact reason.
Here, on one of the many tours of Rome available you'll find some of the oldest and most breathtaking architecture in the world nestled in among a truly cosmopolitan city bursting with culture and life.
Below you'll find a complete guide to touring Rome, from getting into the city, to top tourist sites and even hotel recommendations.
The Voyage Prive Travel Expert's Opinion on travel to Rome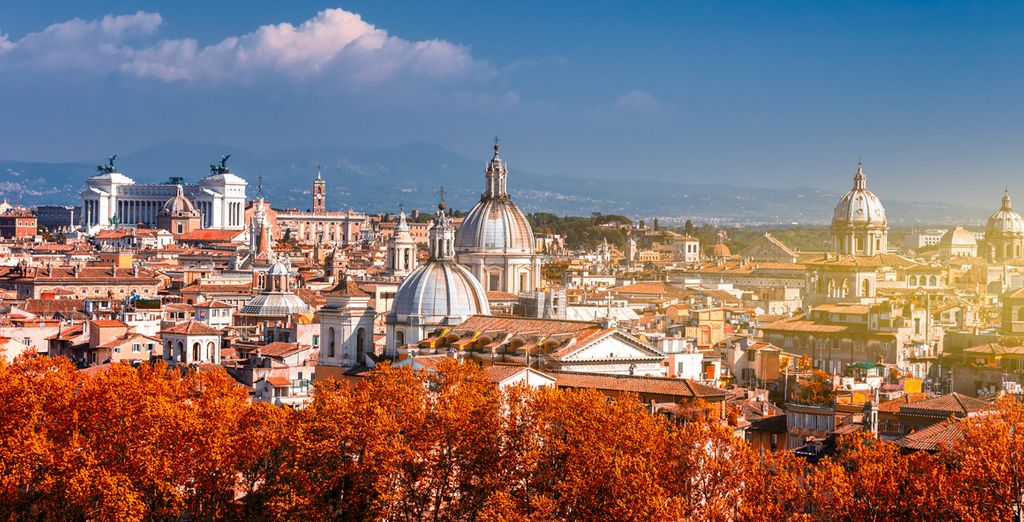 Looking for a city tour that has it all? Look no further - Rome is the ideal destination for even the most discerning traveller - from stunning architecture to quaint cobbled streets, a vibrant art scene and some of the most delicious food in the world, it is impossible to be bored in this mixing pot of culture.
Travelling to Rome
Rome has two airports, Fiumicino and Ciampino. Both are well connected to the city centre. The cheapest way to get to Rome is to take the Leonardo Express train, costing just a few Euros. There's no need to book – simply jump on the nearest train and you'll be within the heart of the city in just 30 minutes. Once you arrive in Rome, there are several options to get around. The quickest is the Metro – most sightseeing hotspots have a Metro station just a stone's throw away, and you'll beat the city traffic too. If you prefer a more scenic option, try a sightseeing tour bus. These open-air buses cost around 50 euros for a weekend pass, and they'll take you around the city at your leisure. Simply hop on and off, with no need to buy a ticket each time.
Top 5 things to see and do in Rome
There's so much to do in this historic city. To fit it all in, you'll need to plan ahead! We recommend choosing a guided tour to ensure you pack it all in, especially if you're only staying a few days.
If, like most tourists, you want to take in the main sightseeing attractions, we recommend getting up early to avoid long queues or crowds. Rome offers Skip The Line tickets for its biggest attractions including the Colosseum, so if you're planning a whistle-stop tour it's certainly worth the extra money to avoid long waits. Some tour operators will offer line-jump tickets as part of the price, so definitely shop around.
1. Colosseum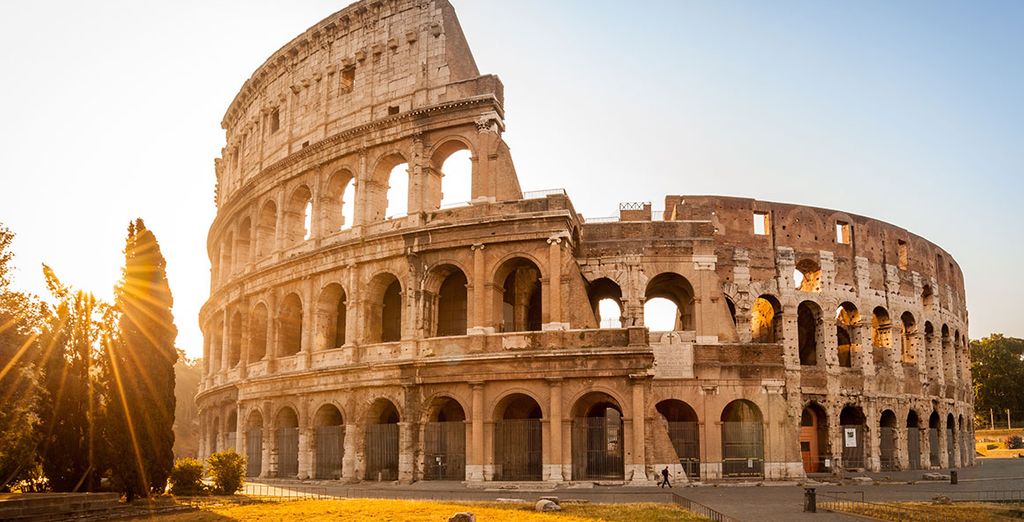 Arguably Rome's most famous landmark, the Colosseum (and surrounding areas) is high on many a bucket list. One of the oldest and most important sites in Rome, this iconic monument was built to hold up to 80,000 spectators and is still the world's largest Amphitheatre. Built more than 2,000 years ago, this feat of engineering has withstood wards, riots, earthquakes and bombings, and is largely still intact today. To access the entire ancient site including the Roman Forum and Palatine Hill, expect to pay around 12 euros.
2. The Vittorio Emanuele II Monument
Nicknamed 'the wedding cake' thanks to its ostentatious detailing, the Vittoria Emanuele II Monument is almost impossible to miss. Located a short walk from the ancient sites right in the heart of famous Piazza Venezia, this monument is the site of Italy's Tomb of the Unknown Soldier. If you fancy a look inside, tickets start at around 7 Euros and include breathtaking panoramic views of the city.
3. Pantheon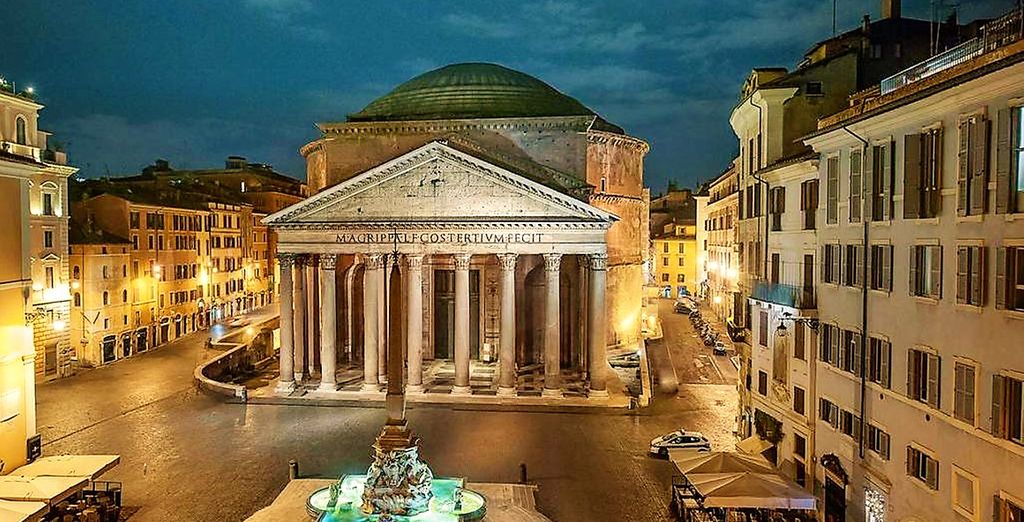 One of Rome's most well-preserved monuments, The Pantheon is something of wonder. More than 2,000 years old, this Roman temple of the gods has the world's largest unsupported and unreinforced dome, and is largely still intact today. What makes The Pantheon so remarkable is not only its age and stature but its location -right in the heart of the hustle and bustle of modern day Rome. Just a few metres away you'll find winding streets packed with independent bars, shops and restaurants where travelers and locals mingle.
4. Trevi Fountain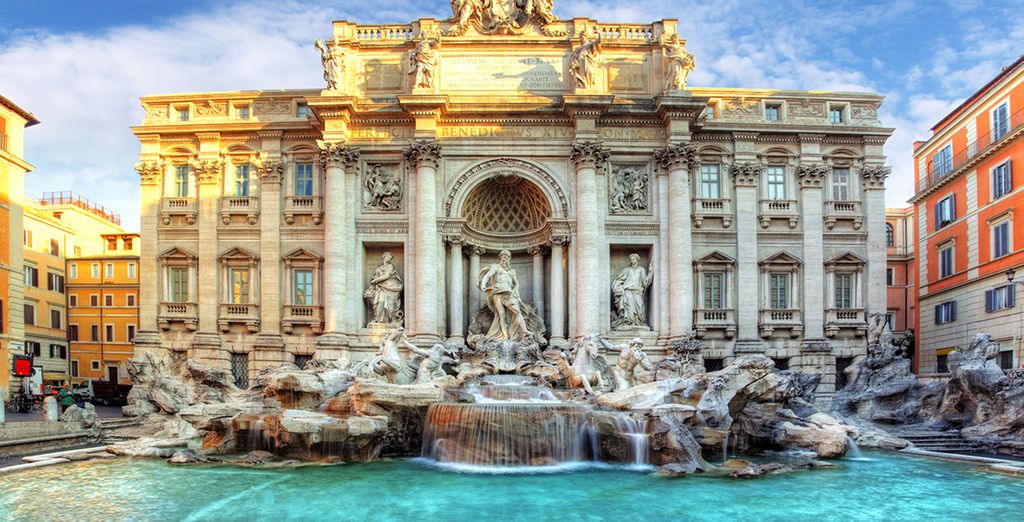 Around the corner from The Pantheon you'll find Bernini's Trevi Fountain, a true icon of Italy that shouldn't be missed. While looking just as ancient as other famous Italian landmarks, Trevi is one of the city's newest editions – just a few hundred years old. Be sure to pack your loose change before heading to Trevi. Around 3,000 euros are thrown into the fountain every single day. This money is collected around three times a week and contributes to the upkeep of the fountain, as well as to local charities and good causes.
While Trevi is beautiful (be sure to pack your camera for this one), be prepared for serious crowds. Like most other tourist attractions in Rome, we strongly recommend heading to Trevi either first thing in the morning or later in the evening to get a good view.
5. Vatican City
Did you know that Vatican City is the smallest country in the world? Here you'll find the Vatican museums, gardens, Sistine Chapel and St. Peter's Basilica in what is widely considered the jewel in Rome's crown. The museums house one of the most impressive art collections in the world, boasting an impressive 20,000 pieces. Many visitors attend the Vatican not only to marvel the historic monuments. The Pope lives here, and if you plan your trip right, you may just spot a glimpse of the holy man himself. The Pope tends to make an appearance most Sunday mornings (the Vatican's busiest time), but be sure to check online beforehand.
Note: there is a strict dress code in the Vatican and surrounding areas. Both men and women should dress conservatively, avoiding shorts, skirts and sleeveless clothing. If you fail to meet the dress code you may be denied entry.
Where to stay in Rome? The right private travel destination
Rome can be a costly place, thanks to the sheer volume of tourists heading to the city each and every year. So, to get the best possible deal, be sure to shop around and book well in advance to avoid disappointment. Rome has some of the most luxurious hotels in the world. If you're looking for complete luxury, opt for a hotel in the heart of the city, complete with roof top pool and terrace.
Budget not stretch that far? The good news is that Voyage Prive offers 3, 4 and 5 star hotels at up to 70% cheaper than regular prices, so keep an eye on our Rome Deals and tours to grab a bargain.
Booking both your accommodation and flight together can also result in great savings, so certainly shop around to get the best deal.
Practical information about Rome
What is the weather in Rome?
Rome is a wonderful place to visit year-round. July and August are the hottest months in the city and often the busiest thanks to European school holidays. if you prefer mild climates, aim to visit in spring and autumn when temperatures rarely exceed 25 degrees.
What budget to plan?
Rome attracts millions of tourists from around the globe each year, and visitors can pay a premium to visit. While transport and entry fees are fairly reasonable and in line with other European cities, you will find that food and drink is particularly expensive here. Restaurants in busy areas can be extremely pricey, so do your research to find hidden gems off the beaten track. In quirkier areas like Trastevere, look out for reasonably priced (and delicious!) street food options that won't break the bank.
Don't stop here and check our Italy travel guide !