All inclusive holidays to Turkey for all the family
Enjoy the golden beaches ☀ and amazing landscapes on an All Inclusive Holiday to Turkey ✅ with Voyage Privé; book online today.
Travel to Turkey
Whether you're looking for two weeks in the sun, adventurous sports, a family break, or to explore Mediterranean history, you'll find the right destination for an all-inclusive holiday in Turkey.
With its coastal waters on the Black Sea and the eastern Mediterranean, Turkey has hundreds of miles of unspoilt beaches to explore. With Turkey's warm, sunny climate, these stretches of glorious white sand can be an ideal place to spend your holiday. There are peaceful, relaxing beaches, where you can feel like you've got the whole world to yourself. You can also find exciting, vibrant locations where water activities such as windsurfing, waterslides, and scuba diving are the order of the day.
Beautiful beaches and water activities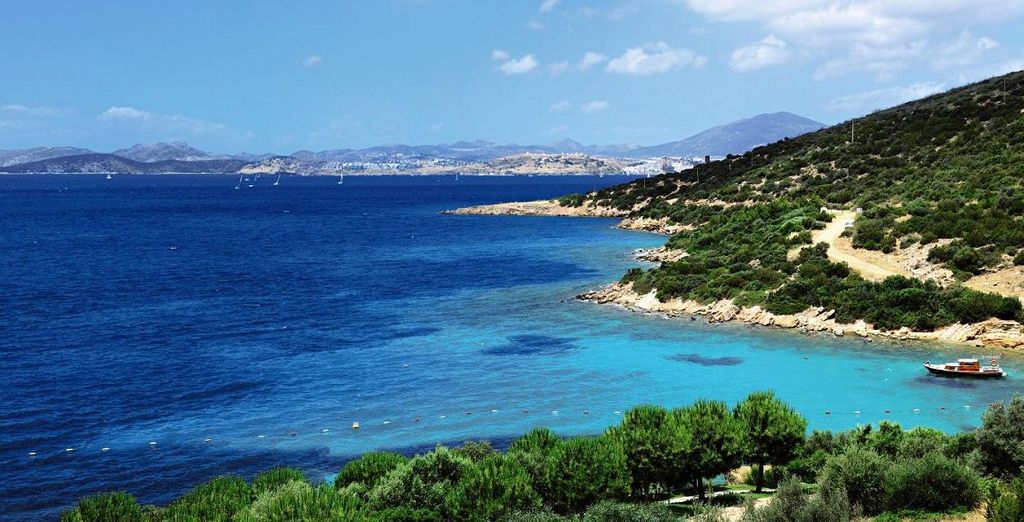 If you're looking for beach holidays, the gems in Turkey's crown are to be found on the coastline between Antalya and Alanya : The Turkish Riviera. It is a popular destination for visitors, who are surrounded by the splendour of clean, golden sands. In addition to relaxing on the beach, you can take part in a wide variety of water activities, such as windsurfing and waterslides. Enjoy a spa treatment, or relax at traditional Turkish baths. The best beach resorts are nestled between Antalya and Alanya. The luxury resort of Barbaros Bay is particularly special, offering a peaceful secluded beach as well as a children's club, diving and sailing classes, and the opportunity to go hiking or cycling as well.
The Voyage Privé travel expert's opinion on travel to Turkey
There's so much more to do in Turkey than beach holidays. The ideal destination for outdoor activities, Turkey has stunning landscapes with breathtaking mountains offering a gorgeous backdrop to the turquoise blue seascapes.
For history fans, there are well preserved historic sites from throughout history to be found throughout the Turkish countryside, as well as the more famous sites in Istanbul and the other large cities. The ancient kingdom of Cappadocia, to be discovered within the Göreme national park, is one of the most famous attractions in the whole country. With its unique "fairy chimneys" – caves sculpted from the natural rock by ancient volcanic activity - the national park is a must see on any holiday.
For the more active, Turkey's south coast is home to the 300-mile walking route the "Lycian Way". Stretching from Antalya to Ölüdeniz, the famous long distance footpath has been voted one of the top ten in the world.
One of the other jewels in Turkey's crown is the delicious cuisine. Traditional Turkish food is largely based on the Ottoman cuisine. Turkey's role as a major trading nation through the decades, however, has transformed the culinary landscape, incorporating elements of Asian, Greek, Jewish, Balkan and Middle Eastern dishes.
As you'd expect from a country where olive trees are so abundant, olive oil plays a key role in Turkish cooking. A typical Mediterranean country, the staple diet is rich in fresh fish and vegetables, with a wide variety of herbs and spices added for flavour. Cheeses and yoghurts also form a vital element of Turkish cuisine, alongside fresh – often just picked straight from the garden – fruit.
Top 5 things to do or see in Turkey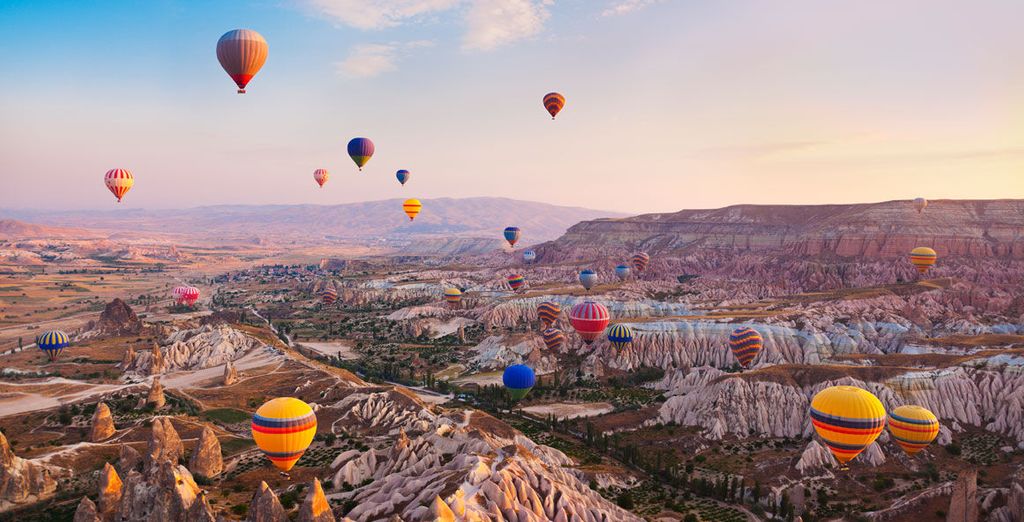 1. Ankara Castle

With remains dating from the early part of Turkey's medieval era, visitors to this ancient ruin can explore the castle itself as well as everything to be found within its 43,000 square kilometre grounds. The houses within the castle grounds are an excellent example of the different architectural styles prevalent throughout Turkey's history. There are also a number of mosques which are well worth a visit for both the culture and the stunning décor.
2. Ephesus

The ruins of Ephesus are a location which should not be missed on any tourist trip. One of the most complete, still standing examples of a Roman city found anywhere in the world, Ephesus is a stunning collection of colossal monuments and marble-columned roads. It's worth planning your visit here with care, since it can take at least a day and a half to explore everything that is on offer and really experience what life was like in this outpost of the Roman Empire.
3. Aya Sofya

A reminder of the emperor Constantinople's might and power, Aya Sofya is without doubt one of the most beautiful buildings in the world. Visitors every day are awed by the ornate exterior, and the luxuriously decorated interior.
4. Cappadocia

A dream come true for any photographer, Cappadocia is home to mile after mile of uniquely fascinating rock formations created by many millennia of wind and water action. And if you don't fancy a hike around the miles and miles of parkland on offer, a hot air balloon ride is an alternative – and magical – way to explore this natural gem.
5. Pamukkale

One of Turkey's most illustrious natural wonders, the pure white rocky terraces of Pamkale stretch down into the sea, looking for all the world like a snow-bound hillside stuck out of place in a luscious green landscape.
Choosing a luxury hotel
With Turkey being a major tourist destination for visitors from across Europe, it has a selection of high-quality hotels. There are many different kinds of luxury accommodation in Turkey, including hotels, resorts, holiday villas and bungalow cabins. If you're looking for a luxury hotel, where your every need will be catered for by the friendly, professional staff, consider Turkey's selection of beautiful, elite, boutique hotels, where activities include relaxing in a Turkish bath or swimming in the pool. Turkey also offers a number of upmarket holiday resorts, some nestling in the mountains and others on the sun-kissed coast. Choose a spa resort hotel, where you can relax and enjoy the spa treatments, or choose a family hotel at one of the major tourist destinations along the coast.
Which hotel to choose in Turkey?
Marti Hemithea Hotel

The Marti Hemithea Hotel is an exclusive, luxury 5* hotel nestled in the stunning surroundings of Hisaronu Bay, where the Aegean and the Mediterranean seas meet. Hemithea is the ideal base for exploring the delights and attractions of the Loryma Peninsula. Here you can literally walk on water, crossing the bay at Orhaniye using the slightly submerged sand spit known as Maiden's Sand. Just further down the coast, you can visit the site of the Templr of Aphrodite.
Cornelia Diamond Golf Resort & Spa

A true indulgent resort, the 5* Cornelia Diamond, in Belek, is home to a luxurious spa, 27-hole golf course by Nick Faldo, and enough dining and sporting options to keep anyone busy throughout your entire stay. Voyage Prive members will stay in a Classic Superior room, with a sea view, and experience all-inclusive dining across the resort's range of restaurants.
LUX* Bodrum Resort & Residences

The perfect base for a luxury beach holiday, this 5* hotel is in the historic city of Bodrum, a bustling centre nestling alongside the Aegean Sea. Aside from the beaches, the main attractions in the area are Bodrum Castle, the 2,000 year old amphitheatre, and the busy vibrant city of Bodrum itself.
Practical information about Turkey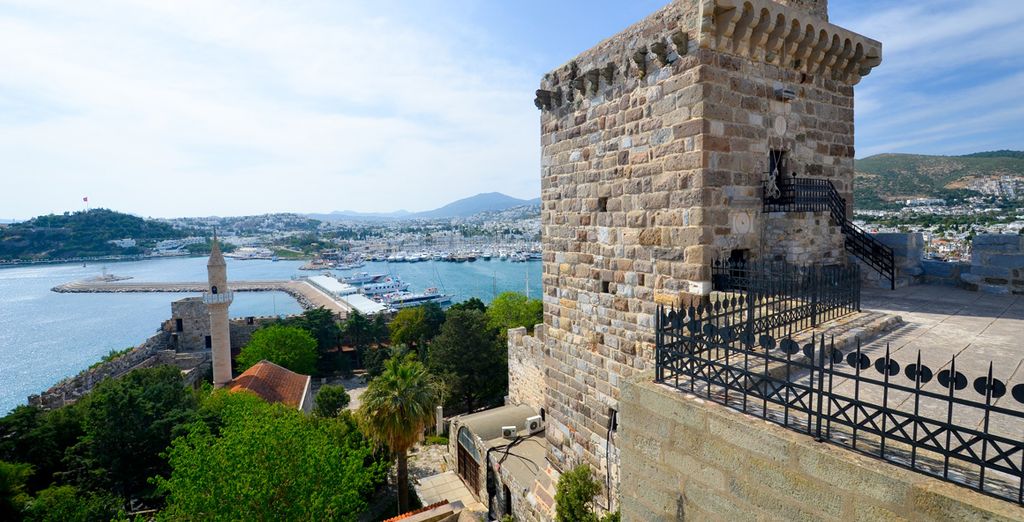 What is the weather in Turkey?

In summer, most regions of Turkey are warm, dry and sunny, with temperatures in the high 20s. In the winter months, temperatures are similar to the UK, perhaps a little warmer except in the central region where it is often cold enough for skiing holidays.
What budget to plan?

Turkey is a country where it is more than possible to holiday on a budget (from £300 per person upwards all-inclusive) or splash out on a true luxury getaway. Whatever your budget, you'll find an all-inclusive Turkey holiday to suit you.
Discover more offers to Turkey : Holidays, Great deals, Last minute deals, Weekends, Sun holidays