Last minute Dubai trips - enjoy one of the world's best holiday spots



Table of contents
Book last minute Dubai deals with Voyage Prive and discover more about this city's brilliant shopping, record-breaking tourist attractions and desert surroundings.
Travel to Dubai
One of the seven United Arab Emirates, Dubai has emerged as a major global tourism destination over the last two decades
Dubai is a tailor-made holiday destination, and the entire city was designed with two purposes in mind: business and tourism. Everything you could ever want as a holidaymaker is catered for in abundance. If you're after great weather for your holiday, you are almost guaranteed that in Dubai with an average of 300 days of sun every year. If you're looking for great views, there is some magnificent architecture, including the tallest building in the world. The marina also boasts 4 of the 5 tallest residential buildings on the globe. If heights aren't your thing, head down to the beach where numerous bars and clubs hosting the best DJs will keep you entertained until the early hours of the morning. If spending all day in the heat is getting a bit much, you can take a break and go skiing! Dubai offers a five slope, 85m high, indoor ski facility. Once you've worn yourself out on the slopes, it will be time to rest and recharge. When it comes to food, Dubai has many options to choose from, and its diverse culture is reflected in the available cuisine. From cheap eats to high-end restaurants to food festivals, Dubai is a paradise for foodies.
The Voyage Prive travel expert's opinion on travel to Dubai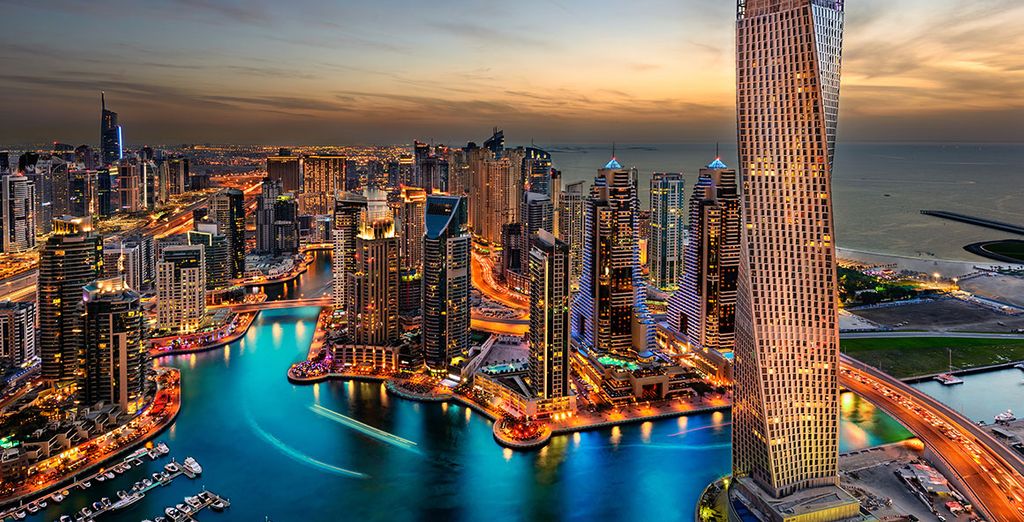 Travelling to Dubai is like travelling into the future. The city has been built almost from nothing in just over 20 years, making it younger than the average age of its inhabitants (27). If you are looking to explore the latest developments in business, architecture, and art and design, then there's only one destination to choose – Dubai. This is a city that showcases global culture like no other. Almost 85% of the population are expats and it has almost 16 million visitors each year. Nowhere else in the world offers you such a high chance of rubbing shoulders with someone from any other country. The design of Dubai is one of a techno-utopia; towering skyscrapers and artificial islands will leave you breathless and in awe. It is a city that offers something for everybody - great food, amazing beaches, excellent shopping, and a fantastic nightlife. Dubai is an entrepreneur's dream; hardly a week goes by without a new development being announced or a new project being started. Last minute deals to Dubai offer you the chance to experience everything you could want from a holiday and the chance to inspire you to create something new and brilliant.
Top 5 things to do in Dubai
1. Visit Burj Khalifa

It's Dubai's most famous building and the tallest in the world. The Burj Khalifa building towers over the city at 829 metres and 163 floors high. It towers over the other impressive skyscrapers Dubai has to offer. There are viewing platforms on floors 125 and 148, and these offer 360° panoramic views for taking the perfect holiday photos.
2. Shopping at The Dubai Mall

Next door to the Burj Khalifa, this mall has over 1,200 shops and more than 150 places to eat, but it's also so much more than just a mall. Inside the building, it hosts its own theme park, ice rink and massive indoor waterfall.
3. The 'Island' of Palm Jumeirah

This is one of the largest artificial islands in the world, designed in the shape of a palm tree. It's a unique piece of architecture with its own monorail for easy access.
4. Step into the past at Dubai Creek

Dubai may be the built for the 21st century, but hundreds of years ago this is where the Bani Yas tribe settled. Visit the Dubai Museum and wind down the narrow lanes to see gold, spice and textile souks.
5. Try activities on Kite Beach

This beach offers a variety of water sports to try, including surfing and jet skiing. If you're not an adrenaline junkie, grab a drink from one of the many cafes and watch the skaters go by along the promenade.
Which hotel to choose in Dubai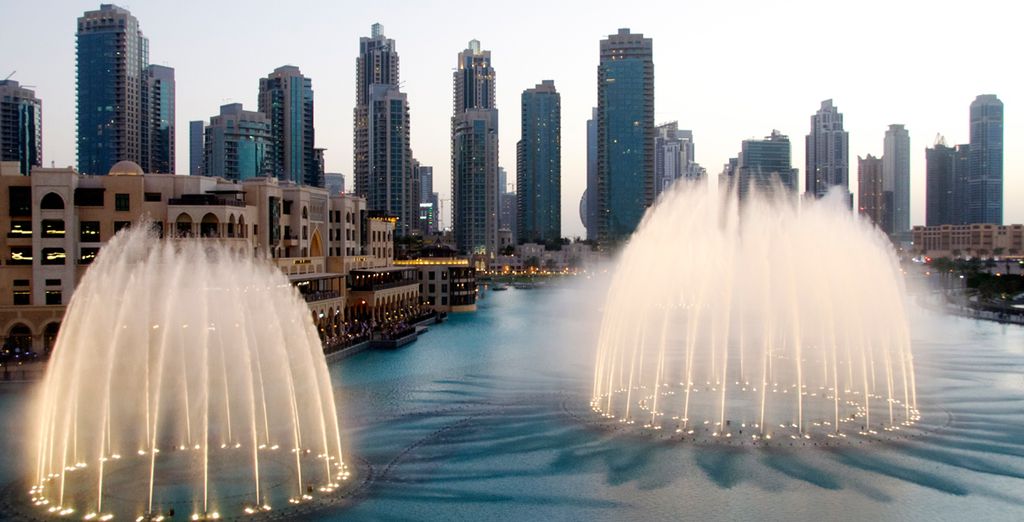 Trips to Dubai are all about luxury and our exclusive offers let you enjoy the city's well-known reputation for luxury at incredible prices. Choose from a range of exceptional quality four or five-star hotels and take the opportunity to explore this jewel of the Middle East in fabulous comfort.
Media Rotana Barsha

This hotel is a 5-star resort famous for its hospitality. The staff there will provide a personalised service ensuring that your stay is a pleasant one. The world-class facilities and unique dining options will make sure your stay is exactly what you want it to be. The hotel has its own fitness suite and wellness centre that includes a sauna, steam room and swimming pool. Set in the Barsha Heights, this is the perfect place to stay after being out in the Dubai sun all day.
Lapita Dubai Parks and Resort

This hotel is one of the most beautiful places to stay in Dubai. Its architects drew inspiration from Polynesian culture and created a resort with stunning guest rooms and arching wooden beams over the palatial spa. The resort offers an incredible on-site restaurant as well as two outdoor pools.
Hyatt Regency Dubai Creek Heights

This hotel sits between the bustling metropolis of the modern city and the enigmatic, historic old city. All of the major attractions are within easy reach of this hotel. There are over 70 luxury suites available and all the rooms on its 34 floors are large and spacious. The hotel offers stunning views of the city skyline and Dubai Creek.
Practical Information about Dubai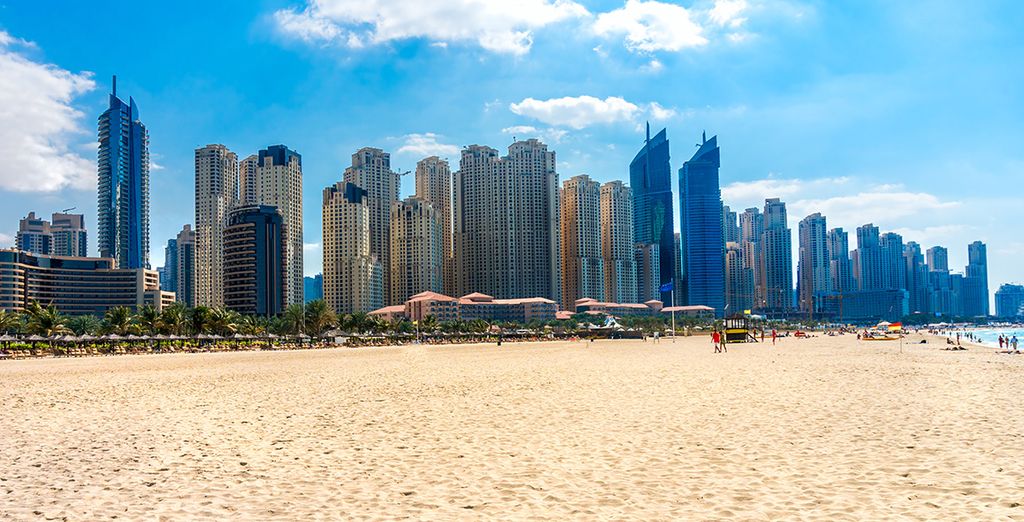 Weather

Between May and September temperatures are in the high 30s to low 40s (°C). From October to April the temperature ranges from the low 30s to the high 20s and you may see the occasional spell of rain.
Transport

Public transport is a safe and reliable way to travel around Dubai. However, it is a city that has been built with cars in mind, so taxis or hiring your own car is the preferred option.
What to wear

At the beach, your usual swimwear will be fine - the only rule is no nudity. Restaurants ask that you dress modestly, covering your shoulders and knees. More high-end restaurants will expect men to wear full-length trousers and closed shoes. Sandals for women are fine.
Budget

The daily budget for a holiday in Dubai will vary depending on what sort of tourist you are. If you will be staying in budget accommodation and eating at food courts you will be looking at around £125 per day. A mid-range trip will set you back closer to £175 per day. A high-end holiday eating at fine restaurants will cost approximately £250 per day.
Discover more travel plans in Dubai: holidays, great deals, sun holidays, booking, travel guide, sun holidays in Dubai, all inclusive holidays in Dubai, Dubai hotels.