The top 10 hotels in Majorca
Our best hotels in Majorca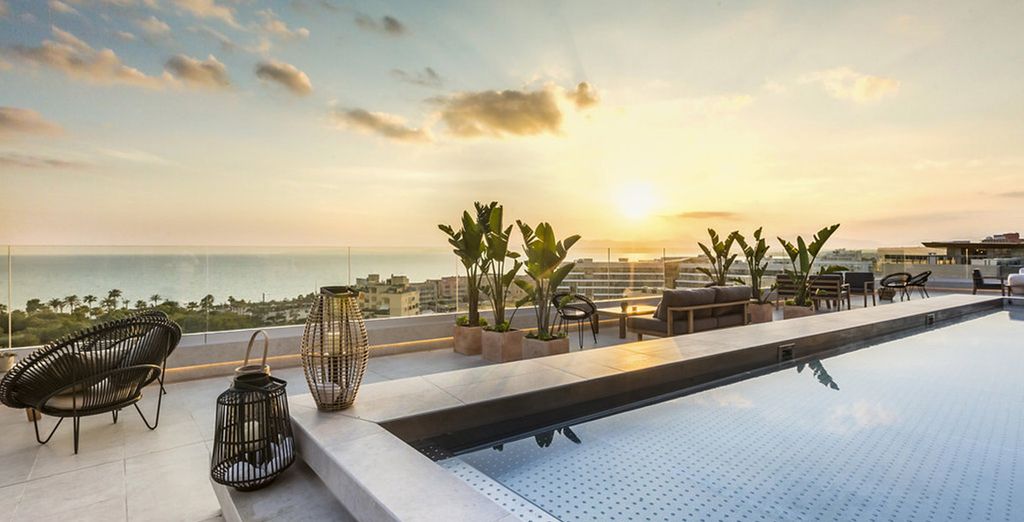 This five-star hotel is a luxurious new build that boasts three restaurants and a stunning modern spa. The beach is also only 500 metres away.
Located near to the popular harbour of Port d'Andratx, here you can enjoy the large swimming pool, al fresco patios and a piano bar.
Located along the Bay of Alcudia and the Albufera Natural Park, you can enjoy relaxing in a hot tub, swim in a selection of pools as well as enjoying the nearby beach.
Located in the beach resort of Palma de Majorca you will be able to relax and enjoy the beautiful sea views from the terrace and outside pool.
Located within a picturesque vista that is surrounded by mountains, this hotel offers stunning views, an a la carte menu and buffet menu, plus it is fully air conditioned.
This hotel is situated in the very heart of Majorca that boasts sea views, a buffet dinner, a luxury spa and tennis courts.
Located within the popular beach region of Playa de Palma you can enjoy a quick walk to the beach and a fabulous food truck or buffet meal
Located near the Cala Mesquida beach, this spa hotel is designed for rest, relaxation and enjoying those stunning Mediterranean views.
The Gran Hotel is a lovingly restored seventeenth century mansion that now offers modern facilities including a Jacuzzi, infinity pool and its very own private cinema.
Located along the Majorca coast this modern hotel offers sumptuous seafood, a relaxing atmosphere and a rooftop bar.
What services will you find in our hotels in Majorca?
We offer a wide range of services in our luxury hotels. These include some of the following: • Private parking • Swimming pool/Jacuzzi, spa • Tennis courts • Free WiFi • Parking • Air conditioning • Laundry service • Minibar • Smart TV
Hotel rental offers in Majorca are convenient for all kinds of travel
Our hotels are suitable for everyone, allowing you to enjoy the sights and wonders of Majorca. As a family you can enjoy the wonders of the Albufera Natural Park, or simply relax on the many beaches with a bucket and spade. When with family or friends you can enjoy exploring Majorca's major city of Palma de Majorca, where you can explore its rich history, culture and many local markets. If you are planning a romantic getaway, then the pretty harbour of Port Andratx offers many romantic walks with views of the Mediterranean Sea. When wishing to be active and to enjoy the local sports, then you will be spoilt for choice. You can swim in the sea or many pools, note a key ski, play golf or tennis plus snorkelling.
The range of hotels we offer in Majorca
We offer a vast range of hotels in Majorca that cater for every need. We have renovated mansions that offer all of today's mod cons and spa resorts that enable you to fully unwind and relax during your stay with us. We also have many luxury 5 star hotels located along the coast and in the cities. If you are on a tight budget then we also offer many last minute deals, so do keep checking the website or set up an alert.
Majorca: What should we bring for a hotel stay?
When holidaying in beautiful Majorca, there are a few essentials that you need to bring with you. We don't provide toiletries, so be sure to pack them in your luggage, or buy some on your arrival. As Majorca is situated in the stunning Mediterranean Sea with temperatures soaring in the summer months, you will need to pack your bathing costume, sunglasses, hat and sun cream. Shorts sandals and a t-shirt are ideal for when walking along the cobbled streets and when having a leisurely lunch. Also, remember to bring those euros with you.
Your best hotel in Majorca: how to get there and make your booking?
Most holidaymakers arrive in Majorca via its main airport in Palma de Majorca that is 8km from Palma. An average flight from the UK takes around two and a half hours. There is a small train service that connects Palma to other towns on its way to Inca, but this is mainly used for sightseeing. Booking with Voyage Prive couldn't be easier as it is all done online via easy to follow steps. You do need to be a member in order to take advantage of our spectacular offers, but this is done with the simple click of a button.
The opinion of the Voyage Prive travel expert on hotels in Majorca}
We have hotels in many different regions of Majorca, all of which offer something a little bit different.
Palma
is the capital city and it's here that you can enjoy the vibrant nightlife, the Royal Palace, art museums and galleries. All of which are surrounded by lush citrus fields.
Playa de Palma
is a popular beach area in the city with its sprawling beaches and clear waters. Perfect for those who simply want to spend their day relaxing on the beach and swimming in the sea. Many local cafes are situated along the coastline.
Calvia
is a small coastal town that features secluded coves, perfect for that romantic weekend. This area offers sandy beaches and Paguera is only a short walk away with its bars and exciting nightlife. We believe that Majorca is an ideal holiday destination because it really does tick all the boxes. The rich culture of the island appeals to all ages. You can browse the local markets, stroll along the cobbled streets and marvel at the Gothic cathedral in Palma. Majorca is such a welcoming island that embraces people from all over the world. What the locals love to do is to share their love of food, especially the local seafood, olives and vegetables. Food is relatively cheap and so is the local wine. Majorca is also an island with lots to do, or you could simply spend the day relaxing on the beach. Take a tour of a local gallery, hit the golf course or sit in a beach-side cafe.
Majorca, the holiday island that everyone can enjoy
We believe that Majorca is an ideal holiday destination because it really does tick all the boxes. The rich culture of the island appeals to all ages. You can browse the local markets, stroll along the cobbled streets and marvel at the Gothic cathedral in Palma.
Hotels in Balearic Islands
Weekends in Balearic Islands