Join for free
Join for free
Save up to 70% on UK countryside stays, European city breaks & exotic beach holidays.
More than

7.3 million

people have already trusted us with their holidays!
Member-only rates & exclusive perks
Save up to 70% on luxury travel
A reliable team, 7 days per week
City Break in Prague
The fifth most visited city in Europe (after London, Paris, Rome and Istanbul) Prague perhaps takes the prize for being the prettiest city of all with its profusion of spires, domes and bridges. It is a beautiful city: and the perfect place for a city break.
Discover all our City Break Deals and our European City Breaks !
City Break in Prague : Five Things to Do and See
1. Have a Beer Bath!
The Czech Republic, and Prague in particular, is famous for its carefully crafted and brewed beer. What better way to celebrate the golden foaming nectar can there be than to bathe in the stuff? Not only that, but as you enjoy your beer bath – which is said to be excellent for the skin and body: the beer's yeast soothes the skin, while the carbonation fizzes to release health-giving minerals and induce a state of deep relaxation – you can enjoy as much beer as you can manage.
2. Admire the Astronomical Clock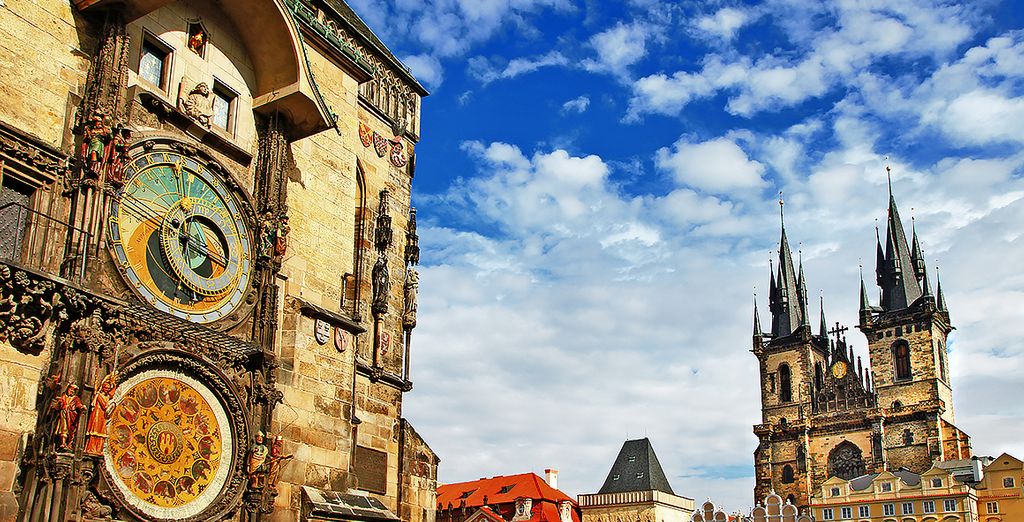 More than 600 years old, the astronomical clock is well worth your admiration. A series of dials mark the passing of the hours, the movement of the zodiacal signs and the passage of the planets across the sky. The clock is constantly maintained and improved, because there is a legend that if the clock were to every fall into disrepair, the city will fall. Less admirable, however, is the (now disproven tale) of the clock's maker, who said to have been blinded by the city authorities so that he could never replicate his beautiful work for anyone else
3. Prague Castle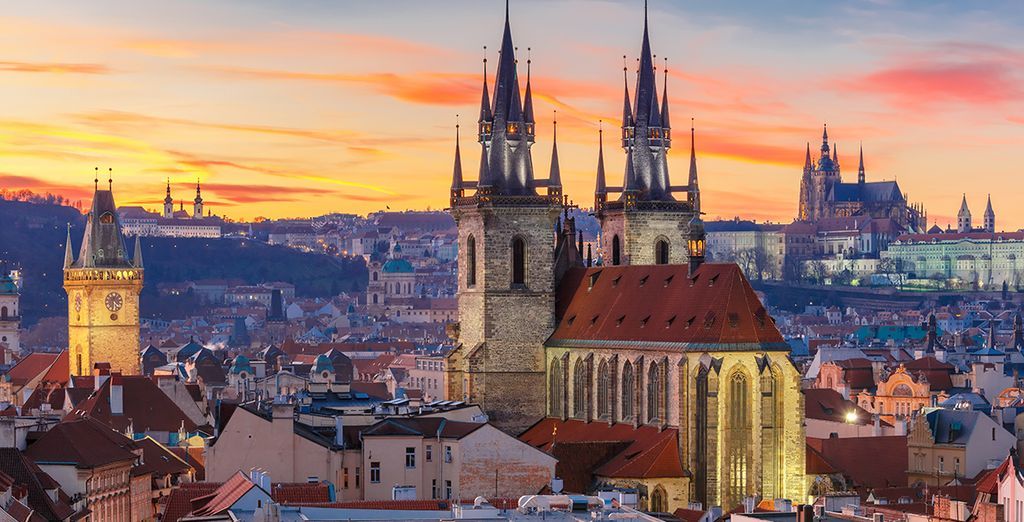 Actually a complex of immense buildings, Prague Castle holds the title of Largest Castle in the World. It began life in 870AD, and grew over the centuries into the immense complex that it is today. It is the current seat of government and home to the president of the country – in, obviously, one of the several buildings that are not open for public visitors.
4. Petrin Tower
Prague's answer to the Eiffel Tower, Petrin Tower stretches up only 60 metres, but its position on the peak of a hill makes it seem even taller. Built in 1891, the former look-out tower now serves as a transmission tower and a major tourist attraction: the views from the top are stupendous!
5. The Charles Bridge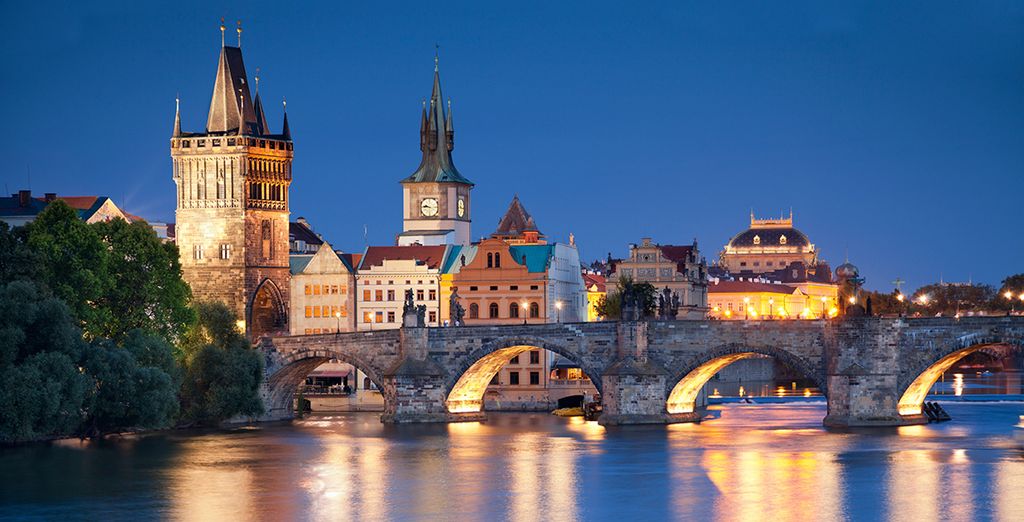 Arguably, the most famous bridge in Prague, the Charles Bridge is just over 600 years old; it was built to replace the Judith Bridge which collapsed into the water. For a long time, the bridge represented the only way to cross the water, which made the area an important one for trade. Over the years, a collection of baroque statues were added to the bridge that enhanced its unique attraction for visitors, and one of these has become perhaps the most famous. The statue of John of Nepomunk – a martyr who was killed when he was thrown into the water from the bridge. So many visitors touch the statue that it shines from the polishing action of all their hands.
Best Hotels for City Break in Prague
An Art Deco building constructed in 1907 houses this hotel. Inside, welcoming receptionists will see you are opening the door to your immaculate rooms in no time, making you feel at home. All the mod-cons are at your disposal, before you head out to explore the best of Prague which lies on your doorstep, thanks to the great location of the hotel.
Panoramic views of the city and easy access to all the best of the sights, this luxury hotel is your perfect home away from home. The many restaurants offer a choice of local foods as well as Mediterranean, Asian and other international dishes, while the almost sinfully comfortable rooms are tastefully decorated in earth shades. A top floor spa will help you unwind and relax, away from the hustle and bustle of the city.
In the heart of Prague's most popular district, this hotel offers superb five-star comfort, welcoming social areas, soothing but stylish bedrooms and a wonderful range of delicious cuisine from the world-class on-site restaurant. The hotel is handy to public transport links and in good walking distance from many of the iconic Prague sites.
Plan Your City Break in Prague
Two things to be aware before travelling to Prague: beer tends to be cheaper than water – something to think about if you need an excuse for enjoying a beer more often than not while on your city break! And most landmarks are within relatively easy walking distance of each other, so you should not have to pay out a lot for taxis.
The best time of year to go to Prague
May and September are the perfect months to visit Prague: the temperatures are pleasantly balmy and the worst of the crowds have either not arrived yet, or they have already left. You may also be able to take advantage of reduced airfares, hotel rooms and even the prices of souvenirs and mementos.
Getting to, and around, Prague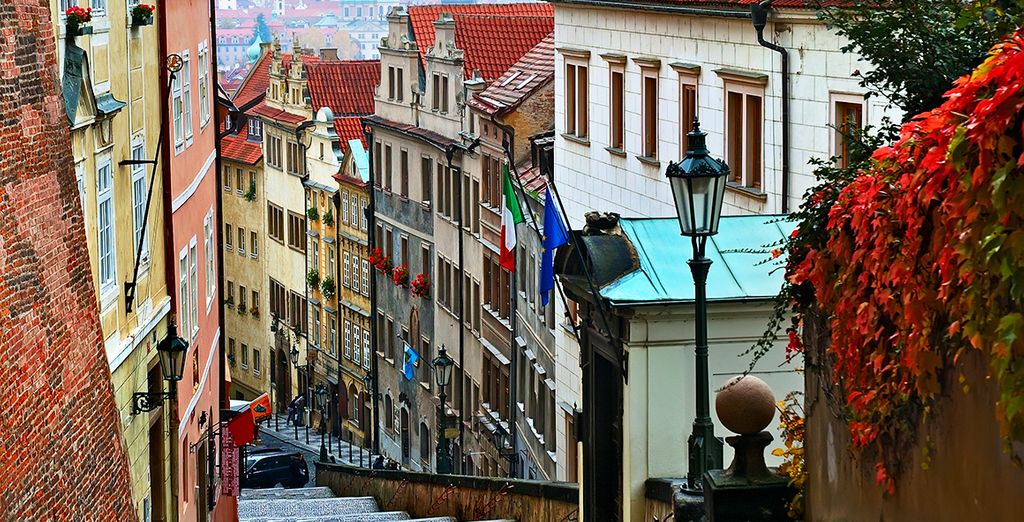 Prague is easily accessible by road, rail or air: fly into Prague Ruzyne Airport – which is, in fact, the best airport to fly into no matter where in The Czech Republic. Trains in this part of the world are cheap and efficient, delivering you to your promised destination promptly and on time. Driving in is also a possibility, depending on where you are driving from, as the roads are in good condition. However, be aware that there is a 0% blood alcohol limit, and that not having the right paperwork (valid driving licence, insurance and so on) can land you in hot water.
Getting around in Prague couldn't be easier: public transport is all integrated, so your ticket can be used on a bus, train, and metro train. Failing those, most places are within easy walking distance, or, for door-to-door delivery, there are always taxis.
Where to eat in Prague? The best districts and restaurants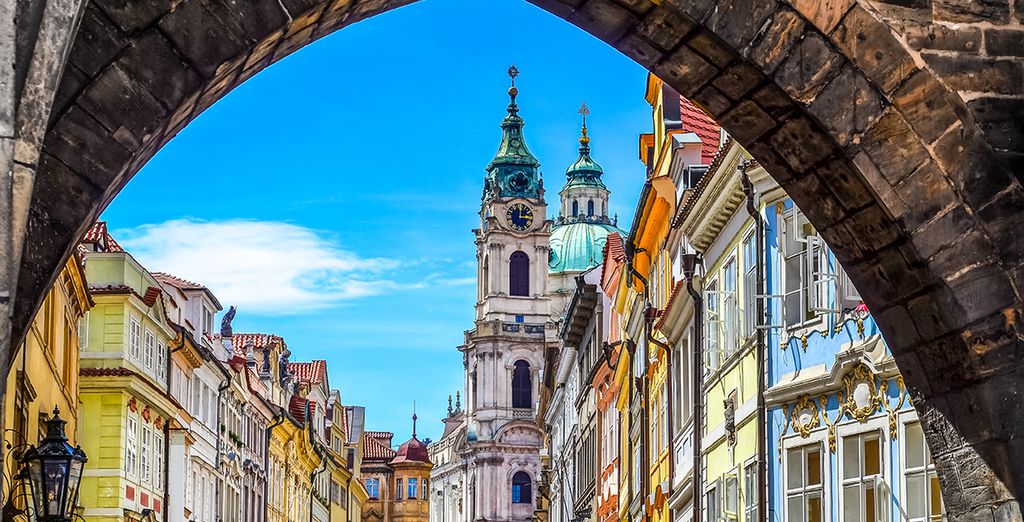 The local speciality in Prague is pork knuckle. While this may sound off-putting the reality of this delicious dish is like a miniature leg of ham all to yourself! Failing that, Sokolovska Street Polevkarna has a reputation as something of a foodie street with plenty to try, from regular meals to snacks to quirky trendy fads. Whatever you eat, be sure to avoid the Vinarna Certovka afterwards – it is Prague's narrowest street and boasts its own traffic light because two people could not hope to pass while traversing its length!
Nightlife in Prague
Because Charles Bridge is such a popular site, there are a plethora of cafes, pubs and nightclubs in the immediate region. However, Zlaty Strom Bar and Music Club is a one-stop shop for partygoers of all types, you can drink and dance, sit peacefully and listen to the music, or watch the pole dancers go through their moves. Karlovy Lazne is Prague's biggest nightclub, stretching over five floors – with a different vibe on each floor.
Our Practical Advice for a Prague City Break
What to pack for a Prague city break?
Prague weather is changeable and you can have rain even on an apparently beautiful sunny day, so do take along an umbrella or a waterproof. If your hotel has a pool, take a swimming costume along, and if you want to attend the theatre or go out take a nice dressy outfit so you can meet the dress code.
What budget to plan?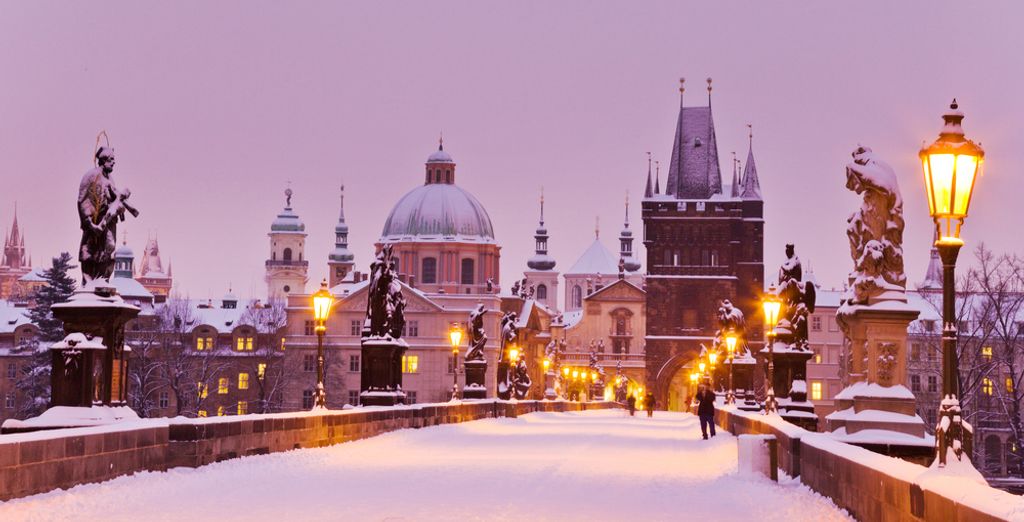 Plan for around €75 per person per day for your city break, and bear in mind that the Czech Republic does not use the euro, they use the Czech crown.
Useful information before going to Prague
The transport system in Prague is rated as one of the best in the world, so don't be afraid to use it. The city is relatively safe, but do use the usual cautions when travelling abroad.