Sri Lanka Honeymoon
Your honeymoon is your first holiday with your partner when you are officially married. Originally an opportunity to take your new spouse around those family members unable to travel to the wedding, it gradually morphed into a holiday when the young couple could be alone and learn to be intimate away from prying eyes and inquisitive and tactless relatives – many a family was started during that intense learning curve of a fortnight or so! Today, intimacy is less of an issue, but couples still like to get away from it all for a bit, just spending time together and unwinding after all the stress of arranging and paying for the wedding. Make it the holiday of a lifetime and go somewhere far from home, somewhere visibly different to what you are used to, and where, perhaps, they speak a language that you are unfamiliar with, just to give you a true sense of the exotic. If this sounds like bliss to you both, a Sri Lanka honeymoon might be exactly what you are looking for!
Honeymoon in Sri Lanka: Find the Best and Most Romantic Hotels with Voyage Prive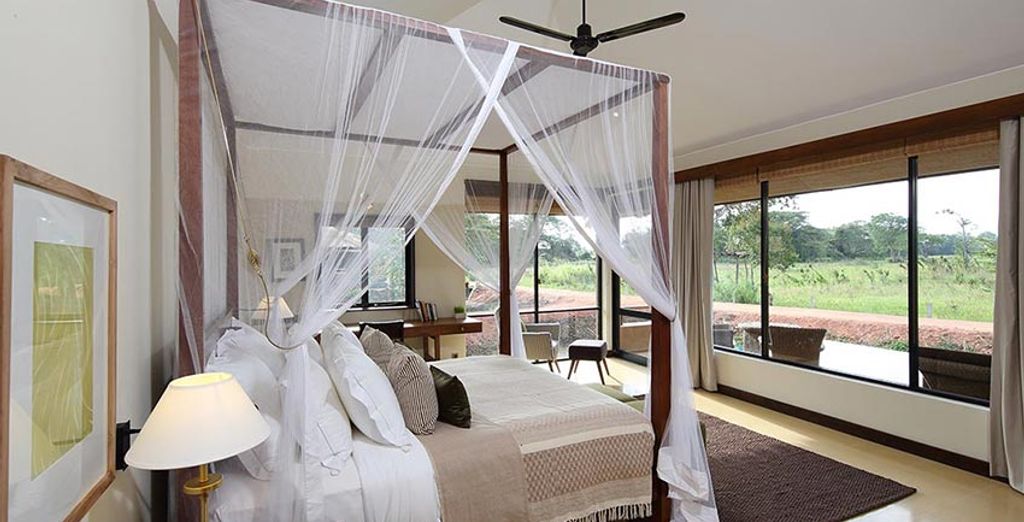 It may be an island, but Sri Lanka is packed with a seemingly endless diversity of animal and birdlife, is packed with a range of terrain from forests to mangroves to lagoons and mountains. The very best way to explore as much of the country as possible without having to fret about transportation, making the right connections and the possibility of missing out the best sights and experiences. A tour will ease your progress around the country, ensuring you enjoy a Sri Lankan showcase, taking in the highlights and not-to-be-missed landmarks including beautiful beaches, national parks, protected areas and ancient architecture and beautiful temples. Your hotels are all four-star or higher, offering delicious local and international cuisine, pampering spas and swimming pools and customer service that will make your time in the hotel pass as smoothly as a dream.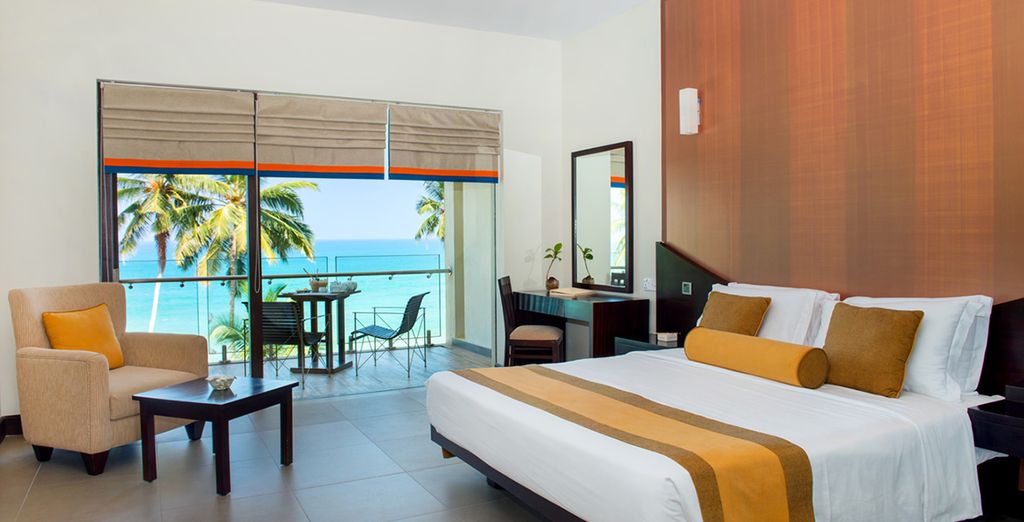 The perfect blend of the old and the new, this hotel offers the cool and calm comfort of old-fashioned Sri Lankan architecture, built to withstand the heat beating down in summer, and the modern conveniences of today's world, designed to make your holidays the very best that they can be. The cool and airy foyer leads out to the tranquil pool, where parasols wait to guard you from the worst of the sun's rays, and the lush garden shields you from casual passers-by. The bedrooms are elegantly furnished with a nod to Sri Lankan style and décor, but otherwise adhering to the most sumptuous western interior design trends to create unique, beautiful and comfortable rooms that will quickly make you feel at home.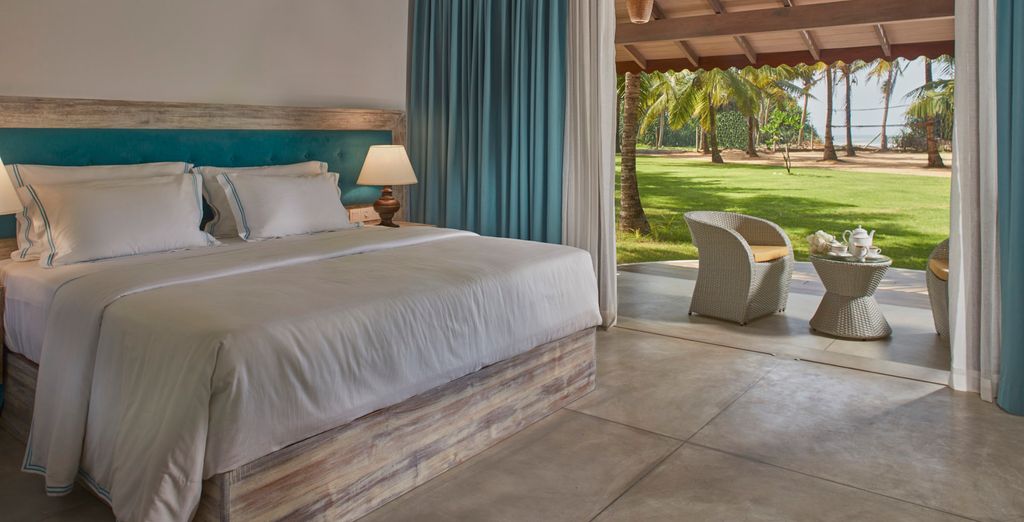 Escape with your new spouse to the comforting arms of this exquisite five-star beach front hotel, where everything is inclusive, allowing you to eat, drink and enjoy yourselves without having to worry about a single thing. The outdoor pool beckons, as does the lush environment: a lagoon, exquisite beach front and tall exotic palm and coconut trees will welcome you even as they let you know that you are far from home and living your best lives – and with your best friend beside you to boot! Wide French doors open out onto the private courtyard from your cool and spacious room, and the food is perfectly prepared and bursting with unique Sri Lankan flavours.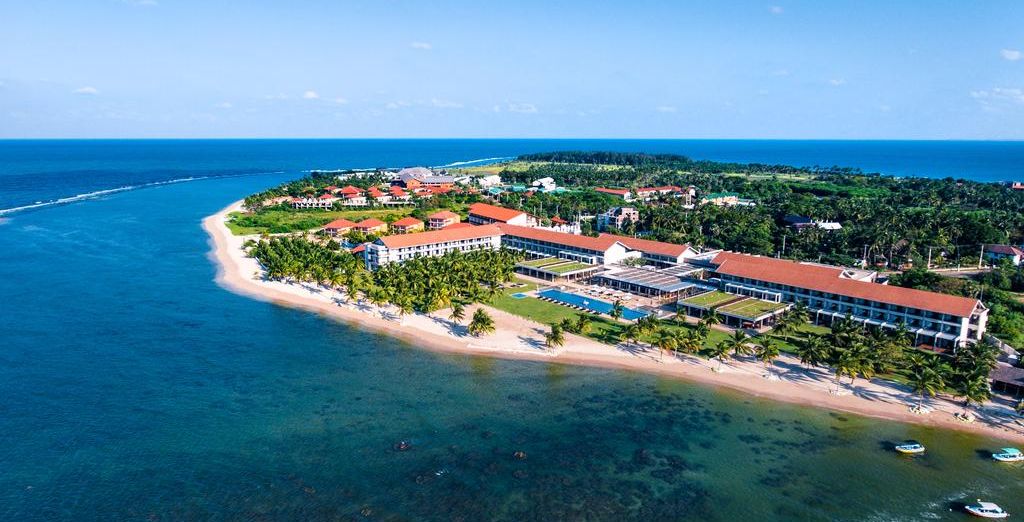 This opulent resort and spa lies next to the Indian Ocean, boasting airy and spacious rooms, beautifully decorated with stylised Sri Lankan prints and designs. Enjoy gorgeous meals, created in front of you in a kind of performance art that you can eat, as you sit on the terrace, watching the sun set and seeing the light – but not the warmth – drain from the sky in a stunning display of reds, oranges, pinks, and yellows to be replaced with a cool purple sky and icy fire of a thousand stars twinkling above you. Whether you both want to laze your honeymoon away or are keen to explore the best of Sri Lanka, seeing as much of it as possible, this beach resort is your perfect home away from home.
Honeymoon in Sri Lanka: What to See and Do as a Couple to Experience the Best of it
1. Kandy to Ella Train to Nowhere!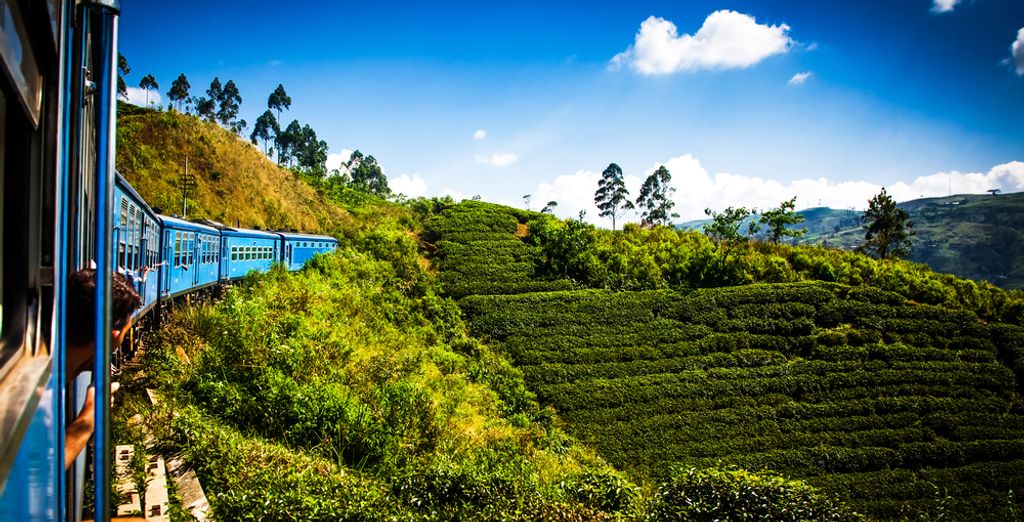 Ella and Kandy are both fascinating destinations in their own right, and are worth your spending some time exploring, but the journey is the highpoint of this trip! The train takes you through some of Sri Lanka's most exquisite landscapes, opening out into scarily breath-taking views! The trip will only cost a few US dollars each, and it is a lengthy five-hour trip by train. However, there are decent loos, and you can walk around the train, enjoy a packed lunch or buy snacks from vendors who ply their trade en route, and admire the scenery as it passes. The train seems to be floating over otherworldly bridges with immense depths falling away beneath the tracks, diving into the cool green of dense woodlands, and even going dark for long moments as the train roars through a tunnel. Explore the alternate destination when you get there, maybe even staying a night or two, and then head back again, to admire the view from the other direction!
2. Tea Plantation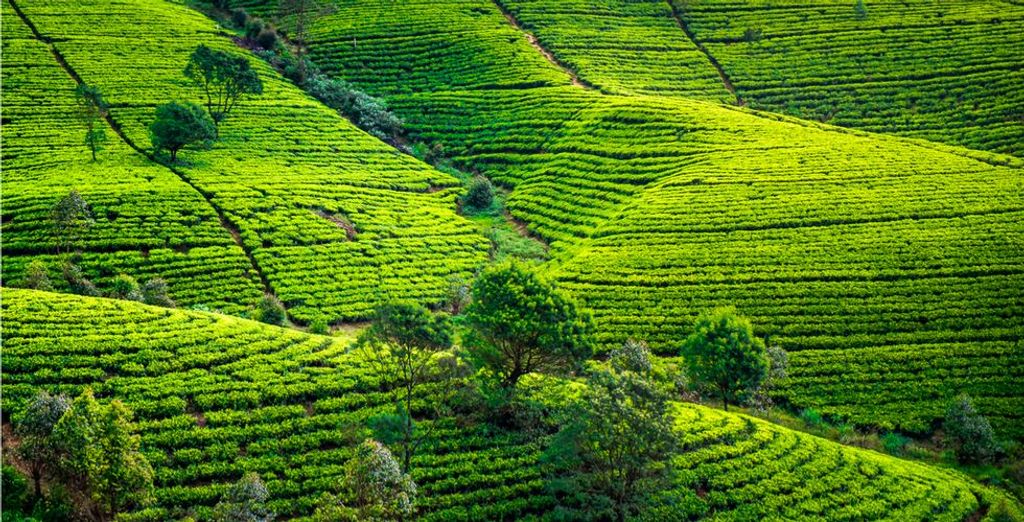 Hearkening back to the days when Ceylon, as Sri Lanka was known during colonial times, tea is one of the island's major exports. This is the tea that is drunk in gallons every day in the UK, and watching it grow, be harvested and then treated until it becomes the beverage (known as 'Indian tea' or 'black tea') that we know and love so well. The tea plantations are beautiful to explore as the plants form unique shapes and patterns on the landscape, due to the way they are planted. The practical reason for this is so the plants can be harvested easily, but the effect is aesthetically pleasing and looks great on social media feeds.
3. Sigiriya Rock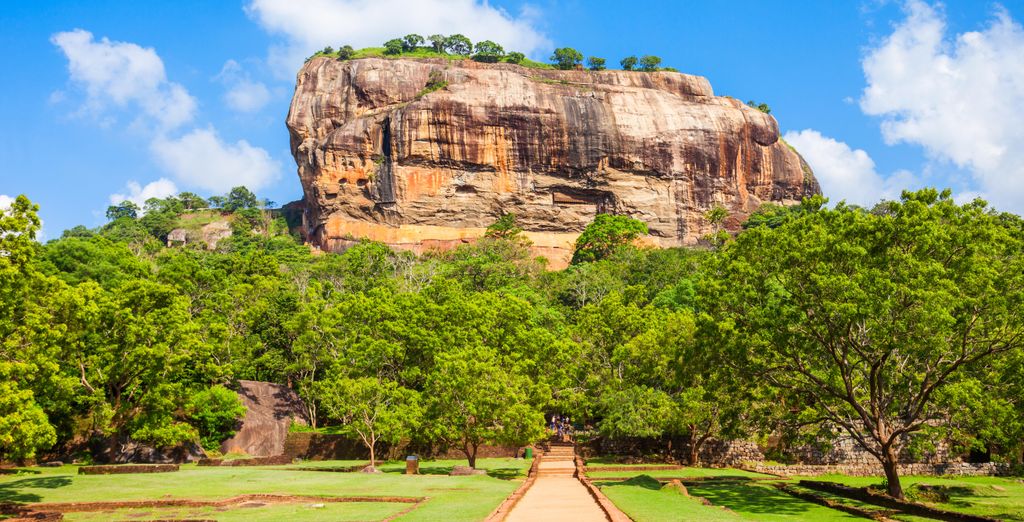 A unique and startling rock formation standing nearly 200 metres tall and topped by an ancient fortress city that was once the capital of Sri Lanka, Sigiriya Rock is an excellent destination for a day trip while exploring the country. The climb will take you around three hours, and you will enjoy superb views over the lush woodland nearby. The royal palace, abandoned in around 500AD, was then put to use as a Buddhist monastery, which gives the region layers of historical interest to go along with the uniqueness of the geographical formation. Because of this, the site is now a UNESCO World Heritage Site, and is well worth taking the time and effort to climb to the summit.
4. Kaudulla National Park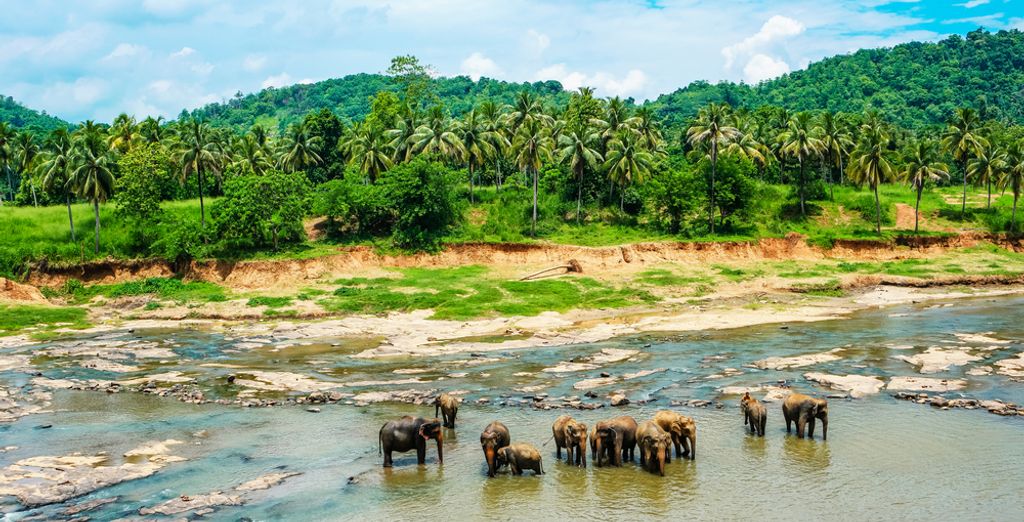 Just over a hundred miles away from the largest city Colombo, this national park is a wonderful destination for a day trip. The park is home to hundreds of elephants, various deer and antelope, turtles, wild boar, leopards (which are very shy and often asleep during the day, so a sighting is a rare and precious thing indeed) and various monkeys, as well as a fantastic array of bird life. Spend the day with the knowledgeable guides, who will expertly spot the shyest creatures, getting you close enough for a great photograph without stressing the animals out.
5. Diyaluma Falls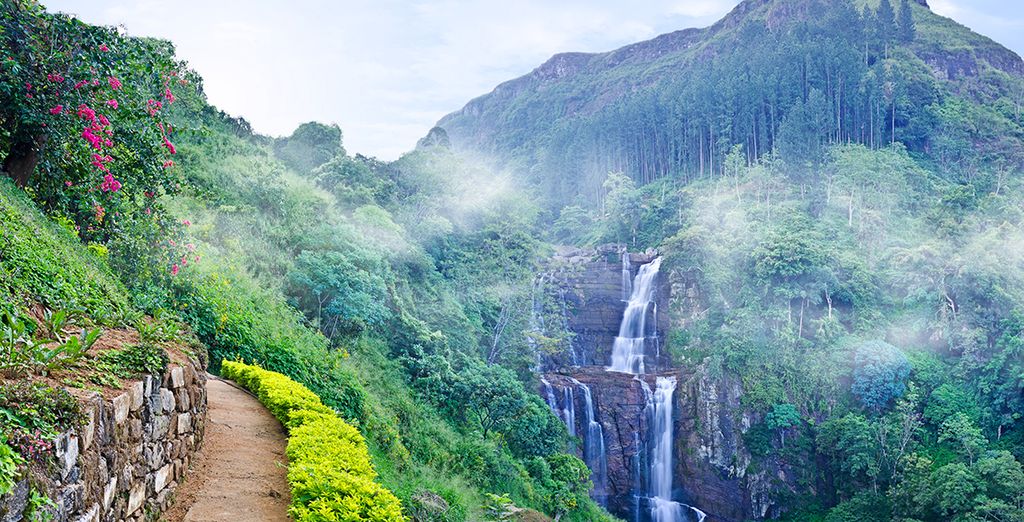 This, the second highest waterfall in Sri Lanka is the perfect destination for a leisurely day of exploration and hiking. The whole area is scattered about with welcoming pools and miniature waterfalls and water features – a kind of entirely natural waterpark, if you will. Getting to the top of the main fall is a thirty-minute, moderately intensive, hike, and it can be difficult to see over the edge because of the thick undergrowth and the lie of the land, but you can inch up to the edge and peer over for a moment – just be careful about your footing when doing so!
6. Markets
Sri Lankan markets are thriving, vibrant and highly educational! Pettah Floating Market is perhaps the prettiest, with small pink houseboat style stalls drifting along, packed full of everything you could possibly want, from electronics to accessories (bags, purses, belts and so on) to souvenirs and snacks, but there are many markets all over the country. Most have a foodie emphasis, and you can try all the regional specialities, cooked as they are to please local palates, to enjoy the authentic tastes of Sri Lanka, but many also offer uniquely Sri Lankan souvenirs and artworks which can make a wonderful addition to your home: a memento of your marriage as much as your holiday.
Honeymoon in Sri Lanka: Essential Information to Plan Your Getaway
While you are in Sri Lanka, do be mindful that actions that would pass unnoticed in the UK are considered disrespectful, rude, or outright offensive. This can be something as simple as turning your back of a statue of the Buddha in order to snap a selfie of yourselves with the icon: photography of religious statuary is sometimes prohibited, and turning your back on Buddha can be seen as a literal snubbing of the religion. However, if photography is forbidden, there are usually signs, and your guide will let you know if it is acceptable or not, depending on where you are visiting at the time.
Also try to avoid pointing directly at people: this is not only rude, it is seen as actively offensive – and pointing at a person with your feet is a huge no-no. You are basically saying that the person is lower than your feet…
Sri Lanka is working hard to build up its tourist industry, with a fair amount of success, although this is undermined from time to time with terror threats. Avoid political hotspots and, if you are politically aware, try to avoid telling locals how they should be thinking or behaving: emotions run high and outsiders pointing out flaws and making suggestions is seldom appreciated anywhere!
The best time of year to go to Sri Lanka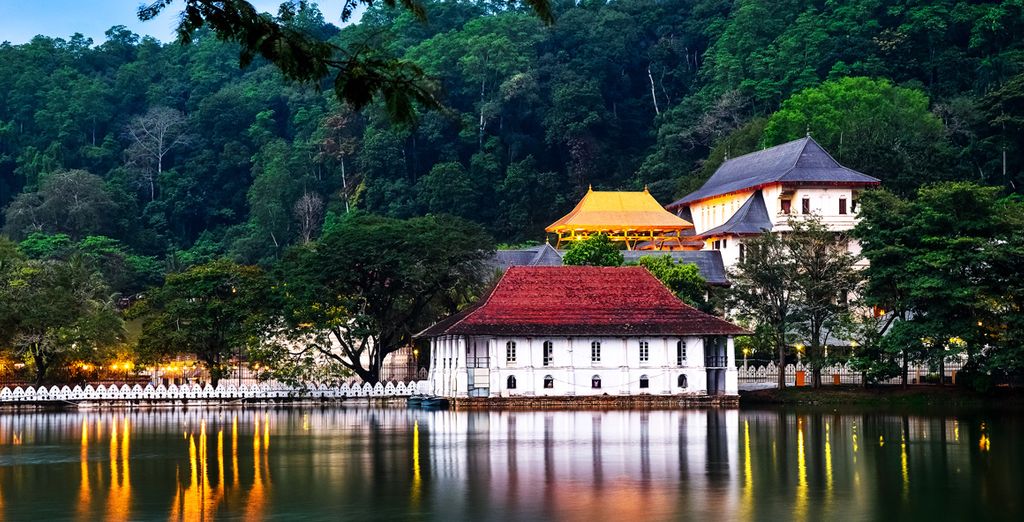 There is no bad time to visit Sri Lanka as somewhere on the island is almost always enjoying great weather. As a general rule, head for the east coast between April and September and the south and west between December and March
What to pack for a honeymoon in Sri Lanka?
Sri Lanka can be a little humid, and there are some insects about. A good quality insect repellent will help fend off the little pests, and carrying an umbrella or lightweight rain jacket will ensure that sudden showers will not delay your plans. Otherwise, light shoes for the beach or towns, hiking shoes or boots for longer walks and swimsuits for the beach are all must-packs. Sun screen will keep your skin safe, and sunglasses will protect your eyes, and having a sarong tucked into your backpack at all times can help you to instantly be more modestly dressed should you want to enter a temple, or more formal venue.
Getting Around Sri Lanka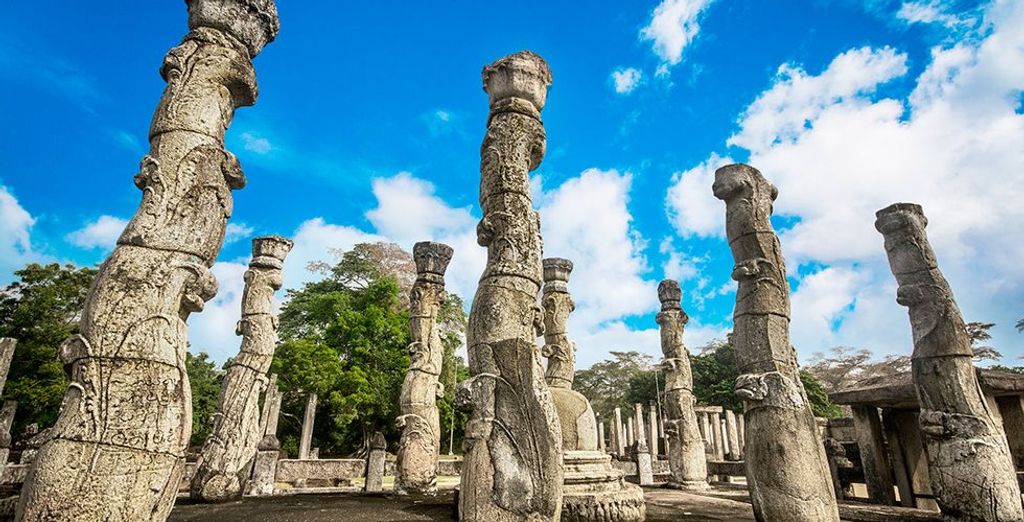 If you are planning to hire a car in Sri Lanka, you must have your own country's driving licence plus an International Driver's Permit which specifically names Sri Lanka in its list of valid countries. Try to organise this long before the honeymoon, in order to avoid disappointment or the added cost of hiring a driver/ guide to see you around the island.
Buses are incredibly cheap, but they tend to be very packed, quite dirty and the drivers often think they are on the clock when it comes to getting to their destination as quickly as possible – dangerously so!
Trains are excellent. Economic, well organised and punctual, you will get around Sri Lanka by train without any efforts and without breaking the bank.
Practical Advice for a Sri Lanka Honeymoon
Sri Lanka, being an island, must import almost all its goods from the mainland or further afield. This can push prices up, so that while Sri Lanka should be a tempting prospect with its still developing tourist industry – usually a sign of low prices to encourage people to give it a try – prices can be a little higher than you might expect.
Avoid the tap water as it can be upsetting to western tummies, and no one wants to spend their honeymoon in the bathroom, feeling dreadful – those are not the memories that you want to make!
Sri Lanka uses the Sri Lankan rupee which runs at about 235 rupees to one pound, and the languages most commonly spoken are Tamil and Sinhala, while English is spoken by around a quarter of the population and is widely used on official occasions. The power points in Sri Lanka use a mixture of the regular three rectangular pin plug and the more unusual three round pin plug, so perhaps take along two different adaptors unless you can ask your hotel which is the one that they use.