The ultimate Netherlands Travel Guide
Discover the Best Information for unforgettable holidays, weekend breaks to Amsterdam???? Advices, tips, best locations, itineraries and more. ? Find our free travel guide.
Travel to the Netherlands
The land of windmills, winding canals, and the most beautiful tulip fields you'll ever see, if you've never ventured to the land of the Dutch, now is the time.
Fill your days with riding your fieten (bike) across some of the country's stunning countryside. In fact, there are over 32,000km of cycling paths, so you'll be spoilt for choice.
Stop off at one of the many romantic cafes (aka pubs), absorb centuries of art and architecture, and soak up the much-loved culture of this European gem.
From Amsterdam's serene pathways and canals, to Rotterdam's bustling port, you'll be able to embrace some of the best-in-class nightlife across the Netherlands, too. There's something for everyone, and it's the perfect way to while away a long weekend, no matter the time of year.
The top 10 things to see/do in the Netherlands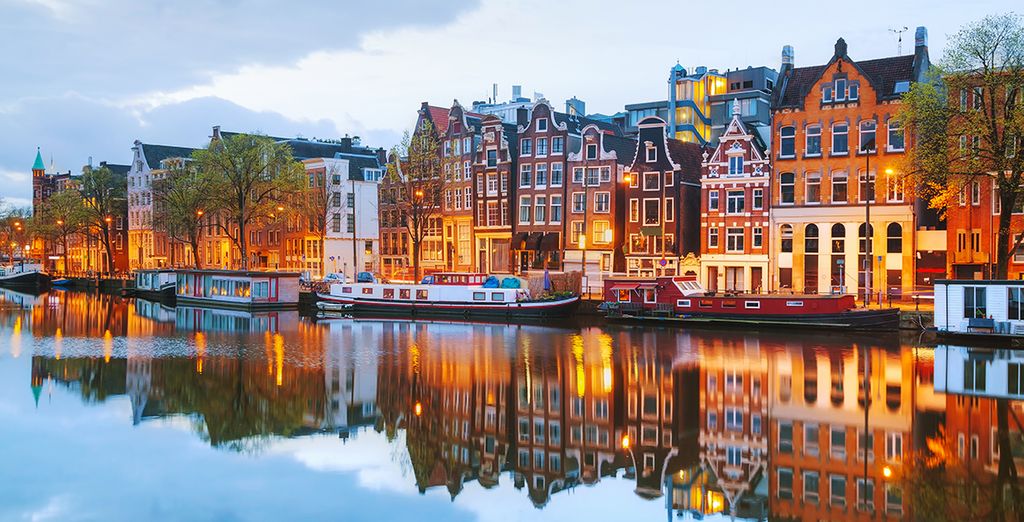 Amsterdam

One of the most-loved places of the Netherlands, Amsterdam is built on tiny canals and winding pathways. There's plenty of individual things to do here in the capital, but the whole city is a must-see. Explore via the canal ring, where you'll find all the hidden boutiques, cafes, architecture, and restaurants. Cycling is a must here, it's the best way to get around.
Anne Frank Huis

Anne Frank's house is an emotional yet intriguing place to visit. Located on a canal called Prinsengracht, it sits in the centre of Amsterdam. Experience the full wartime story through photos, videos, and original, historic items, and learn about the infamous diary and Secret Annex, where she lived for over 700 days.
Rotterdam

Brimming with architecture, this port city is often favoured over the capital, and it's not difficult to see why. Admire the parks, architecture and culture, whilst enjoying sights such as the Euromast Tower and the Blaakes Bos (cube-shaped homes on stalks - yes, you read that right). Hit the Meent for all the latest fashion finds, and seek out the hidden bars and restaurants away from the tourist-heavy areas.
Markthal

A fantastic indoor market hall, based in Rotterdam. The structure of the building is striking in itself, and the inside is adorned with some of the most unique, colourful artwork in the city. Spend the day stocking up on all your favourite food and drink before heading to one of the bars to enjoy a cold beer or wine, whilst people watching.
De Hoge Veluwe

If you want to get out of the city, this beloved National Park is a dream for those who love the great outdoors. Visit the main museum, Kröller-Müller, which includes works from Van Gogh amongst other famous artists, and the second museum, Museonder, as you wander through the grounds. Wildlife mainly consists of deer, so remember to pack the camera for some fantastic landscape shots.
Maastricht

Home to Roman history, tunnel caves and historic buildings, this city is a hotspot for students, and subsequently has a bustling nightlife. It's not all about the university life, however. Visit the 11th-century cathedral, Basilica of Saint Servatius, kick back with a drink and bite to eat in Vrijthof, the central market square, or be transported back to medieval times at Mount Saint Peter.
Van Gogh Museum

Nestled in Amsterdam, this is a must-see for art lovers. Ideal for a couple's day out, a way of subtly educating the children, or simply enjoying a quiet afternoon flying solo, step back in time and see some of the artist's most famous works of art all in one place.
Rijksmuseum

Known as the 'Museum of the Netherlands', Rijksmuseum is dedicated to the country's history and art. Situated in Amsterdam, it tells stories all the way back from the Middle Ages to the 20th century. Here you'll find works from Vermeer and Frans Hals, and the setting is a sight to behold in itself. A grand, gothic building with a beautiful water feature at the front, it's an Instagram-lover's dream.
The Hague

This Gothic-style city is laced with history and culture. Visit the Peace Palace, designed collaboratively by countries from around the world. Or, see some of the best 17th-18th century works of art by Dutch masters at the Mauritshuis. Then, lose yourself in an afternoon of retail therapy in the unique shops and boutiques, before enjoying an exquisite meal at one of the quality restaurants.
Explore the countryside

Last but by no means least, venturing out into the picturesque countryside is one of the best ways to experience the Netherlands. Hire a bike and head out to see some of the world-famous windmills and tulip fields. Plus, visit in the spring and summer months and you can pack a picnic to enjoy when you get peckish.
When to visit the Netherlands

One of the best times to visit the Netherlands is spring-autumn. Travel during April-October for a more enjoyable time.
The weather is deemed quite mild and is never verging on any of the extremes. However, when travelling in the winter expect it to be rainy, so pack a brolly and a large, comfortable coat if you fancy a festive Dutch break. July and August are as expected, the peak months, where things get pretty busy. If you're not a huge fan of crowds, it's best to avoid during this time.
How to get there?
The Netherlands is very accessible via train, especially from the major European cities. It's also a fun destination to drive to if you're not a fan of flying. London to Amsterdam takes around 6 hours in the car, whereas coming from Paris takes just over 5 hours.
Arriving by plane? Fly from London or Paris and it takes around an hour, or from Rome or Madrid within 2.5 hours.
You'll need a passport for entry when travelling from all European and non-European countries.
Which hotel to choose?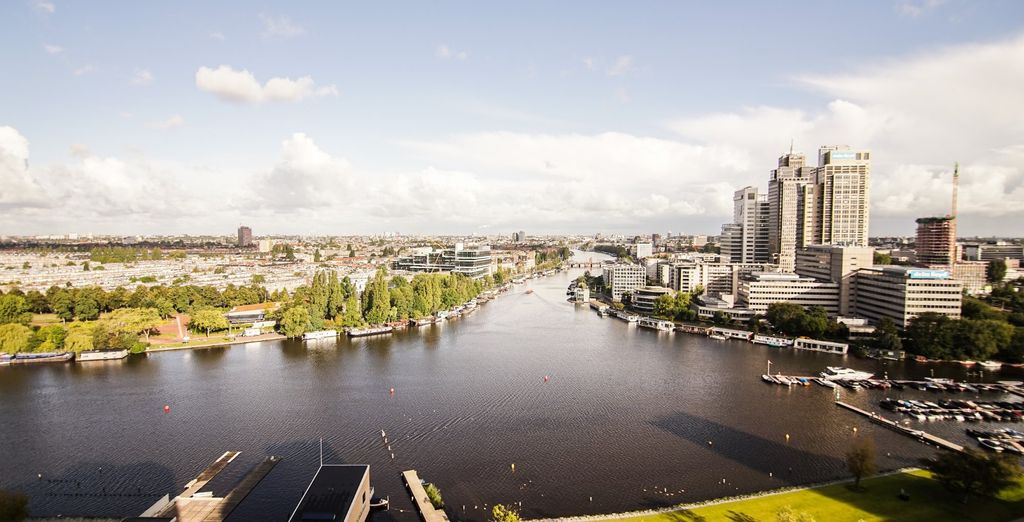 De L'Europe 5*

This 5* hotel is luxury at its finest. Enjoy the finest French cuisine at the in-house Michelin-starred restaurant, relax surrounded by the grand decor, including vast chandeliers, and experience some true rest and relaxation in a Deluxe Room or Junior Suite.
QO Amsterdam 4*

Enjoy a panoramic view in a luxuriously designed hotel. This hotel -Opened in 2018- respects the environment by using the latest technologies to save energy and reduce waste.
Monet Garden Hotel

The picture of modern glamour and a city-centre location, this boutique find is great for a couple's weekend or a family break. Enjoy soft lighting, colour, and luxurious surroundings with a room with a view of the canal. There's also a bar, where you can sample the best cocktails before heading out for the evening.
Culture in the Netherlands
Amsterdam Light Festival

Taking place in December-January, the city's waterways and streets are illuminated with unique installations. It's quite a big deal, and if you are visiting during this time it's worth exploring the different areas.
Flower Parade

The Netherlands prides itself on flowers - you just need to look at the fields of breathtaking tulips to see why. Each year, spring is celebrated through a floral lens, and this parade utilises the best flowers for floats and cars, which travel through the bulb growing area.
PinkPop

This is the world's longest-running rock festival, which is held in Landgraaf, and spans 3 days. It attracts over 60,000 music fans, too.
King's Day

On April 27th each year, King's Day is celebrated across the country. People dress in orange, keeping to the original tradition, and streets are bustling in each city. Amsterdam is probably the best place to experience this annual holiday.
Sinterklaas

This feast takes place in December, where family and friends get together to exchange surprise gifts. These are often accompanied by a poem, which hints at the present enclosed.
St Nicholas

In mid-November, St Nicholas arrives by boat into Amsterdam, before parading through the streets on a white horse. His helpers share sweets with the crowds, a much-loved practice by the children of the city.
The Netherlands map
Our practical advice for the Netherlands
Pack an umbrella and warm clothing if you're visiting in the cooler months, and remember the cities often have a city tax, which is applied at hotels. In Amsterdam this is 5%, and often not included when booking.
When it comes to plug sockets, it's standard European plugs, so you won't need any unique adaptors.
What to bring back from the Netherlands

Dutch cheese is a very popular present to bring back. The country's biggest export, choose from a range of textures and flavours, best-purchased from one of the many delicious cheese shops dotted around the cities and villages.
Of course, there's also the custom clogs, which are rife in markets and small, local shops across the country. If you don't want a life-size pair, you can buy mini versions for novelty presents, too.
Mini keepsakes are also a great idea, such as magnets showing some of the beautiful countryside and windmills.
What currency to use?

Like it's many neighbours, the Netherlands uses the Euro. Money can be withdrawn at all major banks and cashpoints, and all major credit and debit cards can also be used. Just remember to check your bank's transaction fees, and the overall exchange rate, prior to departure.
What is the time difference

The Netherlands operates on the same time zone as France and Spain, 1 hour ahead of London (+1 CET).
What language is spoken in the Netherlands

Although many are spoken throughout the country, the Netherland's official language is Dutch. English is of course, widely spoken, especially in major cities.
How to get to the Netherlands

Travel by plane, car, or train with ease. See above for timing estimates when travelling from major European cities.
What to pack for your holiday in the Netherlands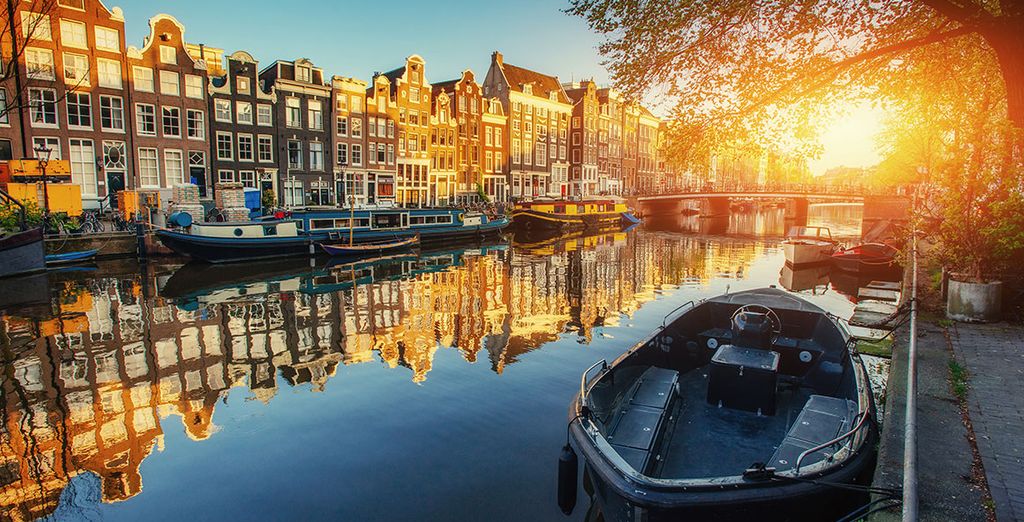 Although the weather doesn't veer into any extremes throughout the year, an umbrella is usually essential.
During the summer months, pack lightly, and in the winter make sure you layer up and take a big coat. Temperatures have a tendency to dip below 5 degrees celsius, especially at night.
How long to stay

The perfect weekend getaway, you can enjoy all the Netherlands has to offer in less than a week.
It's best to focus on the major cities if you're travelling for a weekend break, so Friday-Monday is ideal to see everything but not feel as though you're rushing.
Restaurants on site

Have you ever wondered where the term 'Dutch courage' comes from? Then make sure you try Jenever; the historic drink of Holland. An alcohol-infused with juniper, there's a particular way of drinking this in the Netherlands. Ask a local or worker in the bar how to do it.
Food popular in the Netherlands centre around local produce, including meat and fish. Enjoy fresh mussels with lashings of white wine sauce, mopped up with fresh bread. Try the unbelievably tender Texel lamb, North Sea cod, or crunchy and fresh Limburg asparagus.
Make sure you sample the croquettes on offer, too, they'll rival the Spanish variety with their crispy outer layer and creamy fillings.
Finally, cheese is a hugely popular food - Perfectly paired with a glass of fine wine, of course.
Family activities, for teenagers, children, babies

The Netherlands is crammed with activities suitable for families of all ages. Water and amusement parks will entertain the children in the summer months, plus Burger's Zoo and Safari Park is an exciting day out.
Other than that, try and pique their interest with the country's history. Explore the wealth of museums, galleries, and even castles it has to offer - great for sparking the imagination of any little princesses.
How to travel to the Netherlands with your pet?

When travelling to the Netherlands with a pet, such as a cat or dog, it must have an animal passport, rabies vaccination, and a microchip to be granted entry.
What budget to plan?

The Netherlands is notoriously pricier than many other European destinations, but is worth every penny. If you're looking for a more high-class experience, be prepared to splash out, but if you're tightening the purse strings, it can also be done well on a budget.
For example, seek out free attractions in which you can still get the full cultural experience.
Environment

The Netherlands is one of the most scenic countries on the planet. Its geography consists mainly of green, flat land (more than a quarter of it falls below sea level). The fields come alive each spring, with an instant injection of colour courtesy of the daffodils, tulips and hyacinths.
Cities are busy but clean and have a host of natural touches, such as the canals and tiny pathways.
Discover our offers to Netherlands : holidays
Discover our holidays plan to Netherlands : Holidays, weekends, last minute deals, great deals, stays.
Visit all our travel guides