Plan your holidays with our best hotels in Miami



Table of contents
Great savings 🏷️ on hotels in Miami. Discover our best deals up to 70% Off on Flight + Hotel. Book online with Voyage Privé.
Booking Miami
Do you want to stay in Miami for your next trip? Here are our best plans to find the top hotels at the best prices.
Discover our top 6 hotels for Miami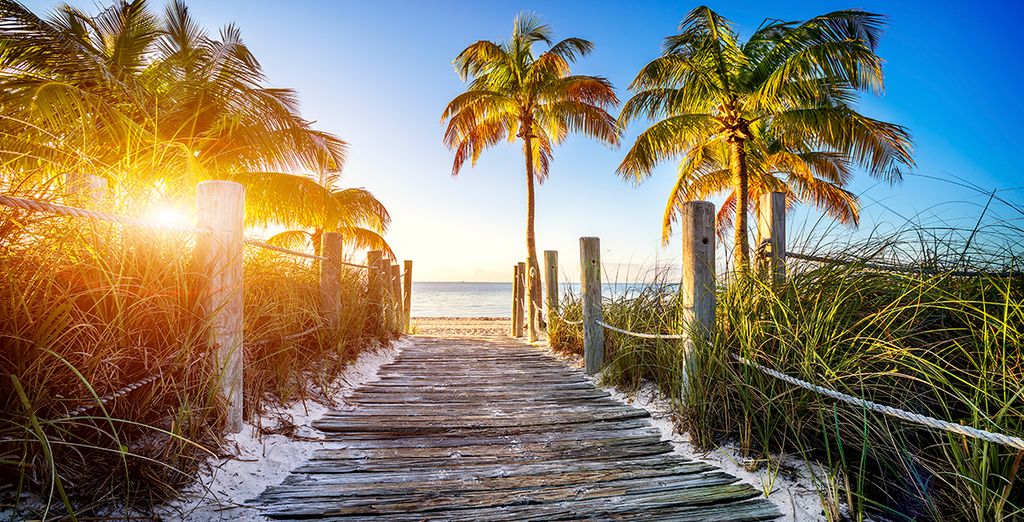 1. The Redbury South Beach

Designed to reflect Miami's Art Deco past, this boutique four-star hotel offers a beautiful rooftop pool to take in the sights and sounds of the city, as well as an exclusive on-site restaurant that's rarely off the hottest places to eat list.
2. Eden Roc Miami Beach

Stylish, luxurious and modern, the Eden Roc is the perfect place to stay for those looking to get more out of Miami. Home to the famous Nobu restaurant and with three unique pools on-site, you might be tempted never to leave the hotel on your visit.
3. EAST Miami

Offering a different perspective on Miami life, the EAST sits in the famous Brickell district, and more than lives up to its five-star rating with everything from four pools to an exclusive gourmet restaurant included as part of the experience.
4. Four Seasons Hotel Miami

A world-renowned brand, the Four Seasons Miami offers the luxury you'd expect from a five-star hotel, with a stay in the city's most luxurious skyscraper. Ultra-modern and complete with all the amenities you could ever need, this hotel is the perfect base to explore the city from.
5. Plymouth Hotel Miami

With a striking Art Deco appearance and easy access to the best that Miami has to offer, from daytime shopping to the busy and bustling nightlife, the Plymouth Hotel Miami is the place to stay, just a short walk from the famous South Beach.
6. Shore Club South Beach Miami

Located right on the coast, the Shore Club takes contemporary luxury one step further with four-star accommodation that includes anything from beautiful gardens to immediate beach access, all the better for soaking up those Miami rays.
Our reviews on Miami and its hotels: why make your booking there?
A vibrant, exciting city known for its exclusive nightlife, luxurious living and excellent shopping, it's no wonder that so many people return to Florida's most party-centric city year after year. With year-round sunshine and beautiful beaches, there's little you won't love about Miami.
From cultural trips as a family to solo visits for soaking up Miami's peaceful beaches and party vibe, choosing the right hotel for your needs is a must to ensure you can do all you want to from the comfort of an appropriate location. If you wish to do some shopping, sun yourself on the beach or go partying with style, the hotel you choose can make all the difference.
How to make my booking in Miami
Ready to book Miami? Our service is the perfect place to start. Register with us today and you'll gain immediate free access to all kinds of excellent, limited edition offers that you can only find with us, as well as up-to-date information about hotels and holidays.
With up to 70% off certain holidays, our offers are some of the best out there. Book your Miami trip with us today, or express your interest in visiting the city, and we'll provide you with the best prices possible. Download our mobile app, and we can give you that information in real time.
The different ways to make your online hotel booking in Miami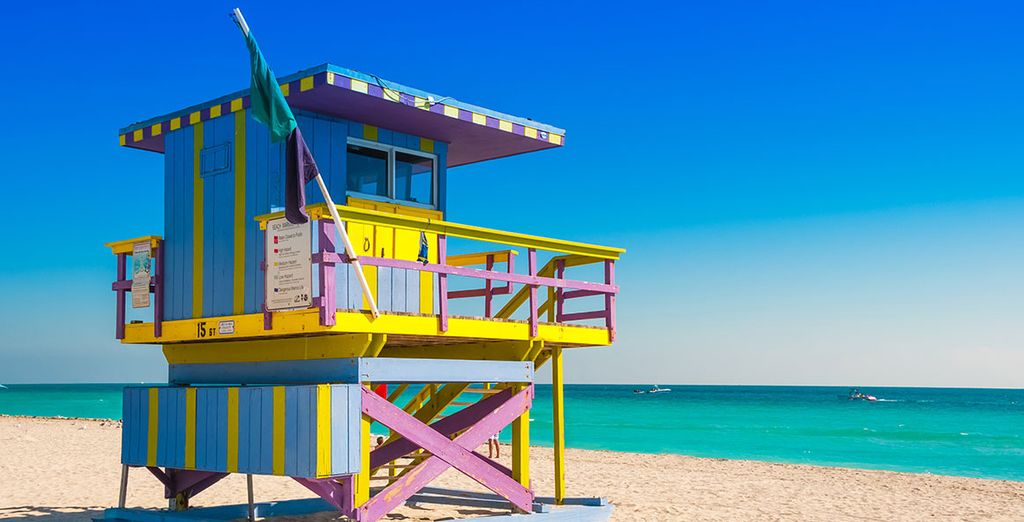 When it comes to booking your flights and hotels for Miami, you need a reliable place to do it all. We offer all the information in one area to make your booking easier than ever before; from just hotels to holidays with travel included in the price.
Book flight and hotel to Miami
Book only your favourite hotel to Miami
The best places to find hotels
1. South Beach

The best-known and most exclusive area of Miami, South Beach is where it all happens, from access to white sand beaches to excellent shopping opportunities.
2. Miami Beach

Further down the coast but almost as desirable, Miami Beach takes everything South Beach does and provides its own spin, with some of the best parties in Miami found in this area.
3. Downtown Miami

The hub of Miami's nightlife, downtown is the perfect place to stay to encounter all aspects of the city's culture, from great food to intense parties.
4. Brickell

An up-and-coming, brand-new area of Miami to explore, for those who prefer being at the heart of city life the skyscrapers and streets of Brickell are the perfect fit.
5. Little Havana

With influences from Miami's many Cuban elements, Little Havana is like stepping into a different world, with authentic cuisine and great tourist experiences around every corner.
Presentation of Miami
A city with everything going for it, Miami is not to be missed. From soaring skyscrapers to beautiful beaches, an epic nightlife to luxurious shopping options, the city caters for just about every need under the sun. Great weather and an excellent choice of hotels make Miami one of the most popular destinations for holidaymakers looking to grab a little sun.
With so much to see and do, you can shape your trip to Miami however you want; from appreciating the Art Deco roots of the city and enjoying local culture to immersing yourself in the city's vibrant nightlife. It's all up to you.
The 5 best things to see/do to Miami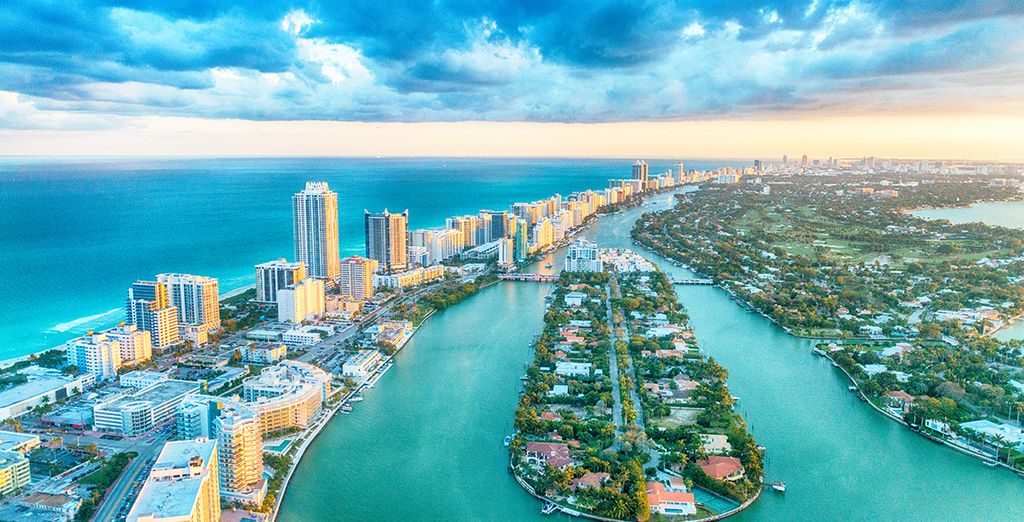 1. Wynwood Walls

A unique outdoor museum of street art, Wynwood Walls is one of the most exciting and unique cultural experiences Miami has to offer, with the exhibit open year-round.
2. Zoo Miami

A large zoo covering over 750 acres, Zoo Miami is the perfect pick for a family day out, with much to see and do around the site from local animals to exotic creatures.
3. Bayside Marketplace

With excellent food, great music and some fantastic shopping on offer, Bayside Marketplace is a must-visit for anyone looking to soak in Miami's culture and lifestyle.
4. Boat and jet ski tours

With plenty of water for everyone around the Miami coast, there are plenty of opportunities to get out on the water; from speedboats to jet skis and everything in between.
5. American Airlines Arena

For NBA or sports fans, the American Airlines Arena is the perfect location to catch a game and get involved in one of the city's top sporting events.
Discover our offers to Florida : Orlando holidays, last minute deals to Florida, Holidays to Florida, great deals to Florida, booking.
Holidays to the United States