Unforgettable Luxury Holidays to Ireland



Table of contents
Enjoy luxury holidays to Ireland with Voyage Prive ✅ Discover wild Atlantic coastline, impromptu traditional Irish music sessions book online today.
Travel to Ireland
From Connemara to Cork, from Dublin to Donegal, Ireland is an exciting mix of breathtaking beauty, culture and modern city life.
A land once populated by Celtic tribes and invaded by Vikings, the rich history of Ireland shines through both landscape and architecture. Take a walk on the wild side and explore the stunning Cliffs of Moher and the other-worldly Burren National Park. Or let your hair down in the lively streets of Dublin, once hailed as the finest Georgian city of the British Empire.
The Voyage Prive travel expert's opinion on travel to Ireland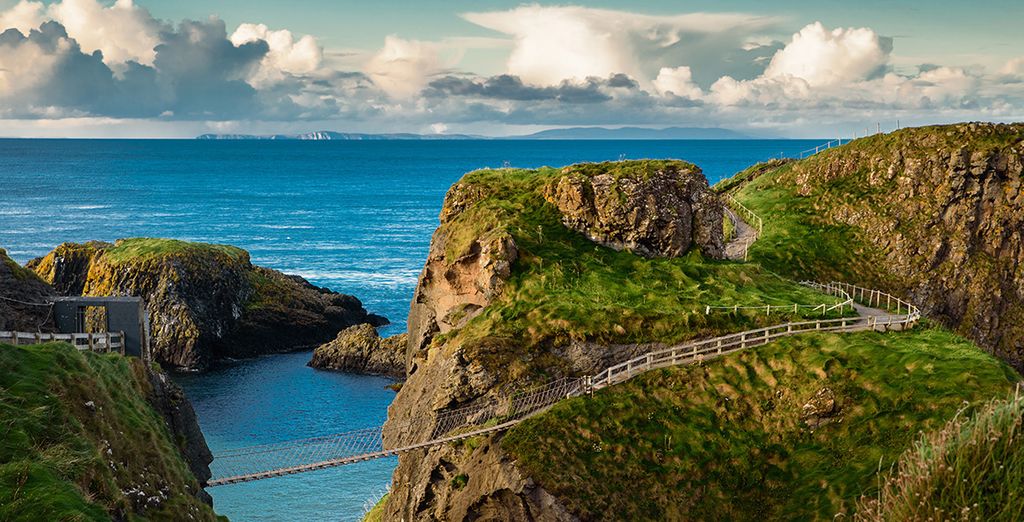 Céad míle fáilte: a hundred thousand welcomes. Ireland opens its arms to travellers with the promise of hearty food, heartier drink and a comfortable place to rest your head. In Dublin, make sure to visit the Guinness Storehouse, where you can enjoy tours and tasting experiences. Book online to save a few euros on the walk-up price.
Touch a piece of history at Barney Castle, where those who dare to kiss the Blarney Stone receive the gift of the gab; the ability to charm others. Or be ready to be charmed yourself by local musicians and entertainers in the famous Temple Bar district. This lively district on the south bank of the River Liffey holds some of the best nightlife spots to start your night out in Dublin. Temple Bar Pub offers one of the largest selections of whiskey in the country and fresh plates of famous Irish oysters washed down with a pint of the black stuff.
When you need a break from city life, there are plenty of beautiful outdoor spots within an hour's drive of Dublin. Powerscourt Gardens is home to Ireland's highest waterfall, racing down the foothills of the Wicklow Mountains. Lough Tay, the Guinness Lake, can be viewed and photographed from nearby viewing points for an unforgettable snapshot.
Ireland's hospitality awaits you, so all you need to do is decide which luxury hotel you're going to stay in during your holiday to Ireland.
Uncover Ireland's bewitching scenery
Ireland is famed for its rustic scenery and friendly charm, all of which holidaymakers can experience within its compact capital city, Dublin. It is the epicentre of Irish culture, steeped in history and with a bustling café culture to rival its iconic pubs. The city comes alive at night as the Guinness flows. But you would be sorry if you ignored the majestic lure of the Dublin Mountains on the horizon.
Holidays in Ireland promise a range of adventures, thanks to its diverse country landscapes and the unique identities of its towns and villages. Cork city in southern Ireland rivals Dublin with its charismatic locals, riverside cityscapes and captivating castle studded coastlines. Follow the rugged Atlantic further north and discover the Ring of Kerry, a well-worn winding path that cuts along the coast and through communities that still speak the native Irish language. Make a pit-stop in Killarney for mountaintop luxury holidays and lakeside views.
Further north you will find the dramatic, sheer Cliffs of Moher, standing over 700 ft above the Atlantic in County Clare. Next door, Galway promises to enchant with extraordinary cuisine, quintessentially Irish pubs and a unique shopping experience – all within the picture-perfect Galway Bay. Ireland's windy north-west is home to the astounding scenery of the Connemara National Park. It is the gateway to Ireland's tallest mountain Croagh Patrick, with the lovely seaside town of Westport nestled in its shadows.
Top 5 things to do in Ireland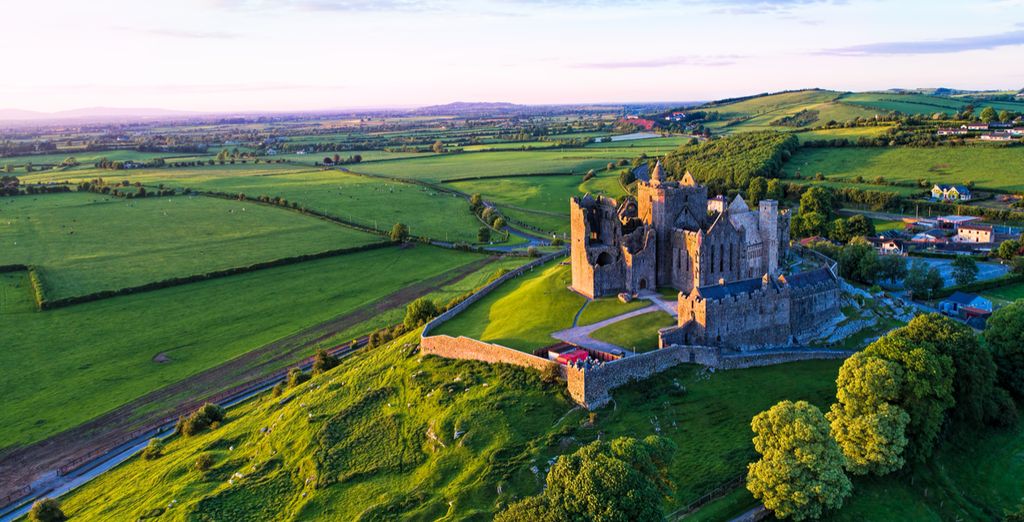 1. Blarney Castle

First erected in the tenth century, this iconic castle was rebuilt twice but the current building is still standing since 1446. As well as the castle itself, there are dazzling gardens to explore, and of course, the famous Blarney Stone.
2. Kilmainham Gaol

For those with a sense of morbid fascination, a visit to this former prison is a must. The 18th-century prison closed its doors in 1924 but reopened as an historical museum with regular events and exhibitions. Ireland's volatile past is memorialised here as a vivid learning experience, and visiting the gaol allows you to walk in the shoes of civil war prisoners.
3. Bend of the Boyne

If ancient history is your thing, then you must visit this megalithic site also known as Brú na Bóinne. Pre-dating the Egyptian pyramids, Bend of the Boyne is one of the most significant historical locations in the whole of Europe. A mesmerising maze of tombs, henges and standing stones, the structure of this site allows a glimpse into the minds of the ancient Irish people. Winter Solstice is the busiest time of year to come, when the Newgrange Passage Grave becomes beautifully illuminated in the light of the shortest day.
4. Killarney National Park

The stately Muckross House and gardens has traditional farms allowing you a glimpse into the past. Or you can hike through some of the most stunning scenery Ireland has to offer and maybe spot native species not found anywhere else in Europe.
5. Shopping in Dublin

There really is something for everyone in Dublin, and seekers of retail therapy will not be disappointed. Visit Francis Street, the art and antiques quarter, or Carmanhall Road Food Market, with numerous stalls offering hot and tasty treats. Keep an eye out for weekly events such as Howth Market, a great weekend out for shoppers.
6. Visit the Guinness factory

If you're a true Guinness enthusiast, a trip to the Guinness factory in Dublin is a must. There's also the Jameson factory for whiskey fans.
Which hotel to choose in Ireland
Ashling Hotel 4*

This city hotel is in a prime location right next to Hueston Station and the Luas red tram line. This internationally award-winning hotel combines contemporary style with the warm welcome you expect from Ireland's largest city.
Intercontinental Dublin 5*

Tranquil, elegant and luxurious, the Intercontinental is a sophisticated spot set just ten minutes away from Dublin's centre. Holder of the coveted Traveller's Choice Award, this hotel combines spacious, luxurious suites with exquisite dining and drinks.
The Gibson Hotel 4*

Inspired by art and music, this chic hotel lies in Dublin's Dockland area, adjacent to the tram system. You might be lucky enough to catch one of the many entertainment events held here, while enjoying a relaxing stay in a fun and modern atmosphere.
Hayfield Manor 5*

A wonderful countryside escape awaits you at this award winning hotel and spa. Originally the home to wealthy Cork merchants, the hotel was opened in 1996 and wins awards year in, year out for excellence in both service and food.
Practical information about Ireland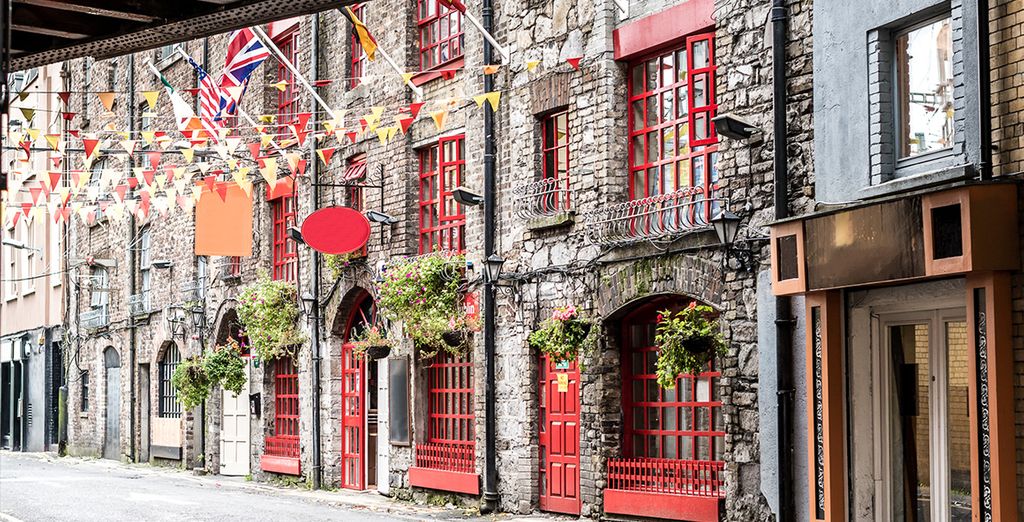 What is the weather in Ireland?

Ireland becomes cold in the winter, with January temperatures averaging 5°C. In summer, temperature varies between 15 and 30 degrees C. So, it's always a good idea to pack a sweater, and keep an eye out for rain. There's a reason Ireland is called the Emerald Isle!
What budget to plan?

If you want to explore the countryside, you will probably just need euros for food, taxis and a few drinks. If you're planning some wild nights out in Dublin, or several guided tours of famous sites, ensure you have a bit more put aside. You might pay 7 Euros for a whiskey in Temple Bar, or 10 Euros for a cocktail. Drinks prices are lower elsewhere, and Guinness might be around 5 euros per pint. It's normal to tip 10% in restaurants, but not in bars, unless you get table service. For taxis, it's normal to round up to the nearest euro and count that as the tip. If you're travelling to a Dublin hotel from the airport a taxi might set you back 25 euros. ATMs are widely available and accept most international bank cards.
Indulge in Ireland's rich heritage
Once you've rocked the renowned nightlife, and hiked or surfed through the country's wilderness, you can kick-back and enjoy Ireland's rich cultural landscape. With a host of galleries displaying contemporary and classic artworks, literary museums and the historic Trinity College to explore in Dublin, your to-do list will be inexhaustible.
Ireland holidays would not be complete without sampling Westport and Galway's revered oysters - of course, washed down with a silky smooth pint of Guinness! Other hearty Irish dishes you have to try are the traditional Irish stews and rustic homemade soda bread. For the authentic Irish experience, stick around for an improvised traditional music session – expect toe tapping, singing and if you're lucky maybe even a jig.