Cheap Holidays to Greece



Table of contents
Cultural tourism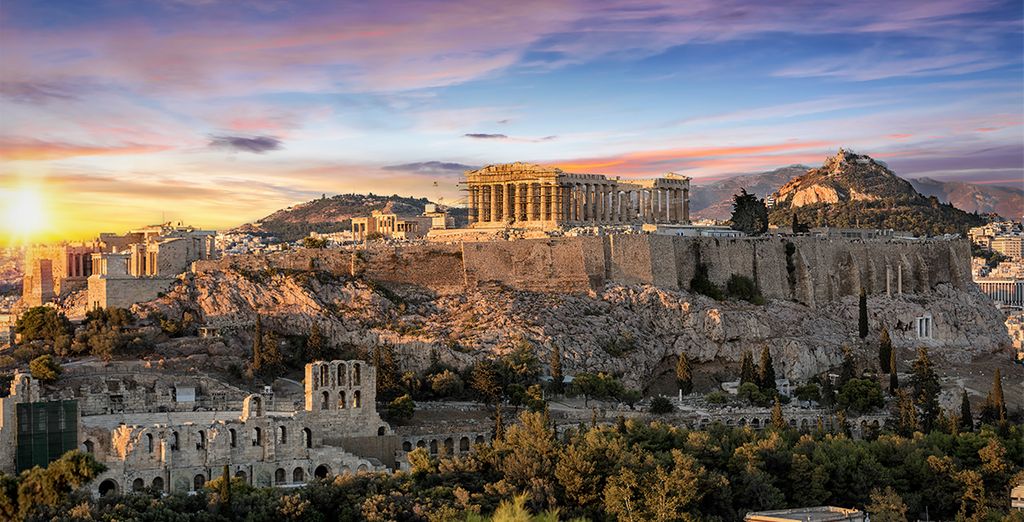 As a result of its geographical location, Greece was a central point of several civilisations, who left their mark everywhere over the centuries. The beautiful architecture of the museums and historic monuments, including 17 locations accredited as UNESCO World Heritage Sites, makes it a paradise for culture-seekers. Traces of Greece's ancient history are apparent in every region, including findings dating back to the prehistoric and archaic eras. These mingle with classical, Medieval, Hellenistic and Byzantine monuments, different religious and cultural buildings and modern works of art to create a fascinating landscape.
Greece boasts more than 100 museums, an indicator of its archaeological wealth. These range from the larger museums, such as the Acropolis, the Thessaloniki Archaeological Museum and Athens' National Archaeological Museum, to many smaller collections, including museums located near historic excavation sites. Other historic attractions include the fifth century Acropolis of Athens, a hilltop citadel containing the remains of the famous Parthenon. Marvel at the Temple of Hephaestus and the UNESCO-listed Meteora Monastery.
Greece's beaches and coastal activities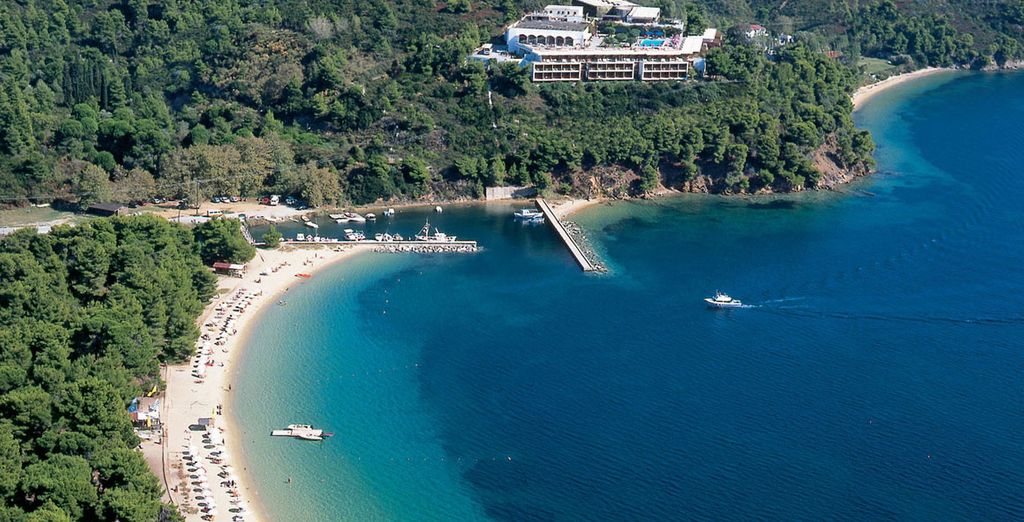 Luxury holidays wouldn't be complete without having the chance to relax on beautiful, golden beaches. Greece has an abundance of beaches where you can soak up the sun. Among the tourists' favourites are Iguana Beach, Crete; Kálathos beach, Rhodes; Vaterá beach at Lesbos, the island's longest beach at 7 km; Vagia beach, Serifos; Kanali beach, Prezeva; and Dunes Beach at Peloponnese. The beaches are family-friendly and many offer water sports.
Shopping and local cuisine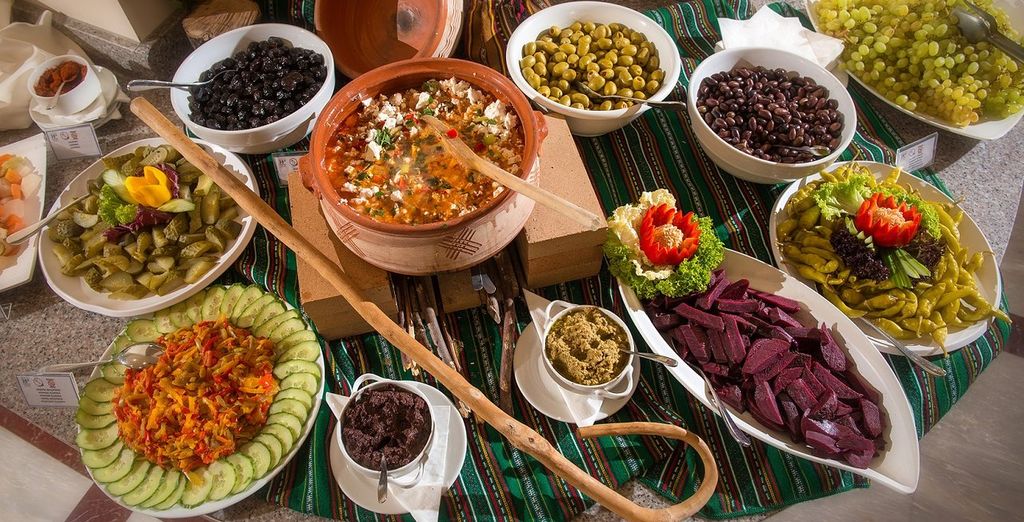 Greece is a haven for the discerning shopper, offering a diverse range of products to satisfy every taste. Retailers stocking famous European brand names and popular international chains mix comfortably with local stores selling a host of traditional Greek products, including clothing, shoes, art and décor. Athens in particular has a magnificent shopping mall and many designer retailers, while the tiny back streets are home to shops which sell interesting and innovative local items.
Traditional Greek cuisine is rich with its use of olive oil, vegetables, lemon juice and herbs. A selection of meats, including poultry, lamb and pork, are traditional ingredients in the Mediterranean dishes. Also popular are filo pastry, olives, cheeses, aubergine, courgette and yoghurt. Greek desserts are rich in nuts and honey. Greece is also famous for its wines, which are served to complement a variety of small dishes and appetisers, which are often presented as dips with pita bread, or a small loaf of traditional bread.
Whether you enjoy sight-seeing, relaxing on the beach, shopping or dining out, sign up today and see our handpicked discounted luxury holidays to Greece and our selection of hotels at exclusive prices, offering exceptional discounts.
With ancient ruins and sumptuous sun-kissed islands, Greece is an idyllic retreat with spectacular seafood. From important cultural and historical attractions to wild and rugged mountain hikes, Greece is as varied as it gets. Most of all, the crystalline Aegean Sea provides a much-welcomed backdrop for long days on the beach and evening relaxation.
The top 5 things to do in Greece
1. Explore Athens' historical attractions
The Greek capital is on the top of many must-visit lists for a reason. It's the home to many historic wonders, from the Acropolis and Parthenon to the ruins of Kerameikos. All of these captivating attractions come with world-class displays and tours, and you'll find plenty more historic experiences in the city's museums as well.
2. Visit Ancient Olympia
Home to the original centuries-old Olympic Games, today this region of atmospheric ruins will awe and inspire. You can garner context from the excellent archaeological museum. However, nothing beats just wandering around this once momentous and jubilant stadium complex.
3. Hike majestic mountains
Greece's mountains are an incredible sight. Chief among these is Mount Olympus, the legendary home of Zeus and the largest mountain in the country. These mountain areas to the north are rich in waterfalls, caves and forested gorges which will transport you to the mythic land of the gods. You can hike Mount Olympus from Litochoro or simply admire the breathtaking vistas from below.
4. Set sail for whitewashed shores
Greece is one of the premier sailing destinations. One of the most popular islands to explore is Santorini, a picture-perfect wonderland of whitewashed buildings which hug the landscape. Nothing beats reaching the Greek isles by boat, dangling your fingers into the crystalline waters as the pretty horizon gets closer.
5. Admire the jaw-dropping Meteora
This spectacular rock formation in the heart of central Greece hosts a number of impressive monasteries in a captivating, other-worldly landscape. Many of these monasteries are perched upon natural pillars, providing jaw-dropping views. Stick around for sunset to view the glow of orange bounce across the rock-laden landscape and glistening red-tinted roofs.
Our best hotels in Greece
1.
Stay in Athens in luxurious style at the Grand Hyatt. With excellent connections to the city's most beloved tourist sites, the hotel offers incredible views of the city from the rooftop view, including of the Acropolis. The hotel's rooms are tastefully decorated to a classic, modern standard, with an excellent Mediterranean restaurant as well.
2.
One of the top hotels in Mykonos, Kouros is located right beside the beach, with a well-tended swimming pool and modern design. The hotel is geared 100% toward relaxation, with excellent seafront terraces and beach access. What's more, the rooms are kitted out with an elegant white modernist design, so that you can live and breathe Mykonos throughout your stay.
3.
Located in northern Greece with views over the pretty Toroneos Kolpos, this seafront hotel is perfect for outdoor excursions. The birthplace of Aristotle, there are a number of fascinating mountain trails and historic ruins to explore nearby. Back at base, you can expect an excellent contemporary hotel with waterfront terraces and views to die for.
When is the best time to go on holiday to Greece?
Greece's peak tourist season runs throughout summer when temperatures soar and prices are high. It's an excellent time to visit so long as you book in advance. Otherwise, the shoulder seasons (spring and autumn) provide comfortable weather and fewer crowds, especially in island tourist hotspots. This is also a more pleasant period to hike inland, particularly during May and September. The off-season during winter can also be pleasant, but ferries, sights and restaurants can be skeletal or closed entirely for business. You'll find exciting festivities throughout the year, including Apokries (or Carnival) in February, Independence Day in March and a number of Saints days.
Getting around Greece
Major international airports are found in Athens, Thessaloniki, Rhodes and Heraklion, with connecting flights to many domestic airports as well. Boats and ferries are generally the most favoured means of travelling throughout the islands and along the coast. Prices fluctuate and are best scheduled in advance. There's also a comprehensive bus network connecting many towns and cities, as well as smaller villages and tourist resorts. If you're looking to explore the country at your own pace, a rental car is the best way to explore off the beaten track, with the ability to ferry out to the islands as well. Trains, on the other hand, are not so convenient, with fewer networks outside of major cities.
How long should you stay in Greece?
Greece is suited to a number of itineraries, from lazy weeks on tranquil islands to weekend stays in Athens. To fully explore the country, however, a two-week tour is recommended.
Is Greece family friendly?
The Greeks love children and most, if not all, sites and restaurants welcome families. The museums of Athens and the island of Crete are among the top spots to visit with children. The Dodecanese will also enthral little ones with their captivating castles and forts.
The Voyage Privé travel expert's opinion on Greece
With breathtaking azure shores, romantic ruins and an excellent food tradition, Greece is one of Europe's top vacation spots. The bedrock of Western culture is found here and you'll find many jaw-dropping ancient sites which date back centuries. Greece also has an excellent range of modern and cutting-edge attractions, from contemporary art galleries to forward-thinking museums. Whether you're looking to retrace the footsteps of the ancients or lounge by beautiful beaches, Greece holidays are as magnificent as they come.
FAQ Luxury holidays to Greece
Voyage Privé offers are only available to our members. Register online for free to access all our current sales and book your Luxury Holidays to Greece.
Voyage Privé's travel experts negotiate for you the best holidays and hotels deals. Enjoy Luxury Holidays to Greece up to 70% off !