City Breaks Deals in Bruges, Belgium
Looking for a City Break Deals in Bruges ? ⭐ Enjoy Luxury Accommodation up to 70% off to discover a welcoming city with many attractions ! ✅.
City Breaks in Bruges : Five Things to See and Do
Made even more famous by the movie 2008 'In Bruges', this beautiful city has many attractions.
1. Visit the Markt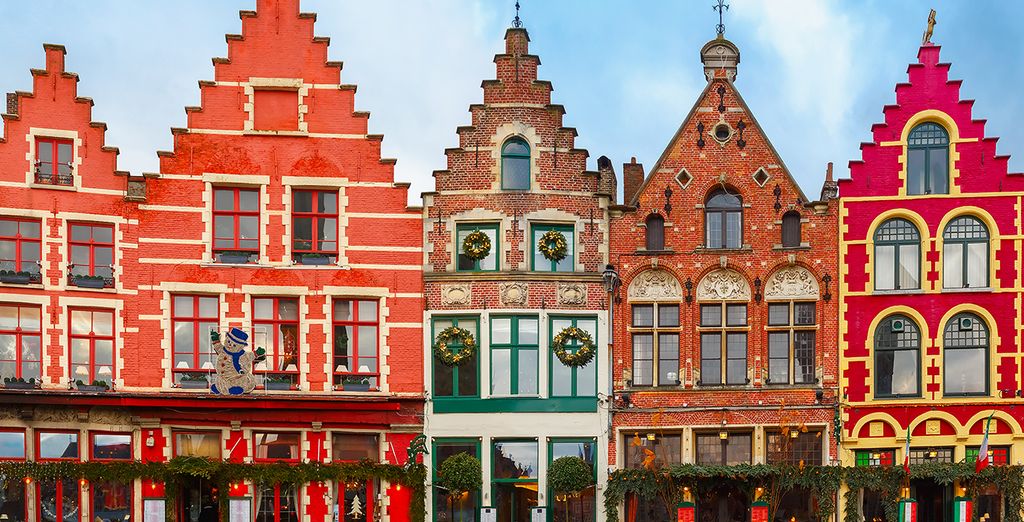 Featuring the tall belfry, the bell tower that forms the scene for a lot of action in the above-mentioned film, this old market square is a pedestrianised area perfect for celebrations, ceremonies and socialising. The belfry was built in 1240, and rises an impressive 83 metres. With 366 steps up it is great for cardio, and well worth the climb for the 365 degree panorama over the city and its surrounds.
2. Horse drawn carriage ride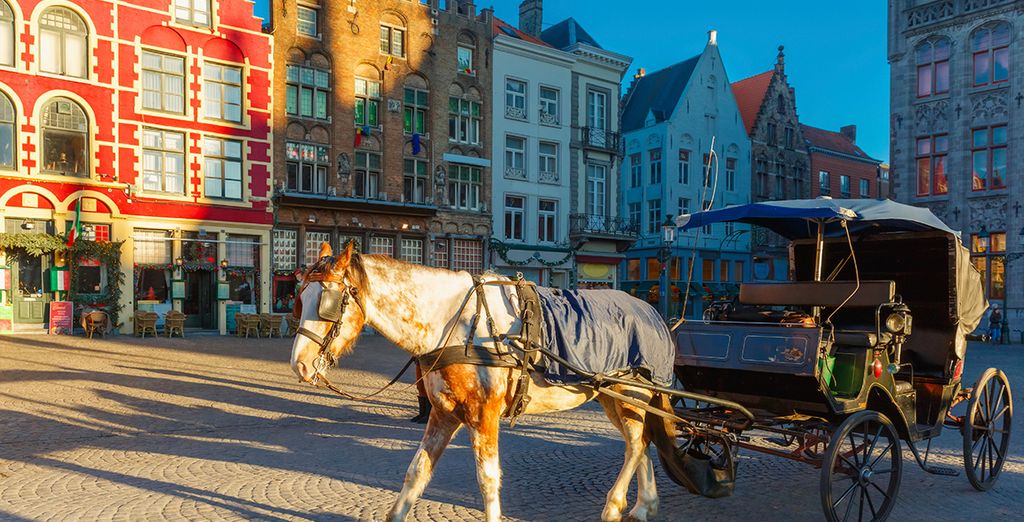 Enjoy the romance of snuggling with your lover as you are taken all over the city, being introduced to hidden nooks and favourite areas. It is not only romantic, it is educational and fun too: the driver will tell you tales of the city as you travel about!
3. The Basilica of the Holy Blood
Home to the relic that is purported to hold the blood of Christ, and that is brought out for the annual parade on Ascension Day, this small but exquisite church is well worth the modest entry fee.
4. Fancy a swim?
If you are visiting in summer, you can take a quick hour's drive to the nearby beach to laze in the sunshine and have a time out from exploration and architecture.
5. Try the food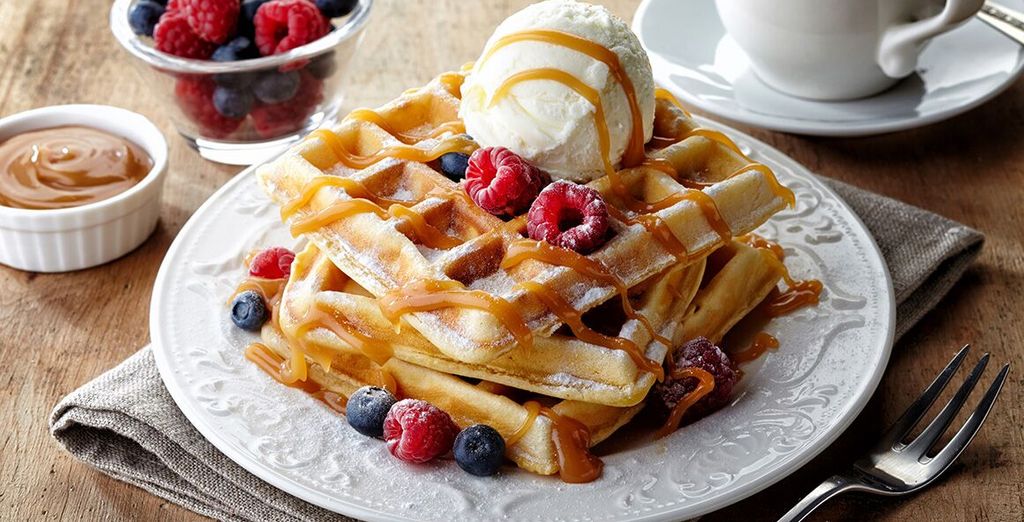 Belgium is famous for its chocolate, both to eat and drink, and their delicious waffles and other patisserie style delicacies. Don't worry about calories, just keep exploring the city to burn off all the deliciousness!
The Best Hotels for a City Break in Bruges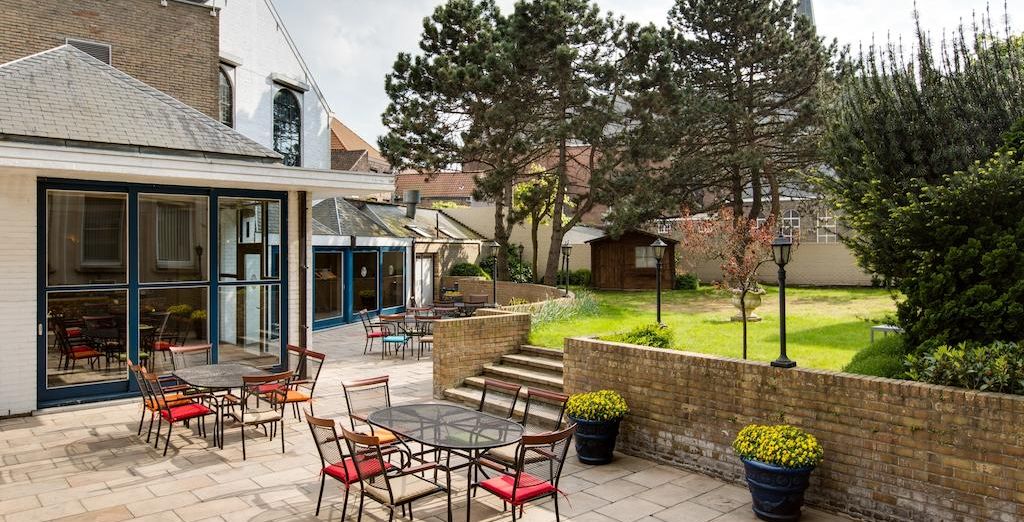 Having begun life as a 17th Century monastery, this hotel now offers luxurious comfort to travellers. Featuring a fitness suite, first class bar and restaurant, you have everything you need to set you up for a day of exploring and admiring the beautiful city which lies right on the doorstep.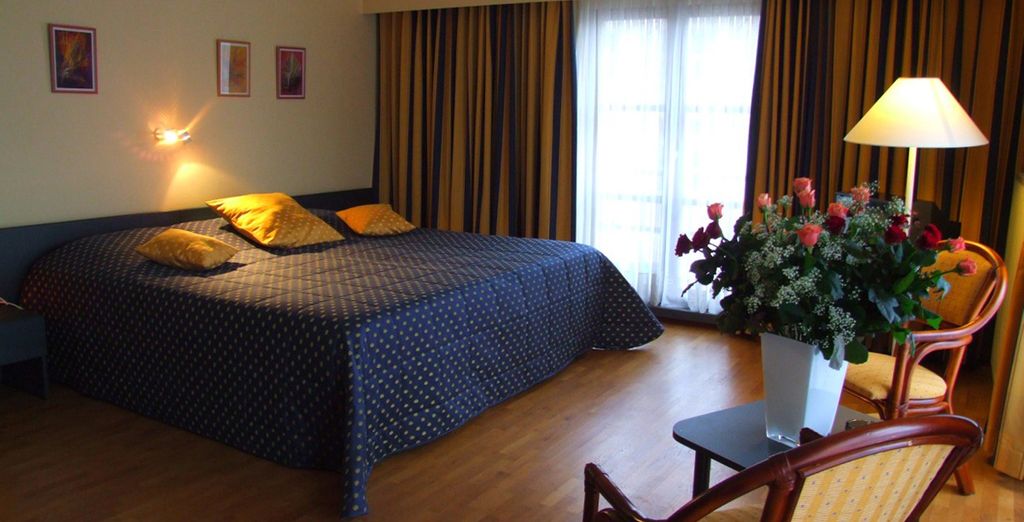 The medieval beauty and fairy tale charm of Bruges is nowhere more apparent than this location, set on the side of the canal and close to the centre of the city. Explore restaurants and try the street food, view wonderful art from throughout the ages and admire wonderful architecture before heading back to the hotel to enjoy room service, a meal on the terrace or in the rose garden.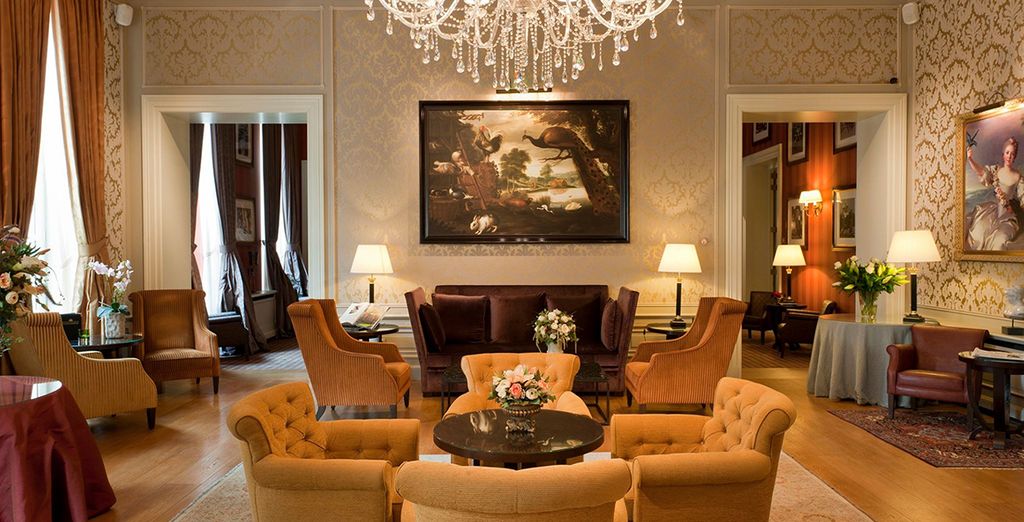 Just a few hundred metres from Bruges beautiful market square this hotel deserves the 'grand' appellation. Visit the modern fitness suite which is tucked neatly into the 13th century cellars, dine in a sumptuous restaurant, and enjoy a leisurely bath with complimentary L'Occitane products. You will not want to leave the sedate old-fashioned charm of this thoroughly modern hotel.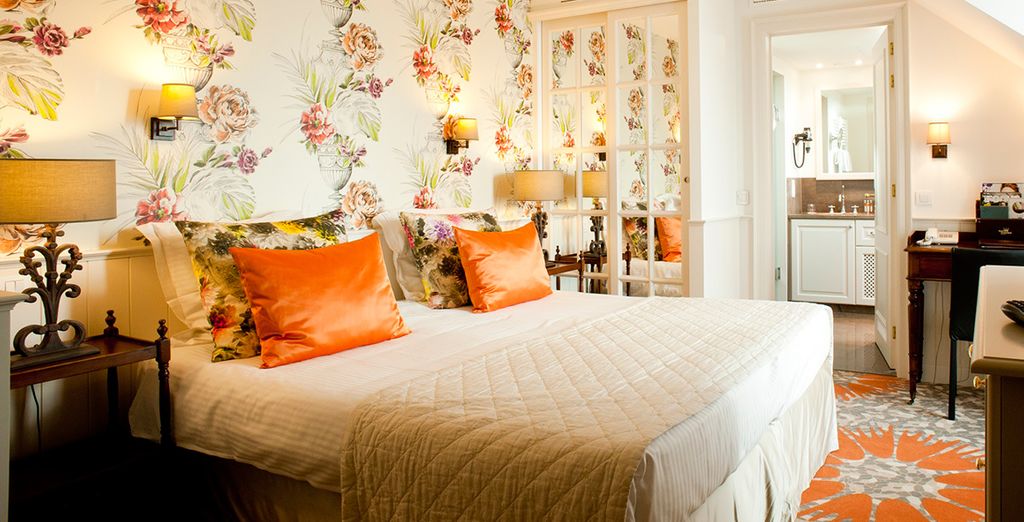 An aristocratic gem hides behind the façade of an old mansion, this multi award winning hotel provides for your every need, from champagne breakfast to relaxed evening drinks, before offering you sumptuous comfort in each of the twenty-four uniquely decorated rooms.
This glorious five-star hotel in the heart of the picturesque medieval city is almost a tourist attraction in its own right. In the 15th century the building was the home of a duke and it offers the same comfort and attention to detail in the 110 modern hotel rooms as the duke's visitors would have expected in their time – with every modern convenience now included, of course! With a breakfast buffet, first class restaurant, welcoming bar and extensive grounds in which you can walk, the hotel will make you feel more at home than home does!
Plan Your City Break in Bruges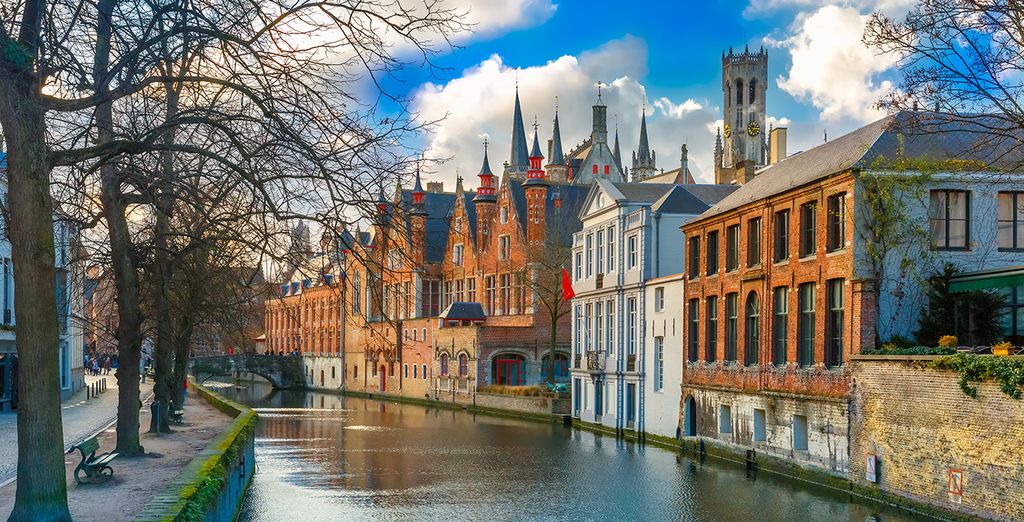 Give yourself enough time to move leisurely around the city, so you can take in all the little nooks and secret places, lingering here for a gorgeous coffee, and sitting to watch the birds on the canal there. Bruges is a peaceful and relaxed place much of the time, but you can find excitement in the pubs and clubs that come to life at nightfall.
The Best Time of Year to Go to Bruges
Christmas markets transform Bruges into a sparkling wonderland of hand-crafted jewellery, toys, and textiles, while waffles, chocolates and pastries become, if possible, even more tempting! Pop over between late November and January to snap up unique and finely crafted presents for your family.
Bruges in summer is green and gentle, with bird life abundant on the waterways and outdoor cafes springing up so you can sip a coffee or iced drink while you watch the world go by.
Getting to your City Break in Bruges
Fly to Brussels from almost any international destination, then catch a train to Bruges – there is a direct train every thirty minutes or so, so you will not be waiting for long, no matter what time you arrive.
Ferries ply to Belgium regularly, and from the port cities, Bruges is easily accessible by train or bus.
The rail network in Belgium is well-maintained and offers a good service, you could even travel from outside the country, from your European base direct to Bruges without any hassles or stress.
You can drive to Bruges from just about anywhere in Europe, but do plan on parking outside the city limits and walking or cycling about instead – the city is designed to embrace the slower, kinder pace of life and is all the better for it!
Where to Eat. The Best Districts and Restaurants
There are many tourist eateries in the main areas, and if you are looking for recognisable, if not terribly cheap food, these will be fine, offering a well-prepared meal designed for foreign taste buds.
But off the beaten track, you will find the places that the locals will treat themselves: Marike van Brugghe is a small place, but well favoured by the locals, where the fixed menu is €19.00, so there will be no unpleasant surprises when the bill arrives; La Romagna, an Italian restaurant and pizzeria with pleasingly low prices and an excellent vegetarian range; Tom's Diner offers home-cooking, but with a cordon bleu twist without cordon bleu pricing; and t' Gulden Vlies, a small romantic restaurant east of the Burg with modest prices and delicious food.
Nightlife in Bruges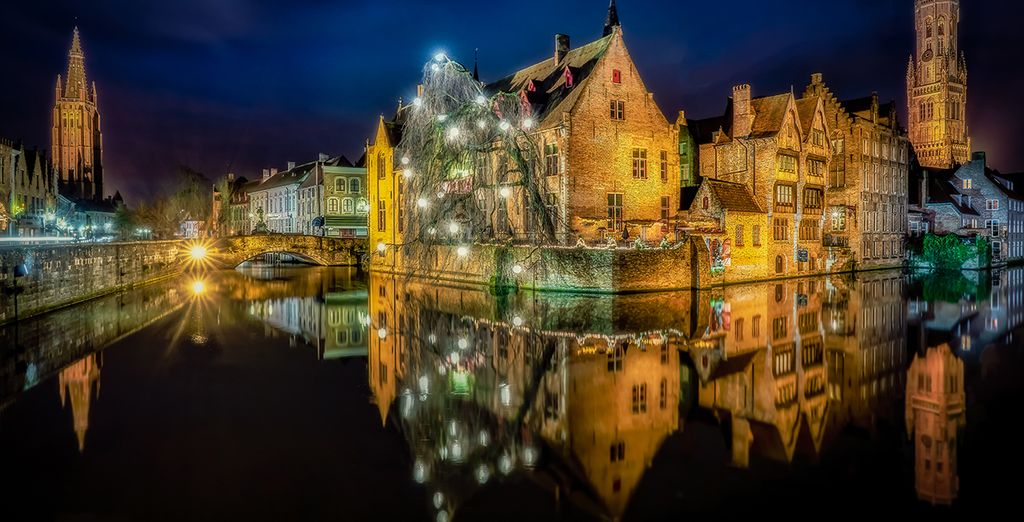 Bruges has a small but significant offering of nightclubs and bars, with some establishments transforming from sleepy daytime café to thriving thrumming nightclub after dark! Save some energy for a great night out after exploring history and architecture all day!
Our Practical Advice for a City Break in Bruges
Much of the city is accessible by foot, and there are very few cars in the city centre, as most locals prefer walking or using bicycles. Embrace this slower pace as you explore the city and see everything that is to be seen.
What to pack for a Bruges city break?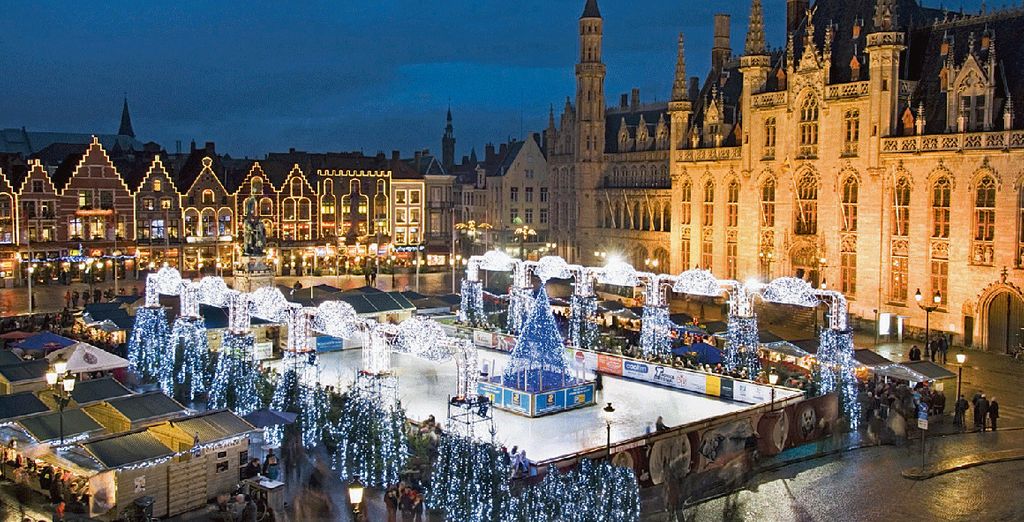 Bring a camera and plenty of spare batteries as almost every corner of Bruges is beautiful and worth photographing! Sensible walking shoes are a must too, and sunglasses to guard your eyes in summertime. Bruges can be cold in winter, so bring a jacket and some gloves and a scarf if you are travelling in winter.
What budget to plan?
It is possible to explore Bruges very cheaply if you check the prices of everything before you buy and opt for street food rather than sitting in a café, even if you are eating the same things. In general, bring about eighty euros per person per day for your meals, entry fees, snacks and souvenirs: perhaps considerably more if you are visiting the Christmas market to buy presents for the family!
Useful information before going on a Bruges city break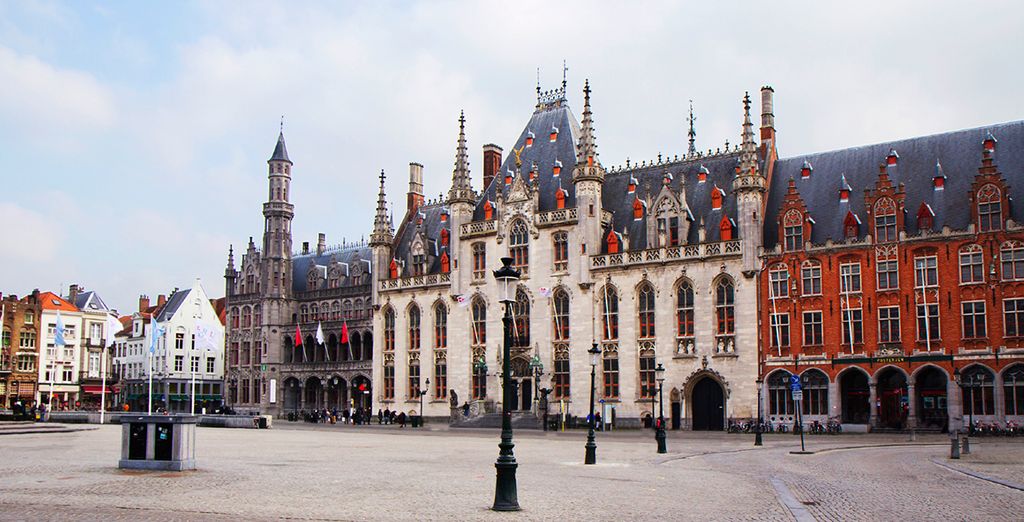 The currency used in Bruges is the euro, and the official language is Flemish, a language very akin to Dutch. However, many people speak good English – more than speak French, contrary to popular understanding, thanks, perhaps, to Agatha Christie's Poirot, who famously spoke French!