Cheap flights to Amsterdam



Table of contents
Amsterdam is the capital of the Netherlands and people from all over the globe visit this wondrous city throughout the year. So, why choose Amsterdam as your holiday destination? Well, the city has so much to offer everyone of every age. It's packed with museums, fabulous parks, and so many canals.
Amsterdam is a fabulous city to visit for a short break. This is because the city is easy to navigate and explore by foot, plus you can always hire a bicycle, take a canal cruise or even travel outside of the city via Centraal Station towards the tulip fields.
There are so many eateries, cafes and street vendors in Amsterdam, that you'll be able to eat well and fairly cheaply. There are also fabulous shopping opportunities with many independent shops and street markets.
The Voyage Prive travel expert's opinion on travel to Amsterdam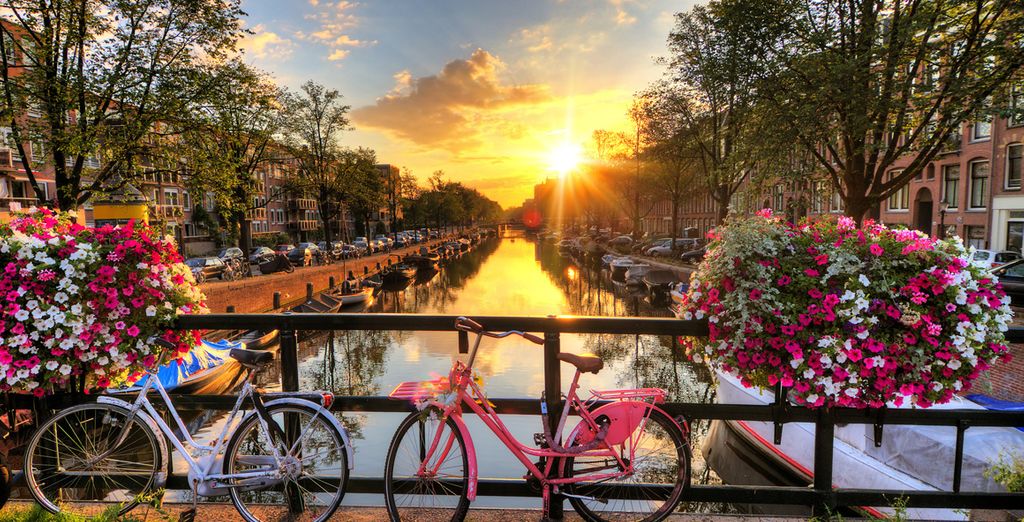 Amsterdam is a city steeped in a rich cultural heritage, with friendly locals and a wealth of experiences for you to enjoy. Here at Voyage Prive, we believe that everyone should visit Amsterdam at least once in their lifetime because this vibrant city has so much to offer you as a tourist.
Amsterdam is a city that has so much culture for you to enjoy. There are so many museums in this small city that even on a short break you'll be able to visit many of them. Amsterdam also hosts many festivals throughout the year, as well as providing live street theatre and musical events. There really is something for everyone.
If you're a real foodie then you'll love Amsterdam. Here you can try a whole host of foods. Everyone must try Amsterdam's legendary patatje oorlog, which is sold on the streets. This dish is comprised of fries that are richly topped with mayonnaise, onions and a peanut sauce. Baked stroopwafel is another popular dish of waffles filled with syrup, which can be bought from supermarkets.
Amsterdam also provides the perfect venue for a truly romantic break. There are now many evening dinner cruises that you can take along one of the many canals winding through the city. These have glass roofs that allow you to see the full beauty of Amsterdam at night, complete with a starry sky. The city streets are perfect for wandering along and taking in a quick bite at a pavement cafe.
Top 5 things to do / see in Asterdam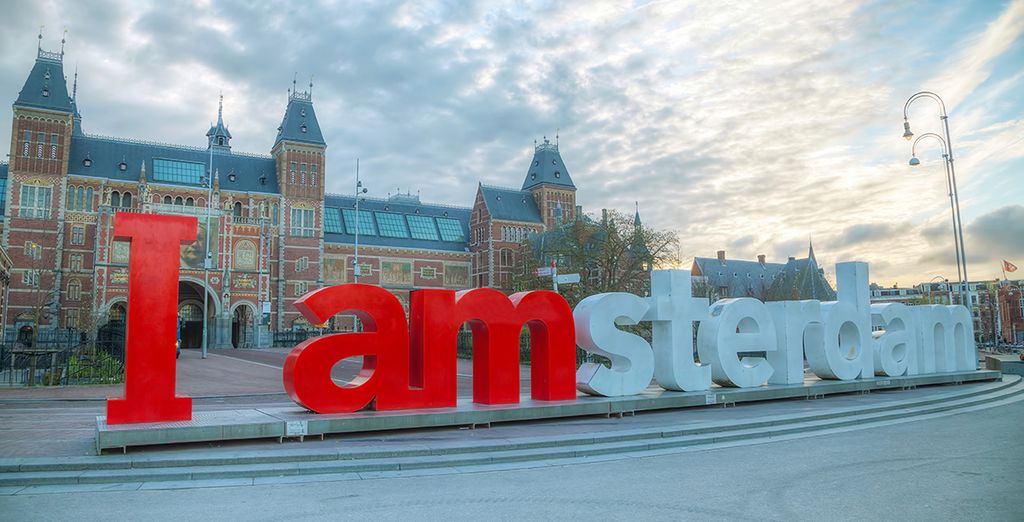 1. Enjoy the artistic Jordaan area
This area of Amsterdam was once the working class district; however, today visitors can enjoy exploring winding streets and quaint artistic shops. The area is full of courtyard cafes, hidden gardens, bars, antique shops and independent galleries for you to enjoy.
2. Visit the Museumplein
Situated in the historic Oud-Zuid district, the area known as Museumplein is home to two museums - the Museum of Modern Art and the Van Gogh Museum. The square between these two buildings is often home to outdoor exhibitions and markets. In the winter, the central square is converted into an ice rink.
3. The canal cruise
When in Amsterdam, you really do have to travel on a canal bus. As well as proving to be a great way to explore the city, it's also a lot of fun. You'll be able to take in the brightly coloured wooden houses, and pass under numerous bridges. Many cruises include guided tours and food.
4. Food and drink at the Westergasfabriek
These imposing buildings were once part of the city's gasworks. Now, this part of the city is vibrant and full of life with an arthouse cinema, microbrewery, coffee shops and bars. Many food-related events are held here throughout the year.
5. Visit the Anne Frank House
No trip to Amsterdam is complete without a visit to the Anne Frank House and Museum. The museum itself provides information about Anne Frank and how she survived. The furthest part of the building has been left relatively untouched, to show how Anne managed to hide. It's a thought-provoking and sobering visit.
Which hotel to choose in Amsterdam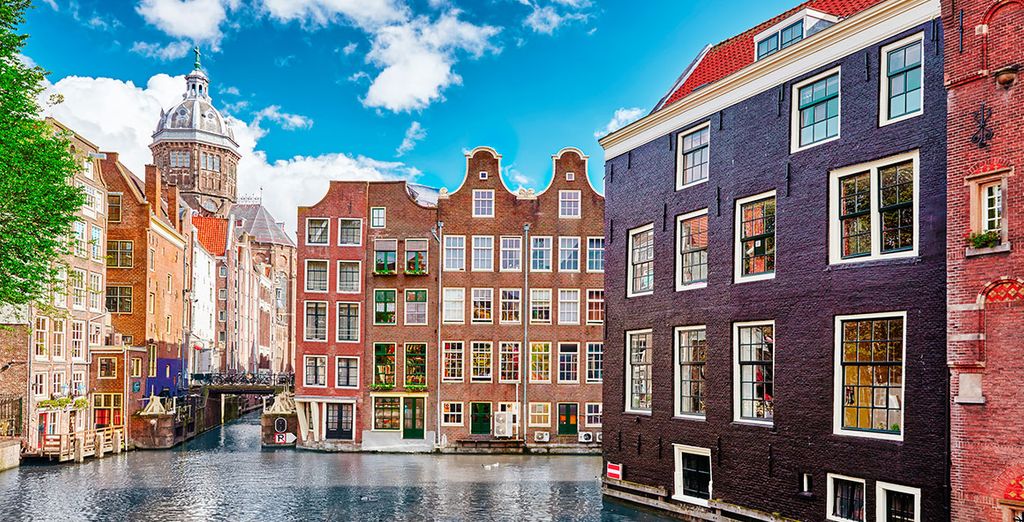 Voyage Prive have selected a range of hotels for you to enjoy while in Amsterdam.
Located in the south of the city, this luxury hotel is in a quieter suburb of the city with excellent transport links. It has 24-hour service, a large cafe, restaurant and gym.
This hotel is located in the Oud-Zuid district. This hotel oozes sophistication and elegance. Its intimate settings provide stunning views of the city and you'll be able to dine in MOMO, a world-renowned restaurant.
Hampshire Hotel - The Manor Amsterdam
Located in Amsterdam-Oost, this hotel is a former hospital. Today, guests can enjoy luxury and modern rooms, an Italian restaurant, room service and a garden terrace.
Find more activities to do in Amsterdam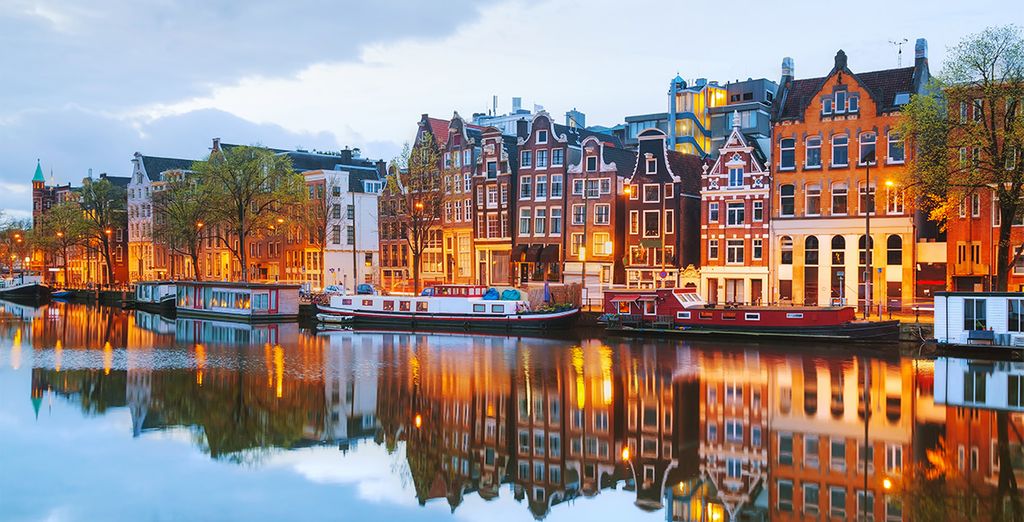 Hire a bicycle and see Amsterdam like a local
Even if you're not a great cyclist, to truly experience your last minute deal to Amsterdam you need to get on your bike. This city of the cycle is very flat, which makes two wheels the perfect way to see as much of the city as possible on a weekend break. You can either rent a bike or take a guided cycle tour to see the city at its best.
Take a ride through Amsterdam's most popular districts of NDSM, Oosterpark or Oud-Zuid to really feel like a local and experience the city. Oud-Zuid is home to some of the world's best art museums, so park the bike and wander inside to see some amazing work and get a real taste of the city's buzzing contemporary arts scene.
Head out into Amsterdam's vibrant nightlife
As the sun goes down, the streets light up. Amsterdam's nightlife is one of the main reasons it has become a popular tourist hotspot and with clubs and bars to suit every music taste and style, you're sure to find the perfect place to pick up a local beer or taste a bespoke cocktail. There are hundreds of club nights and musical events held throughout the year catering for every music taste.
If clubbing isn't your scene, head into De Pijp for a gastronomic delight at one of the wonderful restaurants in this cafe quarter. This Latin quarter has a more relaxed, bohemian vibe and is filled with coffee shops, terraces and cafes. With a huge number of places to eat and drink, you're spoilt for choice in De Pijp.
Shop until you drop in luxury boutiques
If fashion is your thing, Amsterdam is the perfect destination. At the cutting edge of creativity, the rows of boutiques and Dutch designers give you the chance to buy truly unique pieces. It's not just clothes you can pick up while you're in the city though, there are plenty of homewares and interiors shops to make sure your home looks as stylish as you do. For a taste of the local scene, take advantage of your last minute deal to Amsterdam and head up to one of the many markets to pick up some great bargains.
There's so much to see and do in the city, and our handpicked hotels will make sure you get the best last minute deals to Amsterdam.
Practical information about Amsterdam
When spending more than a day in Amsterdam, it's a good idea to get hold of an Amsterdam card. This will get you significant discounts when using public transport, visiting museums and in some cafes. Also, be incredibly vigilant about the many bicycles that are in the city, as they are granted access everywhere. You'll soon get used to the ringing bells. The water in Amsterdam is safe to drink, so save yourself money by buying a reusable water bottle. Finally, it's a good idea to purchase a map if you are new to the city, as it is very easy to get lost.
What is the weather in Amsterdam?
Amsterdam weather can be a little unpredictable and rain showers can occur at any time. So it's always a good idea to pack a raincoat. During the summer months temperatures usually reach a high of 23 degrees Celsius, while in the depths of winter, temperatures can be as low as 6 degrees Celsius.
What budget to plan?
Although a capital city, Amsterdam can be surprisingly inexpensive. Eating out in the local coffee shops is fairly cheap, as is buying food from street vendors or markets. A full lunch in a cafe will only set you back around 7 euros. Drinks are very cheap. Most museums are fairly inexpensive to visit, with many offering free admission. If you want to see a lot of the city in a short time, then the cheapest option is to hire a bike.
Discover more offers on Amsterdam: booking, holidays, travel guide, great deals, stays, weekends, last minute holidays.