Prague City Breaks 2022/2023



Table of contents
Both extraordinarily beautiful and historically fascinating, Prague may well be Europe's finest city. Chief among its accomplishments is its art and architecture which burst with Bohemian style. There's no denying the city's beer credentials, either, which may well be the best in the world. Perfect as a city break but even better when explored in detail, it's a city that keeps on giving. Choose from the finest hotels and luxury stays in Prague with Voyage Privé. Whether you're exploring the Czech Republic or looking for a weekend holiday in Prague, we've got exceptional deals to pick from.
The top 5 things to see and do in Prague
1. Prague Castle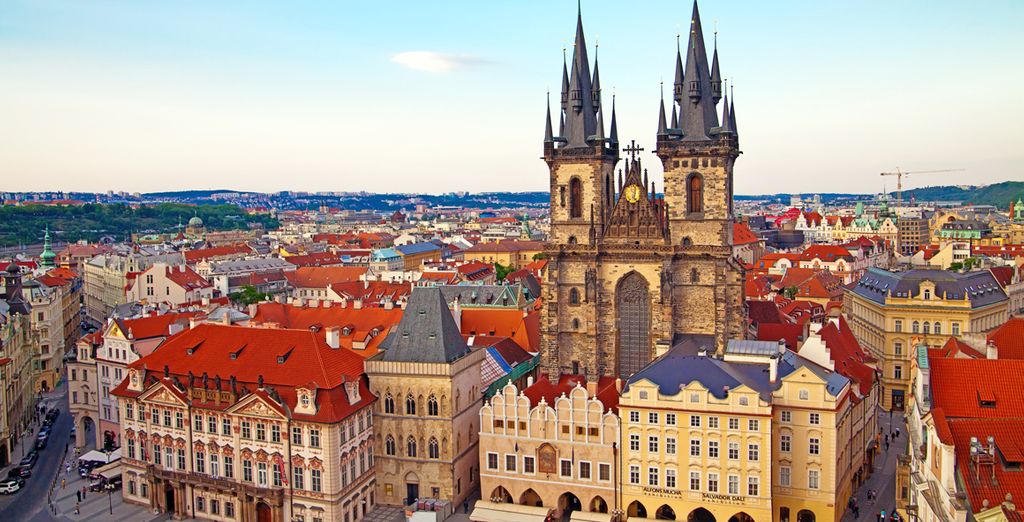 Prague's top attraction looms above the city with its size and shape. Once the seat of Czech royalty, the castle began construction in the 9th century under Prince Bo?ivoj. The sprawling and eclectic architecture on show is a testament to the many rulers who added to the complex. You can choose from a wide variety of tickets tacking in the whole estate or the highlights.
2. Charles Bridge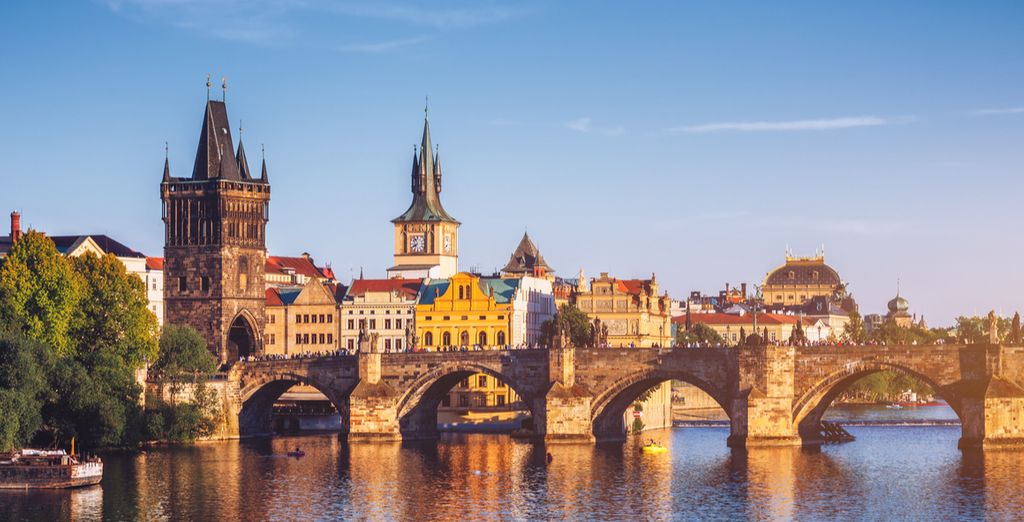 This may well be Prague's most beloved sight. Best visited at dawn or dusk, the 14th-century bridge was pedestrianised only after the Second World War. The bridge hosts a variety of monuments and statues, each of which come with fascinating stories and myths. Don't forget to get another vantage of the bridge below with boat tours or riverside walks.
3. Old Town Square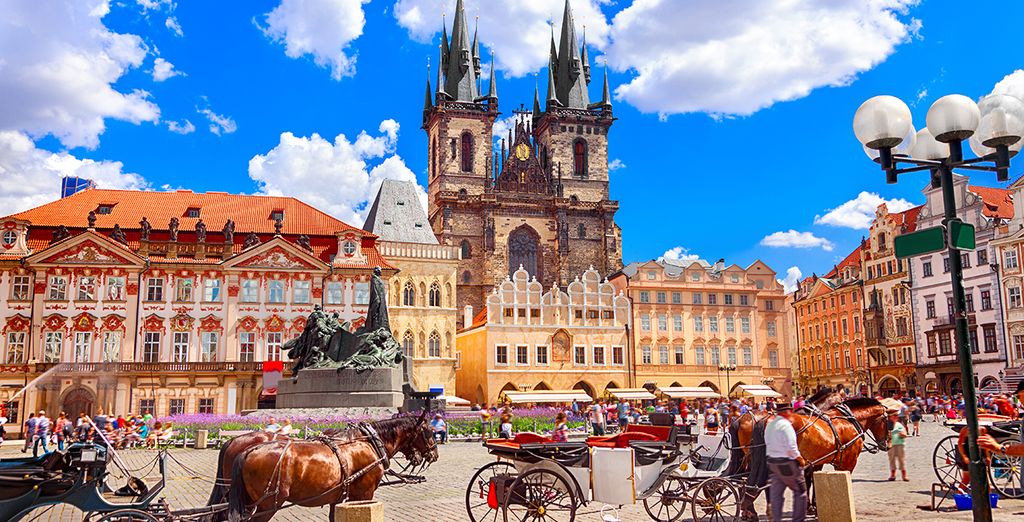 This is Prague's tourist centre and must-visit public space. It's an exciting and buzzing place with packed school tours, buskers and lively pavement cafes. Admire the town hall's astonishing 15th-century clock, the third-oldest astronomical clock in the world. Other highlights include St. Nicholas Church, Kinský Palace and the Jan Hus Memorial.
4. St Vitus Cathedral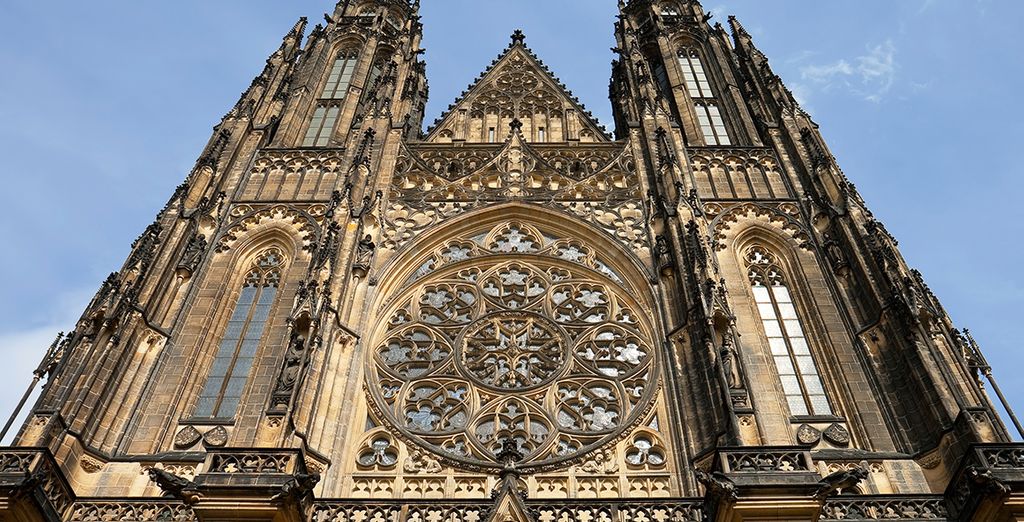 Prague boasts some extremely impressive and captivating churches. St Vitus Cathedral is among the most alluring. Built over 600 years, its foundation stone was laid in 1344. While the Gothic facade is striking, inside, you'll find a delightful mishmash of artistic styles. Among its highlights are its 20th-century stained-glass windows, marble Royal Mausoleum and gilded Chapel of St Wenceslas.
5. Visit traditional pubs
Prague is renowned for its beer, and the classic pilsner lager was invented here. While you can stick to the big names like Pilsner Urquell and Budvar, Prague also has a thriving craft beer scene. Visit the traditional and low-key pubs of Žižkov or head to a leafy beer garden. There are ample choices to whet the appetite, from Prague beer museums to breweries like Staropramen.
Our best hotels in Prague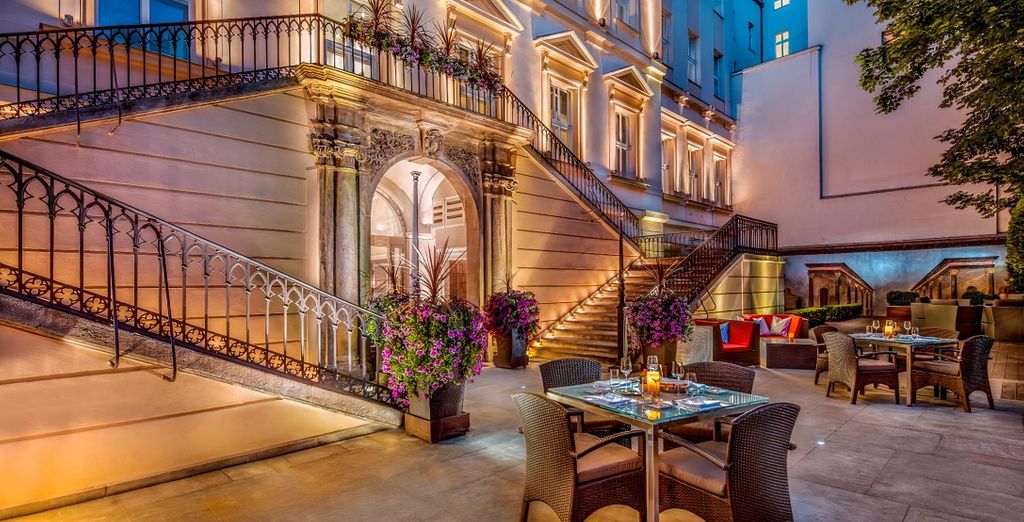 Enjoy a luxury getaway in this exquisite 16th-century palace. The interiors are an absolute dream, featuring impressive bespoke details and delightful bathrooms. There's also an opulent spa and award-winning restaurant to help you feel truly pampered.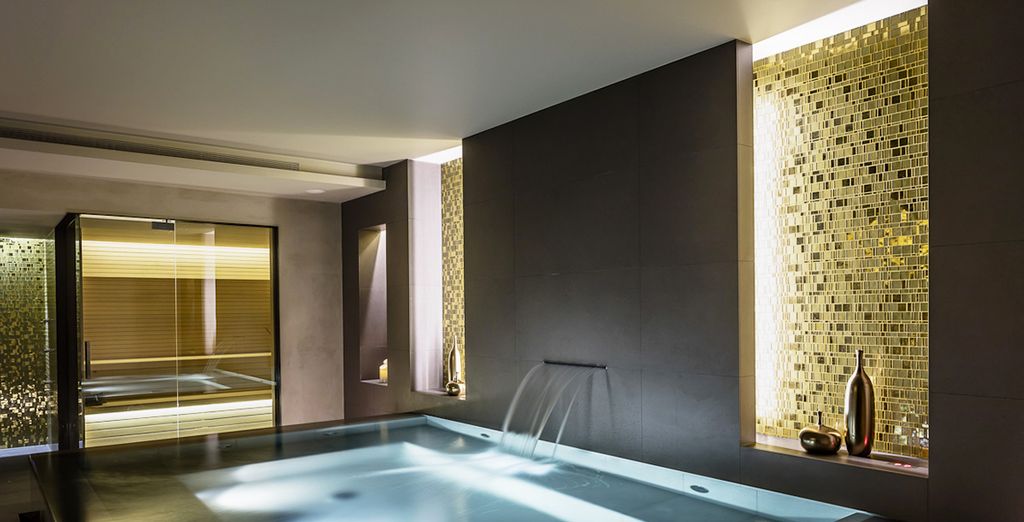 This pretty boutique hotel is just moments from Prague's bustling Old Town Square. Boasting contemporary and minimalist interiors, you can expect plenty of muted greys and dazzling gilded features. Rooms are spacious with plush furnishings and luxury bathrooms.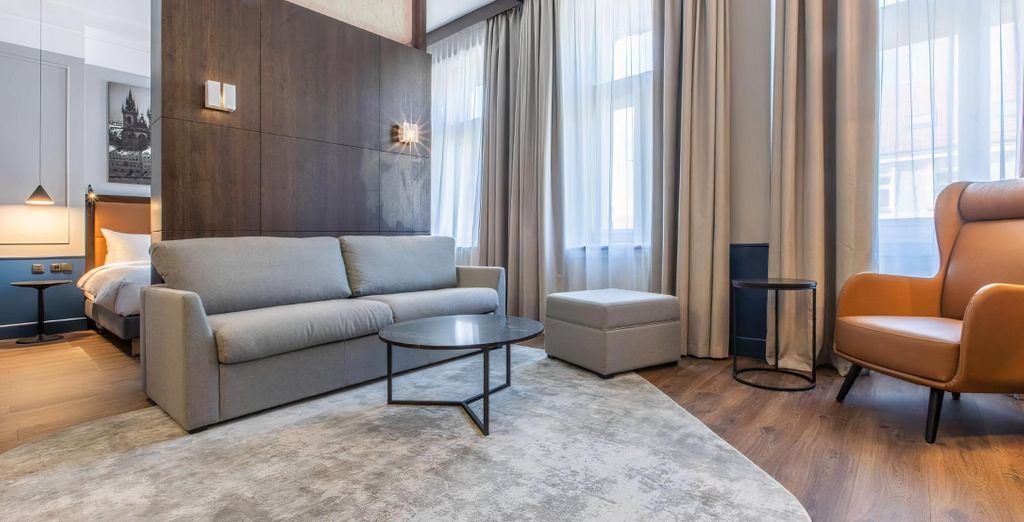 The Radisson Blu occupies several historic buildings, and it does well to maintain an Art Nouveau style throughout. Located just moments from Wenceslas Square, it's perfectly placed for gallery and bar visits. Inside, the rooms are very modern, with splashes of yellow and blue amid spectacular bathrooms and plush bedding.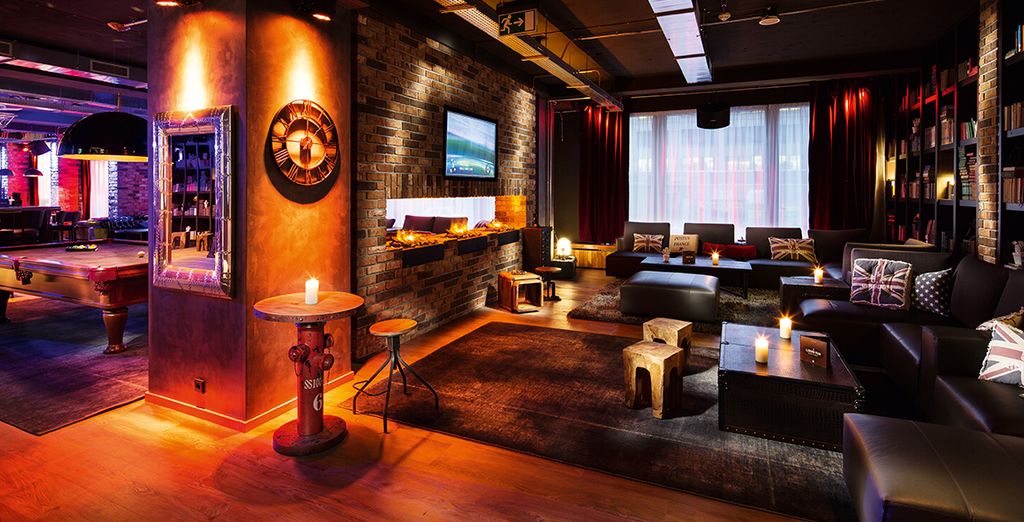 If you're looking for a stylish stay, this is for you. The Pentahotel is a fashionable option with an eccentric blend of exposed brick and cool leather armchairs. Rooms contain unique features and wall art for a relaxing and memorable stay. It's located close to Vítkov Hill and beside a metro station for easy access to Prague's best attractions.

Step into the groovy past with this trendy 60s and 70s-inspired hotel. Occupying a 19th-century apartment house, the hotel is located within walking distance of Old Town Square. Rooms have been immaculately decorated with designer features and fine bathrooms.
When is the best time to go on holiday in Prague
Prague is a treat throughout the year. The high season largely falls between April to June and September to October. The city comes to life during these periods with outdoor festivals and bustling attractions. Expect significant price jumps in most central hotels. Winter is also a popular period to visit, thanks to the city's fantastic Christmas markets and decorations. To avoid the crowds, the height of summer in July and August is a fine time to visit. As a vibrant, cultural city, there are a wealth of festivals throughout the year. These see greater footfall but can be an exceptional time to experience a particular side of Prague. Prague Spring Festival in May, for example, is unmissable. This major classical music festival coincides with the best weather when public gardens bloom with flowers.
Going on holiday in Prague
Prague is serviced by both an international airport and a central rail station. Both of these are among the most popular means of arriving in the city. For those arriving via the airport, metro lines connect with both Nádraží Veleslavín and Zli?ín in the city. Once you've arrived in Prague, the central area is easily traversed on foot. There are also excellent tram and metro links for moving quickly between areas. Cars aren't recommended within the city, but they can be a great way to explore the areas around Prague.
Enjoy your holiday in Prague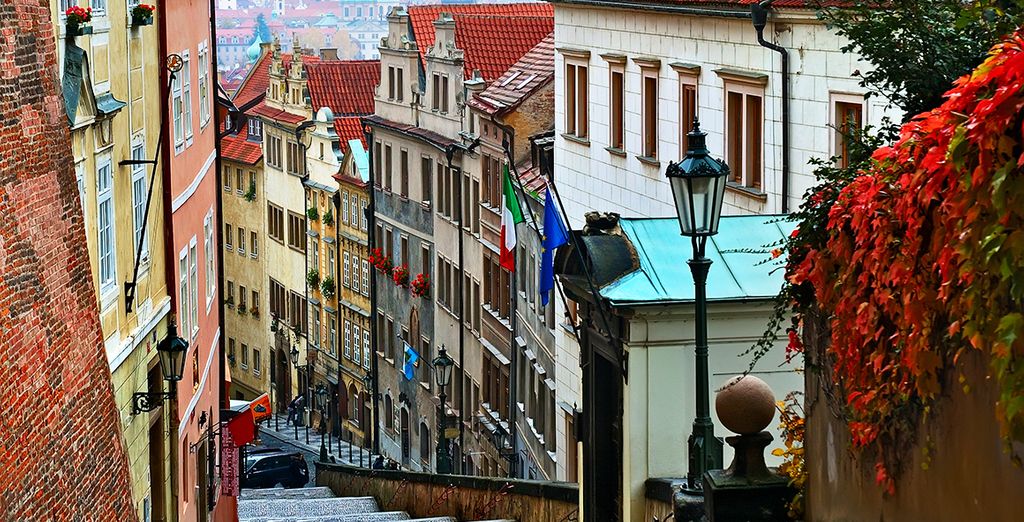 There's no denying that Prague is one of Europe's most romantic cities. Riverside walks in the sunset and al fresco dining make for pleasurable activities. What's more, the city is bursting with romantic architecture and leafy parks. For families, there are a wealth of child-friendly activities, including more grisly attractions like medieval torture museums. As for groups, Prague has become a magnet for partygoers. A vibrant bar scene, affordable drinks and bustling music venues make for much-loved nights out.
The Voyage Privé travel expert's opinion on Prague
Prague is the perfect city escape, boasting a wealth of art galleries and architectural wonders to ignite the imagination. With its maze-like cobblestone paths and hidden gardens and courtyards, it's fun to just explore on foot. Discover delightful cafes and pretty boutiques in charming neighbourhoods like Bubene? or Vinohrady. Be sure to catch a show at the Rudolfinum, home to the world-renowned Czech Philharmonic Orchestra.
Lose yourself in Prague's history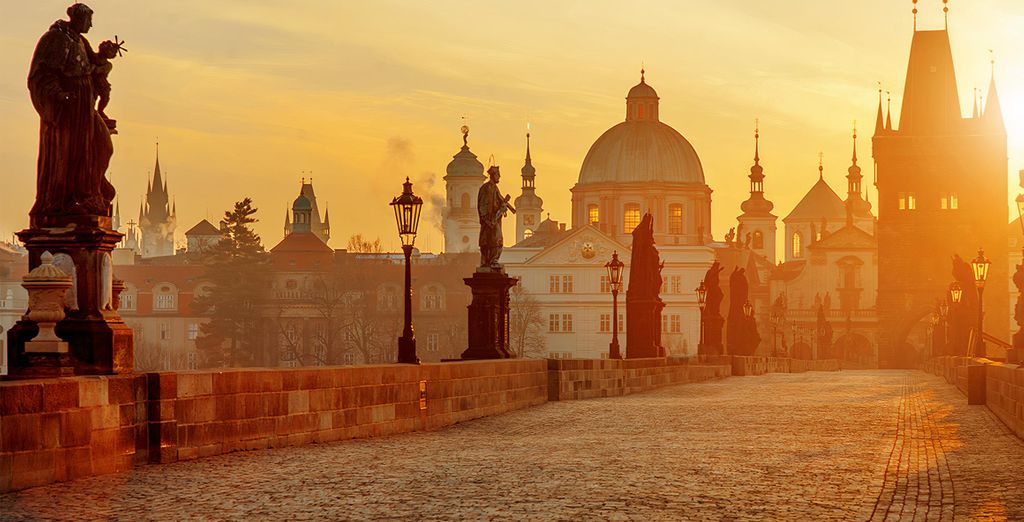 Prague is the bustling capital of the Czech Republic, the ancient capital of Bohemia and home to some 1.3 million people. Set on the Vltava river, the historical city is famous for its colourful baroque architecture, museums, cafes and bars. Holidays to Prague promise astounding views, a rich walk through history, culture in spades, and labyrinthine streets with quirky cafes, lively bars, and trinket shops.
Known as the city of 100 spires, visiting the churches alone could keep you occupied for weeks. A simple stroll through the city centre provides such sights as the iconic 14th-century Charles Bridge with views along the river, the Prague astronomical clock, and the 1000-year-old town square. Prague also offers some striking modern architecture, one of the most famous examples being the dancing house designed by Frank Gehry. These modern offices built with unlikely angles and unnatural twists boast a restaurant with city views on the top floor.
Delicious street-food and sparkling nightlife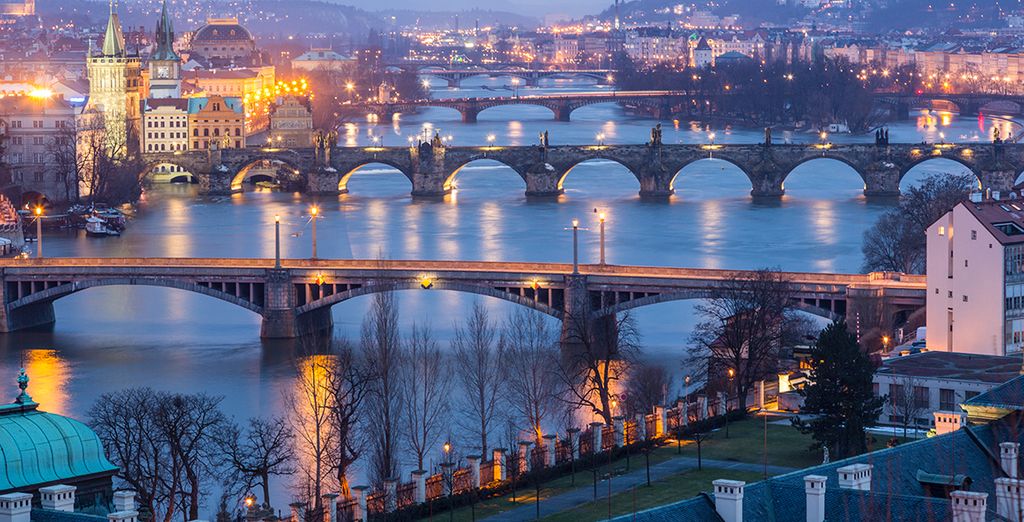 While Prague is best known for its history, beer and food lovers will not be disappointed. A famous Czech speciality, beer connoisseurs will be happy to find a beer museum and Bohemian craft beer tasting right in the centre of town. And for foodies, traditional pala?inky, a type of pancake, served with sweet or savoury fillings and can be found in eateries all over the city. Another local speciality is a traditional Slovak sweet pastry, the trdelník, which is dusted with sugar and cinnamon and can be found at street stalls and in cafes. Schnitzels (meat covered in breadcrumbs), speciality sausages and deep-fried cheese balls called smažený sýr can all be found at street vendors throughout the city.
Well known for its lively nightlife, evenings in Prague offer a variety of atmospheres depending on what you're looking for. A romantic evening on a terrace over the river gazing on the twinkling lights of the city is a particular delight for couples, while groups of friends can enjoy quirky lively bars, and families can dine in one of the city's many historic squares.
Book yourself into a luxury handpicked hotel
Couples, family groups, and friends will all find plenty to do in the city. And when you've taken in the sights and enjoyed the culinary attractions, what better place to kick back and relax in than a handpicked luxury hotel at an exclusive price?