Join for free
Join for free
Save up to 70% on UK countryside stays, European city breaks & exotic beach holidays.
More than

7.3 million

people have already trusted us with their holidays!
Member-only rates & exclusive perks
Save up to 70% on luxury travel
A reliable team, 7 days per week
Holidays to Amsterdam: the Venice of the North
Whether you're passionate about art or looking for a city full of entertainment available until late, Amsterdam offers everything you can wish from a holiday. The destination proposes booking like Cruises, galleries, sightseeing or a large choice of cafes, pubs, eateries, our hotels in Amsterdam are closed to the main attractions. Discover our unique offers and save up to 70% on your flight and hotel to the international Amsterdam Schiphol Airport. Flights to and from Ams is very easy. And can even find with us cheap flights to Amsterdam and have wonderful family holidays or even find package holidays. Find the best deals on our website.
Visit Amsterdam means also use bicycle for transfers between areas. Our travel experts recomend you rent a bike for an unforgettable getaway. Ask for a guided tour for a unique Amsterdam experience. You can follow your own itinerary or excursion. From Amsterdam centraal station you can visit the countryside and others cities as Rotterdam or Haarlem, or use a car hire company.
Explore famous art museums in Amsterdam
Holland is famous for beautiful landscape, canal and nice stroll. Amsterdam is known as the "Venice of the North", due to its beautiful canals surrounded by colourful houses, as well as its charm and history. The 17th century canal area, including the Prinsengracht, Keizersgracht, Herengracht and Jordaan, are listed as UNESCO World Heritage Site. Whether you're passionate about art, looking for a place with excellent nightlife or just interested in its history, this city has something for every tourist. It's famous for its liberal nature, inviting people from all over the world to visit its many fascinating attractions, and it's home to a number of famous artists that have left a mark in the arts for being innovative and creating incredible masterpieces.
Van Gogh Museum, Rembrandt House
Amsterdam offers you fantastic museums such as the Van Gogh Museum and Rembrandt House Museum. Wheere you'll get the chance to experience the lives and works of two of the most prominent figures in the arts. The first offers a vast collection dedicated to Van Gogh, with special workshops and events dedicated to his art. The second is Rembrandt's actual house, now turned into a temple providing visitors with a huge display of art. Alongside hosting one of his most prestigious works. These museums are a must visit to bathe in the artistic spirits of these amazing artists and feel inspired by huge amounts of talent surrounding you.
Rijksmuseum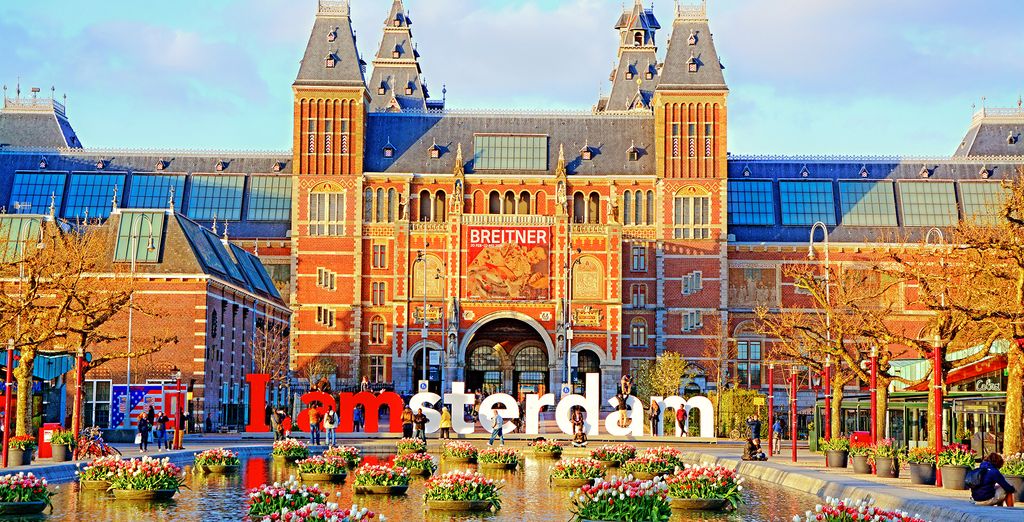 Another location to find famous artists and their paintings is the Rijksmuseum, a national museum dedicated to arts and history in Amsterdam, the go-to location to learn more about the city and its past. Offering a scenographic garden, interesting architecture (visit Dam Square) and a vast art collection that makes it a must visit for every tourist.
Historisch museum
To learn more about the history of Amsterdam during your vacations, there is also the Historisch Museum, providing visitors with an informative journey from the origins up until this day. Home to curious objects and interesting exhibitions. While showcasing another part of history, the Anne Frank house is open to visitors and offers an emotional look at WWII with personal objects, photographs and letters from that time.
Stedelijk museum
To know more about Amsterdam Netherlands culture you can also visit the Stedelijk museum, closed to the Rijksmuseum, or the Heineken experience for those interesing in beers.
Creativity at the core of this city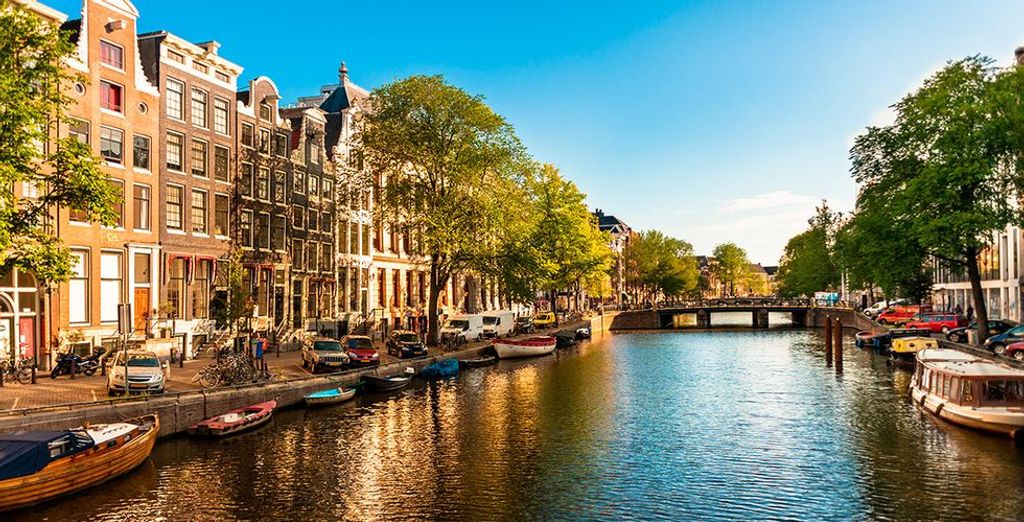 Amsterdam music events
Bask in the joyful entertainment offered by musicians, artists and dancers performing all around you as you visit the majestic Vondelpark, a 19th century urban park with ponds and an open air theatre. A meeting point for tourists and locals that gives you a breath of fresh air mixed with creativity and entertainment.
Walking around Amsterdam will make you feel inspired thanks to its vibrant community and the many displays of artistic expression all around you. Our exceptional discounts can offer you the chance to see all this history and art without having to worry about your accommodation - you could stay just a short walk away from many fascinating attractions.
Amsterdam flowers and market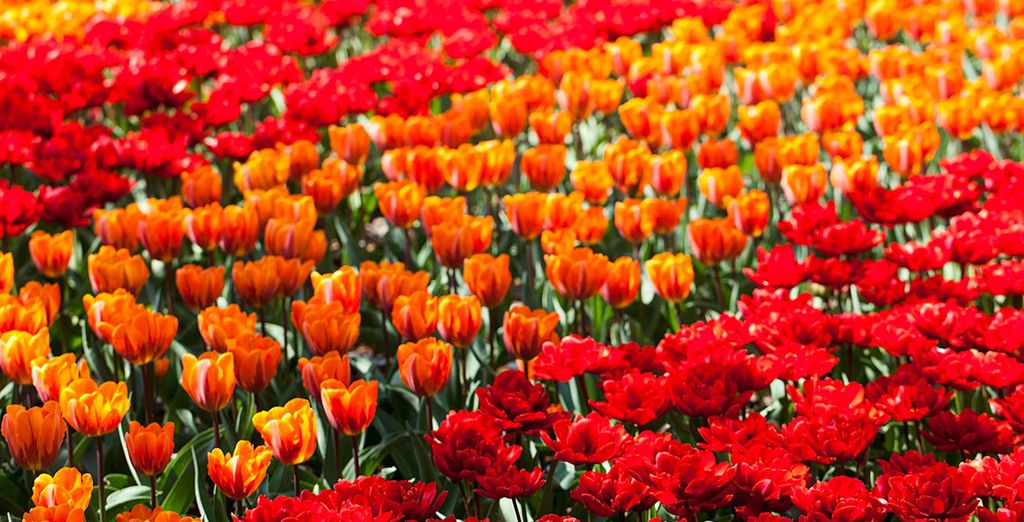 Another ideal location to escape the city and find yourself surrounded by nature is the oldest botanic garden in the Netherlands, Hortus Botanicus. Once a herb garden used by doctors, nowadays it's a major tourist attraction that offers rare and exotic plants of all kinds. Including a marvellous area that displays tropical butterflies flying free around visitors.
The Netherlands are famous for their magnificent flowers and the tulip you can enjoy in the famous keukenhof. Amsterdam offers you the chance to be immersed in colours by visiting Bloemenmarkt, the local flower market. Every corner is covered in flowers, leaving you walking in a cloud of perfume and giving you a chance to admire the tulips that are so often associated with this country.
One thing is sure: travelling and feeling bored on an Amsterdam holiday is impossible. There is always tings to do in Amsterdam. With its vibrant nightlife, you can find live music, clubs and bars open until late, around the surprising red light district for example. The friendly nature of its locals will mean making new friends won't take long. Fans of classical music can enjoy concerts at the Muziekgebouw aan 't IJ concert hall, one of the most innovative in Europe. You'll have plenty of music and events to choose from.
Local cuisine famous for its specialities
Travel to Amsterdam means also food and good catering. Food wise, you can't forget to taste the dutch cheeses. They play such a major part of the cuisine of this country that Amsterdam even established a Cheese Museum. Where you can taste the various local cheeses while learning about their history and creation. By exploring the markets you can find the most popular of street foods in Amsterdam: atatje oorlog, chips cooked the dutch way. Tasty and perfect to eat as you explore Amsterdam during any season.
Another street food speciality of this city is Kibbeling, a fish based delicacy made of cod, fried and served with herbs and mayo. It can be consumed cold or hot, making it perfect to try in any weather condition. While those who prefer meat can enjoy a taste of Bitterballen, little balls made of mince, fried and ideal to eat while you walk around the streets of Amsterdam as a snack, even better if consumed while drinking the local beer. For those looking for something sweet, their Appeltaarts (apple tarts) and Stroopwafel (waffles with syrup) are two delicious options that can be found all over the capital of the Netherlands.
Enjoy your holidays to Amsterdam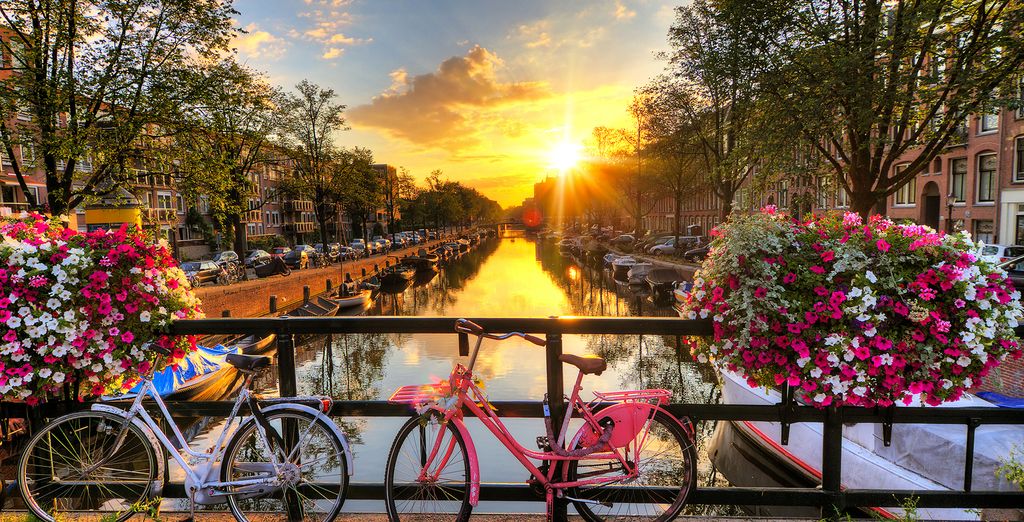 By staying in the heart of the city, you'll be able to experience all of this and more, and our selection of Amsterdam holidays guarantees you a stay in the best areas, leaving you just a short walk away from its most interesting places to visit with a beautiful view of the canals from your window. A trip to Amsterdam will let you discover picturesque scenes such as windmills, waters and gardens.
So whether you are planning a trip to the Netherlands to learn more about its history or to enjoy the vast choices of entertainment that last until late at night, our handpicked offers on hotels will ensure you the perfect location to fully experience everything Amsterdam has to offer. Sign up to the site for holiday deals and make sure you don't miss out on great deals that will guarantee you a fantastic Amsterdam holiday.