Amsterdam Holidays 2022/2023 - City Breaks



Table of contents
Amsterdam had something of a smutty reputation: but this is very unfair to a city that has so much more to offer than a thoroughly sensible approach to sex and cannabis! Museums are bursting with wonderful artworks, some from internationally acclaimed artists, others by equally acclaimed local painters, sculptors and creators, the canals are welcoming and a delightful place to spend a few hours, motor-taxiing from destination to destination, and the tulip fields just outside the city are a visual feast to please even the most jaded eye.
Top Five Things to See and Do for Holidays in Amsterdam
1. Van Gogh Museum
Love him or hate him, Van Gogh's paintings are unique, instantly recognisable and stand for an alert to the importance of looking after our mental health. The artist seldom painted while suffering from one of his periodic instances of ill-health – and those that he did produce during these times tend to be dark and melancholic, unsettling, and rather depressing to view – waiting instead until his good humour and desire to create had returned. The museum boasts a number of his works, as well as many details about his life, and you will spend an absorbing hour or two here.
2. Vondelpark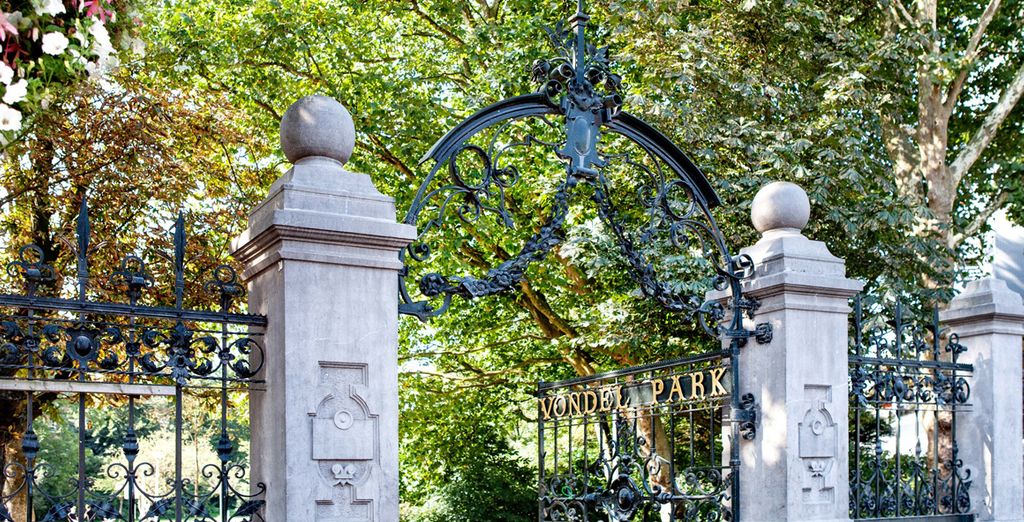 Moving onto happier outings, this huge green space is Amsterdam's largest park and boasts a wealth of activities and events going on all year round. Roller-skating, jogging and walking are regular pastimes here, as is cycling – with bicycles being one of the most popular forms of both transport and exercise in the country, you can indulge your love of cycling: the park is mainly flat with plenty of wide paved pathways for you to enjoy. Concerts and performances are regularly shown at the open-air theatre and the band-stand, and there are some notable buildings within the park, including the Pavilion with its in-house restaurant. The park contains several ponds and lakes, and has had over one hundred and fifty years to establish some magnificent trees and other plant life, which in turn supports a wealth of water-fowl, birdlife and small animals, many of whom can be glimpsed by a careful and quiet observer.
3. Anne Frank's House
A reminder of one of the world's darkest times, the Holocaust, a visit to Anne Frank's house is sometimes treated as a bit of a lark, something to tick off on the 'doing Amsterdam' list, but it should also serve as a warning of how very unkind the world can be when people are treated badly. You will see the incredibly small space which housed the family, forcing them into stillness and quiet that chafed at the young Anne who longed to be out, in the sunshine, meeting boys and exchanging witty repartee. Instead, her life was to be cut brutally short by a regime that cared nothing for her and her hopes.
4. Jordaan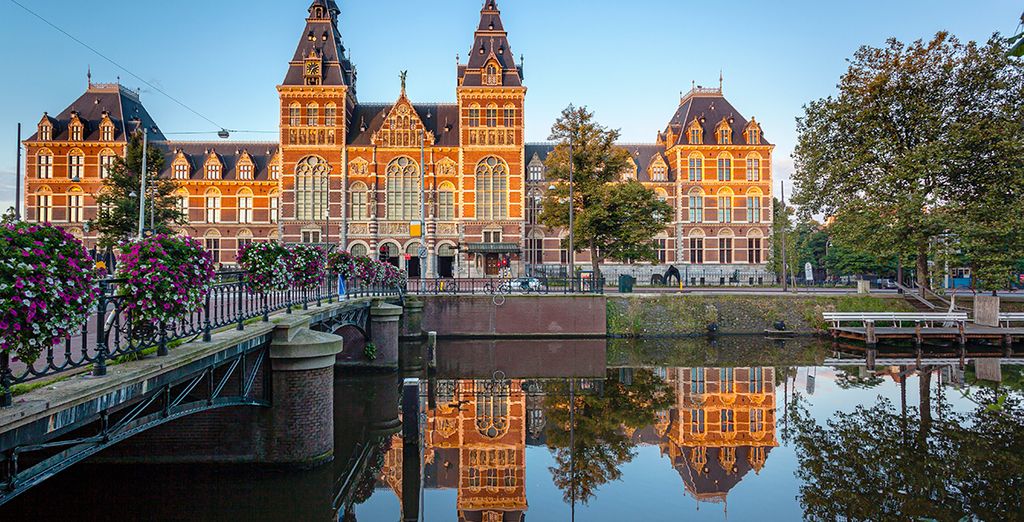 An area rather than a place, Jordaan is something of an experience in itself, being a thriving, slightly hippyish community where artisanal crafts, boutique independent stores and gastro pubs offering unique dishes and craft beers can all be found along with a sense of belonging and welcome that is a joy to experience. The quirky Cheese Museum and the more serious, but still fun, Houseboat museum are nearby too, so you could make a day of it and learn a lot as well as taking some fantastic photographs for your social media feeds.
5. Heineken Experience
If you have seen more tulips than you thought possible, admired more Old Masters than a teenager's selfie thread, and generally had enough of cycling, walking and enjoying the fresh air, head into the delightfully yeasty aroma of a brewery – and not just any brewery! Heineken is a famous beer brand, known and drunk with pleasure all over the world, and you can go on a tour through the facility, seeing how the grain and hops are transformed into the delicious pale gold nectar that is so very sustaining on a hot day! And yes, there is a tasting room! Book online to get the best prices, but even paying at the door is well worth it as you are given three beers and souvenir glass to take away with you at the end of the tour.
Our Best Hotels in Amsterdam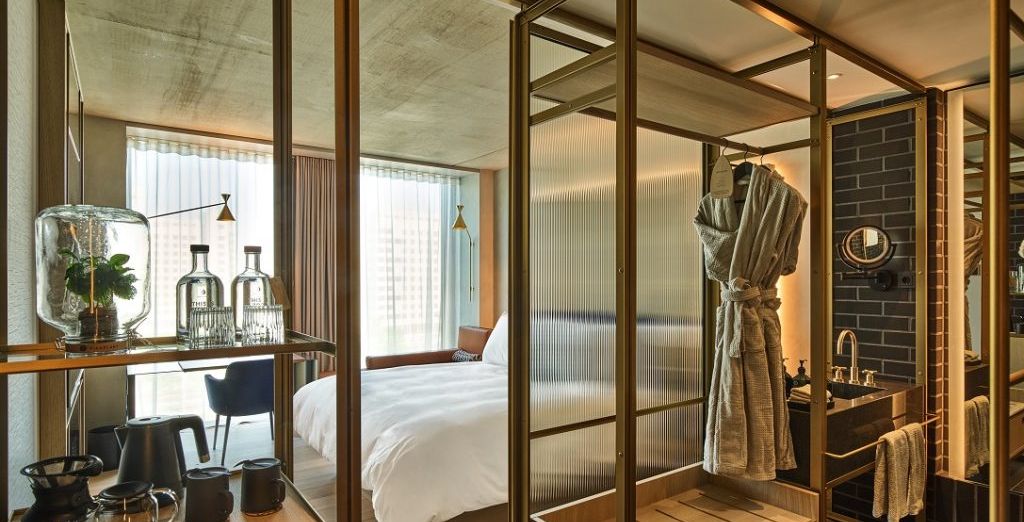 Cool pastels against a white background make your first impression of this beautiful hotel a food one. Minimalist but welcoming bedrooms, a pampering studio on the twentieth floor, delicious food that perfectly blends the best of local delicacies with international favourites, and an ideal location that is handy for exploring the city and for the train station which is a mere five minutes away. The hotel puts a strong emphasis on being green, using organic, locally sourced ingredients, recycling wherever possible and using sustainable methods wherever possible inside the hotel itself.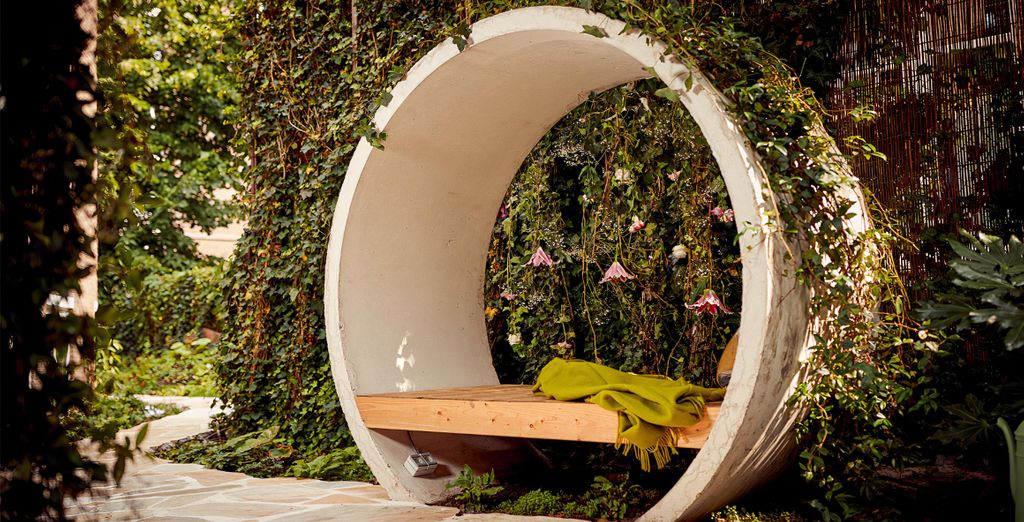 With a stylish nod to the 70s, think ornate furniture, orange and brown décor, crazy geometrics – but all working incredibly well together, this hotel is located right in the heart of Amsterdam. The rooms are spacious and comfortable, there is an onsite fitness suite for those who like to keep up their workout regimens, and there are plenty of Dutch treats to try out, from beer to coffee to snacks, as well as full multi-course meals for those hungrier days.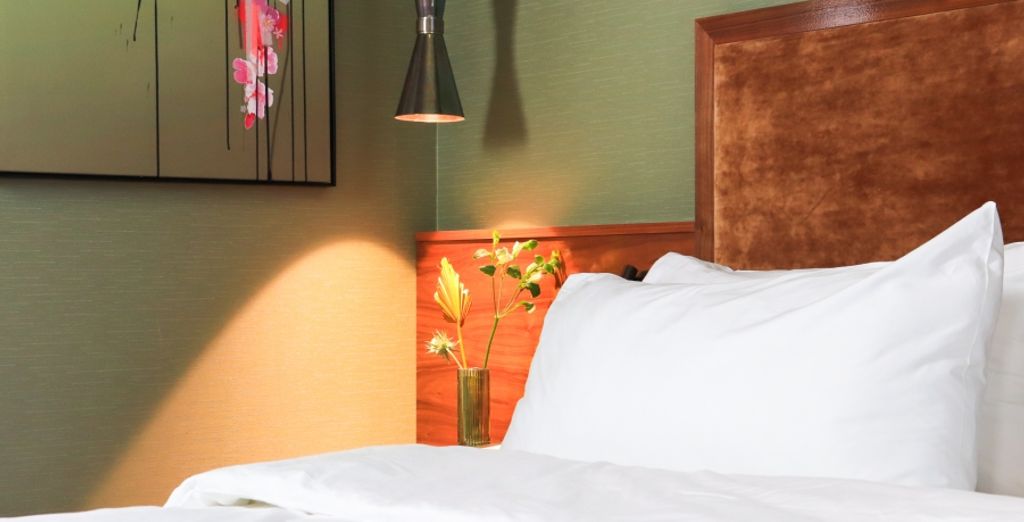 Go to Amsterdam and stay in Chinatown! Well, why not, when Amsterdam's Chinatown is so very welcoming? This hotel makes the best of both cultures, with all the sights and sounds of Amsterdam just around the corner, and all the flavours and tastes of China to be found in the cuisine which is a joyous amalgamation of Asian, Dutch and fusion dishes, giving your taste-buds a treat no matter what you try. The hotel rooms, with subtle Chinese hints in the décor, overlook the canals, providing wonderful panoramic and ever-changing views that you will be reluctant to tear yourself away from.
When is the best time to go on holiday to Amsterdam?
If you enjoy indoor pursuits, or do not mind the cold weather, Amsterdam is great to visit all year round. From spring until autumn, however, the city comes into its own, with warm weather, plenty of outdoor activities and the canals and boats creating a wonderful picture-postcard vista. The summer months are the hottest, and the most crowded, so travelling between April and May or September and October give you the best combination of lovely weather and reduced crowds.
Holidays in Amsterdam: getting there and getting around
Amsterdam is readily accessible by ferry, plane, train, bus or private vehicle, and you will not have much fuss with any of these choices. The city's transport infrastructure is well-organised and functions well, whether you travel by train or plane into the nearest airport.
Getting about the city is a delight too. You can walk much of the city, or purchase hop-on-hop-off bus tickets so you can range as far and wide as you like, or you can try something different and grab a water taxi to literally ferry you about. It is not the cheapest way of travelling, but it can be fun and you are on holiday after all!
Enjoy Your Holidays in Amsterdam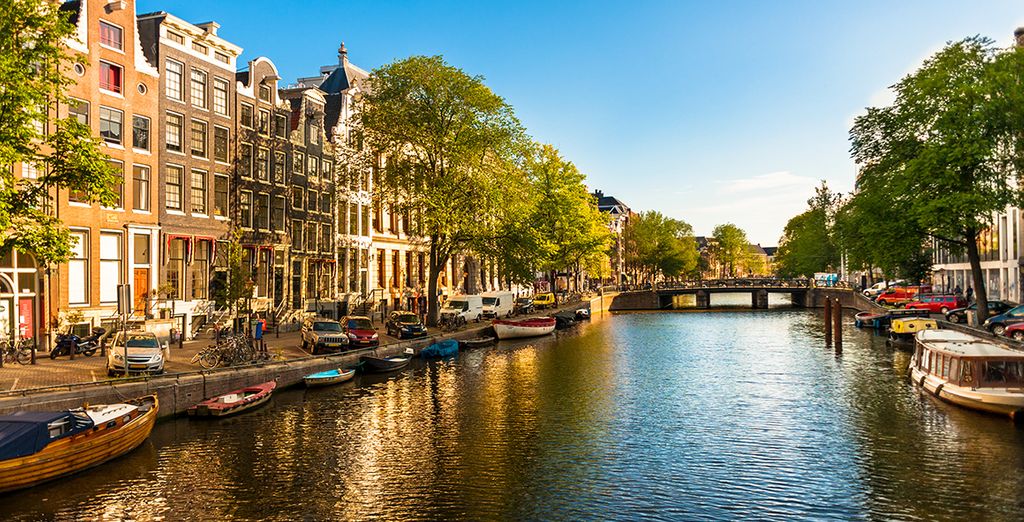 Of course, Amsterdam does have its reputation as a party city for a reason, and if you are looking for a good place to party and experience a bit of life, Amsterdam can certainly fulfil all your needs. But the city is also a great place for family holidays, with plenty of activities and places for children – and with everything well sign-posted you are unlikely to stumble into any of the more sensual areas without plenty of warnings so you can whisk wide young eyes away before awkward questions can begin!
The Opinion of the Voyage Prive Travel Expert on Amsterdam Holidays
Amsterdam is a beautiful city. Plenty of waterways and canals, colourful boats ranging from little motorboats to barges and houseboats, tulips and colourful flowers sprouting in the most unlikely places and warm and welcoming people, especially those working in the hospitality industry, mean that your senses are soothed and pleased from the moment you arrive in the city. There is plenty to do, no matter what your interests, from the mechanics of windmills and crafting of clogs to the cut-throat world of early horticulture, when a single bulb could make a man's fortune or ruin it to the careful and precise methods of cheese-making.
Amsterdam is the perfect city for young lovers, families, older couples escaping the drama of their adult children's lives and for groups of friends travelling together to see the world. It is a world of beautiful landscapes and city scenes, of mild cheeses and bright tulips, windmills and clogs and bicycles.
Whether you're passionate about art or looking for a city full of entertainment available until late, Amsterdam offers everything you can wish from a holiday. The destination proposes booking like Cruises, galleries, sightseeing or a large choice of cafes, <ubs, eateries, our hotels in Amsterdam are closed to the main attractions. Discover our unique offers and save up to 70% on your flight and hotel to the international Amsterdam Schiphol Airport. Flights to and from Ams is very easy. And can even find with us cheap flights to Amsterdam and have wonderful family holidays or even find package holidays. Find the best deals on our website.
Visit Amsterdam means also use bicycle for transfers between areas. Our travel experts recomend you rent a bike for an unforgettable getaway. Ask for a guided tour for a unique Amsterdam experience. You can follow your own itinerary or excursion. From Amsterdam centraal station you can visit the countryside and others cities as Rotterdam or Haarlem, or use a car hire company.
Explore famous art museums in Amsterdam
Holland is famous for beautiful landscape, canal and nice stroll. Amsterdam is known as the "Venice of the North", due to its beautiful canals surrounded by colourful houses, as well as its charm and history. The 17th century canal area, including the Prinsengracht, Keizersgracht, Herengracht and Jordaan, are listed as UNESCO World Heritage Site. Whether you're passionate about art, looking for a place with excellent nightlife or just interested in its history, this city has something for every tourist. It's famous for its liberal nature, inviting people from all over the world to visit its many fascinating attractions, and it's home to a number of famous artists that have left a mark in the arts for being innovative and creating incredible masterpieces.
Van Gogh Museum, Rembrandt House
Amsterdam offers you fantastic museums such as the Van Gogh Museum and Rembrandt House Museum. Wheere you'll get the chance to experience the lives and works of two of the most prominent figures in the arts. The first offers a vast collection dedicated to Van Gogh, with special workshops and events dedicated to his art. The second is Rembrandt's actual house, now turned into a temple providing visitors with a huge display of art. Alongside hosting one of his most prestigious works. These museums are a must visit to bathe in the artistic spirits of these amazing artists and feel inspired by huge amounts of talent surrounding you.
Rijksmuseum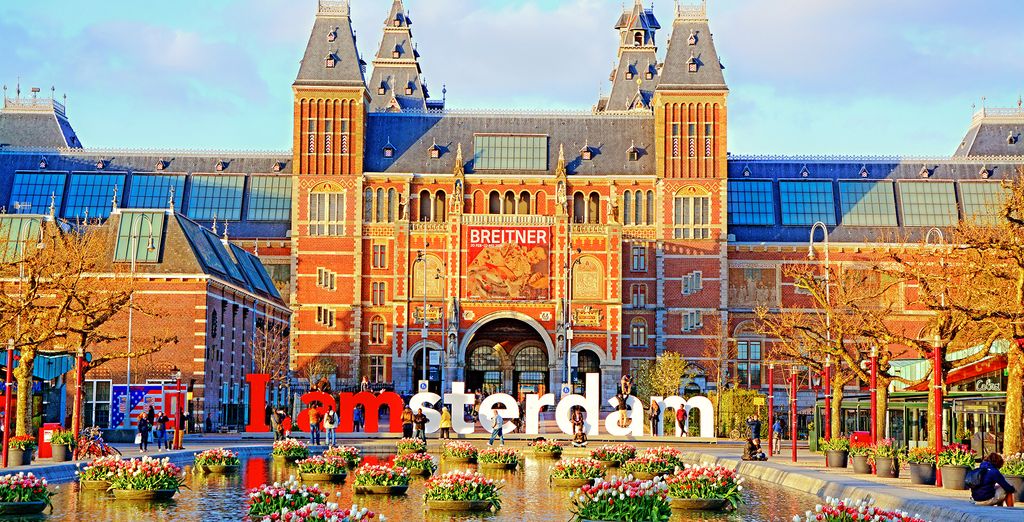 Another location to find famous artists and their paintings is the Rijksmuseum, a national museum dedicated to arts and history in Amsterdam, the go-to location to learn more about the city and its past. Offering a scenographic garden, interesting architecture (visit Dam Square) and a vast art collection that makes it a must visit for every tourist.
Historisch museum
To learn more about the history of Amsterdam during your vacations, there is also the Historisch Museum, providing visitors with an informative journey from the origins up until this day. Home to curious objects and interesting exhibitions. While showcasing another part of history, the Anne Frank house is open to visitors and offers an emotional look at WWII with personal objects, photographs and letters from that time.
Stedelijk museum
To know more about Amsterdam Netherlands culture you can also visit the Stedelijk museum, closed to the Rijksmuseum, or the Heineken experience for those interesing in beers.
Creativity at the core of this city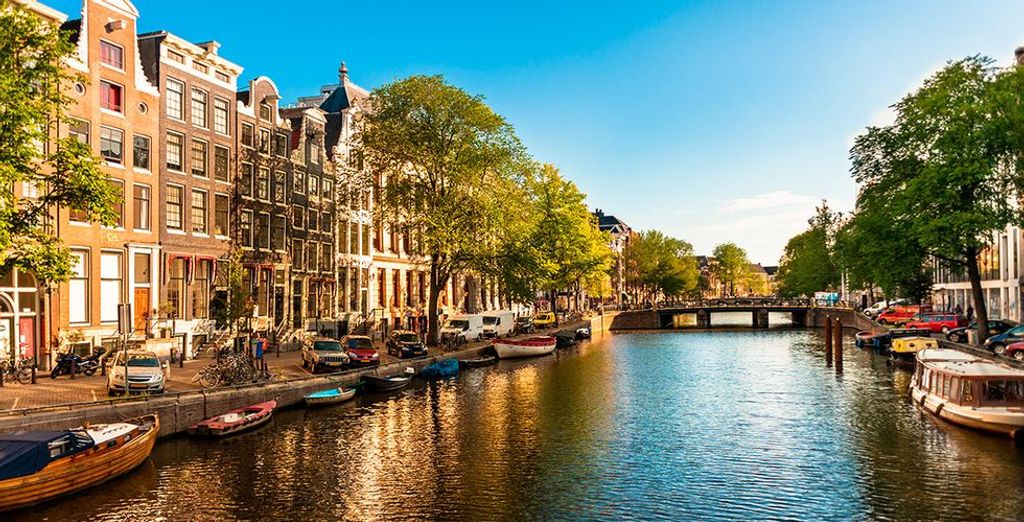 Amsterdam music events
Bask in the joyful entertainment offered by musicians, artists and dancers performing all around you as you visit the majestic Vondelpark, a 19th century urban park with ponds and an open air theatre. A meeting point for tourists and locals that gives you a breath of fresh air mixed with creativity and entertainment.
Walking around Amsterdam will make you feel inspired thanks to its vibrant community and the many displays of artistic expression all around you. Our exceptional discounts can offer you the chance to see all this history and art without having to worry about your accommodation - you could stay just a short walk away from many fascinating attractions.
Amsterdam flowers and market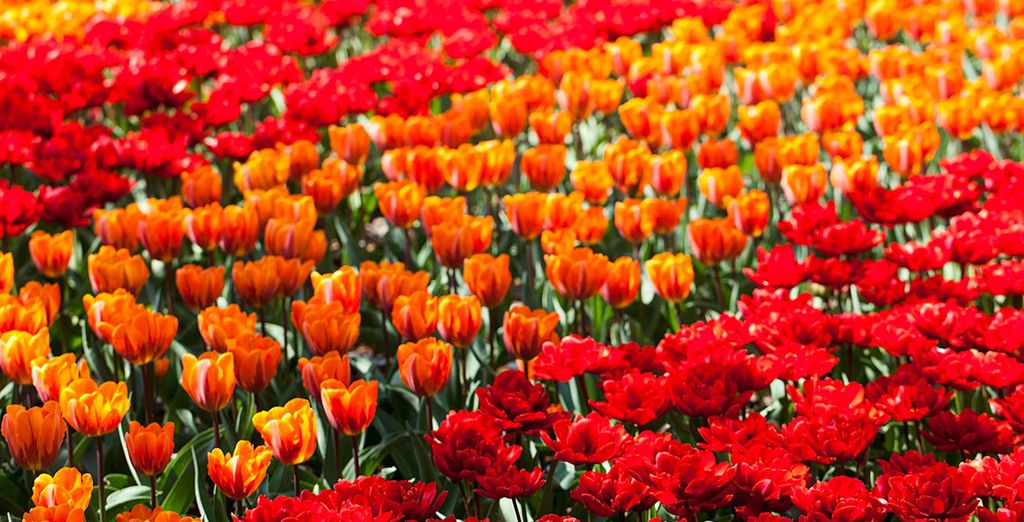 Another ideal location to escape the city and find yourself surrounded by nature is the oldest botanic garden in the Netherlands, Hortus Botanicus. Once a herb garden used by doctors, nowadays it's a major tourist attraction that offers rare and exotic plants of all kinds. Including a marvellous area that displays tropical butterflies flying free around visitors.
The Netherlands are famous for their magnificent flowers and the tulip you can enjoy in the famous keukenhof. Amsterdam offers you the chance to be immersed in colours by visiting Bloemenmarkt, the local flower market. Every corner is covered in flowers, leaving you walking in a cloud of perfume and giving you a chance to admire the tulips that are so often associated with this country.
One thing is sure: travelling and feeling bored on an Amsterdam holiday is impossible. There is always tings to do in Amsterdam. With its vibrant nightlife, you can find live music, clubs and bars open until late, around the surprising red light district for example. The friendly nature of its locals will mean making new friends won't take long. Fans of classical music can enjoy concerts at the Muziekgebouw aan 't IJ concert hall, one of the most innovative in Europe. You'll have plenty of music and events to choose from.
Local cuisine famous for its specialities
Travel to Amsterdam means also food and good catering. Food wise, you can't forget to taste the dutch cheeses. They play such a major part of the cuisine of this country that Amsterdam even established a Cheese Museum. Where you can taste the various local cheeses while learning about their history and creation. By exploring the markets you can find the most popular of street foods in Amsterdam: atatje oorlog, chips cooked the dutch way. Tasty and perfect to eat as you explore Amsterdam during any season.
Another street food speciality of this city is Kibbeling, a fish based delicacy made of cod, fried and served with herbs and mayo. It can be consumed cold or hot, making it perfect to try in any weather condition. While those who prefer meat can enjoy a taste of Bitterballen, little balls made of mince, fried and ideal to eat while you walk around the streets of Amsterdam as a snack, even better if consumed while drinking the local beer. For those looking for something sweet, their Appeltaarts (apple tarts) and Stroopwafel (waffles with syrup) are two delicious options that can be found all over the capital of the Netherlands.
Enjoy your holidays to Amsterdam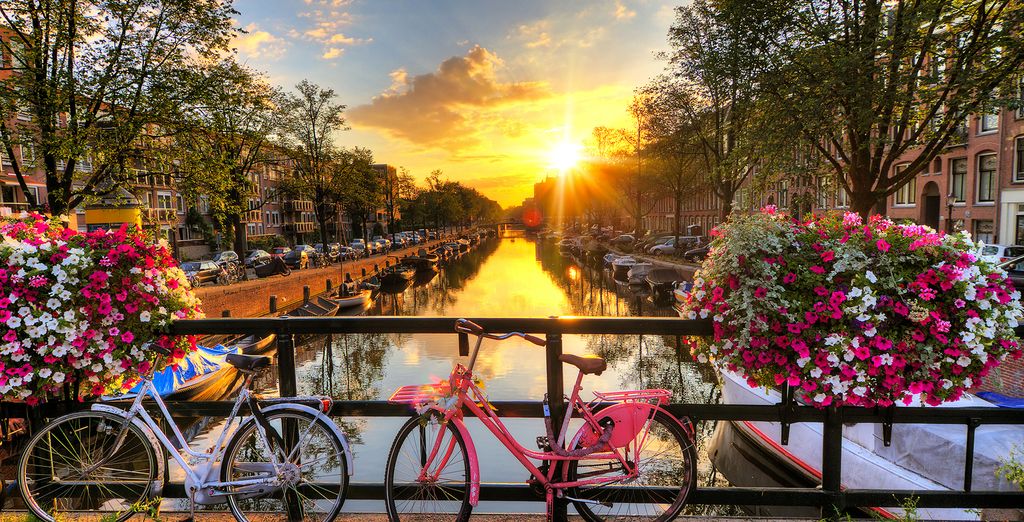 By staying in the heart of the city, you'll be able to experience all of this and more, and our selection of Amsterdam holidays guarantees you a stay in the best areas, leaving you just a short walk away from its most interesting places to visit with a beautiful view of the canals from your window. A trip to Amsterdam will let you discover picturesque scenes such as windmills, waters and gardens.
So whether you are planning a trip to the Netherlands to learn more about its history or to enjoy the vast choices of entertainment that last until late at night, our handpicked offers on hotels will ensure you the perfect location to fully experience everything Amsterdam has to offer. Sign up to the site for holiday deals and make sure you don't miss out on great deals that will guarantee you a fantastic Amsterdam holiday.
Amsterdam Holidays 2022/2023 - City Breaks, customer reviews
QO Hotel (Amsterdam - Netherlands)
Customers testify
Review
A very new hotel with beautifully designed rooms and wonderful views of Amsterdam - we were on the 9th floor. The beds are fantastically comfortable, the room is relatively small but adequate. There is free water, tea and coffee in the room. The breakfast was very good with a good selection and delicious gluten-free bread. You should make sure that the breakfast is included, as it is relatively expensive as an extra. The metro is just around the corner and you can get to the center quickly. On foot it would be too far away. Definitely recommended and we would book again.
-
Review
Stylish, innovative and quite different hotel. Spotlessly clean, beautiful rooms and public areas with a stylish Dutch vibe and a stunning bar on the roof with city views. A little out of town but only 5 mins walk to Spaklerweg Metro station and public transport is excellent in Amsterdam so getting to town was never a problem. Really enjoyed our stay, highly recommended.
-
Review
Hotel is beautiful, such attention to detail in the room. Proper hair dryer - great! Choice and quality of breakfast excellent. Staff all fantastic, so enthusiastic and engaged. Roof top bar with 360 views fab, staff very knowledgeable about food. Nothing too much trouble. Easy access to centre of Amsterdam via metro. Only ever had to wait a few minutes for train. Highly recommend this hotel.
-
Review
Near the center of Amsterdam: 8 mn by subway. The hit is very modern with quality amenities and comfortable bedding.
-
Review
The proximity of the metro is a real plus. Located less than 200m and 10 to reach the center of Amsterdam. Comfortable bedding. Modern room ordered by Ipad. Good soundproofing of the rooms. Mini bar .
-