The Best Hotels in Amsterdam



Table of contents
There are hotel rooms to suit every pocket in Amsterdam, from the most opulent luxury to student friendly economy. No matter who you are or your reason for visiting Amsterdam, you are sure to find the perfect hotel for your needs and budget.
The Top Six Hotels in Amsterdam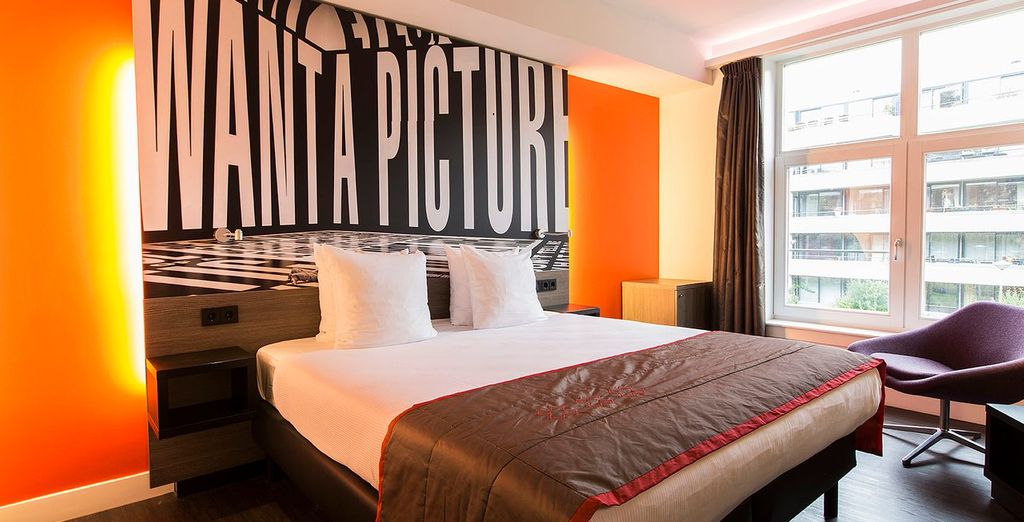 An ultra-modern interior belies the venerable and historic exterior of this sumptuous hotel. Within an hour's walk of most of the attractions of the city, this hotel has an on-site Italian restaurant, friendly bar and twenty-four hour manned reception. The building started out as a hospital, and has retained the air of comfort and attention to your needs that you might expect from a hospitality service.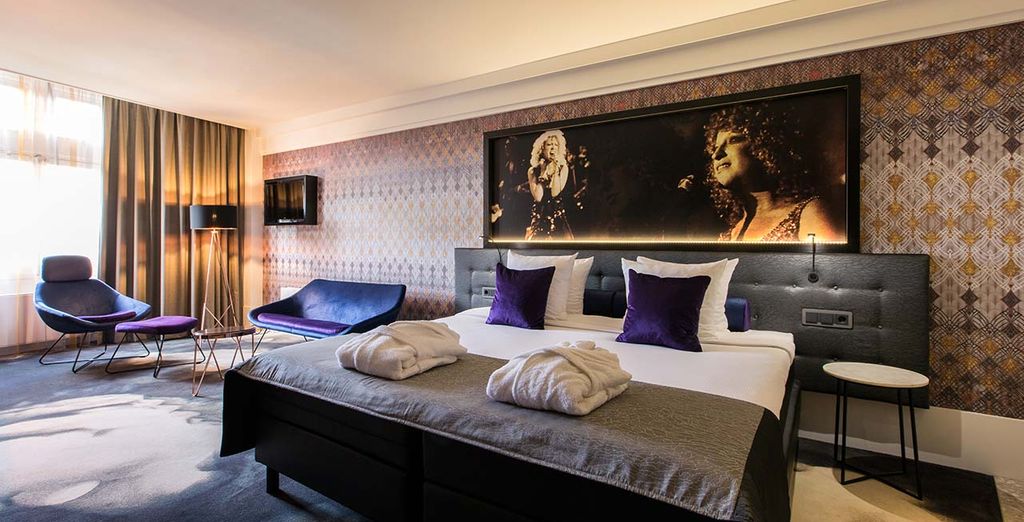 Enjoy yoga and saunas in the midst of Art Nouveau exteriors and opulent interiors in this small but perfect hotel in the heart of bustling Amsterdam. Just a twenty minute walk from most of the attractions of the city, the hotel is close to restaurants, coffee shops and bars.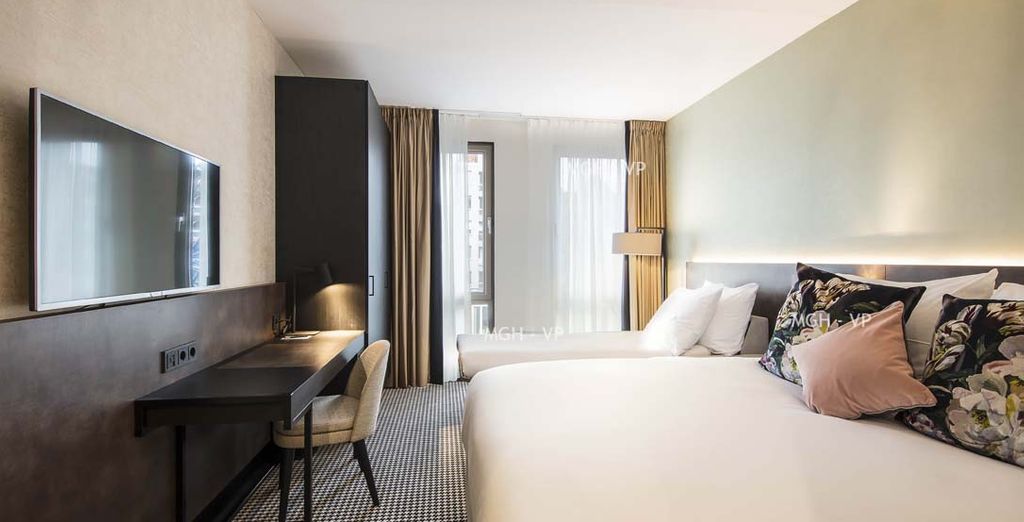 With 105 beautifully appointed rooms, a breakfast area, bar and fitness centre, this newly opened hotel lies a mere five minute walk from the nearest Metro station: a short ride will take you whenever you want to go in the city. The rooms are quietly luxurious, with elegant furnishing and beautiful paintings on the walls.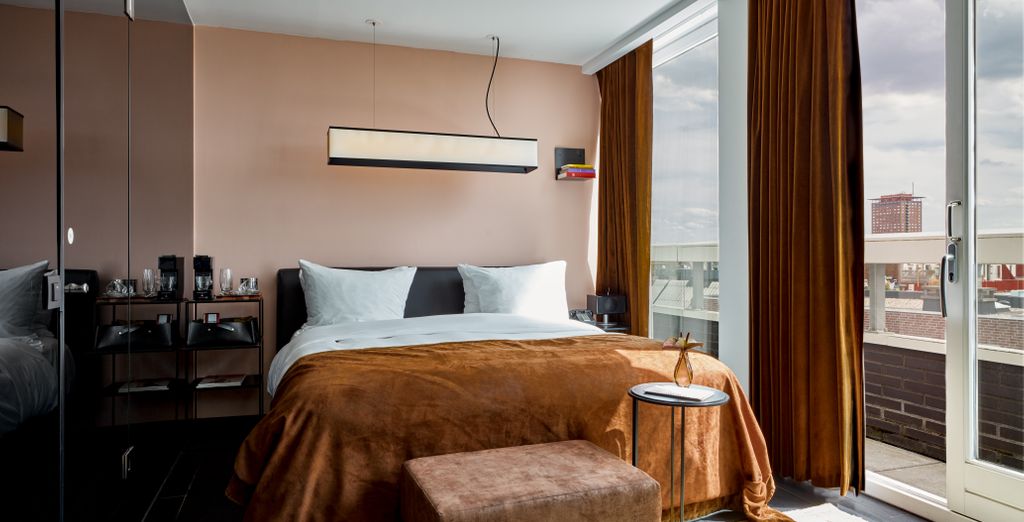 This award-winning boutique hotel seems like an effortless blend of comfortable study-chic and contemporary sumptuousness and this beautifully reflects the Quartier Latin of Amsterdam, where the literati: artists, writers, designers and entrepreneurs, flock to make their names and their fortunes. The 90 rooms are wonderfully decorated, and you can sample amazing Asian cuisine from the on-site restaurant before relaxing in the library or working off your delicious meal in the gym.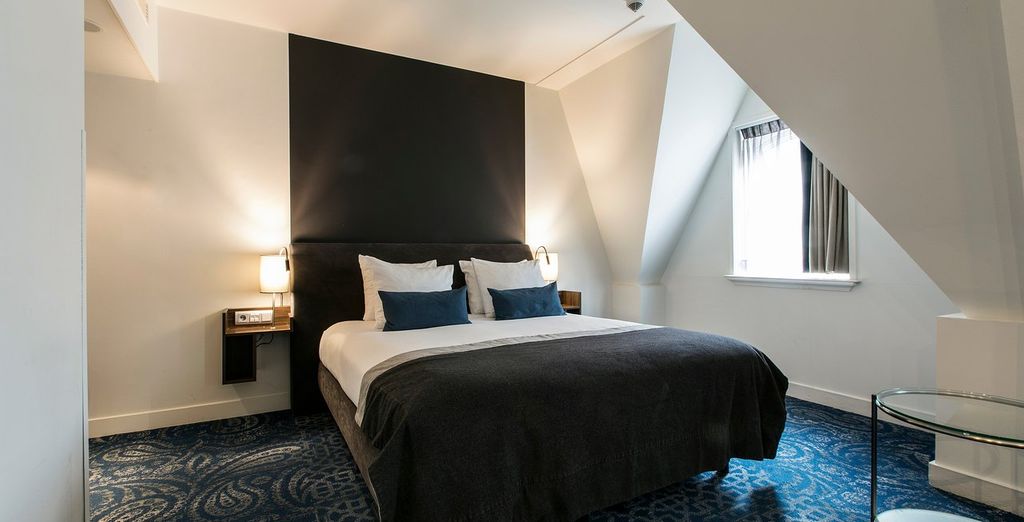 In the heart of Amsterdam, a step away from Rembrandt Square, this hotel offers gourmet French meals, buffet breakfasts and relaxation in the coffee lounge after dinner. The attractive rooms are practical and stylish, with everything the weary travel needs to refresh and revive before going out to explore the beauties of Amsterdam.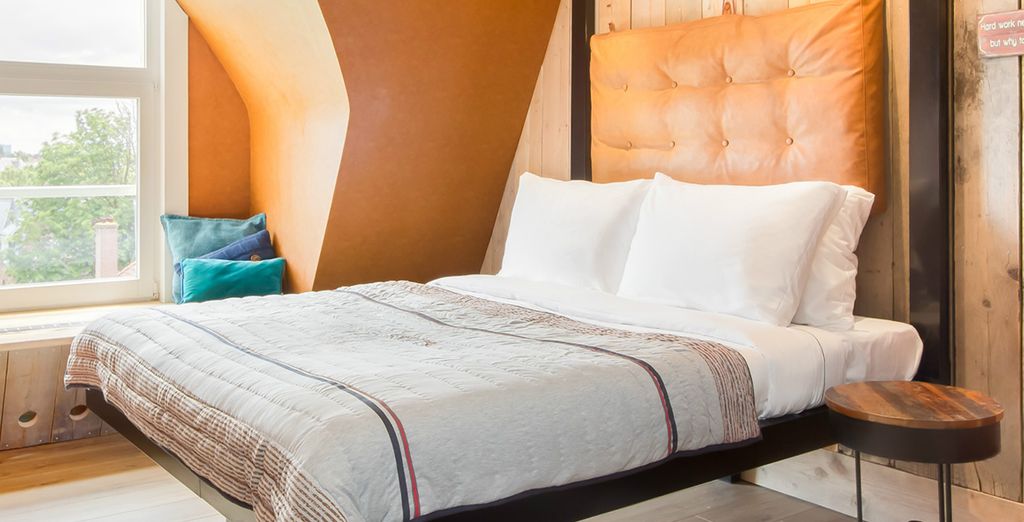 Spread across four adjoining houses, this hotel surprises with a Scandi-chic interior: minimalist but comfortable, striking yet simple. It can be found on a tranquil tree-lined street in the heart of the museum district and shopping outlets. Return to the peaceful hotel after a busy day sightseeing, visiting museums and shopping, and enjoy a quiet meal nearby, before you stroll home for a good night's sleep.
What Services Will You Find in our Hotels in Amsterdam?
Breakfast buffets and informal cafés are a popular morning choice, fortifying you with a simple continental breakfast and plenty of hot strong coffee before you head off to explore the city
Saunas and spas offer relaxation and refreshment to the jet lagged and travel weary
Fitness centres allow you to keep up your usual exercise regimen – a good way to ensure that all that delicious Dutch cheese and beer doesn't linger on your hips!
Twenty-four hour reception desks ensure that your every query can be answered promptly
Room amenities include tea and coffee making facilities, hairdryers are usually available and all the mod cons to make your stay comfortable and convenient
Hotel Rental Offers: All Types of Travel Covered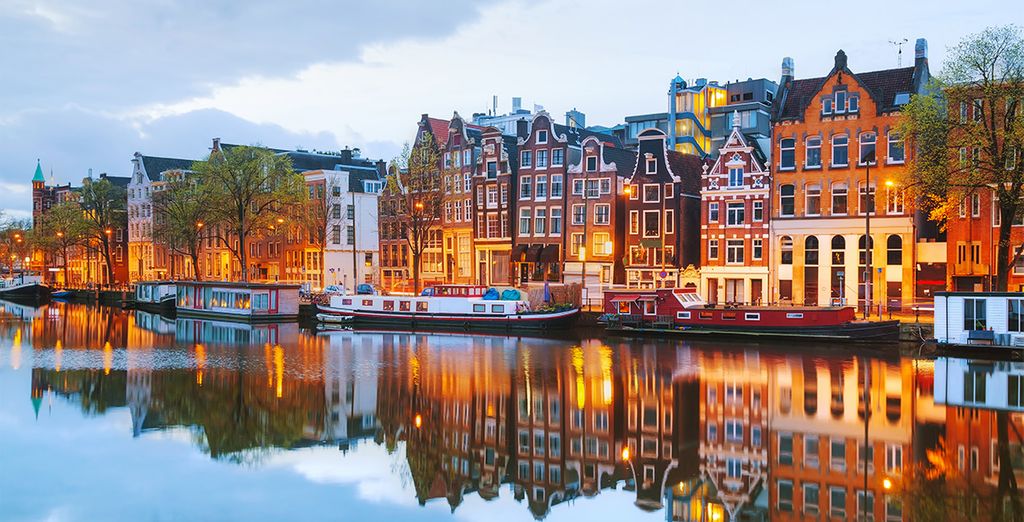 Amsterdam has something to offer all types of travellers. Honeymooners needing nothing more than each other's company can stroll hand in hand, enjoying museums, great art works, and tranquil canal side views; artists can soak in the atmosphere and works of the masters and bachelor parties and hen dos can make the most of the city's vibrant night life at clubs and pubs that can be found dotted throughout.
The Range of Hotels We Offer
From sumptuous five-star luxury to three-star comfort and style, our hotels have a little bit of something for everyone. You can stay in the heart of thriving Amsterdam, find a hidden treasure in a quiet avenue nearby or escape to the outer quarters for a more peaceful, less hectic vibe.
Amsterdam: What to Bring for a Hotel Stay
With all those canals, you might want to ensure that you have spare clothing in case you fall in or get splashed – or even for if it rains! Rainfall can occur at any time of the year, so be prepared at all times. Avoid roller bags, if you can, as the cobbled streets are neither kind nor comfortable to these suitcases. Most people use backpacks and day-bags, packing and travelling light with an easily washed core wardrobe that can then be teamed with a smart jacket, raincoat or winter jacket, as the weather demands. Cycle friendly clothing is a good idea, as cycling is a fun and easy way to get around: one adopted by much of the population.
Your Best Amsterdam Hotel: How to Get There and How to Book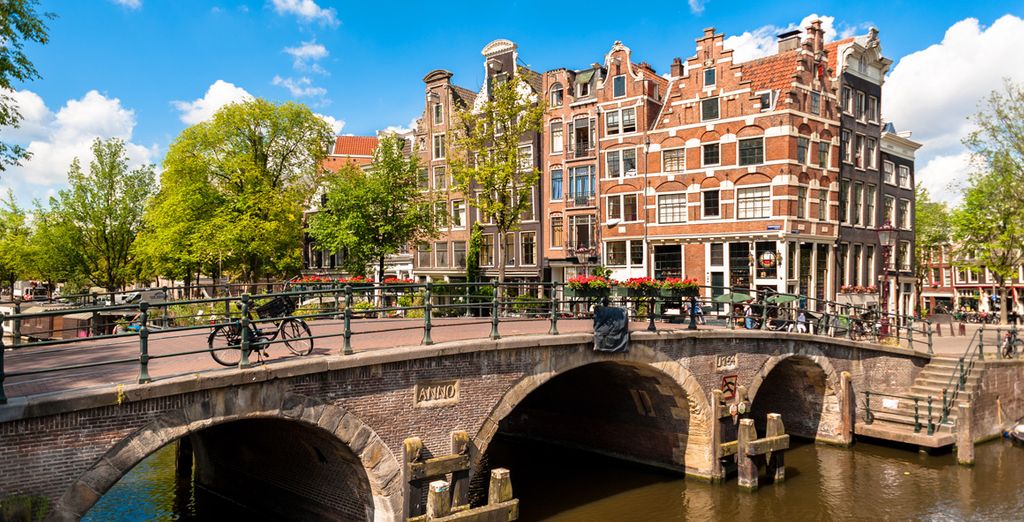 How to Get There
The Netherlands is part of the EU, so you can easily drive, train or bus your way across the continent – even from the UK at present – to arrive in Amsterdam without too much stress. It is a port city, so you can also arrive by ferry or cruise ship, if you want to come by water. Most international arrivals will come via Schipol International Airport, which accepts flights from all over the world.
How to Book your hotel in Amsterdam
The easiest way to book your dream Amsterdam holiday is to sign up to our site. We will email you when offers become available, offering you discounts on food and accommodation, free extras and generally making your holiday budget stretch that little bit further.
The Voyage Prive Expert's Opinion of Amsterdam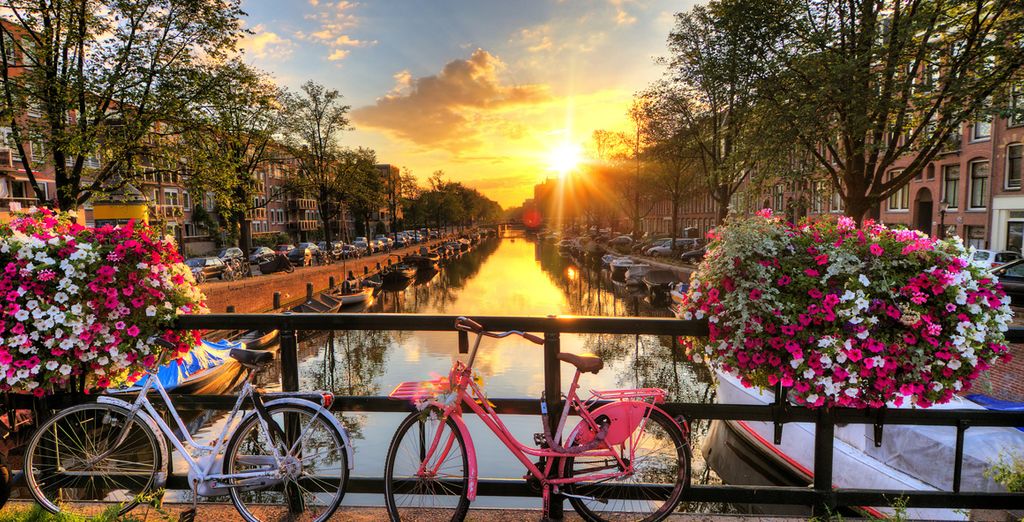 Bursting with fabulous art, bound by an intricate canal system and full of gorgeous narrow houses designed by skilled architects working within the fixed range allowed by the waterways, Amsterdam is a unique city. Rich in history, it is also contemporary, with strong cultural offerings in the fields of literature, art and music.