The Top 8 Hotels in Marseille



Table of contents
When visiting Marseille, you'll want to experience only the best accommodation. Luckily, we've got you covered, so take a look at our top hotels and you'll feel spoilt for choice.
Our best hotels in Marseille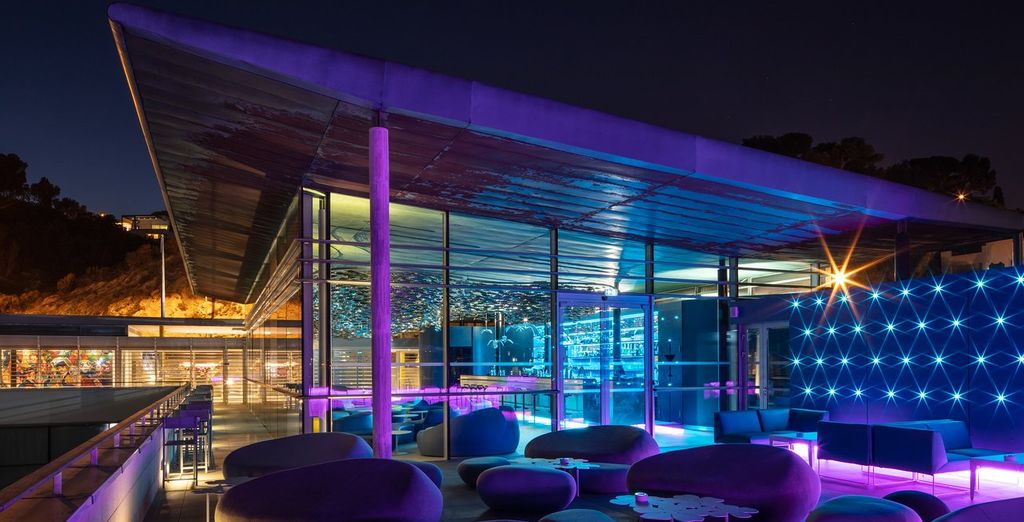 Looking right out onto the sea, this luxurious hotel has everything you need for the perfect getaway. Relax and rejuvenate in the hotel spa, take a dip in the outdoor pool, or head to the sky bar and terrace for drinks.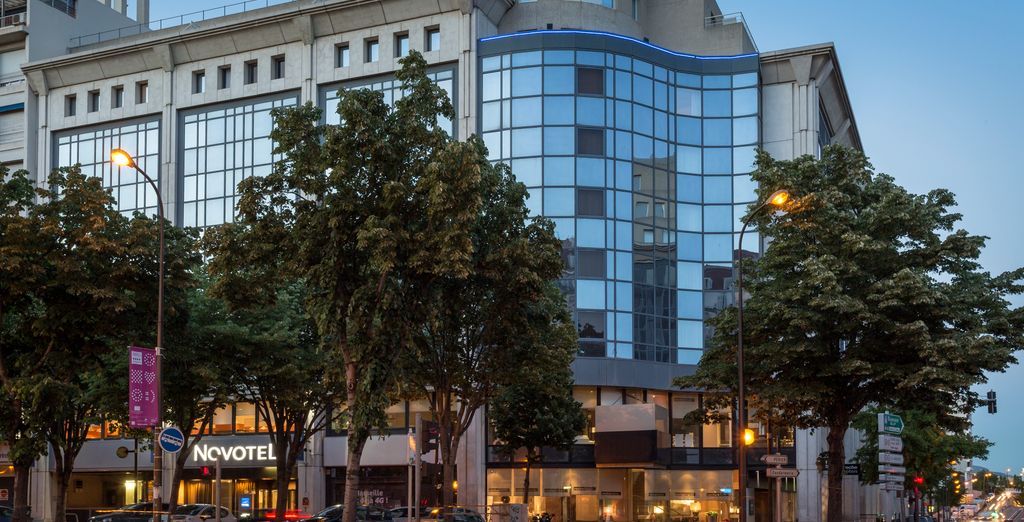 Recline in the heart of the city at this chic hotel. 20 minutes from the Old Port, you'll enjoy a Superior or Executive Room, complete with delicious breakfast to set you up for the day.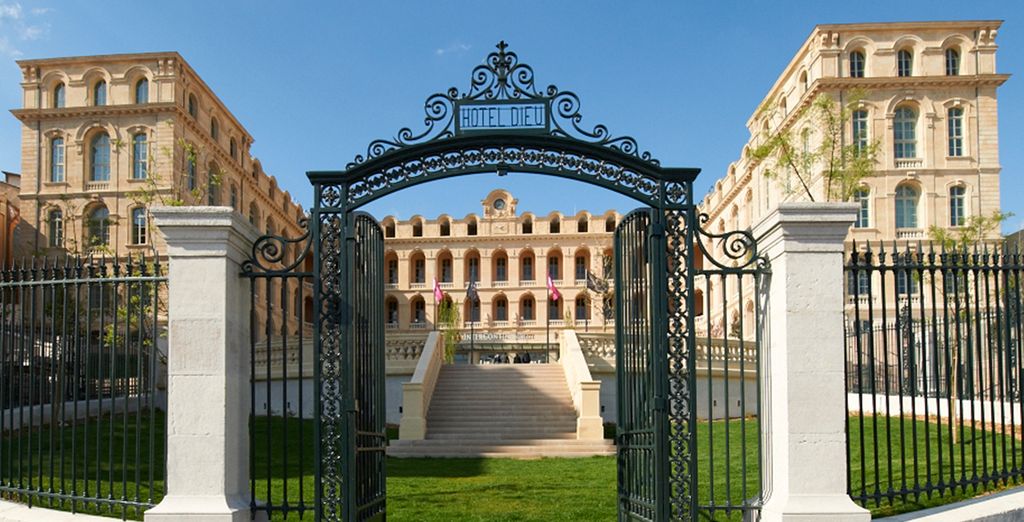 Located in a stunning 18th-century building, you'll feel like royalty here. Complete with a tranquil spa to unwind, an indoor pool, and leafy gardens, perfect for a morning stroll with your freshly-ground coffee, you're only a short walk from the Old Port, too.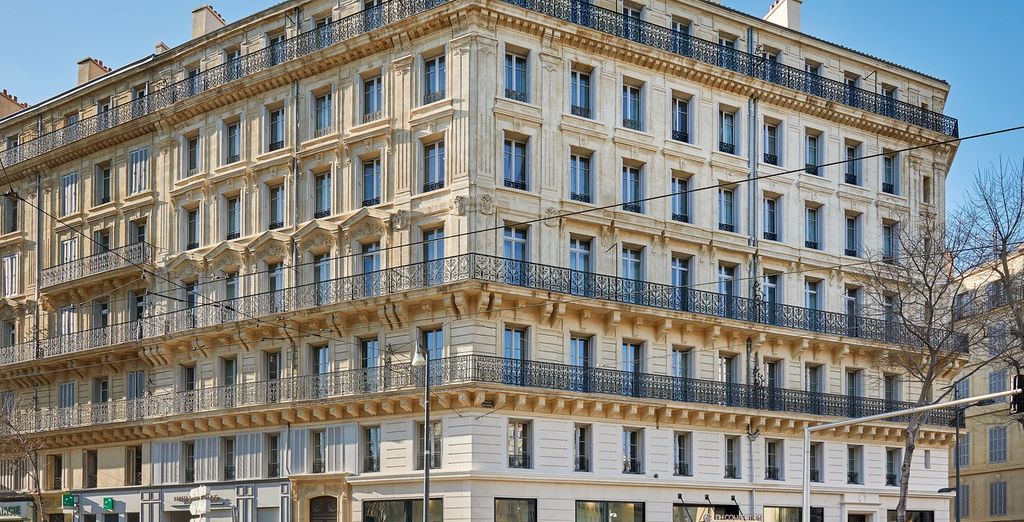 Modern, chic, contemporary; the perfect description. Beautifully designed, with a restaurant serving up fantastic cuisine and a great selection of wines, you'll be able to relax after a day exploring in your light, airy, Premium Room.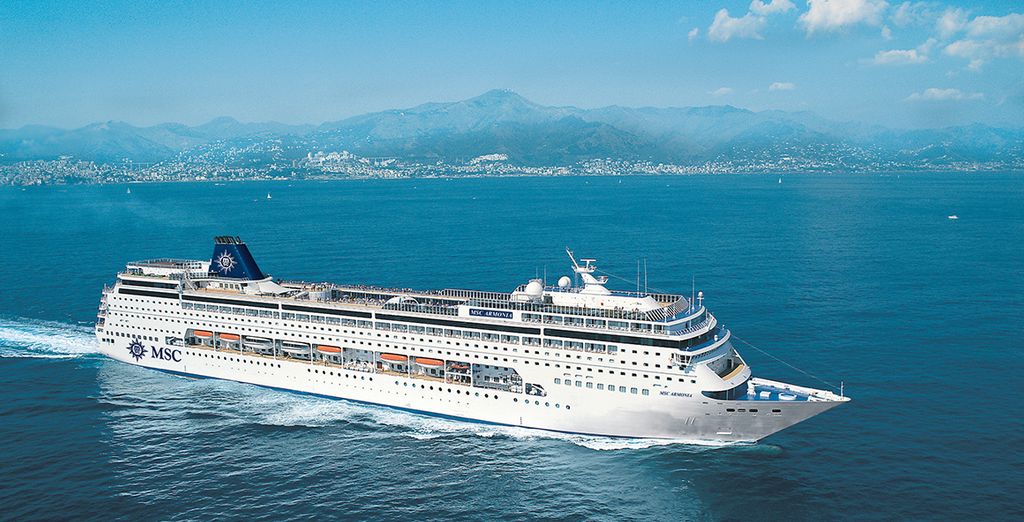 For those who want to see it all, this exciting deal lets you stay in the centre of beautiful Marseille, before jetting off on an all-inclusive cruise to explore the Med. See Menorca, Sardinia, Malta and Italy; sample enjoyable cuisine, soak up the history, and take some time to sunbathe in-between.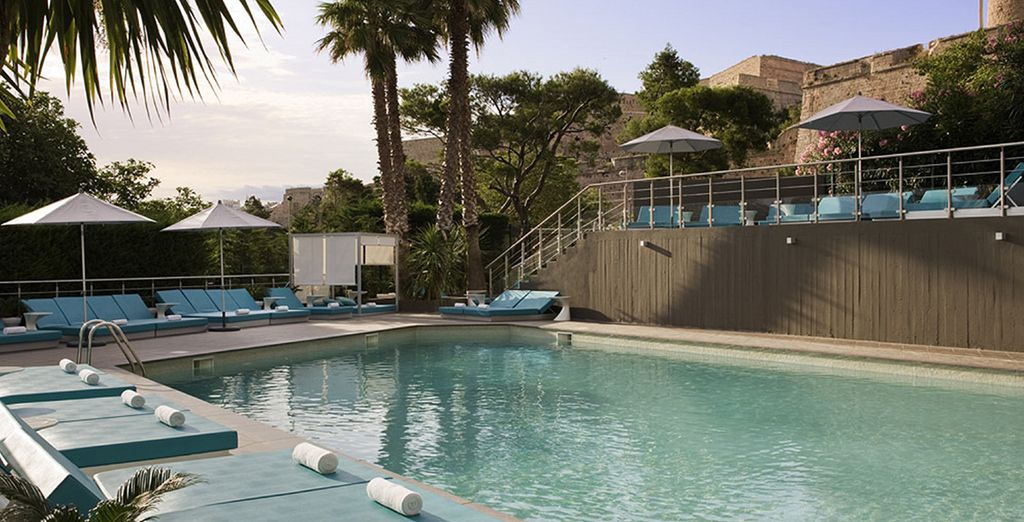 The most exquisite of getaways is exactly what this luxury hotel has to offer with its sky lounge bar, outdoor pool, private beach and modern design. Plus, there's an exclusive chef attending to the wonderful restaurants and bars, too. Luxurious.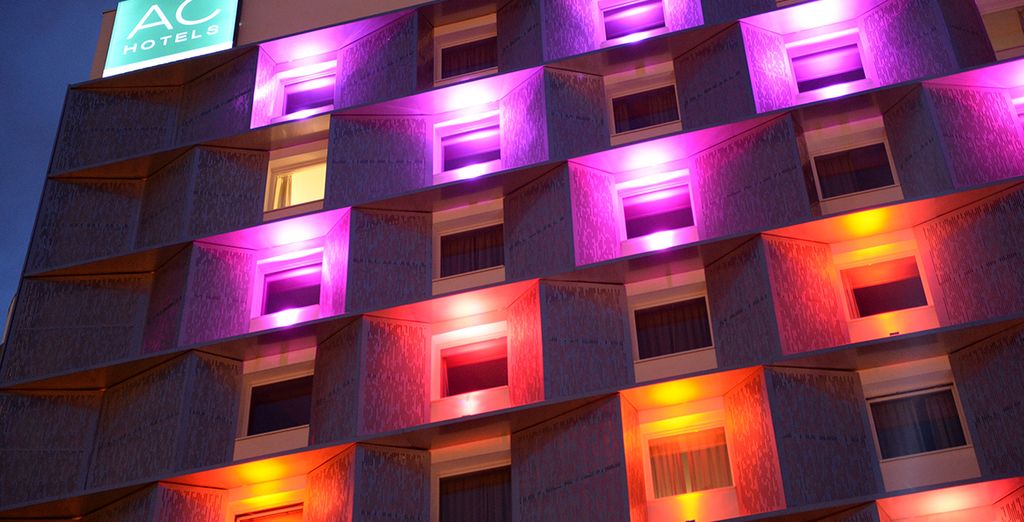 Nestled next to the infamous Velodrome Stadium, enjoy a bright, refreshing hotel boasting Superior Rooms and delicious culinary delights. With plenty to see nearby, you won't want to stay sitting still for long!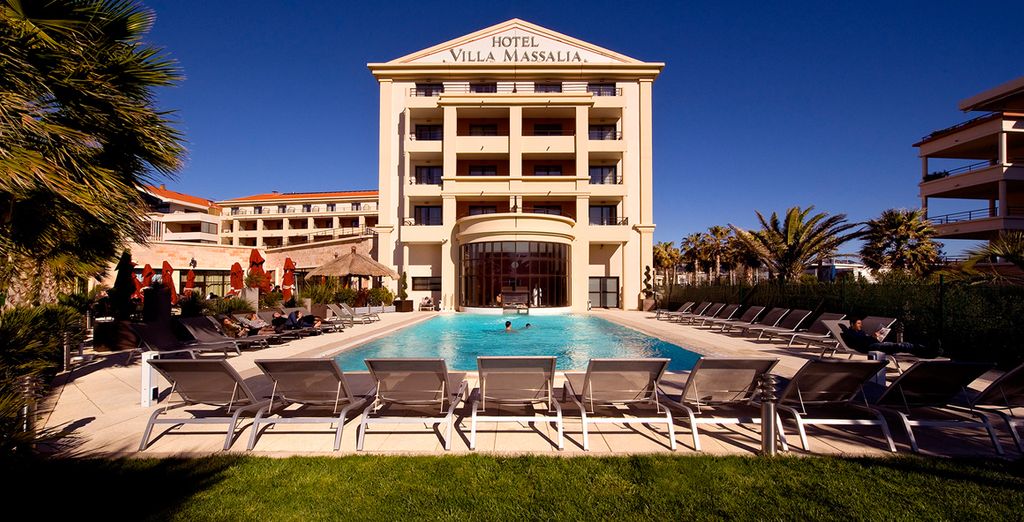 Like something straight out of the movies, this hotel overlooks the Med in all its glory, where you can stay in a panoramic sea view room, enjoy freshly cooked French cuisine when you choose, and relax by the huge outdoor pool, cocktail in hand.
What services will you find in our hotels in Marseille?
Hotels in Marseille are brimming with amazing facilities. Alongside your bed and private room you could be treated to:
Swimming pools, spas and private beaches
On-site bars and restaurants
Luxurious, spacious accommodation suitable for up to three travellers
Hotel rental offers in Marseille convenient for all kinds of travel
Marseille has so much to offer; it's perfect for couples or a family holiday. Pack your bags for a long romantic weekend spent wandering along the shore looking for the next bar to enjoy a cold French wine, or take the children on a lesson of history and culture for their summer break; you'll get some relaxing time and they'll never be bored.
Marseille is great for a long weekend, but if you fancy a full week away it's also perfect for that, so long as you choose the right hotel, complete with pool and nearby beach. If you like, you could explore the neighbouring towns and make a two-week holiday out of it.
The range of hotels we offer in Marseille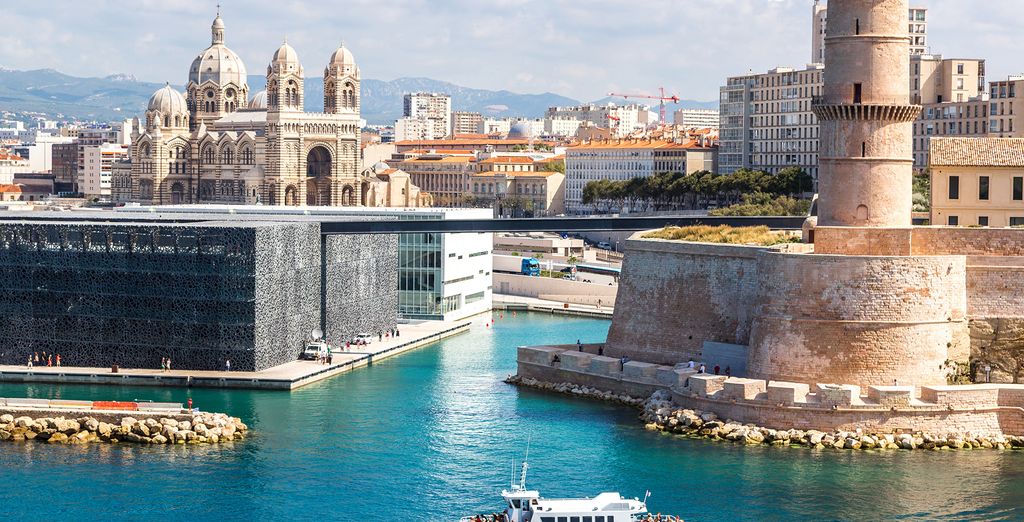 Boutique hotels and great deals can be found easily in Marseille, especially when booking with Voyage Prive. With the majority of hotels boasting indoor and outdoor pools, nearby beaches being breathtakingly beautiful, and the fact it's only a short flight away, you'll be able to find the perfect deal for you. Wherever you choose to stay, know that you'll be basking in 5 or 4 star luxury, complete with all the modern amenities you need for a comfortable stay.
Marseille: What should we bring for a hotel stay?
When packing for your holiday in Marseille, don't forget these key items:
Plenty of sun cream with a high SPF
A swimsuit and beach towel
Sunglasses and cap or sunhat
Chargers for electronic devices
Summery clothing that keeps you cool
Your best hotel in Marseille: how to get there and make your booking?
Just a two-hour flight is all it takes to get from grey London to the sparkling French coast of Marseille. From the North, it takes around 3.5 hours (non-direct), or, if you really like, you can head off for a road trip down the coast across a couple of days, absorbing all the beautiful French countryside. Before travelling, make sure you register for all of our exclusive discounts and deals to make the most of your trip.
The opinion of the Voyage Prive travel expert on hotels in Marseille
Despite its debatably unpopular past, Marseille has amazing charisma and is one of the most enticing coastal cities France has to offer. From the crystal clear waters of the golden beaches, the beautiful port, the historical cathedral, and the chic, modern boutiques on the other end of the spectrum, it's a relaxing, luxurious destination for couples and families alike.
Marseille, where sun, glamour, and relaxation come together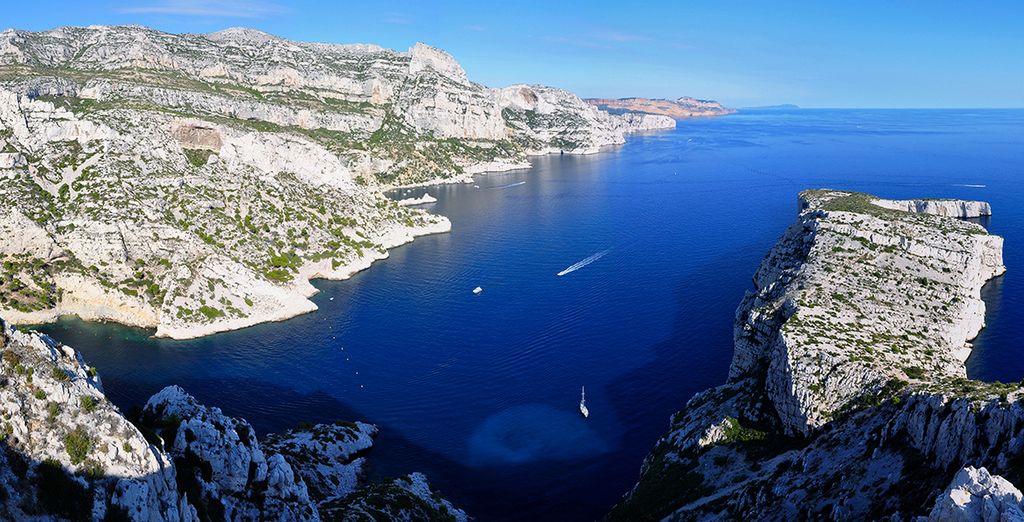 Marseille is basking in many different cultures, which makes it an interesting mixing pot for holidays. From the Old Port, where you'll see rows of uber-glam yachts, as well as fine dining, to the city's central hub, where new museums have set up shop, you'll find something to suit all tastes.
The people are welcoming, the views amazing, the weather fantastic, and the gastronomy is rich and delicious. French-inspired dishes are rife, but it's also the perfect opportunity to indulge in some first-class seafood whilst on the coast. All washed down with a cold, crisp glass of white, of course.
Discover all our holidays offers in the South of France to find your next destination !