Top 10 Hotels in Munich



Table of contents
9 of our top hotels in Munich
Voyage Privé take time to find you the best hotels at fantastic rates - that's the reason we're so popular with travellers across the world. Our hotels in Munich, the historic capital of Bavaria, are no exception. Some of the finest Munich hotels recommended by our experts include:
Our best hotels in Munich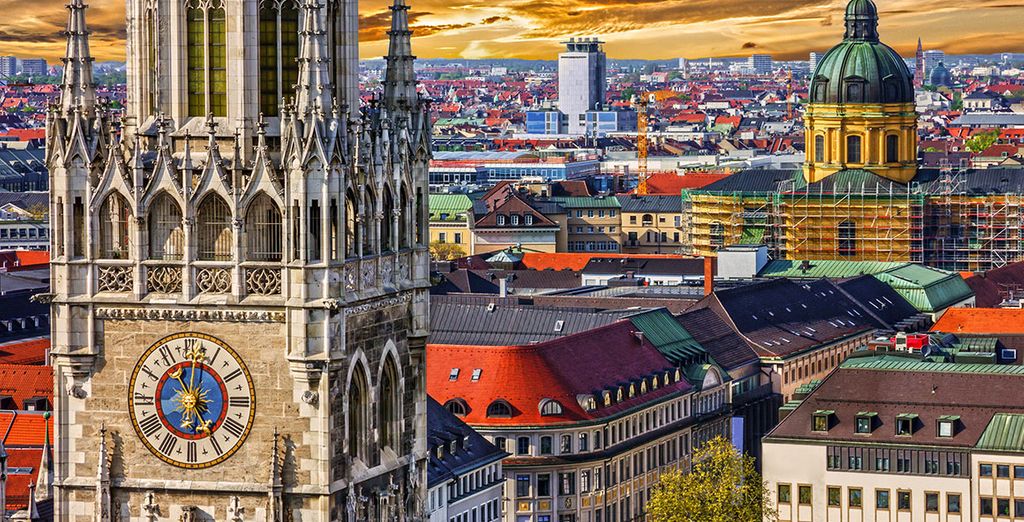 This beautiful five star hotel is conveniently located close to the River Isar in central Munich. You're sure to be bowled over by the luxury and comfort of your stylish room or suite in the Hotel Munchen, while the on-site gym allows you to work off any calories piled on from Bavarian beers and German sausages.
The immaculate studios in this converted cinema provide all the comforts you'd expect from a contemporary hotel. Situated in the heart of the city's busy Neuhausen District, this historic aparthotel offers superb restaurant facilities, together with an on-site sauna and gym.
This stylish hotel has eco-consciousness at its very heart, and features a superb vegetarian restaurant, bar and gym facilities. Its central location makes it an ideal choice for any Munich holiday or short break.
This trendy, four star hotel is located bang in the middle of the trendy Schwabing district, so it's ideal for exploring all the best attractions Munich has to offer. The plush decor and vibrant interior of Hotel La Maison will provide a memorable stay for any guest.
The Munchen Messe is a bright, modern hotel located about 30 minutes away from the centre of Munich if you travel by convenient public transport. The well-equipped fitness centre and wellness area of the Munchen Messe are worth a visit, and the hotel also has its own courtyard beer garden.
This sophisticated, chic hotel offers guests a warm welcome just as soon as they step into the lobby. Located close to the Munich Central rail station, the Vi Vadi Hotel Bayer 89 makes an ideal and comfortable base for exploring all the attractions this beautiful city has to offer.
This art deco-inspired hotel is in a perfect location, ideal for walking direct to some of Munich's best known attractions. With rooms featuring massive king-size beds and chic bathrooms, you're sure to be impressed by the luxury and comfort experienced throughout your stay.
This elegant hotel has a Scandinavian design ethos and art deco appeal that is sure to impress guests. It's centrally located, making it an ideal base for excursions and trips to explore all the historic attractions Munich has to offer.
The popular and historic Sendling district in which this hotel is located means visitors can appreciate all the benefits of Munich's top class residential quarter throughout their stay. The comfortable hotel offers guests excellent amenities including a bar, restaurant and gym, while the spacious rooms are designed to offer every essential comfort.
Discover modern and friendly hotel, which boasts a unique and elegant atmosphere. Enjoy the hotel spa considered as one of the highest in the city! The hotel is idally located in the heart of Munich.
What services will you find in our Munich hotels?
Our specialist travel advisory team have advised that some of the most requested services and facilities at our hotels include:
• Private parking
• Flatscreen TV in rooms
• Comfortable beds
• Half-board options or on-site restaurant facilities
• On-site spa, gym and jacuzzi
• Own swimming pool
You're sure to find all or some of the popular amenities listed above at our fantastic Munich hotels.
Hotel rental offers at Munich which are convenient for all kinds of travel
Munich is a popular destination for any kind of break, whether it's a romantic city break for two or a family trip to enjoy all the pleasures of the Munich Christmas markets. Some of our brilliant hotel rental offers are suitable for couples with one infant, or you can perhaps choose a suite for family stays.
Munich is the third largest city in Germany and visitors are sure to enjoy the annual Oktoberfest beer festivals. However, this historic location is home to a variety of ancient buildings and is also close to some of the most beautiful German scenery you can find, including the Bavarian Alps and the Black Forest. So, adventure lovers and sports enthusiasts are sure to find lots of amazing activities close by.
The range of hotels we offer in Munich
Our Munich hotels offer you opportunities to wallow in five star luxury and experience all the delights of visiting this popular city from a convenient city centre base. We also provide affordable and comfortable studio apartments in a converted early 20th century cinema, where you can enjoy exploring Munich's art district.
What should we bring for a hotel stay in Munich?
Packing for your Munich hotel stay will depend on the duration of your city break and what plans you make. Many of our exclusive hotel deals provide on-site spa, gym and wellness activities, so pack a swimsuit and gym gear if you plan to use these facilities. Hotels often provide leisure towels on rental basis too. You won't need to pack bathroom towels for your stay in any of our Munich hotels as these will all be supplied, along with small toiletry packs in most bathrooms.
The clothes you pack for your Munich holiday will depend on the time of year you visit. You can expect fresh, colder weather in autumn and winter months, so pack the kind of clothes you would normally wear in the UK. Spring and summer in Germany are comparable to UK weather, but it's always a good idea to pack a raincoat of some kind for any German trip.
Your best Munich hotel: how to get there and make your booking
You can easily book our cut price Munich hotel deals online and will also find it's a simple matter to book flights to Munich at the same time, if needed. All our affordable hotel deals include flights, so you just need to select your preferred airport and arrival dates and times. Alternatively, opting for budget airlines can be an inexpensive travel option from the UK to Munich and it takes around 30 minutes to transfer from the airport to Munich city centre hotels.
Munich, an outstanding German visitor destination at any time of year
The beautiful city of Munich has so many popular attractions, it's difficult to even begin listing them. It is home to a variety of museums and theatres and several universities. This means entertainments and cultural activities in Munich are really second to none. The Old Town area of Munich features some outstanding architecture, going right back to the medieval period. Some of the most outstanding architectural attractions to visit include Peterskirche church, Fraeunkirche Catholic cathedral, and the Residenz Palace. The Englischer Garden park is also well worth a visit and larger than New York's Central Park, but you perhaps need to be aware that the park is also home to a naturist or nudist garden! The city's Marienplatz central square straddles both the Old Town and newer areas of the city and its central column houses the Rathaus Glockenspiel.